In recent years home workouts have been becoming more and more popular, with people installing home gyms in an attempt to avoid noisy and overcrowded gyms. As one of the market leaders in this area, Bowflex has drawn a lot of attention, however with such a wide variety of options, it can sometimes be a little confusing working out which one is the best.
In today's article, I will hopefully be able to help make that decision easier for you, as I look to determine what the best Bowflex home gym on the market actually is.
The Best Bowflex Home Gyms In 2021
Bowflex Revolution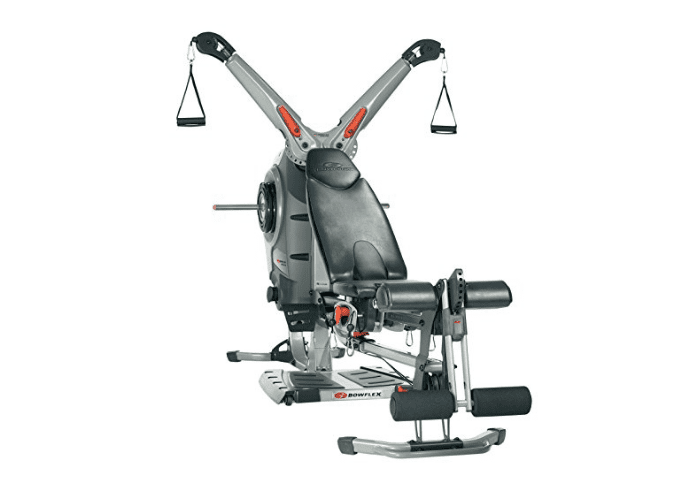 Pros
Wide range of exercises.
Aerobic rowing functionality.
Easily adjustable "freedom arms" provide 360-degree range of starting positions.
Spiraflex technology provides resistance beyond the weight of the machine.
10-year warranty.
Cons
Lengthy assembly.
Expensive shipping, if not bought from the right source.
Takes up a lot of room.
Expensive.
Max weight capacity is a little low.
Overview
A revolution in both name and nature, this is one of the latest and more advanced options in the Bowflex home gym family.
The Revolution uses the Spiraflex resistance system which allows the selected resistance to remain continuous throughout the repetition. As stated previously, this makes the movement and feel of the resistance more similar to the use of free weights.
The resistance capacity goes up to 210lbs (95.2kg) but you have the options to upgrade to 300lbs (136kg) and a further 600lbs (272.1kg) for the leg press station. The Revolution also has the capabilities that allow you to perform over 100 exercises so you will easily be able to perform various workouts and workout splits.
As with many of the models, you can easily convert the unit into a rowing machine to perform your aerobic workouts.
This is the highest-priced home gym on our list but it's head and shoulders above the rest in terms of features which justifies the cost. It also comes with a 10-year warranty. If you have the money to spend on it, then it's the one I would most recommend.
Features
Its Spiraflex resistance system makes it the closest substitute to free weights
Can be quickly and easily converted into a rowing machine
Features over 100 exercises, allowing you to fully train your entire body
Requires an area of 112in (L) X 38in (W) X 73in (H)
Bowflex Xtreme 2SE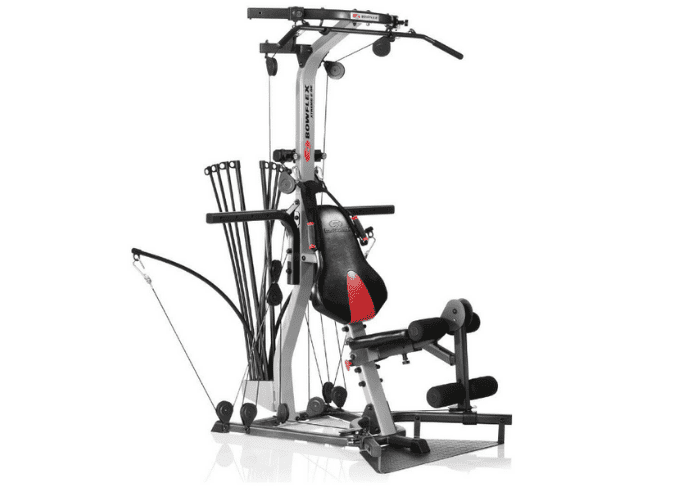 Pros
Works your whole body
Great variety of available exercises
Expandable weight system, perfect for upgrading when your strength increases.
Cons
One of the most expensive models on the list
Larger than other models
Overview
The crown of the Bowflex Power Rod family, this is one of their best rated and versatile home gyms.
The Xtreme 2SE uses 210lbs of Power Rod resistance but allows you to upgrade to 410lbs (185.9kg) if you so wish. If you like to vary your workouts, this home gym could be a good choice as it allows you to perform over 70 exercises, allowing for a full-body workout.
It also comes with attachments such as ankle cuffs and features a 5-way grip system that allows you to perform different exercises at various angles. The Quick Change System makes changing the cable pulley positions a breeze.
If you're limited on space then this probably won't be the best Bowflex model for you as it has the largest footprint out of all the machines on our list. It's also worth noting that it does not have the ability to change and be used as a rowing machine. So if cardio training is a must feature, this is not the unit for you.
The Xtreme 2SE comes with a 10-year warranty for the rods and 3-years for the frame.
Features
210lbs of Power Rod resistance, upgradeable to 410lbs, allowing for a workout that adapts to your muscle throughout the repetition
More than 70 potential exercises, allowing for a great range of variety.
Features a 5-way grip system and ankle cuffs, to fully work your entire body from a variety of angles.
Requires an area of 96cm(L) x 77cm(W) x 82cm(H) while in use.
Bowflex Blaze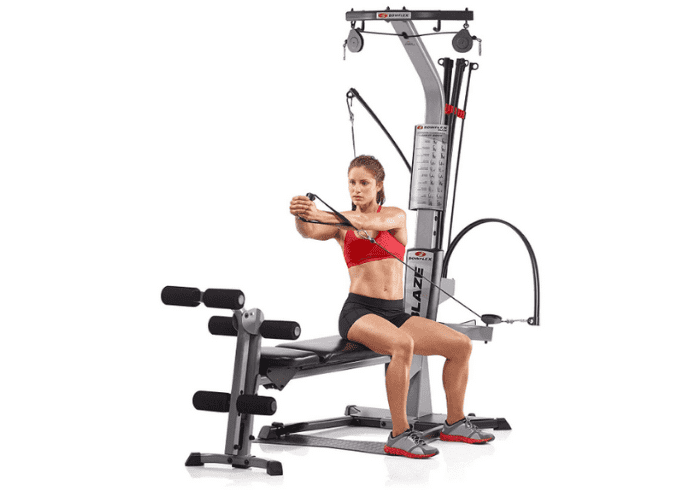 Pros
Reasonably priced considering its standing in the market
Dual purposed to provide both resistance and aerobic training
Very versatile and includes a wide range of exercises and levels of resistance, to fully work your entire body
Cons
A "jack of all trades" type machine, which offers a wide range of effective features but isn't a master of any one of them
Max user weight is a little on the low side
Overview
One of the most well-rounded options in the Bowflex catalog, providing a little bit of everything for all users. The Blaze offers a great full-body workout with over 60 exercise variations available.
Another great feature of the Blaze is that it can also be used to improve your cardiovascular fitness as it can be easily converted into a rowing machine. It comes with Power Rod resistance technology that can produce 210lbs (95.2kg) of resistance. If this is too little for you, you also can upgrade the unit's capacity up to 410lbs (185.9kg), which is pretty good.
Features
Has a range of 60+ exercises covering your entire body for a well-rounded workout
90in (L) x 38in (W) x 83in (H)
Can be easily converted into a rowing machine
Features 210lbs Power Rod resistance, upgradable to 410lbs
Comes with a squat bar, bench press, and leg extension
Bowflex PR1000 (Now Xtreme Home Gym)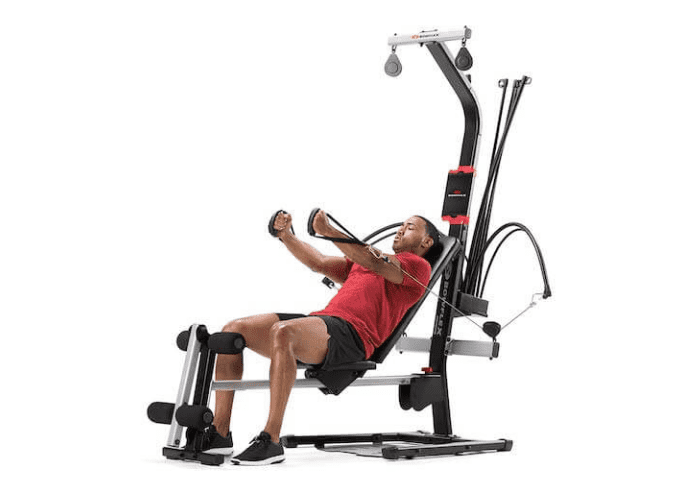 Pros
Can be used for resistance and aerobic training
Foldable bench allows it to be somewhat stored when not in use
Reasonable price compared to other options
Cons
Limited number of available exercises
Resistance can't be upgraded
Overview
The Bowflex PR100 is the original model and still one of their top sellers. It's also a more budget-friendly option when compared to the other Bowflex models.
Where you may find that this machine limited is in the number of exercises you can perform. However, more options are not necessarily needed and you can still get a full-body workout with the 25 exercises available.
Like the Blaze, the PR100 comes with 210lbs of Power Rod resistance and can also be converted into a rowing machine for aerobic training. However, the maximum resistance cannot be upgraded. This may be a deal-breaker if 210lbs worth of resistance is too light or could potentially become too light in the future once your strength level increases.
Features
25 different exercises to allow a full-body workout.
210lbs of Power Rod resistance.
Can be converted into a rowing machine to provide aerobic training.
Media rack for holding phones, iPods, or other devices.
84in (L) x 38in (W) x 81in (H)
Bowflex PR3000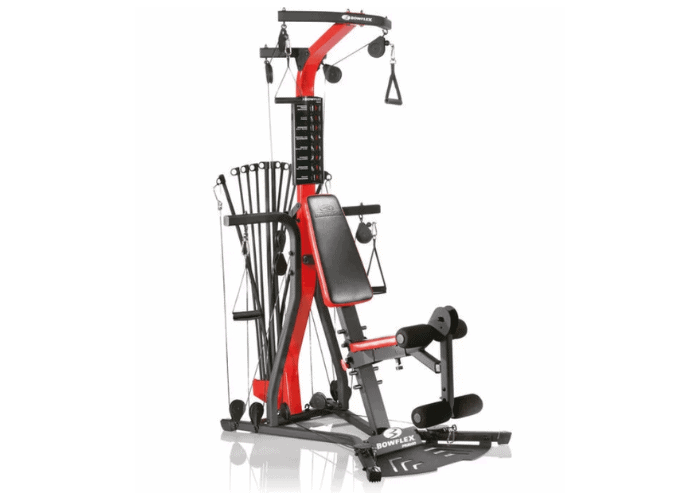 Pros
The shortest option on the list and probably the most compact overall
Upgradeable resistance
Cons
One of the smallest ranges of exercises on the list
Provides substantially less than the next model up, despite a very small difference in price
Cannot be converted into a rowing machine
Overview
A new take on a classic, the PR300 is an upgraded and updated version of the PR1000 with a higher price tag. So it's natural to want to compare the PR300 vs the PR100 to see if the step-up is worth the price.
Let's start with exercise variation. You can perform over double the number of exercises with the PR300 than you can with the PR100 with over 50 different options. They both use the Power Rod technology with a maximum resistance capacity of 210lbs. However, the PR300's capacity can be upgraded by 100lbs to a max of 310lbs.
So you may be thinking the PR300 is already the clear winner but maybe not. Despite being classed as an update, it does not include the capabilities to be converted into a rowing machine and cannot be folded. However, it is already compact so already saves on some space.
It also does not come with a squat bar or media rack which is unfortunate.
Since it is quite a bit pricier than its predecessor, I would only suggest purchasing it if you require a larger number of exercises or want the option to upgrade the resistance capacity.
Features
64in (L) x 41in (W) x 83in (H)
50+ exercises for your entire body
5 to 210lbs of Power Rod resistance, upgradable to 310lbs
Why Purchase A Bowflex Home Gym
So, before we get started, I'm sure there will be some of you reading this that remain undecided on whether you actually want to buy a Bowflex home gym or not. The two main reservations that people usually have that stop them from taking the plunge are:
What makes it better than other home gyms?
Why shouldn't I just get a gym membership?
I'll start off by addressing the second of those points, as when it comes to comparing a home gym to attending a commercial gym, the differences are much more noticeable.
There are clearly going to be certain drawbacks to using your own home gym, such as the initial high set-up cost, the amount of space required, the limitation on the number of machines and equipment available, as well as many people who just love that pumping gym atmosphere.
Now, if any of those points listed above are deal-breakers for you, then switching to a home gym might be a hard sell. However, there are just as many positives for all of the potential limitations that will sell a home gym too.
Home gyms provide the ability to train whenever you want and there's no need to worry about wasting time getting to and from them or finding places to park. You also don't have to worry about how busy, dirty, or poorly maintained your gym is, as you will be the only one using your equipment. There's even the freedom to workout in whatever you want, from a full tracksuit to a pair of shorts, the decision is entirely up to you.
Now, while the list of pros and cons when comparing home and commercial gyms is quite clear, the intricacies that separate competing brands of home gyms can be much harder to distinguish.
When it comes to why a Bowflex home gym would be your preferred option over the competition, it largely comes down to their experience and standing in the industry.
They provide a level of confidence through their reputation, which is furthered by the warranties their machines come with, both of which are huge factors when buying an expensive machine.
Then, their gyms' performance, developed through years of experience, has allowed them to develop mechanisms that don't rely on gravity. This means the resistance can be applied in numerous ways, allowing you to perform a much greater variety of exercises and making them much closer to the experience you would get training with free weights.
While their high price could certainly put some people off, this is a clear case of getting what you pay for, as their machines still end up providing great value, considering what they are capable of doing.
Bowflex Home Gym Buying Guide: How To Select Your Model
So, assuming everyone still reading has made up their minds that they are going to buy a Bowflex home gym, it's time to start looking at helping you decide on which model is the right one for you.
To do this, you can narrow your search from the get-go, by asking yourself a few simple questions.
Do you want Power Rod or Spiraflex technology? What's The Difference?
Power Rod technology is where you pull against a rod with a maximum tension level instead of lifting weights. This provides a resistance that is lower at the beginning of the rep and increases further through the movement you get, as more tension is added. Its action mimics that of pulling the string on a bow, which is actually where the brand name "Bowflex" comes from.
Spiraflex, on the other hand, operates much more like traditional free-weights, in that the selected resistance is continuous throughout the repetition. This allows the machine to operate without a heavy and cumbersome weight stack, while still giving you the opportunity to train like you would in a gym.
The decision on which of these styles of resistance to go for comes down to how you want to train. If you want an option that gets harder as the contraction progresses, allowing you have things slightly easier when the muscle is at its weakest, fully extended position, while still maxing out at the peak of the rep, go for Power Rod. If you want a continuous challenge that remains the same throughout, go for Spiraflex.
How much space do you have available?
Possibly the biggest drawback to a home gym is just how much room they take up. Before you begin looking at the specifics of each machine, take measurements of exactly how much room you have to use it in.
That way you can look at each product's dimensions first and determine if it fits, before wasting your time looking at features of a product that won't.
Also, bear in mind that the listed dimensions are for when it's not being used, so you'll require a little extra room than what's required simply to store the machine to actually use it.
How many different types of exercise do you need to do?
For someone who simply wants to keep in shape, finding a machine that allows you to do one or two exercises per body part will be all you need. However, those with bigger physique goals in mind will require a machine that allows a much greater range of movements.
Before you decide on a machine for its looks, price, size, etc, make sure that you can actually do what you want with it, otherwise, you will still end up being disappointed.
How much does it need to be able to hold and how much do you plan to lift?
Although Bowflex home gyms don't come with a traditional weight stack, weight is still a very important topic when choosing the correct model.
Firstly, as with most fitness equipment, these machines have a maximum weight capacity. Make sure that before you buy one you check its upper limit, to ensure it's suitable for you or the heaviest person you intend to have using it.
Then there's the maximum resistance the machine provides. While most will seem reasonable to a newer lifter, remember that this is a progressive activity, where your strength is going to increase. Ensure that the model you select will have ample resistance to perform all of the exercises you want while having plenty of room for you to grow as you progress.
What is your budget?
Outside of space, this is the biggest factor that stops many people from getting a home gym. They're expensive pieces of equipment and the more you want them to do, the more they are going to cost.
To make sure you don't waste your time falling in love with a particular machine, only to find out you can't afford it, have a clearly defined budget, and check that each option matches it before researching any further.
What are your exercise goals?
As I mentioned above, different machines can do many different things. To make sure you get one that's right for you, make sure you know exactly what you want to get out of it.
For example, if you plan to develop a full physique, solely using your home gym, there's no point buying one and then realizing it doesn't train your lower body.
Make sure you have a checklist of what you want your machine to do while you're looking at the options and it will help you to quickly and easily determine if a particular model is suitable or not.
Final Thoughts: Which Is The Best Bowflex Home Gym
So, when it comes to crowning which of these 5 is the best Bowflex home gym, I feel it's a fairly straightforward decision to go with the Revolution. It offers the most exercises, the most versatility, the newest technology, and a generally all-around fantastic machine.
That said, I'm aware it is an incredibly expensive piece of kit, and there will also be people who prefer Power Rod technology. For anyone in those two groups, I'd recommend the Blaze as my runner-up.
While not the cheapest, smallest, or providing the greatest range of exercises from the remaining four machines, what it does is provides the best combination of all 3 of those things, to make it a very well-rounded machine.
Frequently Asked Questions About Bowflex Home Gyms
As a final thought, let me finish by answering some of the most common questions people have about Bowflex gyms one more time.
How effective are Bowflex home gyms?
So, being totally honest, you'll never get as well-rounded a workout from a home gym as you would using a fully kitted out gym. That said, if you're in the market for a home gym and all of the unique selling points they have, Bowflex is as effective as any brand on the market, if not more so.
Which Bowflex home gym is the best?
As already stated, the best Bowflex home gym is the Bowflex Revolution in my opinion. It comes with the latest technology and is the most versatile, meaning you can do more exercises with it than other home gym machines. If money is no issue then this is the machine I would recommend. However, this may not be the best home gym for you if you are on a budget. You should see what features each unit offers and determine whether it is enough for your fitness goals.
Are Bowflex home gyms any good?
Bowflex offers some of the best home gyms on the market. If you decide to purchase a home gym you'll do well to find a better company than Bowflex. So in terms of home gyms, yes they are very good. Always consider your options and your personal fitness goals. You may need more than what a home gym offers to reach your goals or even realize that you can get by without one.
What exercises can I do with a Bowflex home gym?
While the exact exercises you can do will vary depending on the model, the Bowflex home gyms on this list offer between 25 and 100 different exercises, covering all parts of your body.
Can you really build muscle with Bowflex?
Yes of course! Bowflex home gyms allow you to perform numerous resistance exercises that will help you build muscle. Some models even allow you to upgrade the resistance so you can continue to progress once you grow stronger.
How difficult are Bowflex home gyms to assemble?
Bowflex home gyms aren't overly hard to put together, as the most complicated pieces come ready assembled and they provide tools and instructions on setting up everything else in the box. That said, it isn't a quick job, so be prepared for a full day's work to get yours up and running.
Do I need a large area for a Bowflex home gym?
As I've mentioned throughout the article, the amount of space required is the main drawback to owning a home gym. While some models will require less space than others, they all need a reasonable amount of room to use.
Do all Bowflex home gyms have aerobic rowing functionality?
While some Bowflex home gyms have the ability to provide aerobic rowing as well as resistance training, not all models do. It is limited to those with a sliding seat, which on this list includes the Blaze, Revolution, and PR1000.
What's the Bowflex PR3000 home gym's best price?
You can check the best price for the Bowflex PR3000 on Amazon.
Best prices on Bowflex Blaze home gym?
You can check the best price for the Bowflex Blaze on Amazon.
Best Bowflex home gym training?
Here is a video showing some of the best training options whilst using a Bowflex home gym.