While many fitness enthusiasts would love the ability to have a gym in their own home, for most it's simply not realistic, due to the amount of space required. However, there are a few options out there, which you may not have heard of, that enable you to do just that.
One such option is the Total Gym, a popular brand that has been making convenient home gyms for decades. So, if you're someone who would be interested in such a product, I highly recommend reading on, as today I will be looking at what the Total Gym is, how it works, and which model will be right to match your own personal needs.
What Is The Total Gym?
The total gym is a piece of fitness equipment, built using an incline bench and pulley system. It allows the user to train using their own bodyweight as the resistance.
What Can The Total Gym Be Used For?
The total gym can be used for a wide range of exercises, covering strength, toning, endurance, conditioning, and calisthenics.
Benefits
Light and easy to move
Doesn't require much space to use
Easy to store
A wide range of available exercises
Limitations
Limited upper level of resistance
Not suitable for making serious size or strength gains
Not suitable for bodybuilding
What To Look For When Buying A Total Gym
When deciding between models, or indeed if a Total Gym is right for you in the first place, there are a few things you need to consider.
Variability Of Exercises
How many exercises you need to be able to perform will play a massive role in determining your preferred model. While exercises of this nature can always be adapted and altered, based on the user's knowledge, the base lists varying between 60 and 200 advertised exercises make for a very drastic difference from model to model.
Resistance Levels
Availability of resistance levels is another big factor to consider, especially when taking the longevity of the product into consideration. With a range of 6 to 22 different levels of resistance, how much you hope to progress will clearly sway your decision one way or another.
Attachments
All four models come with some variety of squat stands, handles for widening the grip, and attachments to enable you to train your legs. Beyond that, 3 of the 4 have a dedicated abdominal training accessory and the top model features its own unique "6-piece strength package".
Folding And Storing
While this will be a big factor when deciding if a Total Gym is right for you, it won't be when determining which model to go for, as all 4 models are designed to be easily folded and stored.
Size And Weight Capacity
While all of the models can be easily folded for storage, that doesn't necessarily mean they will all be as convenient, as their sizes vary quite dramatically.
With unfolded dimensions ranging from 15.5"x93"x43.25" to 38"x107"x69" and folded dimensions between 15.5"x50.5"x8" and 38"x56"x20", the space you have to use and store them in will be a major factor.
Similarly, with max user capacities ranging from 275lbs to 650lbs, ensuring you are even able to use the machine based on your size is essential to consider before purchasing.
Cost
Considering that none of the Total Gym Models are cheap, making sure it fits into your budget should be one of the first things you look at. The price disparity between the range is massive and the top model comes in at more than 6 times the price of the cheapest option, with the other two split up at similar intervals in between.
Warranty
Of all the factors we will be looking at, warranties are potentially the most wildly varying range of results we will come across with the Total Gym. With warranties ranging from just 90 days up to 2 years on parts and 1 year to the lifetime of the product on the frame, just how secure you want to feel in your purchase will be a clear indicator of which way you may want to go.
Differences Between Models
So, while I will go into more detail on the specifics of each model and how they perform in the next section, the main differences between them that are worth noting are:
Price
Length of warranty
Size
Weight capacity
Resistance levels
Number of attachments
Number of available exercises
Product weight
What assembly is required
Whether a trial or free shipping is available
Total Gym Model Reviews
So, now that you know what to look out for, let's take a closer look at the individual models themselves and hopefully help you select the right one for you.
Total Gym GTS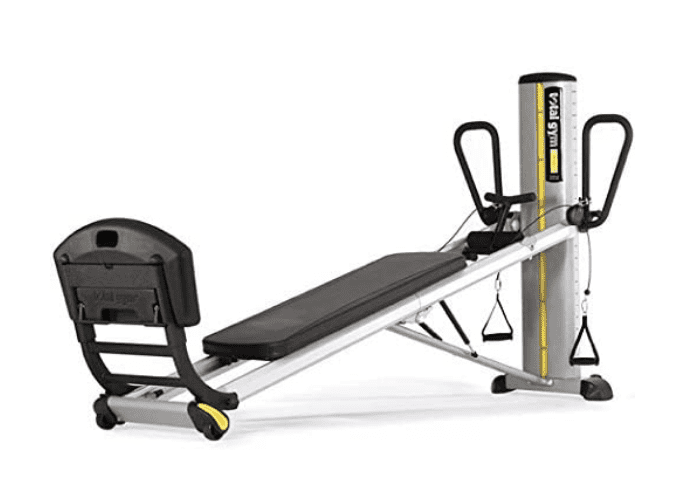 Pros
22 levels of resistance
Over 200 exercises
Greatest user capacity
Cons
Expensive
Poor warranty
Needs assembling
The Total Gym GTS is known as their elite model. With 22 levels of resistance, more than 200 potential exercises, and a range of included attachments, this easily gives you the most variety in your workouts. It also features the greatest maximum capacity of the lot, as it's suitable for users up to 650lbs.
While I've praised its strengths, I think it's also fair that I point out some of its most glaring drawbacks.
Firstly, it's easily the most expensive model, costing more than 6 times what the cheapest does and even double its closest rival. Add to that that it's the only model that needs assembling and doesn't include free shipping and it becomes clear this is the option that requires a lot of time and money to make work.
While being the largest and heaviest model may not come as a surprise, given what it's capable of, the fact that it has one of the worst warranty packages of the lot will. When paying such a high price, receiving a 1-year warranty on parts and just 90 days on the foam and rubber may leave some feeling a little nervous about their purchase.
Total Gym Fit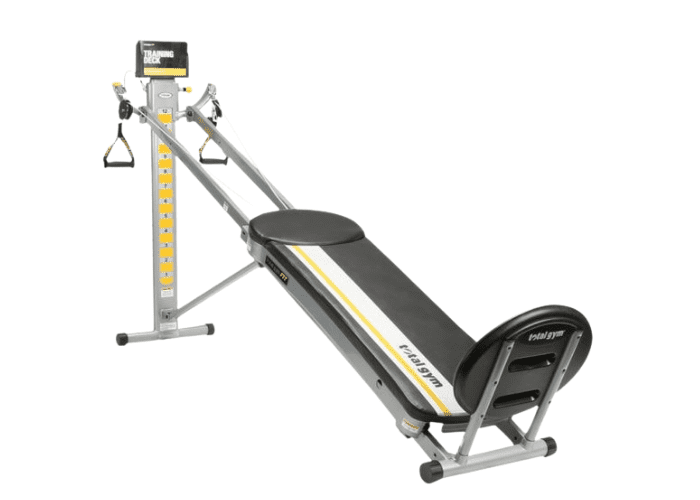 Pros
22Well-rounded machine
Good range of attachments
Best warranty
Next up is the top of their regular home gym range. While it is the second most expensive of the four, its price is much closer to the rest of the range. The majority of its specs also have it ranking quite highly, with its available exercises (12), weight capacity (450lbs), attachments, and weight (66lbs) all ranking second.
While it is also the second-largest, at 18.5"x93"x44.5" unfolded and 18.5"x50.5"x8.5" folded, it isn't far off of the two smaller options, and its warranties (2 years on parts and lifetime on the frame) both rank first among the entire range.
Total Gym XLS
Pros
Good range of exercises
Easy to store
Nutrition and workout guides included
Suitable for users of any height
Cons
Expensive
Limited warranty
Our penultimate option is a bit of a strange one, as it offers 80 exercises, a weight capacity of 400lbs, and a 6-month warranty on parts, which are all middling in the range, much as its price would suggest.
However, having only 6 resistance levels and 3 attachments both rank last among the four, and its 68lb weight and 19"x90"x43" size (19"x51"x9" folded) are only better than the elite version, which justifies its size with what it offers.
It does, at least, come with a lifetime warranty on the frame though, which is a nice touch.
Total Gym Supreme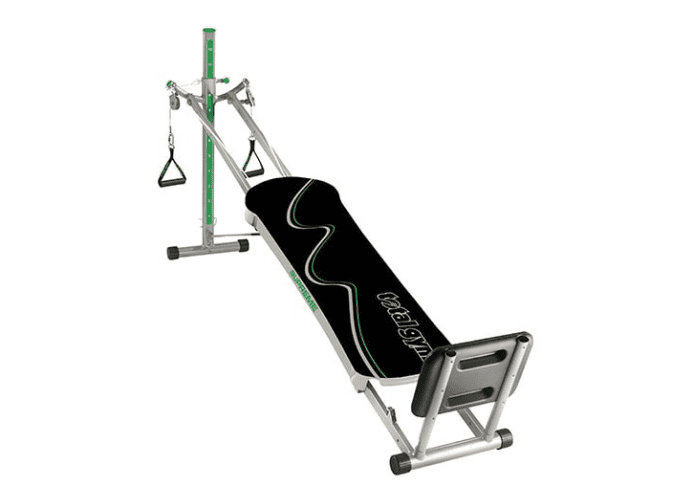 Pros
Good option for those on a budget
Small footprint, doesn't take up as much space
12 levels of resistance
Cons
Can't perform as many exercises as the other models
Lower max user capacity
Warranty is not great
The final model may surprise people as, despite being called the Supreme, it's actually the budget model.
Its major selling points are its price, size (15.5"x93"x43.25" unfolded and 15.5"x50.5"x8" folded), and weight (56lbs), which all rank first out of the four. Its 12 levels of resistance are also nice and have it tied for second, behind only the elite.
Unfortunately, its main drawbacks are the number of available exercises (60), max user weight (275lbs), and warranty (1 year on frame, 6 months on parts), which all rank dead last. That said, considering it is the budget option, the drawbacks are all pretty understandable.
Final Thoughts: Which Is The Best Total Gym Model?
When it comes to what the best Total Gym is, opinions will vary a little, based on your personal needs.
It would be quite easy for me to recommend the GTS as the best Total Gym model, given that it's branded as the "elite" option, and provides the most features and flexibility.
However, I'm not going to do that. I'm instead going to recommend the Total Gym Fit. This is the model that provides easily the best value, ranking highly in all categories and coming with a price tag that is much more in line with the rest of the range while still the second most expensive.
So, if you really want the absolute cream of the crop of the Total Gym family, you might want to go for the GTS. However, for everyone else, the Total Gym Fit is probably the way to go.
Frequently Asked Questions About Total Gym
While I've given you all the facts about the Total Gym range and told you which one I believe to be the best, before I go, I will quickly answer a few lingering questions you may still have.
Is Total Gym Worth Buying?
When it comes to whether it's worth buying, that's largely going to be dependant on the individual in question and what they want to get out of it. I would say the three cheaper options are worthwhile purchasing if you're looking for an easily stored piece of kit to work out with at home. However, when it comes to the GTS, I feel you can probably get more for your money elsewhere.
Does Total Gym Really Work?
Total Gym is designed to allow you to work out and keep in shape from home, with a piece of kit that can be quickly and easily stored away after use. To that end, it's fair to say that yes, the Total Gym does work.
Can I Build Muscle With Total Gym?
This depends on what you mean by "build muscle". If you want to tone, sculpt, or develop a small amount of muscle, then the Total Gym will enable you to do this. However, if you want to add any serious mass or develop a bodybuilder-style physique, then you're better off looking elsewhere.
Are Squats On The Total Gym Effective?
Squats on the Total Gym work in a similar manner to an assisted dip machine in the gym, in that it allows you to remove some of your own weight when performing a bodyweight exercise.
If you're someone that struggles to do free-standing squats, then this could be an effective way to help you build up your muscles. However, for the majority of users, you'll be much better off squatting normally.
Is Total Gym Good For Cardio?
Total Gyms are designed for resistance training. While any exercise will work your cardiovascular system, this will largely be an afterthought here, so I wouldn't recommend Total Gym for cardio.