Pros
Reasonably priced considering its standing in the market
Dual purposed to provide both resistance and aerobic training
Very versatile and includes a wide range of exercises and levels of resistance, to fully work your entire body
Cons
A "jack of all trades" type machine, which offers a wide range of effective features but isn't a master of any one of them
Max user weight is a little on the low side
With the recent surge in people purchasing their own home fitness setups, home gyms have become more popular than ever. However, with so much choice available, it can be hard for the average person to determine how good each one really is.
Today we are going to be looking at one of the best options on the market, the Bowflex Blaze. So, if it's one of the choices you're considering, or maybe even if it's not, I'd highly suggest reading on to learn a bit more about it.
Bowflex Blaze Overview
So, before we get into the meat of the article, let me begin by giving you a quick overview, with the specifications and some "at a glance" pros and cons of the Bowflex Blaze.
Technical Specifications
Weight- 195 Pounds
Dimensions-90in (L) x 38in (W) x 83in (H)
Material- Frame-Metal, Power Rods-Composite Nylon
Power Rod Resistance- 210lbs, upgradeable to 410lbs
60+ Available exercises
Aerobic rowing functionality
Warranty: Frame-5 years, Power Rods-Lifetime
Max user capacity-300 lbs
Key Features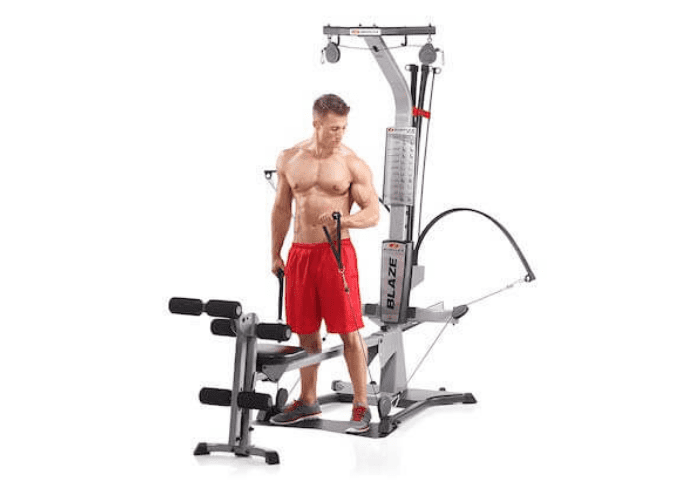 The most obvious selling point of the Bowflex Blaze is the ability to convert it into an aerobic rowing machine. This is something that is not a regular feature on most home gyms, giving you the ability to get both your strength and cardio training done on a single machine.
One of the other main features is its Power Rod system, which supplies the Blaze's resistance. This is where instead of lifting weight plates, like you would on most home gyms, you pull against a rod with a maximum level of tension. This creates resistance that's lower at the start of a rep and gradually increases as you progress through the motion.
This is a unique selling point, that is designed to provide an equal challenge throughout a rep, so you don't have to limit your training to the strength of your muscle at its weakest, most elongated position. In fact, this system is where the company derives its name from, as the motion is similar to that used when pulling the string on a bow.
What Exercises Can You Perform?
The Bowflex Blaze provides an impressive selection of over 60 exercises, covering your entire body, making it a perfect option if you want to do all of your training on one machine.
It's listed as having:
8 Chest Exercises
13 Shoulder and Trap Exercises
9 Back exercises
14 Arm Exercises
5 Ab Exercises
10 Leg Exercises
1 Aerobic Exercise
That brings us to the 60 mentioned in the advertising, however, as with any cable machine, there is room to adapt. With a selection of different attachments and angles to attack your body from, you're only real limitation here will be your knowledge and imagination.
Benefits/Advantages
So, the main benefit to the Bowflex Blaze is that it allows you to train your entire body and get your cardio all on one machine, something which you would normally require at least 2 separate machines to achieve.
This means it provides all of the benefits normally associated with home gyms, such as convenience, no traveling time, the ability to train whenever you want, no queues for machines, etc, with the added bonus of saving a great deal of space compared to buying two separate items.
Limitations/Disadvantages
The main limitation of the Bowflex Blaze is the same that comes with any home gym, which is that when machines try to do too much, they end up hurting themselves and minimizing how effectively they execute what they can do.
While you will never completely get away from this issue with a multi-gym, it is at least worth noting that the Blaze is about as good as any option, so if you've decided on a home gym, this is going to be one of the least limited you come across in that respect.
Beyond that, the only other limitation that springs to mind is the maximum weight capacity. While 300 lbs will be sufficient for a large percentage of its users, it will undoubtedly exclude some potential customers who were considering buying it.
Warranty & Guarantee
When making a purchase in this price range, there are always going to be some reservations. While worrying about whether or not it will be right for you is a short-term concern, which can normally be calmed with moneyback guarantees, the quality of your product and how it will hold up over time is likely to be of a larger concern.
Thankfully, that shouldn't be a problem for you with the Bowflex Blaze. While the frame comes with a 5-year guarantee that should be more than enough to quell any concerns about the build quality, the lifetime warranty on the Power Rods should make you feel comfortable that this is a product you will be using for many years to come.
Shipping And Assembly
For such a large, complex item, the Bowflex Blaze isn't too bad when it comes to assembly. It comes in a couple of boxes, containing the instructions, some of the more specific tools required, and with all of the more complicated pieces arriving as solid, pre-assembled units.
You'll still require a couple more tools, such as an adjustable wrench and some screwdrivers, and be willing to spend up to 3 hours assembling everything but, all in all, things are pretty straightforward.
As for shipping, that will vary depending on the supplier. However, I would suggest looking for one of the options that offer free delivery, even if that ends up with you paying slightly more for the machine itself, as shipping on a product of this weight can get expensive in a hurry.
Price And Value
Let's begin by saying that home gyms in general are expensive pieces of kit. If you're in the market for one and want a good product, then you need to be prepared to part with a decent amount of money.
Once you understand that, then the price of the Bowflex Blaze won't come as too much of a shock.
Sure, it's not one of the cheapest on the market, but there are also plenty of more expensive options out there too. Considering the quality of the product, the range of potential exercises available, and the fact it can be used for aerobic training as well as resistance, the price actually starts looking reasonable and should seem like a good value option overall.
Alternatives
Now, as I mentioned at the outset, there are plenty of options available when it comes to home gyms. If you feel the Bowflex Blaze isn't for you, for whatever reason, then perhaps you'll find one of the following 3 alternatives better suited to your personal needs.
Bowflex PR1000 Home Gym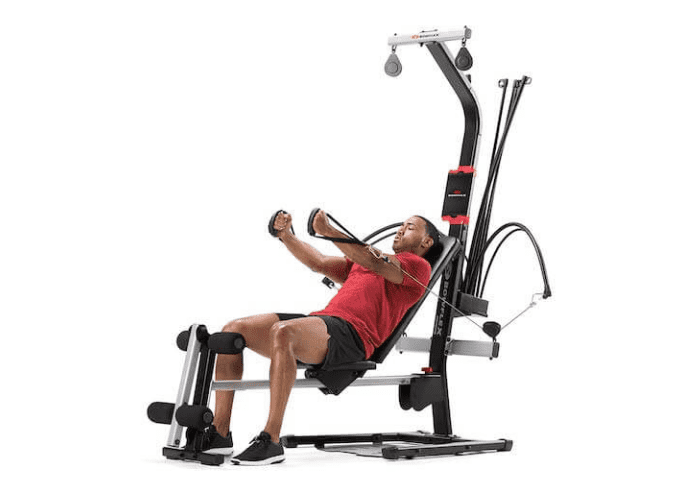 Pros
Can be used for resistance and aerobic training
Foldable bench allows it to be somewhat stored when not in use
Reasonable price compared to other options
Cons
Limited number of available exercises
Resistance can't be upgraded
If you like the sound of the Blaze but feel it's a little out of your price range, then perhaps the PR1000 will be more suited to you. Made by the same company, Bowflex, it is one of their earliest models. While it is much more limited in terms of the number of exercises you can perform on it, it still comes with aerobic rowing functionality and has a much lower, more affordable price tag.
Powerline BSG10X Home Gym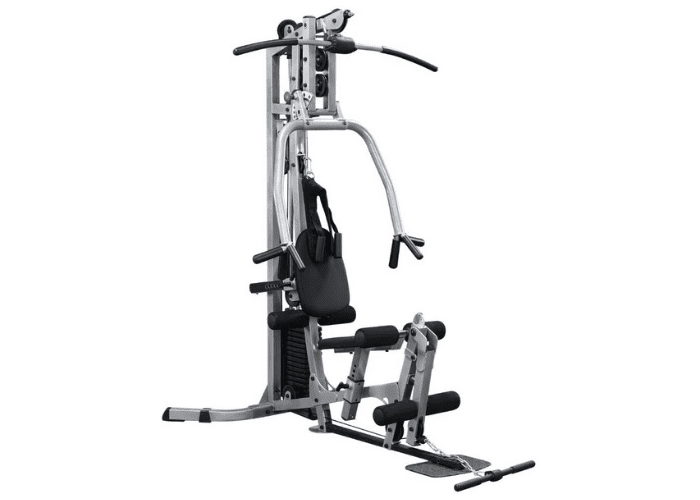 Pros
Quick and easy to assemble
Compact machine compared to other home gyms
Versatile machine with an adjustable weight stack and adjustable arms
Cons
Slightly more limited selection of exercises
No aerobic rowing
If the assembly required on the Blaze is what's putting you off, then perhaps the BSG10X from Powerline would suit you better. While the number of listed exercises is slightly lower and it doesn't provide aerobic rowing, it is sold on the fact that it comes 90% assembled and can be completely put together with just 9 bolts, which are included in the box, in just 30 minutes. Despite being a similar price to the Blaze and providing a little less, if you don't want any fuss and want to get exercising as soon as your product arrives, then this may be the choice for you.
Weider Home Gym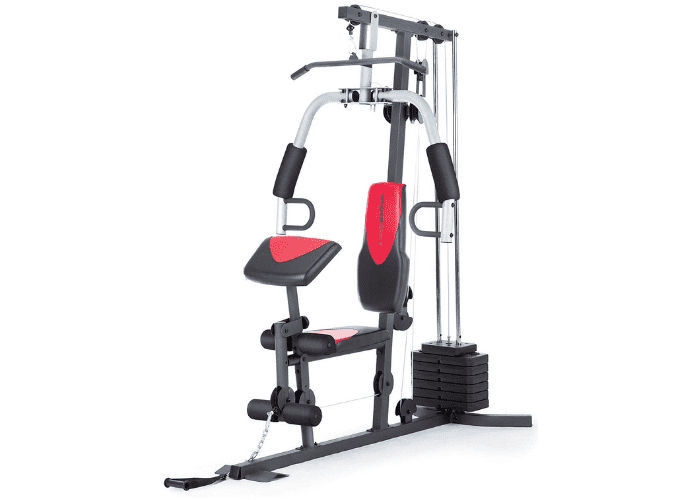 Pros
More affordable
Traditional weight stack
Cons
No aerobic rowing
More limited selection of exercises
If the Power Rod resistance system is what's putting you off, then perhaps a Weider Home Gym is more for you. One of the most famous names in bodybuilding, Weider Home Gym's feature a traditional weight stack and come at a much lower price than the Blaze.
Final Thoughts
When it comes to home gyms, the Bowflex Blaze is truly a fabulous option. With its wide range of available exercises, aerobic rowing functionality, and somewhat reasonable price (when compared to other machines of similar quality at least), it's no surprise why it is so popular.
Sure, it has some drawbacks and won't be for everyone, but if you're in the market for a home gym and there's nothing I've mentioned that's put you off, then I'd strongly recommend you give it a try.
Frequently Asked Questions About The Bowflex Blaze
Is the Bowflex Blaze discontinued?
Although you can no longer purchase the Bowflex Blaze from Bowflex directly, this home gym is still available from other retailers such as Amazon, Walmart, and DICK'S Sporting Goods.
Is the Bowflex Blaze worth it?
The Bowflex Blaze home gym is one of the best home gyms you can purchase when you consider the price along with what it allows you to do. It has a wide range of exercises making it a widely popular choice amongst home gym users.
Does Bowflex Blaze build muscle?
The Bowflex Blaze can certainly help you build muscle. Its Power Rod technology allows you to strength train using varying resistances which can help you build muscle. The resistance can even be upgraded to 410 pounds if you want a more challenging workout.
What exercises can you do with a Bowflex Blaze?
You can perform over 60 exercises with the Bowflex Blaze, including bench press, leg curls, bicep curls, tricep extensions and seated lat pulls.
How much space do you need for a Bowflex Blaze?
According to Bowflex, you should allow for a free space of at least 8'4" L x 6'6" W (2.6 m x 2 m) for the safe operation of this model.