So, you're getting yourself a home fitness setup put together and you need an option for your cardio. You've heard the brand Bowflex is one of the market leaders in both quality and functionality, but you've hit a snag, as you can't figure out which of their products will be better suited to you out of the Max Trainer or the Elliptical.
Well, in today's article, I'll be looking to help solve that conundrum for you, as I will be analyzing and comparing both machines, to figure out which is truly the king of the Bowflex cardio family.
Bowflex Max Trainer Overview
One of Bowflex's most popular innovations, the Max Trainer combines a stepper and an elliptical into a single machine. With numerous models through the years, adding more and more features each time, it is a fantastic machine for those who like variety in their cardio and training in a way that keeps up with the times.
Specifications And Features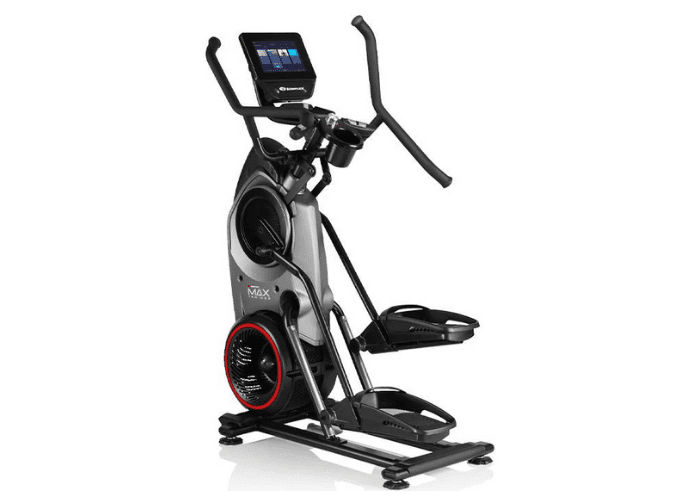 Heart rate monitor
2-8 workout programs, depending on model
8-20 levels of resistance, depending on model
Workout history tracking
Interactive Bowflex JRNY coaching software (subscription required)
WIFI, Bluetooth, and USB connectivity
Interactive touchscreen displays
Sizes from 49" (L) x 30.5" (W) x 65.5" (H) to 46" (L) x 26" (W) x 64.2" (H)
Bowflex Elliptical Overview
With elliptical machines or cross trainers as they're also known, is one of the most popular cardio options available, it's unsurprising that Bowflex has endeavored to build a top-of-the-range version of their own.
With two models currently available, the BXE 226 and 236, they have limited differences between them, but both provide high quality, comfortable, interactive Elliptical experience.
Specifications And Features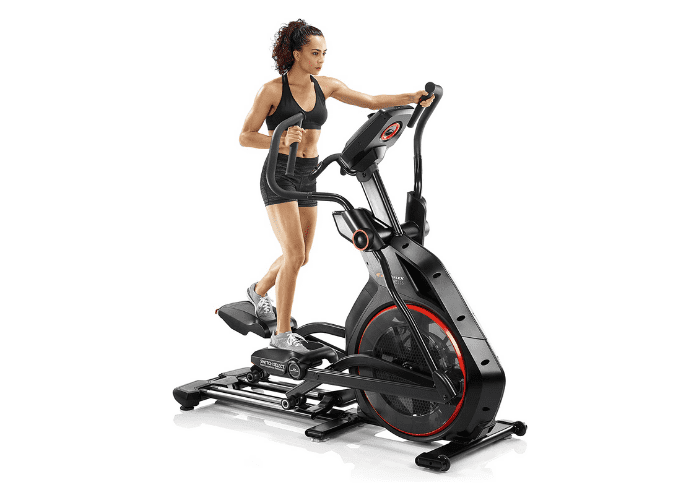 77" (L) x 31" (W) x 70 (H)
25 resistance levels
4 user profiles
9 or 11 pre-set workout programs and custom workout creation
3 or 4 different hand positions
7.5" or 9" color LCD display
Heart rate monitor and burn rate console
Bluetooth and USB connectivity to connect to free app
Limited home warranty
375lb or 400lb weight capacity
What Are The Main Differences Between A Bowflex Max Trainer And A Bowflex Elliptical?
The main difference between the two is that the Max Trainer combines the movements of an elliptical with a stepper, it may at first glance seem like that is going to be the more effective machine.
However, sometimes trying to make something do too much can backfire and end up leaving it proficient in many areas but elite in none. With that in mind, we're going to need to go a little deeper, to see exactly how our two products stack up.
Functionality And Performance
Max Trainer
We'll start with the most important element, which is how effective the machines actually are.
For a hybrid machine, the Max Trainer does remarkably well at providing a solid workout, covering elements of what make both steppers and ellipticals staples of the cardio industry around the world.
With numerous resistance levels and pre-set workouts, it provides a challenging workout for users of all abilities.
Elliptical
Unlike the Max Trainer, the ellipticals have just one job to do, however, they also have much more competition on the market.
The reason they manage to stay ahead of the competition is due to just how well they do what they do. With a smooth motion, a wide range of resistance levels, and preset programs, as well as multiple different hand positions, the Bowflex ellipticals provide quality performance for users of all abilities.
Verdict- Max Trainer 0 – Elliptical 1
While the Max Trainer does incredibly well as a hybrid, it was always going to be a tough ask to compete against a top-of-the-line machine that specializes in just one area, and unfortunately, it does just fall short.
Features And Workout Capabilities
Max Trainer
Being a hybrid, the Max Trainer is going to need to be fully loaded to stand a chance of competing. Thankfully, that is definitely the case here.
With a wide range of resistance levels, pre-set workout programs, heart rate monitoring, and connectivity that allows you to access the custom workout and coaching found on the JRNY software, the Max Trainer is simply stacked with features to ensure your workouts can be enjoyable and effective for years to come.
Elliptical
While not as tech-heavy as the Max Trainer, the ellipticals still come with 25 levels of resistance, 9 to 11 pre-set workouts (dependant on model), heart rate monitoring, and connectivity to their free app.
They also have adjustable handholds and multiple user profiles, to make it a machine suitable for up to 4 users to comfortably share.
Verdict- Max Trainer 1- 1 Elliptical
This is a tough one to determine, due to the elliptical having slightly more levels of resistance and pre-set programs. However, with all of the extra features included on Max Trainers, most notably on the newest models, it just edges it on this one.
Calories Burned
Max Trainer
The reasoning behind combining the motions of an elliptical and a stepper is to combine their strong points. An elliptical is one of the most effective cardio machines on the market for burning calories, as it incorporates your entire body, unlike things like bikes and treadmills. That also means it will have the added bonus of helping to tone your upper body at the same time.
A stepper, meanwhile, is one of the most effective cardio machines for toning, due to its slightly tougher resistance and more deliberate motion.
This means the combination of the two allows the Max Trainer to burn a great number of calories, while simultaneously toning your entire body as you go.
Elliptical
As I mentioned above, elliptical machines are one of the most effective machines on the market for burning calories and, as one of the top options available, this is no different.
Verdict- Max Trainer 1 – Elliptical 2
Another close contest, while the Max Trainer certainly comes closer than a traditional stepper would, this is an elliptical machine's strong point, so there was only ever going to be one winner.
Build Quality And Design
Max Trainer
With an incredible amount packed into a single machine, featuring both an abundance of tech and multiple workout styles, the Max Trainer is expertly designed and is built to the high level of quality you would expect from a Bowflex machine.
Elliptical
While the elliptical doesn't do as much as the Max Trainer, it does what it specializes into perfection. Expertly built and featuring some nice extras, it's clear why it is one of the market leaders in its field.
Verdict- Max Trainer 2 – Elliptical 2
While the elliptical is no slouch, this one has to go to the Max Trainer. With a unique design, this is a machine that has been designed and manufactured from the ground up, to provide a workout you are unlikely to find anywhere else.
Price/Quality Ratio
Max Trainer
As we come into the last category neck and neck, we arrive at a detail that could make or break your purchase.
The first thing you need to realize is that both of these machines are high-end pieces of equipment, which come with prices that match.
The Max Trainer is an awfully expensive machine, particularly when it comes to the higher-spec models, but it justifies its price tag by including an incredible amount of technology and innovative features.
Bowflex
Just like the Max Trainer, the elliptical will cost you a large sum of money. Again, the reason for this is that it includes a quality build and a number of features.
Verdict- Max Trainer 3 – Elliptical 2
With two high-priced items, deciding which one provides the best value can be challenging. However, in this instance, it simply has to go to the Max Trainer. While it is the more expensive of the two machines, it also provides more as well.
More features, more tech, and a more varied workout. While the elliptical is good, there are others on the market that do a similar job, that can be obtained for a much lower price.
Final Thoughts
A close-run thing throughout, the unique workout and all of the high-tech features that are included in the Max Trainer just push it out in front.
The Bowflex Elliptical is definitely a high-quality machine and, if you want a top-of-the-range cross trainer, is definitely a good option. However, with everything taken into consideration, it simply just lags behind the Max Trainer overall.
Frequently Asked Questions
So hopefully, I will have put all of your doubts to rest when it comes to deciding which of these machines is right for you. However, if there are any lingering queries, allow me to clear up a few of the most frequently asked questions before I go.
Are Bowflex Ellipticals Good?
Bowflex ellipticals are one of the top choices on the market. While there are certainly cheaper options to be had, if you're looking for a top-of-the-range model, then the Bowflex is a sensible choice to go for.
Does The Bowflex Max Trainer Really Work?
The Max Trainer does an extremely unique job which, while it may not be right for everyone, executes to perfection.
It burns a good number of calories, while simultaneously helping you to tone. Now, if you are specifically looking for one of those two things, then it may not be for you. However, as far as doing what it sets out to, it definitely works incredibly well.
Is Max Trainer An Elliptical?
The Max Trainer is not elliptical. While it contains some similar elements, it is a hybrid of both an elliptical and a stepper, which provides a workout unique from both individual machines.