Pros
Wide range of exercises.
Aerobic rowing functionality.
Easily adjustable "freedom arms" provide 360-degree range of starting positions.
Spiraflex technology provides resistance beyond the weight of the machine.
10-year warranty.
Cons
Lengthy assembly.
Expensive shipping, if not bought from the right source.
Takes up a lot of room.
Expensive.
Max weight capacity is a little low.
With home workouts more popular than ever before, people are heading out in their droves to purchase the biggest and best home gyms they can find. One brand that receives a lot of attention in this area is Bowflex, and its Revolution home gym is potentially the crown jewel of its range.
For anyone who is still undecided on what home gym to purchase, I will today be breaking down and examining exactly what gives this home gym the reputation it has developed in this Bowflex Revolution review.
Bowflex Revolution Overview
Featuring a wide range of available exercises, the ability to perform both resistance and aerobic training, as well as its unique Spiraflex technology allowing it to provide much greater resistance than the overall weight of the machine, would suggest, it's a machine that ticks off a number of the most pressing needs for this type of equipment.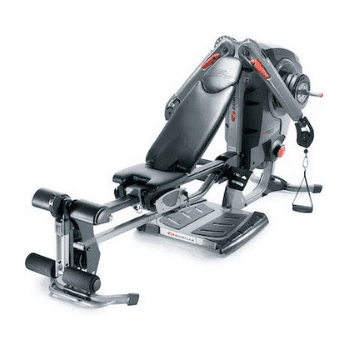 Technical Specifications
Weight- 336 Pounds
Dimensions-112in (L) X 38in (W) X 73in (H)
Material- Frame-Steel, Spiraflex Resistance Packs-Metal, and Elastic
Spiraflex Resistance- 220lbs, which produces 440 lbs of resistance. Upgradeable to 300lbs, producing 600lbs of resistance.
100+ Available exercises
Aerobic rowing functionality
Warranty: 10 Years
Max user capacity-300 lbs
Key Features
While most products have their own unique selling points, to make them stand out from the crowd, two features of the Revolution are key to the product's success.
Spiraflex Resistance Technology
Spiraflex Resistance functions in a similar way to traditional free-weights, where you are lifting a selected weight, which provides a continuous resistance throughout each repetition. However, what sets it apart is the fact that the Resistance Packs are weighted bundles held together with elastic, which wraps tighter and tighter around a coil as the repetition progresses.
This allows the machine to produce a resistance double what you would expect from each pack, enabling it to be used in places where an overall weigh allowance is an issue that has to be considered.
Freedom Arms
The other key selling point on the Bowflex Revolution is the Freedom Arms, the sections where you attach your handles to and pull the weight from.
With many machines, you are limited to one, or perhaps a couple of different starting positions to set your machine to. With the freedom arms though, that number jumps to 10 different options for each arm, ranging from pointed at the ceiling to down at the floor, giving you a full 360-degree range to start your exercise from.
Exercises And Attachments
One of the main selling points of the Bowflex Revolution is the sheer quantity of exercises it is advertised as being able to provide. When broken down into individual muscles groups, It is listed as having:
16 Chest Exercises
22 Shoulder and Trap Exercises
12 Back exercises
18 Arm Exercises
6 Ab Exercises
18 Leg Exercises
1 Aerobic Exercise
The above list contains a total of 93 exercises. While that will likely seem plenty to most, some of the more eagle-eyed readers may have noticed the 100+ exercises it is listed as being capable of.
This discrepancy comes from the fact that many of the exercises have multiple variations listed and the fact that cable machines provide the ability to adapt and innovate exercises as you see fit. So, while they can confidently state that 100 exercises are achievable, in all likelihood the true potential of the machine is considerably higher.
As far as attachments provided with the machine, it comes with a pair of hand grips, a foot harness, and a squat harness as standard.
Beyond this, you can adapt the machine with all manner of ropes, bars, and handles, as you would with any cable machine.
Warranty & Guarantee
Any time you spend a large sum on a purchase, you want to be able to have confidence in the longevity of your product, which is especially true of a product in this price range.
You will therefore be happy to know that the Bowflex Revolution comes with a 10-year guarantee on the entire product, including both the frame and all moving parts.
This should leave you feeling satisfied, as 10 years is a more than fair length of time to cover you for.
Shipping And Assembly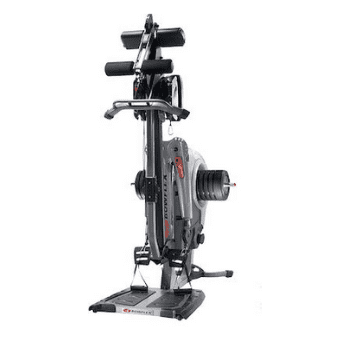 When it comes to shipping and assembly, it's a kind of good news, bad news scenario.
We'll look at the shipping first. Now, while some companies may offer free shipping, such as a popular one named after a South American river, others will charge you a small fortune to deliver it, due to the overall weight of the product. To that end, you may find it's worth spending a little more on the product itself, to get it from one of those companies offering free shipping, as it will end up saving you money overall.
Then we come to the assembly. Now, while it may look daunting at first glance, all of the most complex parts come pre-assembled in the box, leaving you to simply put them all together. They even supply a selection of Allen wrenches to help you complete the task.
Now that we've got the good bit out of the way, I have to mention the two drawbacks. The first drawback is that you will still need your own adjustable wrench and selection of screwdrivers to build the machine, which is fairly minor. However, the fact that it will take 6-8 hours to get everything set up will likely be much more off-putting to some.
So, all in all, things could be a lot worse on the shipping and assembly front, especially if you choose the right place to purchase it from. That said, make sure you're willing to put in a full day's graft to assemble the Revolution before you take the plunge.
Alternatives
If you haven't worked it out by now, I think the Bowflex Revolution is one of the best home gyms on the market. That said, I understand that it won't be for everyone for one reason or another.
If you find yourself falling into that category, allow me to present you with 3 alternative options, that you may feel match your own personal needs a little better.
Bowflex Xtreme 2SE
The crown of the Bowflex Power Rod family, this is one of their best-rated and versatile home gyms.

The Xtreme 2SE uses 210lbs of Power Rod resistance but allows you to upgrade to 410lbs (185.9kg) if you so wish. If you like to vary your workouts then this home gym could be a good choice as it allows you to perform over 70 exercises, allowing for a full-body workout.

It also comes with attachments such as ankle cuffs and features a 5-way grip system that allows you to perform different exercises at various angles. The Quick Change System makes changing the cable pulley positions a breeze.
Bowflex PR1000 Home Gym
An older model from the same company, the Bowflex PR1000 still features aerobic rowing functionality, but at a much cheaper price. Unfortunately, this cheaper priceio[#p does come at a cost, as the number of available exercises on the machine is much more limited.
It also operates on a Power Rod system, instead of Spiraflex Resistance. This provides a workout where the resistance can alter during a rep, to keep the pressure the muscle is under constant throughout.
BodyCraft Xpress Pro Home Gym
The only home gym I'm going to mention not made by Bowflex is the BodyCraft Xpress. This is a product that is somewhere between a home gym and a full gym. It features a much wider range of potential exercises and has features that can be used with dumbbells and barbells too.
The drawbacks to this option come in the form of a substantially higher price tag and it requiring much more space to use, so certainly won't be for everyone.
Final Thoughts
As far as home gyms go, I genuinely believe the Bowflex Revolution to be one of the best on the market. Sure, it's expensive, takes up a lot of room, and requires a lot of effort to put together, but if you have your heart set on a home gym, that's likely the price you will have to pay for any high-end option, so why not treat yourself to one of the absolute best.
Frequently Asked Questions
Is The Bowflex Revolution Home Gym Any Good?
I personally believe the Bowflex Revolution is one of the best home gyms on the market and, based on its sales and reviews, there are a lot of people who agree with me.
What Comes With The Bowflex Revolution Home Gym?
As standard, the Bowflex Revolution comes with the machine itself, featuring its Spiraflex Resistance system, two hand grips, a squat harness, and a foot harness. Additional attachments and resistance upgrades can be purchased separately.
What Is The Difference Between The Bowflex Revolution And Revolution XP Home Gym?
The XP is a newer, more compact version of the Revolution, which comes with a slightly higher price and marginally lower resistance limit. This will be the preferred option for those who want a Revolution, but saving space is essential.