With home workouts more popular than ever, people have been buying all the fitness equipment they can get their hands on. As one of the staples of the fitness industry, dumbbell sales have gone through the roof, with people more inclined than ever before to get themselves one of the top options available.
That brings us to today's article, where I'll look at two of the top companies around and decide who is the king of the dumbbells, in the heavyweight battle that is Powerblock Vs Bowflex.
Powerblock Overview
Founded in 1993, Powerblock has been producing fitness equipment for almost 30 years and become one of the leading brands in their field along the way. While they are primarily known for their dumbbells, they also manufacture kettlebells, barbells, stands, weight benches, and a small number of other fitness accessories.
Powerblock Adjustable Dumbbell Models
While their dumbbells in general receive rave reviews, they have 3 main models, which are the flagships of their franchise. These are the:
Powerblock Sport Series: The smallest and cheapest option they make, with dimensions as small as 10in (L) x 5.5in (W) x 5.5in (H) and made entirely from steel. Their non-adjustable variety also has the greatest weight range of the three series.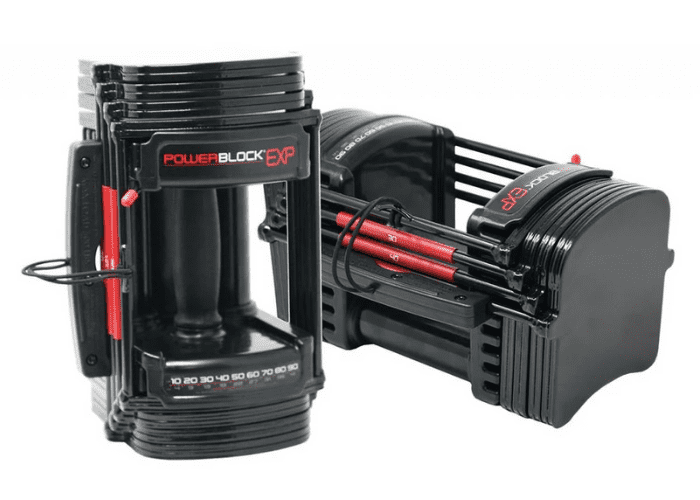 Powerblock Elite Series: Their mid-range option in both size and price, also made entirely from steel. They feature the cheapest adjustable option of the three but don't offer non-adjustable dumbbells in this series.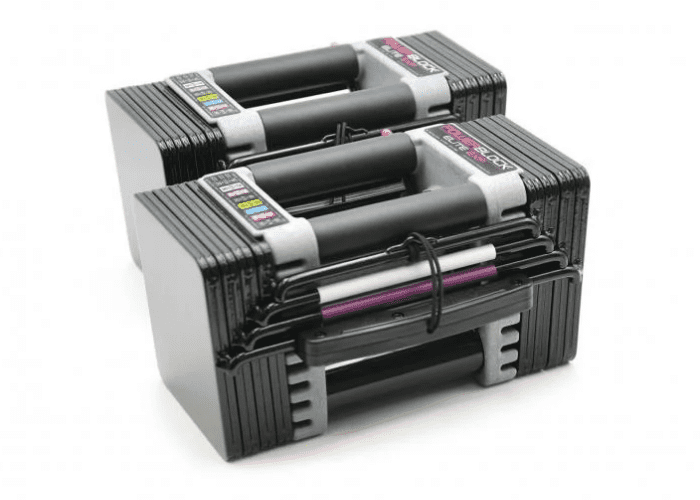 Powerblock Pro Series: The top model made by Powerblock, made from urethane-covered steel. The largest and most expensive of the three, the adjustable model has by far the greatest number of weight increments of any of the series.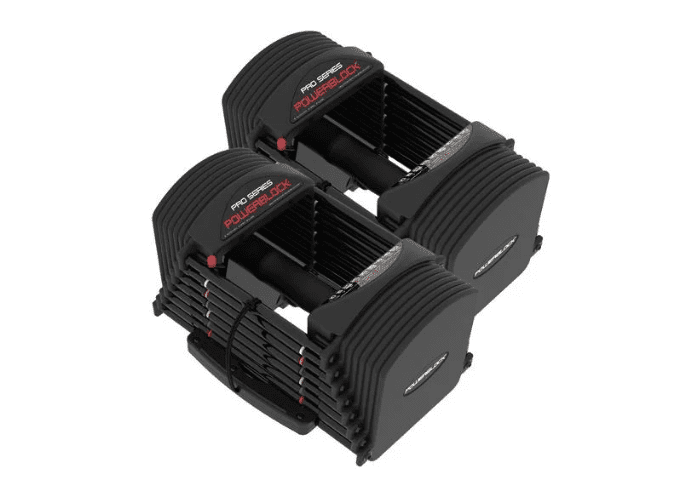 General Features
5-year warranty
2.5-90lb weight range per dumbbell
Size range between 10×5.5×5.5 inches and 17x7x7.25 inches
Made from solid steel
Bowflex Overview
With their 35th birthday in 2021, Bowflex has been making fitness products for 3 and ½ decades, so, as you can imagine, have developed quite a skill when it comes to making top-of-the-line products.
Making their name on the back of their home gyms, they also produce popular ranges of treadmills, ellipticals, steppers, dumbbells, benches, racks, and a variety of other fitness accessories.
Bowflex Adjustable Dumbbell Models
While their broader range of products means they aren't explicitly known as dumbbell manufacturers like Powerblock, their SelectTech ranges are still one of the premier options on the market. At present, these include the:
Bowflex SelectTech 552: The cheapest, smallest, and lightest of the range, offering weights between 5 and 52.5lbs. These were the original model that started it all for Bowflex.
Bowflex SelectTech 560: The mid-range option in both price and weight, ranging between 5 and 60lbs per dumbbell. This is also the only interactive dumbbell in this article, featuring Bluetooth technology that tracks your weights and reps for you.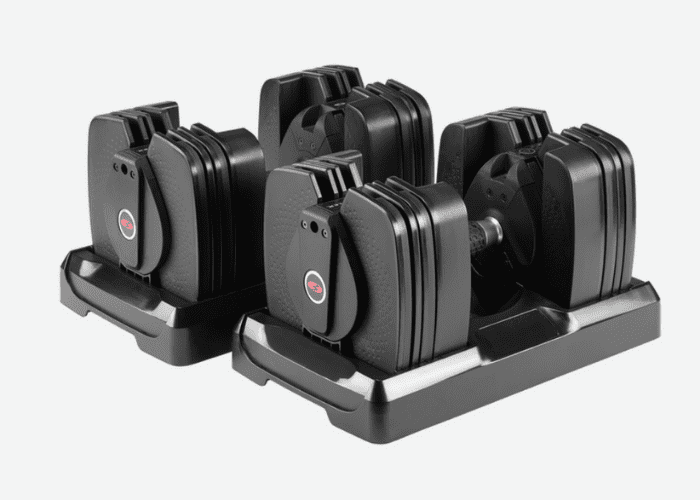 Bowflex SelectTech 1090: The cream of the crop among Bowflex dumbbells, they provide a weight range of 10 to 90lbs but are easily the largest, most expensive of the three options.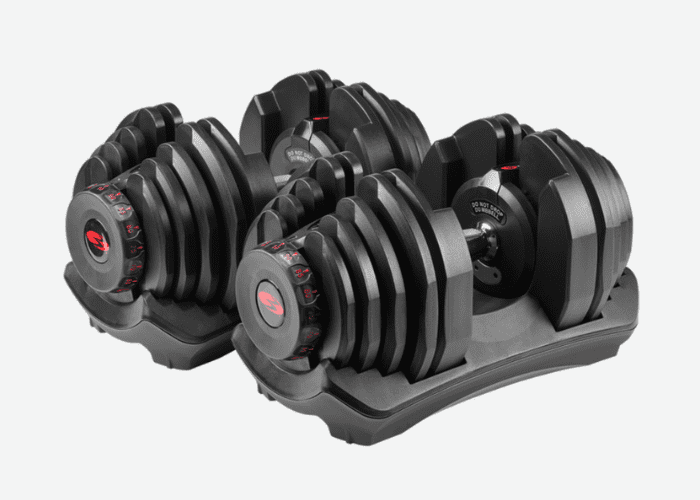 General Features
Weight range of 5-90lbs
Packaged with the Bowflex SelectTech App to assist your training
Dimensions range from 16x8x8.5 inches to 17.5×9.5×10 inches
Made from polyurethane covered steel
Why Use Adjustable Dumbbells
So, I'm sure with all this talk about adjustable dumbbells, you're probably asking yourself what all the hype is about. As with anything, there are a number of pros and cons to consider when looking at whether this is the right type of product for you.
Benefits of Adjustable Dumbbells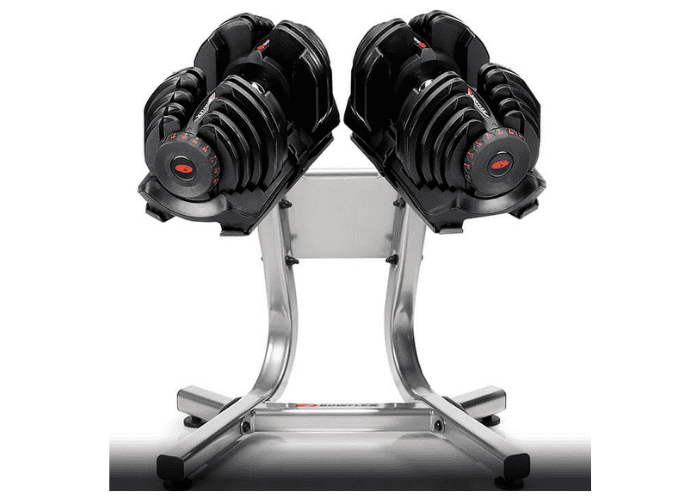 The number one selling point to these dumbbells is space. Unless you have a huge amount of room at home, the idea of getting a full set of dumbbells is probably quite off-putting, as merely finding somewhere to store them is going to give you a headache.
Thankfully, that isn't an issue with these adjustable dumbells, as they take up minimal space and can easily be tucked away when not in use.
The other thing that sells these is the ease of use. Nothing throws your workout off quicker than beginning a set, realizing you've selected the wrong weight, and having to trudge back to the rack to swap them for another pair.
Well with adjustable dumbbells that are as easy to change as the ones from Powerblock and Bowflex, that is a thing of the past. You can quickly and easily alter the weight you are lifting without ever having to leave your bench, to keep the blood pumping where it's needed most.
Disadvantages of Adjustable Dumbbells
The main drawback to the dumbbells on this list is most definitely going to be price, as they are not cheap items. Don't get me wrong, they are still going to work out cheaper than buying a full set of dumbbells.
That said, anyone who feels they aren't going to use most of the settings may still prefer to go for a few sets of dumbbells that best match their own level instead.
Beyond that, the limit at the upper end of the weight range, as well as the size of the dumbbells when they are at capacity, may hinder more advanced lifters. However, chances are, if you're of that level it's probably unlikely you'll be trying to get by with just one pair of dumbbells anyway.
Functionality And Performance
So, we begin our head-to-head comparison with perhaps the most important factor, how the products actually perform.
With a basic product like a dumbbell, this one is going to be tough, especially with two top options, as it's quite hard to get the basics wrong.
All of the Powerblock options are well made and do their job as well as you could hope for.
Similar to the Powerblock, all of the Bowflex options do everything you would expect from a dumbbell.
However, when you look a little closer, Bowflex also has a few extra selling points, such as all of their models being coated with a protective layer (as opposed to only the most expensive Powerblock option), as well as the 560 also having Bluetooth technology, to help you track your workouts.
Verdict- Powerblock 0 – Bowflex 1
While they both do all the basics just as well as each other, Bowflex just seems to have more bells and whistles throughout its range to nudge it ahead on this one.
Build Quality And Design
Having honed their skills as dumbbell specialists over the years, Powerblock's entire range is built to the highest standards, using premium materials. They do leave a little to be desired on the design front, however as they're quite chunky and unattractive compared to a traditional dumbbells' appearance.
In almost direct contrast to the Powerblock, Bowflex dumbbells have their priorities the other way around. While they have that traditional dumbbell aesthetic that you might expect from such a product, they also feel to be a slightly lower quality build than you would get from the Powerblock.
Verdict Powerblock 1- Bowflex 2
With this category being quality AND design, I have to split the points, as while the Bowflex is a better-designed dumbbell, it is undoubtedly of a lower quality than the Powerblock.
Adjustment System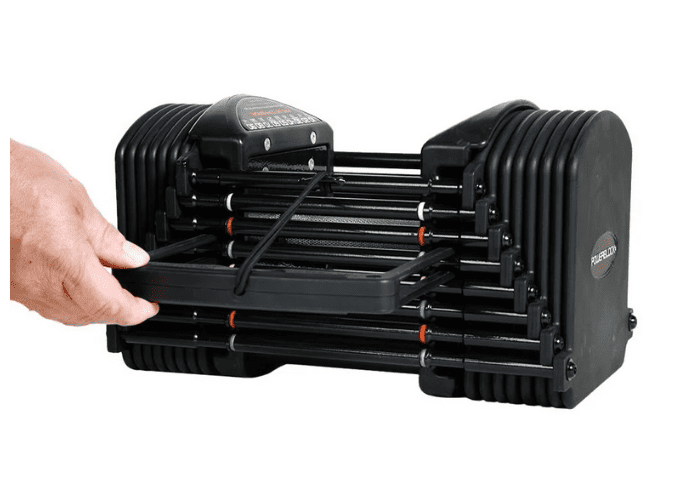 The adjustment on a Powerblock dumbbell operates the same way a weight stack on a resistance machine would. You simply pull out the pin, re-insert it into the weight you want to use, and carry on with your workout.
An equally simple method, Bowflex dumbbells use a dial to adjust their weight. You simply put the dumbbell into the stack, turn the dial to the weight you want to use and you're ready to go.
Verdict Powerblock 2 – Bowflex 2
While at first glance you might be expecting another tie, this one actually goes to Powerblock. The reason for this is that, while both mechanisms are equally simple to use, Powerblock's has proven more effective.
Unfortunately, there have been complaints about the dial on Bowflex models not locking correctly or being hard to turn, while I haven't found any such reports on Powerblock dumbbells.
Grip And Comfort
The Powerblock Sport and Pro series both come with an ergonomically contoured, rubber-coated handle, while the Elite features a straight handle coated in padding.
All of the handles on Bowflex models are ergonomically contoured, though they feature differing amounts of rubber coating, from none to minimal.
Verdict Powerblock 3 – Bowflex 2
The first easy victory for the Powerblock, the coverings on all three models make them more comfortable to use than the Bowflex, and, even with the Elite having no contouring, they all match up at least equally to Bowflex in terms of grip.
Weight Range, Distribution, And Max Capacity
Powerblock features a weight range from 2.5 to 90lbs, going up in a combination of 2.5 and 5lb increments.
Bowflex has a weight range of 5 to 90lbs, going up in 2.5lb increments from 5 to 25lbs, then 5lb increments thereafter on the smaller models and 5 and 10lb increments throughout on the larger models.
Verdict Powerblock 4 – Bowflex 2
Another close-run thing, as they both have identical max capacity and similar weight ranges. However, Powerblock having a slightly greater range at the lower end, as well as a greater range of increments, pushes it ahead.
Price/Quality Ratio
With similar levels in quality between the two brands (although with Powerblock having a slight edge) this one is largely going to come down to value. Despite being one of the most famous brands in the world for dumbbells, all of the Powerblock options come in as surprisingly affordable considering what they offer.
As a premium brand, Bowflex dumbbells also come with a premium price attached to them, which doesn't even come close to matching Powerblock.
Verdict Powerblock 5 – Bowflex 2
Another clear victory for Powerblock, as when a pair of their top model comes in around the same price as one of Bowflex's cheapest options, this can only go one way. Add in the fact they seem to be slightly better made and the disparity between the two grows even further.
Alternative: The Ironmaster Adjustable Dumbbell
Powerblock vs Bowlfex vs Ironmaster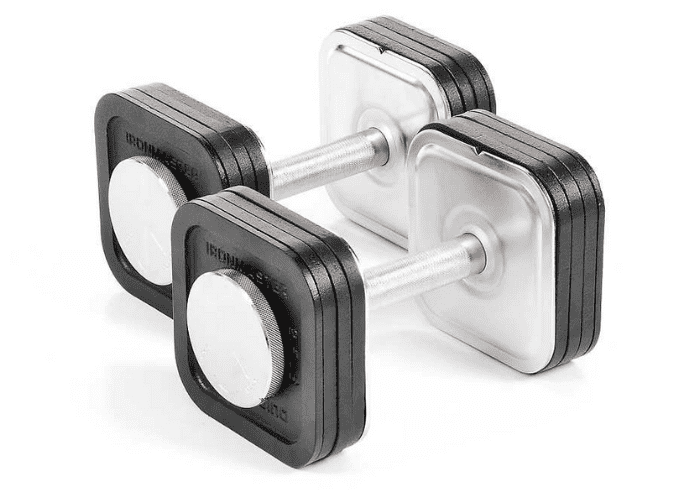 If for whatever reason neither the dumbbell sets from Powerblock or Bowflex are to your liking then you could try the Ironmaster adjustable dumbbells. The Ironmaster, like the Bowflex models, has more of a traditional dumbbell shape which may be easier to handle for some.
The Ironmaster dumbbells are well made and quite durable so you can expect them to last a long time. The adjustment system uses what Ironmaster describes as a quick-lock system, however, I haven't found them to be any quicker or easier than adjusting the weights on the Powerblock or Bowflex models. However, depending on your model of choice, you may find the Ironmaster cost more favorable. You can check the price here.
Final Thoughts: Should You Buy a Powerblock or Bowflex Model?
Maybe it shouldn't come as a surprise that a company specializing in dumbbells has emerged as the clear victor here, however, I was expecting things to be a little closer.
While the Powerblock has a clunkier design and could perhaps do with its cheaper models having a little more padding, the value, quality, comfort, weight range and ease of use make this simply too much for the competition.
If you particularly want an interactive dumbbell that tracks things for you, then perhaps you're better off with a Bowflex 560. For everyone else though, if you're in the market for an adjustable dumbbell then I'd highly recommend picking up any from the fabulous range that Powerblock produces.
Frequently Asked Questions About Powerblock vs Bowflex
Before I sign off, allow me to summarise by answering a few of the most frequently asked questions one last time.
Which Is Better, Powerblock Or Bowflex?
While Bowflex is a great brand with some fantastic products, I think this article should have made it clear that, if you're in the market for an adjustable dumbbell, Powerblock is clearly the better choice.
Are Bowflex Adjustable Dumbbells Worth It?
While Bowflex's range of adjustable products is certainly good quality, they seem a step behind Powerblock in most areas, none more so than the price. So, unless you are really set on sticking with the Bowflex brand, I think you'll find much better value elsewhere.
Are Powerblock's Good?
Another question that should be clear by this point. While some may not like the clunky appearance of the Powerblock dumbbells, you don't last as long and develop as great of a reputation as they have without making quality products. So, while they may not be for everybody, they are undoubtedly a "good" product, to say the least.
What Are The Best Adjustable Dumbbells?
This question's almost impossible to answer, as there are so many things users could look for, from style and functionality to comfort and price, everyone will have their own preferences. However, if I had to go out on a limb and say which gave you the best all-around option, I would personally go with the Powerblock Pro Series.