Pros
Solid frame
Max user weight of 350 lbs
Suits users up to 6'4" in height
Dual chain and belt drive for smooth, quiet operation
8 inbuilt programs
Contoured, ergonomic seat
Vertical storage and transportation wheels
Cons
Flywheel does not contain a damper
Pretty basic monitor
Quite expensive
Large footprint
Heavy
This is our review of the Assault Rower Elite air rowing machine, produced by Assault, which is a California-based division of LifeCore. They also put out the popular Assault Air Runner curved treadmill.
As a former gym owner and personal trainer, I'm always on the lookout for cardio training gear that's made for the elite athlete. Several years ago, the Assault company came onto my radar when they put out their Air Runner. When they released the Rower Elite, my ears pricked up based on the quality of that previous product. I have, as a result, spent a lot of time going over the Assault Rower Elite.
I've had several HIIT sessions on the Assault Rower Elite myself. In addition, I've spent hours doing online research, with a focus on verified reviews from purchasers of this machine. I've put the results of all of that research together in this article to provide you with everything you need to know to make the most informed decision about investing in the Assault Rower Elite.
I found the Assault Rower elite to be a very sturdy commercial-grade rower. In fact, the most common descriptor I came across was that this thing is built like a tank. It also provides a very smooth, fluid rowing stroke that is on par with other top-rated air rowers like the Concept2 Row Erg.
The dual chain and belt drive deliver quiet movement and constant tension with no lag problems. It also allows for a faster stroke rate than you'd get on a single-chain system. 
This is a very good machine for people who are after an intense workout. However, it's not as good as the likes of the Concept2 when it comes to monitoring performance and is bulkier than most competitors. 
In the following paragraphs, I'll take you under the hood as we explore the features, benefits as well as negatives of the Assault Rower Elite. I'll also specify who this rowing machine is and is not for and I'll compare the Assault with a couple of popular competitors. 
Keep reading to get the full picture.
Assault Rower Elite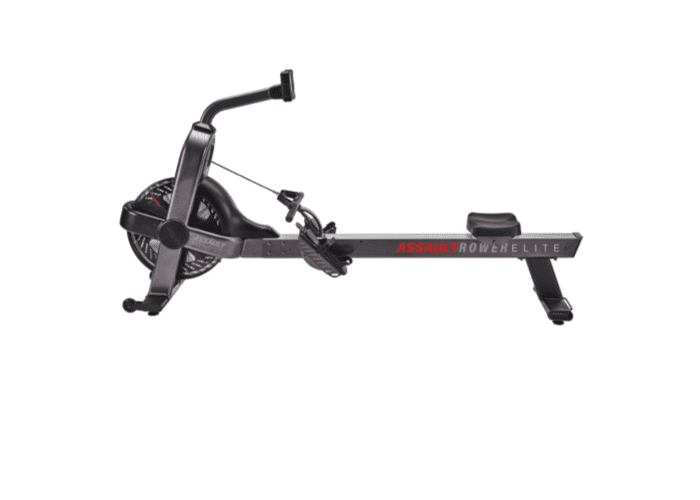 The Assault Air Rower Elite is an air rowing machine that provides a variable resistance workout for users up to 6'4" in height. It is designed for advanced trainers to deliver a high-intensity workout in the HIIT style of workout.
The rowing performance on the Assault Air Rower is comparable to what you'd get on the Concept2 Erg Rower. However, there is no damper on this rower, meaning that you are unable to adjust the drag factor. I was impressed with the dual chain and belt drive, which provides a very smooth and quiet pulling action while also allowing for an increased stroke rate.
To facilitate that hardcore style of training, the machine has been built with an extremely hardcore frame. It also comes with a dual chain and belt drive that gives you more constant tension and increases your stroke rate per minute.
The simple answer is yes – the Assault Air Rower is good – in fact, this machine is damn good when it comes to getting a high-intensity workout in. You'll experience a smooth glide up and down the rail and a clean, fluid pull without any lag on the return. That's huge when it comes to HIIT training as it eliminates the issue of the chain snagging when you're really going for it – believe me, that is extremely frustrating!
Functionality And Design
The Assault Air Rower is an air rowing machine. That means that it provides a variable resistance where your resistance level is determined by the speed of your row; the faster you row, the greater the resistance.
Air rowers are also the noisiest of the three power mechanisms of rowing machines (air, water, magnetic), though the dual chain mechanism of the Assault makes it quieter than most air rowers.
As mentioned previously, the Assault Air rower has a very robust frame design. This machine weighs in at a whopping 157 pounds. That's a whole hundred pounds more than the Concept2 Row Erg. That means that it's not going anywhere, even when you are rowing at full intensity during a HIIT workout.
This machine has a larger than standard footprint, with a footprint of 92" x 20" x 49", and has a maximum user weight of 350 pounds, which is higher than the 300-pound standard for top-end home use rowing machines. 
Features and Benefits
Let's dig down at the features that make the Assault Rower Elite a worthy contender for your home gym.
Frame Durability
The frame of the Assault Rower is made from durable steel, with a straight (as opposed to angled) aluminum monorail. This machine is very heavy, which provides you with a feeling of stability when you sit on the machine. That is the very feeling you want when you are about to engage in a balls-to-the-wall HIIT workout!
In addition to being very hardy, the frame design on the Assault is also aesthetically appealing. The sleek black look stands out, as does the fan grating – and the cool red blades that you can see spinning inside it.
The Assault Rower Elite does not fold for storage. The large floor space and heavy weight could make storage a problem. However, it can be stored in an upright position. Even though the machine weighs 157 pounds, it is quite easy to maneuver it up for vertical storage.
Flywheel
The power base of the Assault Air Rower is the 19-inch flywheel. It provides a high-quality variable resistance row that is smooth and jerk-free. The big drawback here is that there is no damper on the flywheel. The damper is a control that allows you to adjust the amount of air that is flowing to the flywheel.
The damper will not actually increase or decrease the resistance level of the machine but it will affect the drag factor. When you have a damper set at a low setting it is like rowing in a boat that contains just yourself while a high damper setting feels like you've got half a dozen other people in the boat with you.
Of course, when you are trying to row at max speed, such as when doing HIIT training, you don't want to feel like you're being weighed down, so it's understandable why Assault, who have designed this rower for high-intensity training, wouldn't include a damper. However, it may be a drawback for those who are wanting to use the rower for a range of workout types.
Contoured Seat
The Assault Air Rower comes with a wide, contoured seat. It uniquely features a divet in the center rear to provide you with support for your tailbone. There is a good amount of padding on this seat to allow for a comfortable ride. The seat is also sweat and moisture-resistant.
Handles
The wide handle on this rower is slightly angled for a better ergonomic grip. Assault has achieved a good balance in terms of handlebar thickness, being neither too thick nor too thin. It is best to use a wrap-around grip for the most secure hold. 
The unique design of the handle allows you to use a center grip for one-handed rowing. As with the seat, the handle, which is lightly padded, is sweat and moisture-resistant. 
Pedals
The pedals on the Assault Air Rower are large enough for taller people and provide you with adjustable heel support to get the most secure foothold. Striated footrests prevent foot slippage. The pedals sit on top of a footboard, providing you with a degree of toe flexibility. Adjustable velcro straps keep your feet locked in place.
Console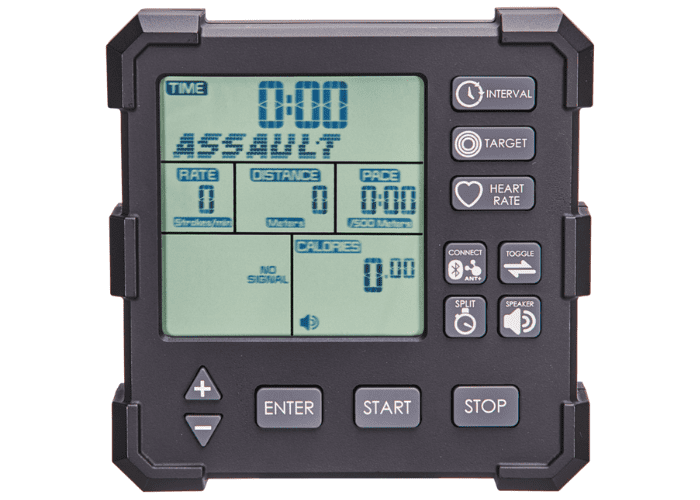 The console of the Assault Air Rower is not on the level of many others in its price range, such as that on the Hydow Rower or the PN5 monitor on the Concept2. That being said, it is functional, providing you with all of the essential training data you need to track your workout.
The console sits at the end of a prominent extender arm coming from the base of the rower. This makes it easy to see, even though the actual monitor is quite small. The console gives you a running readout of the following training data:
Target Distance
Time
Calories
Heart Rate
Rate
Pace
This console is compatible with most chest strap monitors, but the Assault Rower does not come with a chest strap, so you will have to buy one yourself to operate the heart rate function.
The monitor is Bluetooth-compatible. That means that you can make use of fitness apps to perform a range of workouts. On top of that, there are 8 inbuilt workout programs, including goal-setting programs built around your target time, distance, and calorie burn. 
There are several control buttons on the monitor to allow you to easily navigate the console. These include buttons for Interval, Target, Heart Rate, Toggle, and Split. This latter button is designed for HIIT workouts.
Considering that the Assault Rower Elite is more expensive than the likes of the Concept 2 Row Erg, it would be nice to see more functionality on this console. That includes the ability to upload your training data to your device for later analysis. There is also no backlit display on this monitor, which is a little disappointing.
Technical Specifications
| | |
| --- | --- |
| Assault Rower Elite | Specs |
| Weight | 143.3 lb / 65 kg |
| Length | 92.5 in / 235 cm |
| Width | 20.1 in / 51 cm |
| Height | 48.6 in / 123.4 cm |
| Max User Weight | 350 lb / 158.8 kg |
Setup Process
The Assault Air Rower arrives pre-assembled. It should take around 30-45 minutes to put the parts together. Because this unit weighs a lot more than a standard air rower, you'll probably want to have a buddy to help you with this job. All of the tools you'll need are provided in the package.
Price and Value
The Assault Air Rower sells on the official website for $1199. That's a couple of hundred dollars more than the Concept 2. For that extra two hundred bucks, you get a more solid, durable frame that is sturdier and more well-grounded.
You also get a dual chain and belt drive system to deliver a smooth, consistent row. If you're going to be focusing on HIIT and CrossFit, then the extra cost of this machine will be worth it – if not, go with the Concept2 Row Erg.
Warranty
Assault provides a 5-year frame warranty, with 3 years on parts and a year on labor. That's slightly better than what you get from Concept2, with an extra 12 months on parts.
Alternatives
Here are some alternatives you may want to consider instead of the Assault Fitness Elite rower.
Concept2 Row Erg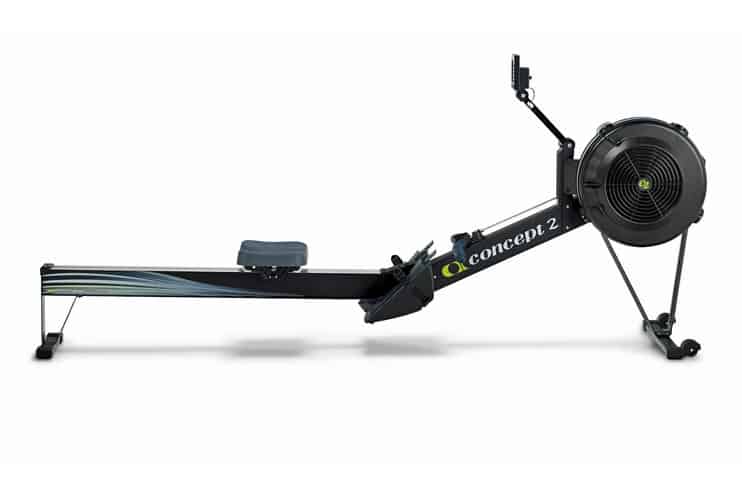 I've been referring to the Concept2 in points of comparison throughout this review. Seeing that it is the world's most popular air rower that makes sense. So, let's drawdown with a face-to-face comparison between the Assault Air Rower and the Concept2 Row Erg.
The Concept2 is less expensive than the Assault, while also providing you with a damper for control of the airflow into the fan. It is a lighter machine that is not as durable and takes up a smaller footprint. The rail and seat are lower to the floor on the Concept2, making it slightly trickier to get on and off the machine.
If you are into CrossFit competition then it makes sense to go with the official row erg of the Crossfit Games, that being the Concept2. While the Assault is a lot heavier and more ruggedly built, the Concept2 has been around for longer with no durability issues. In terms of moving the rower around your facility, the Concept2 is lighter and more mobile. However, the Assault has a softer seat and allows for a more upright rowing position.
Check out the best price on the Concept2 Row Erg.
NordicTrack RW900 Rower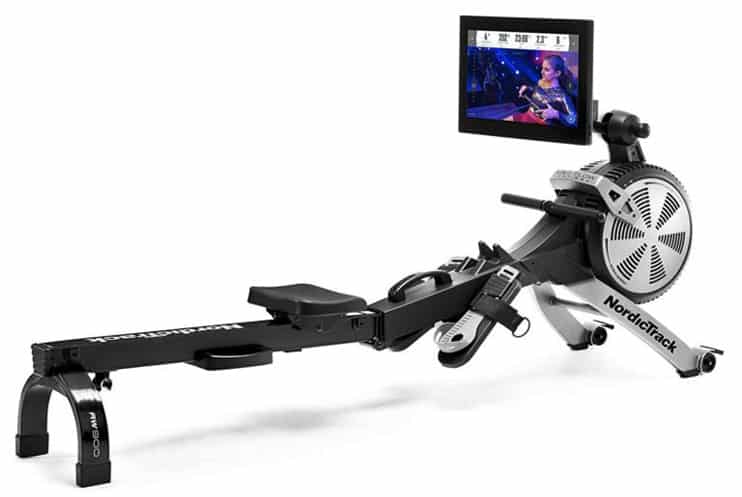 If you are after a rowing machine that is fully interactive, providing you with a complete range of workout programs and that allows you to switch between air and magnetic resistance, take a look at the NordicTrack RW900 Rower.
This one is more expensive than either the Assault or the Concept2, at around $1500. For that, you get 26 resistance levels that operate through an automatic trainer control function. This is accomplished through a combination of digital and magnetic tension.
If you want more control of the workout, you can switch over to manual air resistance. A dual resistance control reduces the noise that is usually associated with an air rower.
The RW900 is nearly on par with the Assault Rower in terms of durability and sturdiness, weighing in at 131 lbs. A key feature of this rower is its 22-inch rotating HD touchscreen that comes with WiFi connectivity and a free 12-month subscription to iFit. 
The rowing experience is not quite as smooth as you'd get on either the Assault of the Concept 2, with less intensity capacity, but if you are after a rower that will keep you engaged and entertained as you sweat it out, then you'll want to check out the NordicTrack RW900.
Check out the best price on the NordicTrack RW900 Rower.
Should you Buy The Assault Rower Elite?
The Assault Rower Elite is for you if:
You are going to focus on high-intensity interval training
You aren't interested in analyzing your workout diagnostics post-workout
Want an extremely strong, durable rowing machine
The Assault Rower Elite is not for you if:
Have limited space and want a machine you can store in a closet or under a bed
Are a beginner rower looking for a light or medium-intensity workout
Will be mainly doing Crossfit style workouts, including competition against other rowers
Final Thoughts
The Assault Air Rower is an impressive air resistance rowing machine that looks awesome and delivers a smooth, natural lag-free row. You'll feel really well-grounded on this rower, especially when you're blasting away at top speed during a HIIT workout.
This is a good choice for experienced rowers who are going to be mainly performing high-intensity interval training workouts. But if you're more likely to be doing steady-state, CrossFit, or general interval training, and are wanting a more advanced console, save a few dollars and go with the Concept 2 Row Erg.
Assault Rower Elite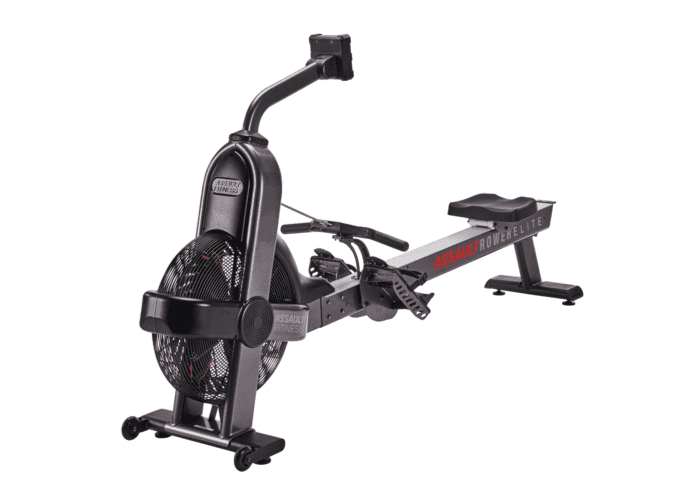 The Assault Rower Elite is a heavy-duty commercial rower designed for high-intensity interval training workouts. It's a little more expensive than the competition, but if you're after a commercial quality air rower that will provide you with a HIIT-focused workout, this one will deliver big time.
Product Brand: Assault Fitness
Product Currency: USD
Product Price: 1199.00
Product In-Stock: InStock