I tested 5 products and found the Sculling Gear Rowing Glove to be the best rowing gloves.
Best Open Finger Gloves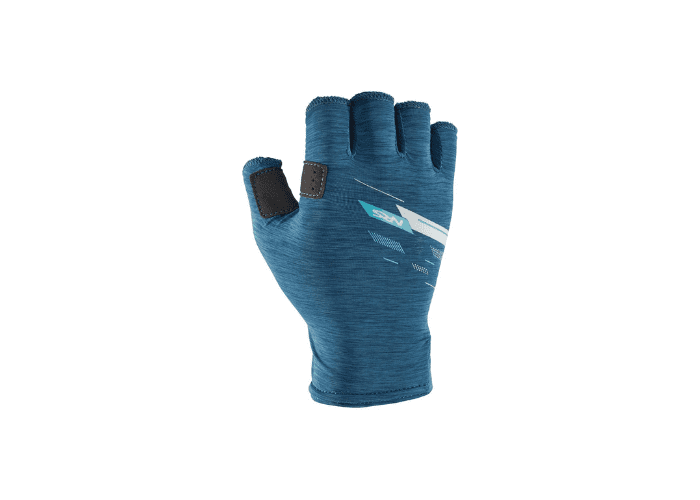 Best Overall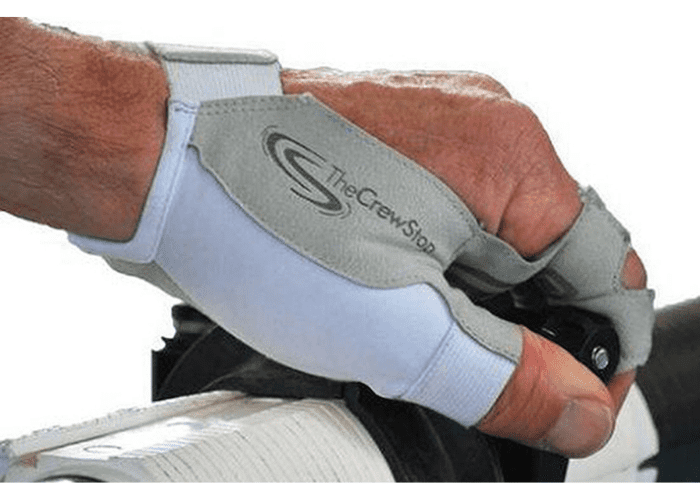 Best Value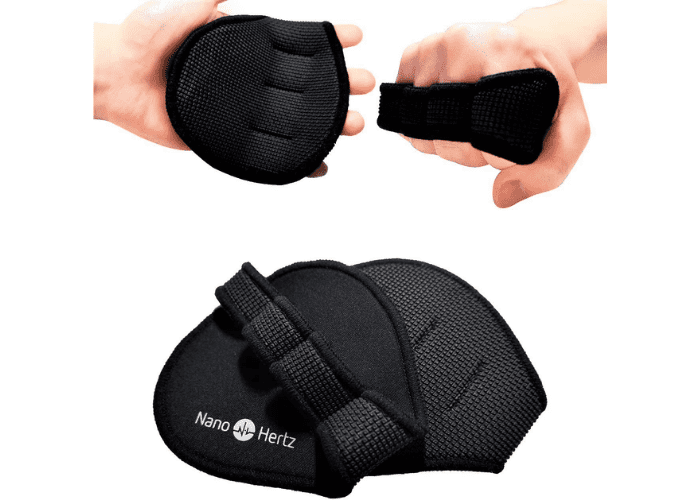 Here at Start Rowing we include products we think are useful for our readers. If you buy through links on this page, we may earn a small commission.
I've been using workout gloves from the first day I walked into a gym 42 years ago. Over those four decades, I've owned and trialed more brands of training gloves than I care to remember. As well as wearing gloves during my weights workouts, I have also been using them when on the rowing machine.
I've brought all of that experience to bear when putting this rowing glove review together. After narrowing the huge range of gloves on the market down to the five best, I've trialed each glove and then checked the online reviews from verified users. This combination of my experience, individual trialing, and feedback from other users have combined to inform this review page.
The pair of gloves that I have rated as the best on the market right now is the Sculling Gear Rowing Glove. It provides you with a well-ventilated, comfortable fit and a good amount of padding, enhanced by silicone inserts, to prevent calluses.
In the paragraphs to follow, I'll break down the pros, cons, features, and benefits of the five best pairs of rowing gloves on the market. I'll also provide you with a buyer's guide and answer the most pressing questions about rowing gloves.
Keep reading to get the facts you need to make the best rowing glove buying decision.
Best Rowing Gloves At A Glance
Here at Start Rowing we include products we think are useful for our readers. If you buy through links on this page, we may earn a small commission.
Best Overall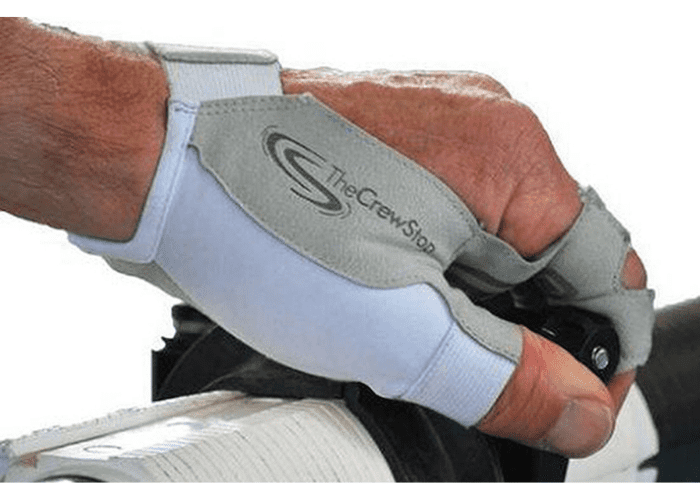 Pros
Lightweight
Comfortable
Well ventilated
Ideal amount of padding
Cons
Sculling Gear Rowing Gloves feature an open-back design for maximum ventilation. They also cover the lower finger on all but the little finger. This glove is made from a combination of polyester, nylon, and silicone. They are secured by a strong velcro enclosure.
The polyester that covers the palm is well padded to protect against calluses and fully stretched to prevent the bunching up that can actually cause blistering. Sculling Gear has hit that sweet spot between not having too much padding that it interferes with the feel of the handle and having enough to protect your hands. This is a very lightweight glove that won't add any weight to your hands while rowing.
Unlike many competitors, Sculling Gear rowing gloves were designed by people who are passionate rowers. They're available in a range of sizes, from extra small to extra large (check the sizing chart below to get the ideal rowing glove fit for you).
Best Open Finger Gloves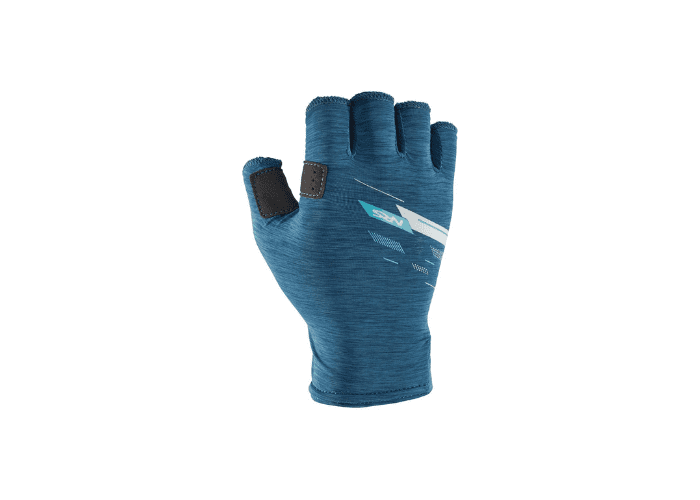 Pros
Synthetic leather palm
Silicone padding
Well ventilated
Pairing snaps
Cons
Sizing may not be accurate
NRS Boater Gloves were created for use when kayaking and rowing. In recent years they have become very popular among users of rowing machines. The palm of this glove is made from Amara synthetic leather, providing an extra layer of palm protection from the blisters that can result from friction between your skin and the handle.
Silicone accents are built onto the palm to deliver an extra level of protection and comfort. Minute vent holes punctuate the gloves to provide ventilation. The open finger design minimizes heat and sweat build-up while also leaving your digits free to move as needed.
Pairing snaps on the wrist of these gloves allow you to store them together so that you never lose one of the pairs. The glove material apart from the palms is a nylon/spandex blend.
Best Value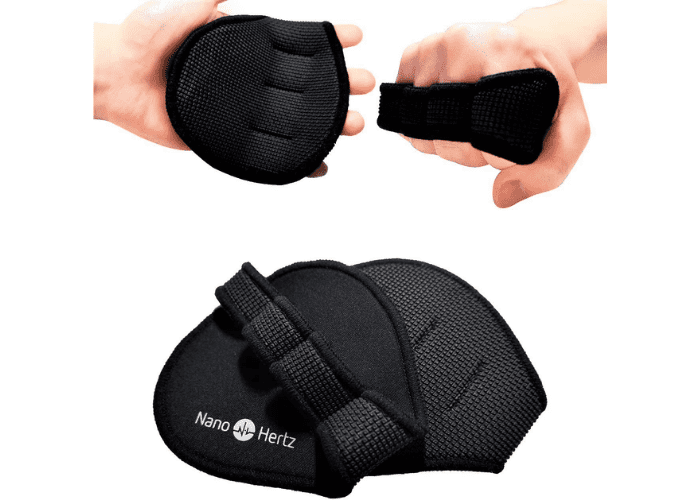 Pros
Minimalist design
Non-slip
Hexagon rubber beading
Secure velcro strap
Cons
Sizing runs a little small
Nano Hertz Rowing Gloves are minimalist gloves that cuts out the finger coverings, only providing coverage on the most vulnerable parts of your hand – the palms. The non-slip hexagon rubber beading that is built into the palm enhances your comfort level and helps to prevent calluses. It also provides a high level of traction.
While some minimalist gloves have a tendency to move around, the Nano Hertz Rowing glove provides you with a very secure hold by way of four finger loops and a velcro strap that fastens on the back of the hand.
These gloves are ergonomically designed to contour your palm. That allows them to mold into your grip, whether you're on the rowing machine or in the weights room. They are highly breathable and do a good job of wicking away moisture and sweat.
Good Ventilation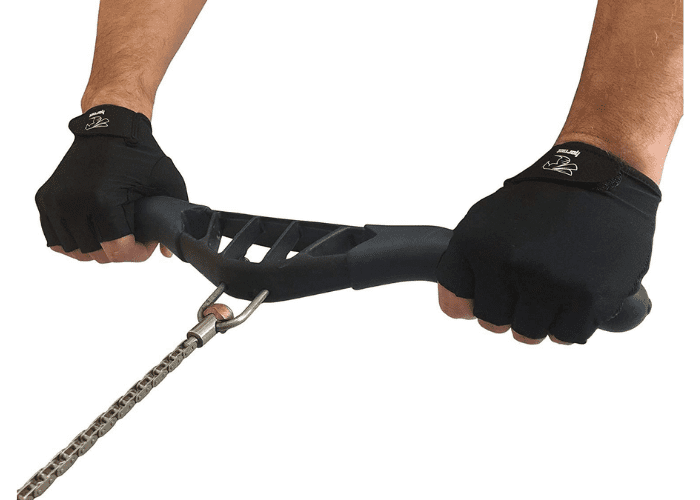 Pros
Silicone padding in palm
Well ventilated
Light and breathable
Unisex
Cons
Hornet Watersports Rowing Gloves are a multi-purpose workout glove that will allow you to easily transition from your cardio to your weights workout. This is a fingerless glove that fully covers the back of the hand. The palm has a durable silicone material insert that provides for an extremely comfortable, secure hold. The balance of the glove is made from a four-blend fabric that ventilates well while being super strong and stretchy.
This is a light, breathable glove that has a unisex design. Some online reviews by verified users mention a problem with durability after six to nine months of regular use.
Best Variety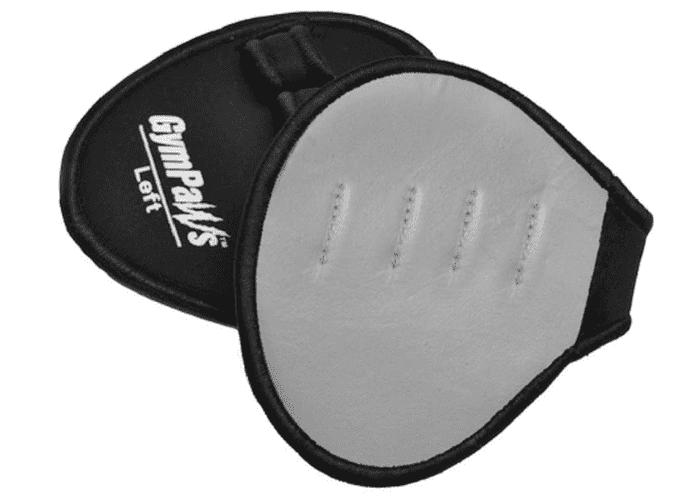 Pros
15 colors and designs
Padding in the palm
Well ventilated
Triple stitch technology
Genuine cowhide leather
Cons
Chemical smell when you first get them
GymPaws gloves are another minimalist design glove that provides the coverage where you need it and leaves out the areas where you don't. The coverage is only on the palms and finger pads, enhancing breathability and ventilation. This glove is available in 15 different styles and colors, making for the most choice of any rowing glove on the market.
I like the fact that finger loops on the GymPaws glove are elastic. That makes it suitable for people with thicker than normal fingers. These are also unisex designed so that both men and women can use them.
GymPaws gloves are made from genuine cowhide leather. They are treated with Napa vegetable oil, providing a soft and supple finish. The balance of the glove is made from military-grade hydrophobic neoprene. This is a strong glove with triple stitching around the joints.
Buyers Guide
There are five key aspects that you should take into consideration when buying rowing gloves . . .
Fit
The gloves should be snug fighting without restricting the free and easy movement of your fingers. If the gloves are too tight, they may constrict your blood flow and prevent you from properly grasping the rowing machine handle. Neither do you want a glove that is too loose-fitting so this may cause your hands to slip while you're rowing.
Material
The two most popular training glove materials are leather and synthetic fabric neoprene. Leather will be far more durable but will not do as good a job of eliminating odor and wicking away sweat. Leather gloves are usually also more well-padded than neoprene versions.
Enclosure
Rowing gloves will have either velcro or a slip-on enclosure. Velcro is easier to get on and off and is, therefore, the most popular. Unless you have a pair of gloves with strong velcro fastenings, however, you will have to contend with the straps flapping around while you're rowing – and the gloves will not be securely fastened. Check online reviews from verified users to see how secure the velcro fasteners are on the gloves you're considering.
Design
Most workout gloves are fingerless but you can also buy those that are full-fingered. Some people prefer this type, believing that it provides greater gripping control. Full finger gloves will also provide greater protection from the elements when you're working on a chilly winter morning and give better virus defense. However, full-fingered gloves will make your hands sweatier and hotter. Fingerless gloves will be more breathable than those that cover the entire hand.
Ventilation
Many modern gloves enhance ventilation by having an open back and limiting the coverage to the areas that are normally affected by blisters. This reduces heat and sweat buildup between the gloves and your skin.
Why Wear Rowing Gloves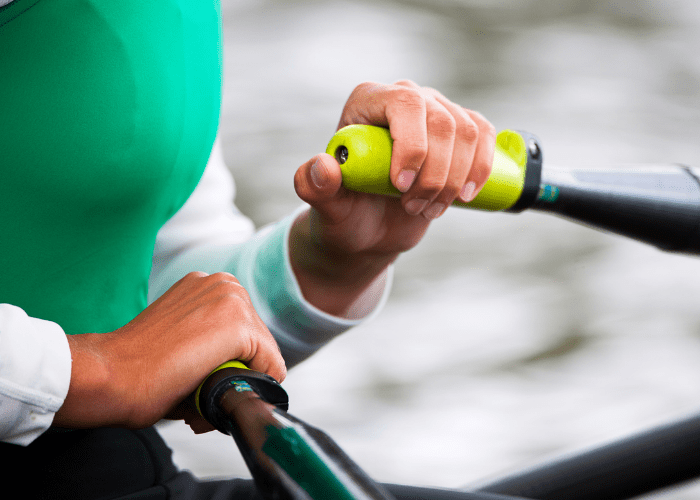 You don't see too many people wearing workout gloves when they're on the rowing machine. Those who do are usually people who stand out as being 'serious' rowers. Here's an overview of what they know about the benefits of wearing gloves when you're working out on the rowing machine.
Preventing Blisters
Some people consider blisters to be a badge of workout courage. Others, like me, think of them as nothing more than a pain in the neck ( or palm to be precise). At best, a blister will distract your mind from the task at hand; at worst it will cut your rowing workout short. Wearing gloves with a decent amount of padding in the palm will prevent calluses dead in their tracks.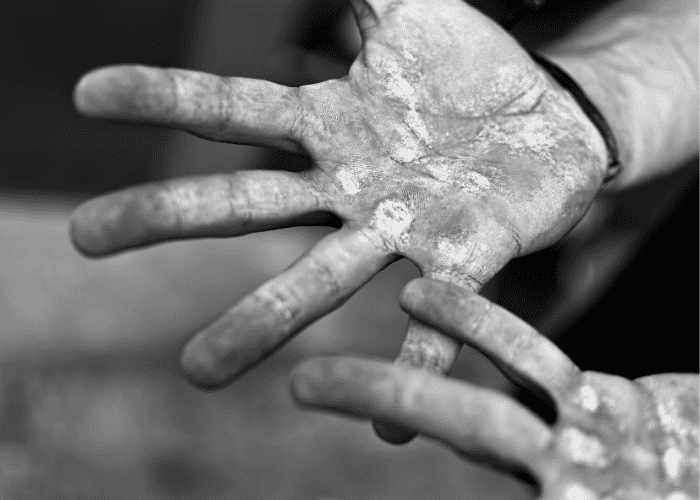 Better Grip
When you wear workout gloves, you will improve your hold on the rowing handle. If you have ever undertaken an intense rowing session in the middle of a hot summer's day, you know that sweat under your palms can cause your hands to slip in the handle. Wearing gloves, especially ones that have neoprene covering your palms, will overcome this issue so that your grip is secure
Versatility
Rowing gloves are not specific to your rowing workout. They can also be used for your weights workout. The same properties that make the glove good for rowing will also enhance your resistance workout. They will allow you to get a more secure, firmer grip on the bar and can provide enhanced support for your wrists.
Types of Palm Coverings
In addition to fingerless and full-fingered workout gloves, you also have the option to buy pads and grips. Let's compare the options …
Grips
Workout grips are a pared-down version of a fingerless glove. They have no finger holes, simply consisting of padding to cover the palm and wrist fastening. They are designed to provide more hand freedom and to prevent sweat and heat build-up. Some people also believe that grips give them a better feel and connection with the rowing machine.
Best Value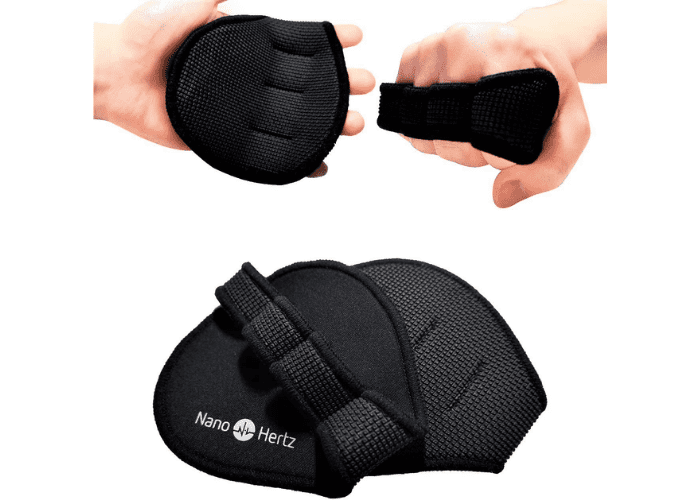 Pros
Minimalist design
Non-slip
Hexagon rubber beading
Secure velcro strap
Cons
Sizing runs a little small
Pads
Pads are similar to hand grips in that they provide padding to cover the palms. However, rather than being fastened around the wrist, they are attached to the fingers with loops. They are similarly designed to provide more freedom and movement and reduce sweat build-up.
Best Variety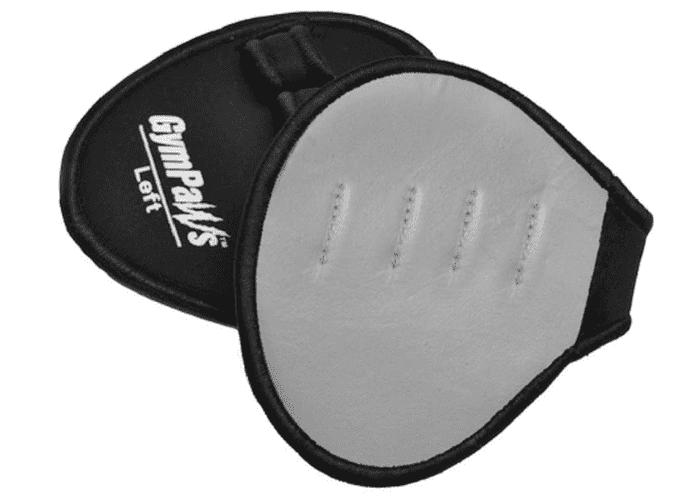 Pros
15 colors and designs
Padding in the palm
Well ventilated
Triple stitch technology
Genuine cowhide leather
Cons
Chemical smell when you first get them
How to Measure Your Hand Size for Rowing Gloves?
Getting the proper-sized glove for your hand is an important part of getting the best performance from your purchase. To work out your glove size, simply measure around your outstretched hand with a tape measure just below the knuckles. Measure your dominant hand only.
The following chart converts hand width (in inches) to glove size …
| | | |
| --- | --- | --- |
| Size | Men Hand Width | Women Hand Width |
| XS | 7 | 6 |
| S | 7.5-8 | 6.5 |
| M | 8.5-9 | 7 |
| L | 9.5-10 | 7.5 |
| XL | 10.5-11 | 8 |
| XXL | 11-12.5 | 8.5 |
Here's a good video from The Crew Stop showing you how to measure your hands for rowing gloves.
Conclusion
Whether or not you wear rowing gloves is a matter of personal preference. My advice is to try rowing both with and without gloves and see which option works best for you. If you do decide that rowing gloves are for you, you can't do better than the Sculling Gear Rowing Glove. This very popular glove delivers plenty of palm protection in a minimalist design that keeps your handles cool and sweat-free.
Best Open Finger Gloves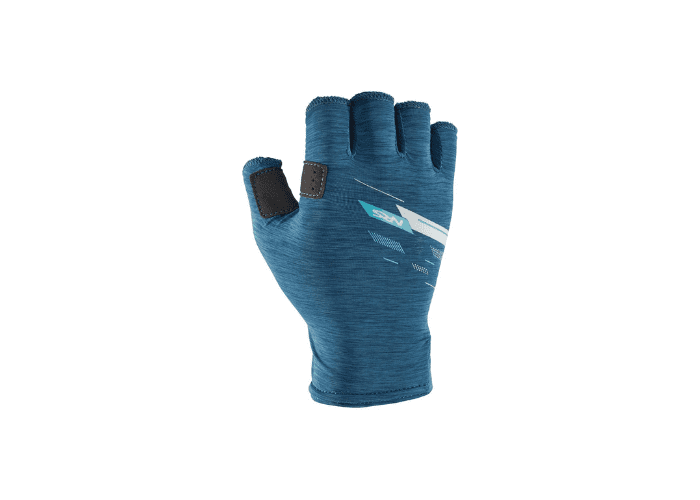 Best Overall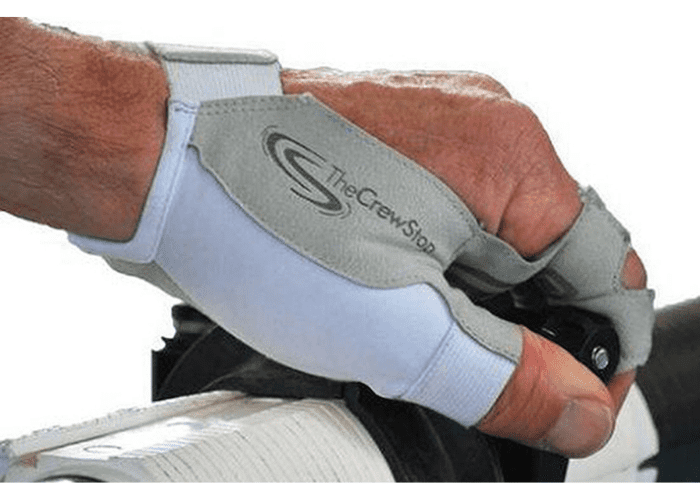 Best Value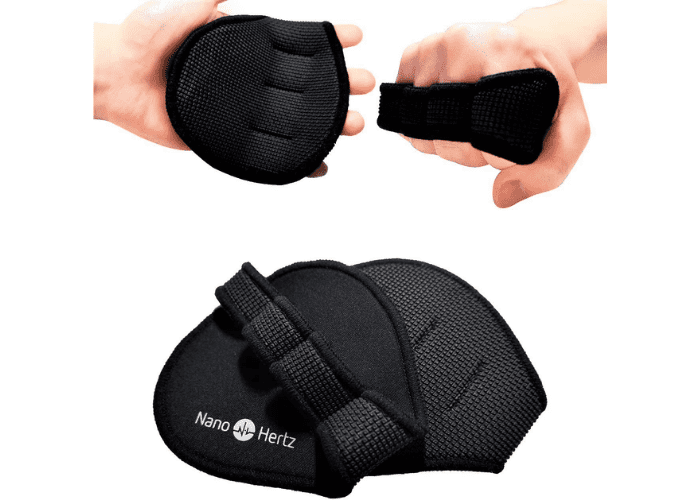 Here at Start Rowing we include products we think are useful for our readers. If you buy through links on this page, we may earn a small commission.
FAQ
Should You Wear Gloves When Rowing?
Whether or not you wear gloves when rowing is a matter of personal preference. Some people feel too constricted through their hands when they wear rowing gloves. However, there are some distinct benefits to wearing gloves, including reducing the risk of calluses and avoiding sweat slippage. 
Do Crew Rowers Wear Gloves?
No, crew rowers generally do not wear gloves while in rowing competitions. That is because rowing requires a tactile feel on the handle. An important rowing skill is being able to roll the oars through the fingertips. It takes a long time to develop that ability. Wearing gloves impedes this action.
How Do You Prevent Blisters When Rowing?
The best way to prevent blisters when rowing is to wear some form of protection for the palms and fingers. The palms are usually where blisters occur, though they may also happen in the fingers. So, the best way to prevent them is to cover them. Synthetic gloves will do a better job of preventing calluses than leather ones. 
How Do You Protect Your Hands When Rowing?
The best way to protect your hands when rowing is to wear gloves, hand grips, or hand pads. You should also avoid gripping the handle too tightly.