Start Rowing Score
The much-anticipated Peloton Row delivers big time with some unique hardware innovations, and the quietest rowing machine operation you will find anywhere. It also includes personal pace targets to adjust the difficulty level of every class, form assist real-time monitoring, and a 24-inch HD screen that tilts 25 degrees vertically and 45 degrees horizontally. On top of all of that, it gives you a smooth, seamless rowing experience that is on par with the Concept2.
Here at Start Rowing we include products we think are useful for our readers. If you buy through links on this page, we may earn a small commission.
Pros
Form assist live form feedback
Customized pace targets
Stores upright
Whisper quiet
Shipping and set up free of charge
Front mounted speakers
Cons
Expensive
Requires monthly subscription
Short warranty
No finance option
This is a review of the Peloton Row, Peloton's highly anticipated entry into the rowing market.
As a certified personal trainer with 30+ years experience working with people in their home gyms, I've been using and recommending rowing machines to literally hundreds of people. Over the years, I've developed an awareness of what makes a great rower and which brands and models are best for different home use applications.
I've been a fan of Peloton for many years and have been keenly anticipating the release of the Peloton Row. Now's the time to discover whether it lives up to the promise.
So, let me set the tone here by stating emphatically that the Peloton Row is an awesome rowing machine. It's a high-end model, with a price tag of $3,200, making it one of the most expensive home rowers on the Market. For that money, you get a huge HD swivel screen that streams thousands of programs, a long monorail suitable for tall users, and a max user weight of 300 lbs. The rowing action is extremely fluid and the machine can be stored upright.
In this article, I'll go under the hood to provide you with an in-depth analysis of exactly what the Peloton Row has to offer. I'll also compare the PelotonRow to the competition and identify who the Peloton Row is ideally suited for.
Keep reading to get the full lowdown on Peloton's newest release – the Peloton Row.
Peloton Row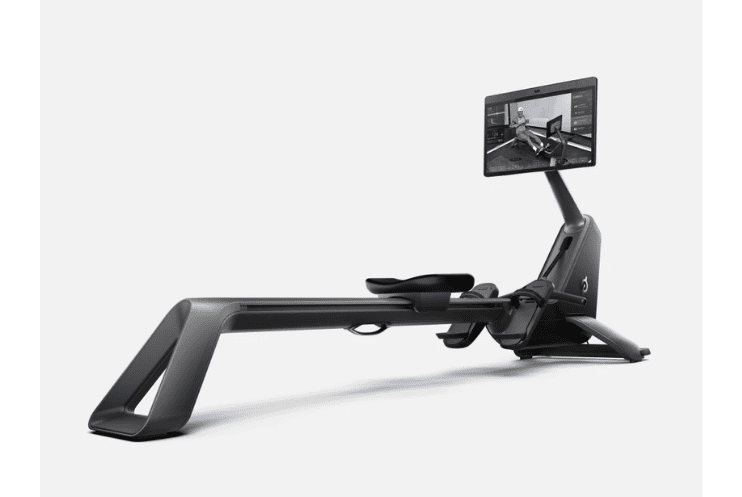 The Peloton Row is the first rowing machine released by Peloton Interactive, a fitness equipment company that produces internet-connected machines. It joins the Peloton bike and treadmill, allowing monthly subscribers to participate in classes via streaming media. Subscriptions cost $44 per month.
The Peloton Row has a number of unique features, both in the hardware design and the software that controls it. From the small touches such as a water bottle holder built into the frame to easy upright storage and the ultra-quiet operation and real-time form tracking sensors, this is one impressive rower.
Having had quite a bit of experience with the Peloton Bike and the Peloton Treadmill, I believe that this new rower is their best piece of equipment to date. If you thought that the company was going to release a pretty standard rower and rely on its software to make a splash in the rower market, you are about to be pleasantly surprised. The hardware on this rower is outstanding. Couple it with the new software features and you have got one hell of a rowing machine.
Functionality And Design
The Peloton Row is the longest home-use rowing machine I have ever encountered. It is all of eight feet long, so you will need a decent amount of space to work out in. The rower also stores upright, so you'll need a minimum ceiling height of eight feet.
The Peloton Row gives you a workout that is on par with the Hydrow and the Concept2 RowErg. The difference is that this machine is whisper quiet. This is, in fact, the quietest rowing machine I have ever seen. The only thing that you'll hear is the slight sound of the nylon strap moving back and forth.
Features and Benefits
Now let's look at what features the Peloton Row brings to the table.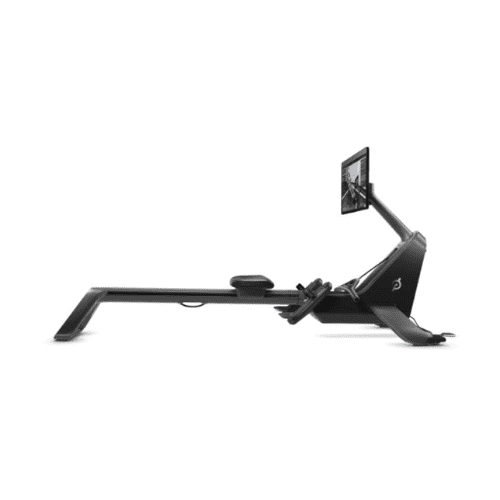 Huge Swivel Screen
The 23.8-inch HD touchscreen is almost identical to that found on the Peloton Bike Plus and the Peloton Tread. It provides awesome visuals, is quick and responsive, and offers great audio thanks to a pair of forward-facing speakers.
The screen is adjustable 25 degrees up or down. You can also tilt it 45 degrees to either side. This feature allows you to get a full view of the screen when you're doing off-rower workouts. With Peloton ramping up their range of Bootcamp classes, the ability to adjust the screen so much is a real positive.
Comfortable Seat
Butt comfort is a real issue on a rowing machine. Peloton has really come to the party with a soft, squishy seat that is extremely comfortable to sink into. The seat glides very smoothly up and down the monorail thanks to premium quality steel ball bearings.
The seats on rowers usually make a little bit of noise but that is not the case here. It provides you with silent operation, making this rower ideal for early morning workouts when your housemates are still sleeping.
The Peloton seat sits pretty low in relation to the foot pad. If you are taller than 6'2" or a person with limited lower body flexibility, this may lead to slight back rounding in the setup position.
Foot Pads
The foot pad length is adjustable to seven levels. However, people with smaller feet may struggle to get full support, with the toes extending over the edge of the pad. The foot straps are wider than standard, allowing you to get a very secure foot lock.
At the base of the monorail, there is a water bottle holder and an additional holder to house your workout towel, headphones, or phone.
Ergonomic Handle
The handle on the Peloton Row reminds me of that on the Concept2 SkiErg. It is made of hardened plastic and has a slightly curved shape. It also has a central grip hole allowing you to train with a single hand hold.
Even though it looks very similar, the handle is not as comfortable as that on the Concept2. However, it is sweat resistant, so your hands won't slide around during your workout.
Software
The main reason that many people are going to be attracted to the Peloton Row is for the on-screen features. Your options begin by selecting a class. If you choose 'Just Row', you'll simply see a blank screen that records your workout metrics. If you cancel your membership, this will be your only option.
When you select Scenic Rows, you'll be able to choose from up to a dozen waterways from around the world. You can also choose from a huge range of classes. Workouts range from five minutes to 45 minutes. When you enter a class, you will have two options – drag factor/resistance setting and pace target. These new features allow you to get a more customized workout experience.
When you start rowing, your pace will appear on the screen, along with your stroke rate and total output. This is a number Peloton comes up with to assess your performance. Whenever there is a form drill during the class, your metrics are grayed out. This provides a not-so-gentle nudge to follow along with the drill rather than continue pursuing your pace.
The screen is interactive, so you can high-five other rowers. With the hands being so close together in the handle, high-fiving the screen is pretty easy to do on this machine.
A new software feature is form feedback and form tracking. Sensors are located in the handful and seat. They tell the computer where those two contact points are located at all times of the workout. That data is used along with what the rower knows about your starting and catch position from the initial calibration to monitor your form. It will then provide feedback about any form faults. The computer is programmed to search for nine form faults. These faults will appear on the screen as red dots on your avatar. When the workout is over you will see a full breakdown of all of your form faults and what to do to correct them.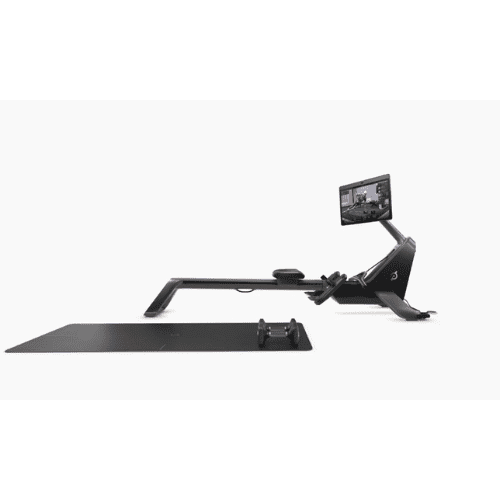 Technical Specifications
The touch screen displays subscription content and tilts 25 degrees vertically and 45 degrees horizontally
Enabled with the Peloton App for $44 per month
Membership includes access to classes, multiple profiles, viewing metrics, the leaderboard, and scenic rowing workouts
Form assist in real-time with built-in sensors
Form ratings and insight after every class
Personal pace targets to adjust the difficulty level of every class
Front-mounted speakers
Adjust target pace in class
Storage tray and cup holder
Stores upright with a handle under rail
Professional installation and set-up included (Extra for set up of wall anchor)
Setup Process
Before you get started with your workout, you need to calibrate the machine. If you don't you will get a horrible, jerky rowing experience. There are easy-to-follow online prompts to make this process easy. Calibrating will cue your rower to your catch and finish position. The result will be an incredibly smooth and fluid rowing experience.
Storing this unit away is quick and easy. There is a button under the screen so that you can collapse it down so that the machine is more compact. There is also a handle in the middle of the underside of the frame that makes it easier to lift it up. You can also attach the tether and carabiner that comes with wall mount apparatus (which is included in your purchase) to this handle. However, even without the wall mount, this 150 lb rower is pretty secure in the upright position.
The Peloton Row is fitted with wheels for easy transportation. A latch at the base of the monorail also allows you to detach the rail for separate storage.
Price and Value
The Peloton Row is a very expensive rowing machine. It retails for $3,195 and then you need to pay $44 per month for the Peloton subscription. That compares to $2495 to the Hydrow Rower, its nearest rival in terms of interactive and streaming classes. The Hydrow sub is $38 per month.
As well as costing an extra seven hundred bucks, the Peloton rower does not come with any financing options. In contrast, Hydrow provides financing, so you can pay the machine off at $38 per month.
While there is no denying that the Peloton Rower is an awesome machine, it's pretty difficult to justify its high price point. Unless you are a diehard Peloton devotee or money is simply no object to you, the Hydrow Rower represents a better value deal.
Warranty
The Peloton Rower comes with a 12-month limited warranty. This is similar to what you get on the Hydrow but not as extensive as that offered by such companies as Nordictrack, which offers a 10-year warranty for the frame, a 2-year warranty for parts, and a 1-year warranty for labor on their RW900 rower.
Alternatives
Here are some alternative rowers to the Peloton Row that may also interest you.
Hydrow
Hydrow was the first rower to use a streaming service that requires a membership. It is referred to by many as the "Peloton of Rowers" as a result. That may change with the release of the Peloton rower, however.
In order to give a changeable resistance where your intensity is determined by the speed of your row, this magnetic rower uses a computer-directed system in conjunction with the standard magnetic motor. This is comparable to using an air or water rower.
The Hydrow has a drag resistance control with 300 drag levels as opposed to a typical resistance level control. In other words, the Hydrow combines the silent, smooth functioning of a magnetic rowing machine with the variable resistance of an air rower.
With a 22-inch touchscreen monitor in high definition, the Hydrow gives you a fantastic visual and aural experience. In contrast to most competitors, the instructor-led sessions take place on the water. You consequently get to take in some breathtaking sites from throughout the globe. You have access to a huge selection of workouts conducted by trainers with your $38 monthly subscription.
At $2495, the Hydrow is $700 cheaper than the Peloton Rower.
Check out our full Hydrow review.
Ergatta
If you think that the Ergatta rowing machine looks suspiciously like the versions made by the Water Rower Company, you're onto something. The Ergatta company, with headquarters in New York, does not produce exercise equipment. Instead, they are a computer software business that created a rowing machine-based workout program and then contracted out the manufacturing of the machine to the Water Rower company.
Therefore, when we discuss the Ergatta, we are actually talking about a Water Rower rowing machine that has a cutting-edge gaming console installed in it.
The Ergatta is a water rower that employs dynamic changeable resistance. Blades in the water stir the water as you pull on the rowing machine's handle to create resistance. The amount of resistance created increases with pulling speed. This results in varying resistance that is comparable to that of the Hydrow rower.
The main inconvenience of using any water rowing machine is having to add or remove water from the tank in order to alter the overall drag level and feel of the exercise. The Ergatta has water levels between 13 and 19 marked on the tank.
The $29 monthly subscription's game-based training is a significant point of differentiation for this rower. The service places a major emphasis on community and offers many possibilities for interaction with other rowers from across the world as well as challenges.
The Ergatta rower's lack of training or instructor-led instructional videos is its biggest shortcoming. There is therefore no training provided for newcomers. The seat's low height is another possible drawback, particularly for people with mobility problems. The machine may be challenging to mount and remove as a result.
The Ergatta rower retails for $2499.
Check our full Ergatta rower review.
Should you Buy The Peloton Row?
Here's who should seriously consider investing in the Peloton Row …
The Peloton Row is for you if:
You are already a Peloton devotee
Money isn't an object for you
You want the most advanced performance-tracking software
The Peloton Row is not for you if:
You have a limited budget
Have minimal workout space
Don't want a monthly subscription
Final Thoughts On The Peloton Row
The Peloton Row lives up to the hype – and then some. The hardware is more impressive than I had anticipated, with some cool minor innovations like onboard water bottle holder and underside handle, along with one of the smoothest rowing experiences you will get anywhere. This is also the quietest rower on the market – bar none.
I'm a big fan of the form assist feature that helps you to correct your workout technique. The personal pace targets to adjust the difficulty level of every class are also great. If only, Peloton hadn't put it out of the price range of most users!
Peloton Row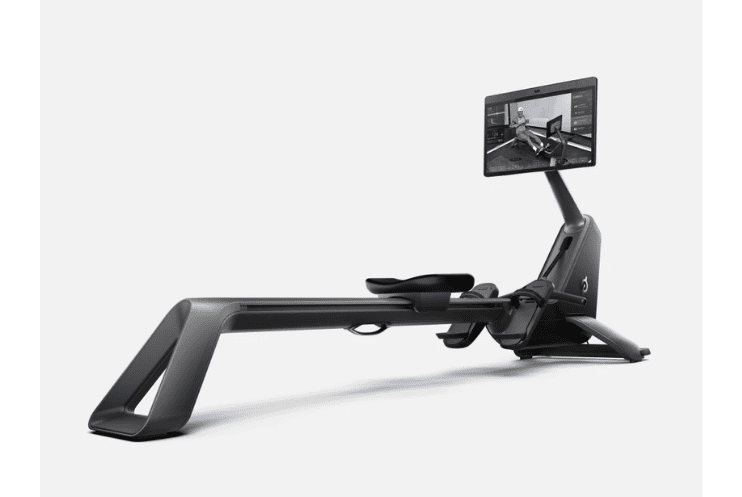 The much-anticipated Peloton Row delivers big time with some unique hardware innovations, and the quietest rowing machine operation you will find anywhere. It also includes personal pace targets to adjust the difficulty level of every class, form assist real-time monitoring, and a 24-inch HD screen that tilts 25 degrees vertically and 45 degrees horizontally. On top of all of that, it gives you a smooth, seamless rowing experience that is on par with the Concept2.
Product Brand: Peloton
Product Currency: USD
Product Price: 3195
Product In-Stock: InStock
Pros
Form assist live form feedback
Customized pace targets
Stores upright
Whisper quiet
Shipping and set up free of charge
Front mounted speakers
Cons
Expensive
Requires monthly subscription
Short warranty
No finance option