Pros
Economical version of the original Hydrow
Beginner friendly workouts
Solid polycarbonate frame
16-inch touch screen
Cons
Touchscreen does not swivel
Not worth it without the membership
When it comes to cardio, elliptical machines are one of the most popular options available, due to their ability to provide a low-impact workout, which incorporates your entire body.
Today I will be looking at a model by one of the most popular brands around, the Sole E35 Elliptical, establishing its pros and cons, and seeing how it compares to the competition.
So, if you're in the market for such a piece of equipment, I would highly recommend reading on.
Overview
Technical Specifications
Weight- 231 Pounds
Dimensions- 82"x21.5"x67"
Weight Capacity- 375lbs
Resistance Levels- 20
Screen- 7.5" Backlit LCD Screen
Warranty- 3 years on labor and parts, lifetime on frame
Extras- MP3 Connectivity and Aux Input
Display Console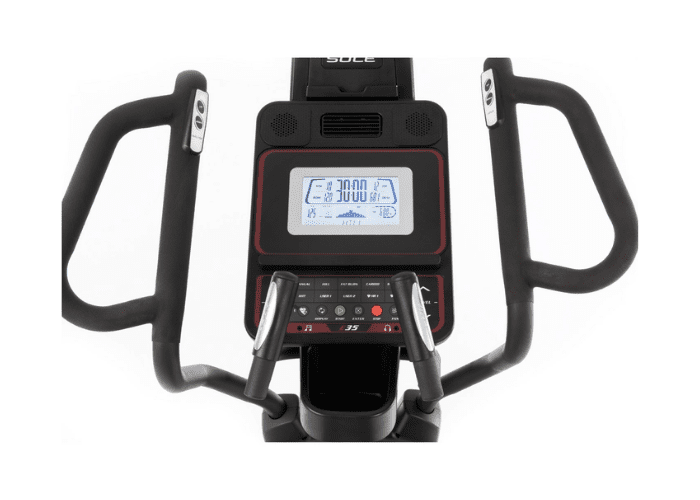 The Sole E35 comes equipped with a 7.5" backlit LCD screen. The backlighting is a nice feature, as it allows the display to be clearly viewed, even in locations with lower light.
However, everything else about the console feels a little dated. The screen is small, doesn't feature a touchscreen, and displays only the basic information.
While it sufficiently provides everything you will really need during a workout, it is certainly lacking features you will find as standard on many newer, more modern options.
Workout Programs
The Sole E35 Elliptical features 10 workout programs, including 6 pre-set programs, two heart rate programs, and 2 user-controlled programs.
This is a nice range of programs, as it gives you plenty of freedom to train how you like while providing support for less experienced users, or those looking to train in a very specific way.
Build Quality
The Sole E35 is a machine known for its high-quality build. With a solid steel frame, thick plastic body, and footplates, as well as rubber-coated handles, you'll get a sturdy, smooth, solid experience when exercising on the E35.
Comfort And Capacity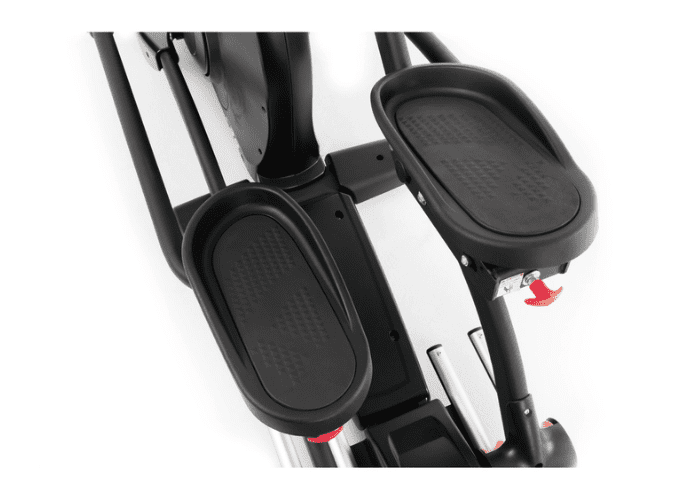 The Sole E35 Elliptical features ergonomically designed footplates, handles with positions at multiple different angles, and a smooth, flowing motion, which makes it a comfortable machine to use.
Admittedly, the handles could feature a little more padding, but the inclusion of a fan to cool you down is a nice touch, which makes it an overall pleasant experience to use.
With a weight capacity of 375lbs, it should be suitable for use by the majority of users. However, it will still limit some from being able to use it, which is a particular shame for a machine designed to help people lose weight.
Assembly
The Sole E35 comes supplied with all the tools and instructions required to assemble it included, and the most complex parts already put together.
That means that, while you'll still have a reasonable job on your hands, lasting a good few hours, assembling the E35 is fairly straightforward, and the majority of users should be more than capable of completing it without too much of a problem.
Warranty
The Sole E35 Elliptical comes with a 3-year warranty on labor and parts, as well as a lifetime warranty on the frame.
3 years is a fairly standard length for a warranty on a product such as this, so should provide confidence that your purchase will be covered for a good amount of time. The lifetime warranty of the frame is a particularly nice touch too, as you can be sure that if anything ever goes wrong with the build of the product itself, no matter when it occurs, you will be covered and won't be out of pocket.
Price And Value
While elliptical machines, in general, are quite expensive pieces of kit, the Sole E35 is listed at a price that makes it a mid-range option in the market.
However, it also seems to be one of those products that are never actually sold for the supposed list price, as every retailer I found, including the Sole website itself, had it listed as "on-sale", at a substantially discounted price.
So, while paying list price for a machine of this quality would be a little over the odds, the sale prices, which seem to be the norm, make it a much more reasonable purchase.
What's Great About The Sole E35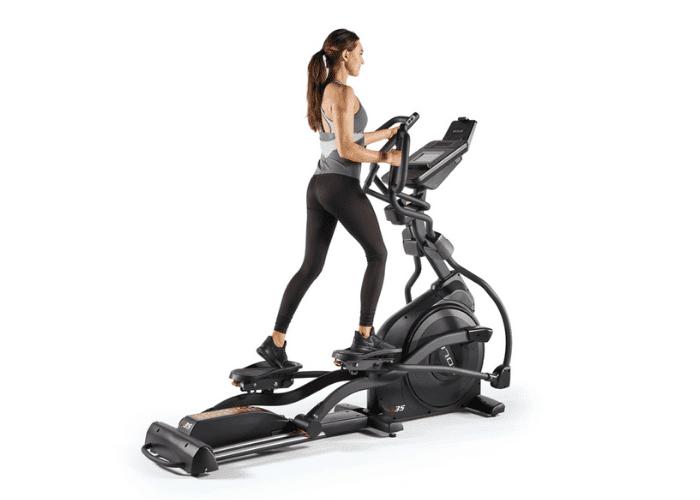 The most obvious selling point of the E35 is its high-quality build. Manufactured in a way that provides a smooth, comfortable movement, with stability that ensures it will be able to do so for a long time to come, it oozes that feeling of a product that won't let you down.
This is a factor only furthered by warranties that let you know even if something did somehow go wrong, you aren't going to be left out of pocket.
Its variety also encourages potential users, as it is not only fit for people of all shapes and sizes, but the great range of included programs allows you to keep your workouts varied and interesting.
Finally, the ease of assembly is going to be a major selling point for many potential buyers. Despite it only having to be done once, a complicated assembly procedure could easily put many off, so just how simple this is to put together will be a welcome bonus.
What's Not So Great About The Sole E35
There aren't many drawbacks I can think of with the E35, however, the main one that jumps to mind is the console. While perfectly adequate, it just has a dated feeling to it, meaning users who are familiar with more up-to-date versions may end up being somewhat disappointed.
Beyond that, the price tag is the only other issue that jumps out, as its list price is now a little steep considering everything it offers. That said, with it seeming to be continually on sale, you are almost certain to find it available for a price that provides much better value.
Outside of these two points, the handles could perhaps be a little more padded, but that isn't a major issue, more just a slight preference that could be tweaked.
Alternatives To The Sole E35 Elliptical
While certainly a good option, I completely understand that it won't be the preferred choice for everyone. With that in mind, allow me to suggest two potential alternatives.
Sole Elliptical E95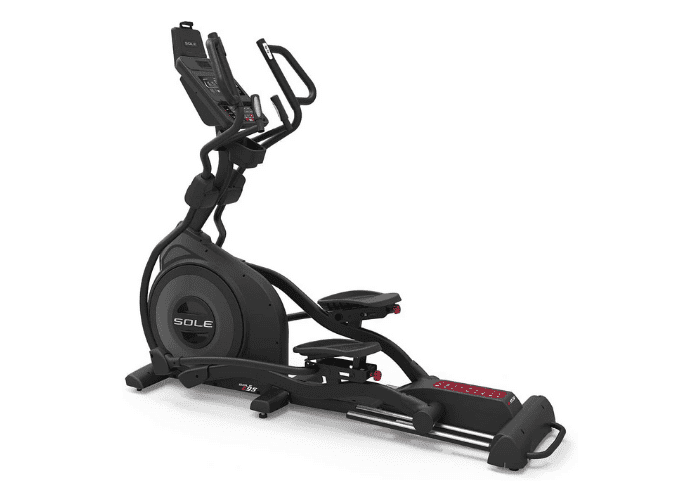 If you like the sound of the E35 but its lack of more modern tech is what's putting you off, then perhaps the Sole E95 would be the choice for you. While largely very similar to the E35, the E95 includes features such as Bluetooth connectivity and a tablet holder, to allow you to get a solid workout, with all the modern luxuries you may be used to in the gym.
Schwinn 430 Elliptical Trainer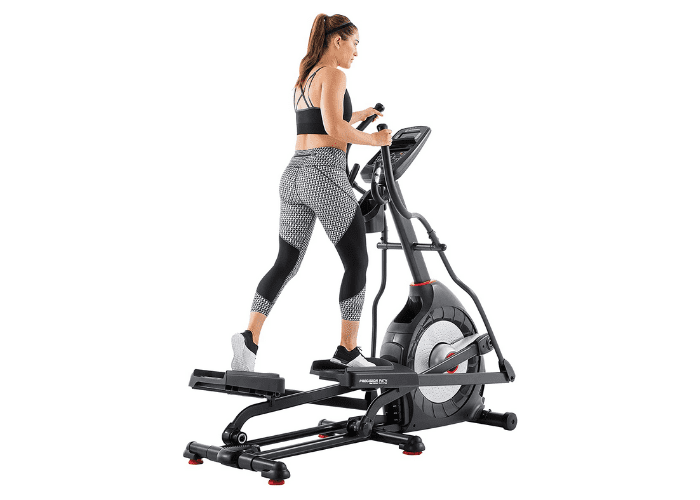 Another of the more popular brands in the cardio field, Schwinn produces a wide range of fitness equipment, which is sold throughout the world. For less experienced trainers, their 430 may be a perfect choice, as it features a whopping 22 pre-set exercise programs. This will give you plenty of choices when it comes to keeping your workouts interesting and effective.
Final Thoughts
The Sole E35 is a quality elliptical machine, with a sturdy, smooth design, which is comfortable to use, and features a wide enough range of workout programs and resistance levels to always keep your sessions varied.
It's not a particularly high-tech machine in this day and age, feeling more like the top of the market from a few years ago, so don't expect some of the fancier features you would expect from newer models.
That said, if you can obtain one at a decent price, you shouldn't be disappointed with the performance it is able to provide.
Frequently Asked Questions
Allow me to finish off by clarifying my thoughts on a few of the most frequently asked questions regarding the Sole E35.
Are Sole Ellipticals Good?
Sole has developed a reputation for producing high-quality products for many years now and has been one of the fastest-growing producers of cardio equipment in North America over the last few years. If there's one thing you can be confident in with your purchase, it's that you will be getting a great product, that delivers exactly what it sets out to.
Does The Sole E35 Elliptical Fold Up?
Unfortunately, the Sole E35 is not a machine designed to be folded away after use. So, while that allows it to be an incredibly solid machine, it does mean you're going to need to have somewhere to use it that allows it to not be in the way when you're done.
How Much Does The Sole E35 Elliptical Weigh?
The Sole E35 elliptical weighs in at 231lbs. While it's certainly a heavy piece of kit, so are the majority of elliptical trainers, so this shouldn't be seen as anything out of the ordinary.