Our experts tested over 40 rowing machines, and these were the ones that stood out.
Here at Start Rowing we include products we think are useful for our readers. If you buy through links on this page, we may earn a small commission.
This is our review of the best rowing machines in 2022.
Choosing the best home rowing machine for your needs can be a tricky proposition. What is best for another user may not be what's best for you. With so many manufacturers and models available, plus prices that range from under $200 to over $2000, there is a lot to consider.
The aim of this guide is to make your decision process as simple as possible. We offer some suggestions that will help narrow down your choices from hundreds of options to just a few.
So which Is The Best Rowing Machine To Buy?​​
If budget is no issue, this list of top ten rowers is a great place to start your search for the best rowing machines. While the price is not a consideration for making this list, each rower represents good value for money. Here are our favorite rowing machines on the market today.
10 Best Rowing Machines In 2022 At A Glance
Here at Start Rowing we include products we think are useful for our readers. If you buy through links on this page, we may earn a small commission.
Specific Rowing Machine Buying Guides
Here at Start Rowing we include products we think are useful for our readers. If you buy through links on this page, we may earn a small commission.
This rowing machine sits at the high end of the market, engineered with aluminum and steel alloy for durability. The PM5F performance monitor is a major selling feature as it records a host of measurements that can be downloaded to a computer for reference. These include stroke rate, pace, time, distance rowed, and calories burned.
Recognized for its performance by competitive rowers, the Concept2 Model D rowing machine is suitable for rowers of all abilities. The flywheel system provides resistance for the stroke, while a dampener is included to help adjust the machine for each individual's personal skill level.
The ergonomic handle has a 10-degree bend to help row in a way that feels natural, while the adjustable foot-straps make it easy to alter for all foot sizes. It is a smooth and reliable machine with a maximum user weight capacity of 500lbs. The frame-lock has a quick-release mechanism that allows the rowing machine to be quickly folded and stored away when not in use.
Read our Concept2 Model D Rowing Machine review.
Here at Start Rowing we include products we think are useful for our readers. If you buy through links on this page, we may earn a small commission.
The Hydrow connected rower is truly a luxury rowing experience. The team at Hydrow has brought exercising at home to a whole other level with their interactive immersive rowing machine, designed to bring the flow of the river to you!
The Hydrow machine comes dressed to impress with a sleek and classy design. The ergonomic body has a smooth aluminum frame that is sturdy and definitely built to last. With such a hefty price tag this is what you would expect.
The resistance is computer-controlled using an electromagnetic drag mechanism which makes for an ultra-smooth and quiet rowing motion. This is great for high-intensity workouts with low impact.
The Hydrow Rower also comes with a state-of-the-art 22" HD touchscreen with built-in front-facing speakers and live outdoor reality technology. A Hydrow membership will give you access to over 1000 pre-recorded and live broadcast workouts that you can follow along with a trainer, your friends, and the Hydrow community.
It's an expensive bit of kit but if you have the means, you do get what you pay for. And Hydrow does offer a 30-day free trial. So if you're not impressed you can send it back.
Read our Hydrow Rower review.
Here at Start Rowing we include products we think are useful for our readers. If you buy through links on this page, we may earn a small commission.
The Ergatta is a beautifully designed WaterRower with an absolute powerhouse display console built on top.
The Ergatta connected rower takes your workouts to a whole new level with their interactive gaming experience. This sounds a bit salesy but this machine really is something else. The machine calibrates based on your rowing performance to generate personalized, data-driven workouts that are fun and engaging.
The race/game styled workouts are designed to make you feel like you are playing a sport or game and are split into 4 main categories
Push Programs: Sequential workouts structured to help you reach specific goals
Interval Workouts: Personalized HIIT, Endurance, and Technique rows delivered through interactive games
Race Workouts: Head-to-head competitions with others in the community
Open Row: see real-time feedback, create custom interval workouts, or row to views from around the world
The rower itself is super lightweight and can be stored upright. You get all the benefits of a WaterRower with its quality rowing performance, comfort, and durability. The machine supports both BlueTooth headphones, heart rate monitors and also comes with a 9-foot long cable so you should have no trouble positioning it where you want whilst still being able to reach an outlet.
This is a premium machine so expect a premium price tag. But if it fits your budget you will not be disappointed.
Read our full Ergatta Rower review.
Here at Start Rowing we include products we think are useful for our readers. If you buy through links on this page, we may earn a small commission.
This is a machine towards the budget end of the market, designed with comfort and durability in mind. It has a magnetic tension system which makes for a quiet machine, helpful if too much noise may be an issue where you live. There are 8 magnetic tension resistance levels available which you can select manually via a knob.
A feature of this machine is a long sliding rail measuring 48 inches, which makes it an accessible machine for most people regardless of height. The seat is fully padded and the handlebars have foam grips for comfortable rowing. An anti-slip foot pedal design helps keep the feet securely in place.
The monitor is quite basic and omits some of the data other machines display, such as distance traveled. However, the affordability of this rower needs to be kept in mind in such comparisons. The monitor also is not backlit which can hinder viewing sometimes. The weight capacity for the machine is 250lbs and it can be folded down for easy storage once training is done for the day.
Read our Sunny Health & Fitness SR-RW5515 review.
Here at Start Rowing we include products we think are useful for our readers. If you buy through links on this page, we may earn a small commission.
The CITYROW GO Max offers a unique rowing experience with immersive workouts both on and off the rower.
The rower itself is manufactured by WaterRower so can you can expect the same great performance and sleek design that they've come to be known for. The folks at CityGo Row opted for a monorail design made from sustainable Ashwood and black powder-coating.
The rower is accompanied by a 19.5" touch screen where you can view their online library which hosts a wide selection of instructor-led workouts in a class style that you'd typically do in a gym or studio.
What separates the CITYROW GO Max from other interactive rowers on the market is that it offers a ton of exercise types. Aside from rowing, you'll also have access to workouts that include other forms of cardio, strength training, yoga sessions, and more.
For us, the main appeal is their offering of HIIT classes. These include workouts alternating between intervals of rowing and other forms of training such as resistance training and calisthenics.
If you're someone who requires variety in their workouts or often gets bored of exercising, this may be the perfect machine.
Read our CITYROW GO Max review.
Here at Start Rowing we include products we think are useful for our readers. If you buy through links on this page, we may earn a small commission.
When it comes to integrating technological features with rowing, Aviron is at the front of the pack. Their rower is available in two versions, the Impact and the Tough, with the latter being a few hundred dollars more expensive. The software and internal components on the two machines are identical with slight differences in the hardware.
The biggest difference between the two models is that the Tough Series rower has a more robust frame, offers more bodily adjustment, and has a lower frame height. Unlike the Impact series rower, the Tough series is not foldable.
The Aviron rower was created for high-intensity interval training (HIIT). It's a powerful machine that provides 507 pounds of maximum user weight. The frame on the Tough series is also extremely robust. Both machines offer dual resistance with air and magnetic functionality.
The 22-inch HD screen is the perfect medium to enjoy the premium level offerings variable by subscription. These include virtual and performance workouts, a huge range of very engaging games, the very popular Pros vs Joe's challenge, guided programs, competitions challenges, power play, and even 80s retro-style arcade games.
If you're after a rower that can handle intense interval workouts while also opening up a world of interactive entertainment and that allows you to switch between air and magnetic resistance at will, then the Aviron rower is definitely worth checking out.
Read our Aviron Rower review.
Here at Start Rowing we include products we think are useful for our readers. If you buy through links on this page, we may earn a small commission.
The LIT Strength Machine is the most unique rowing machine on our list. In fact, it's more than a rowing machine, with the founders describing it as the most versatile strength machine on the planet! Quite the claim.
The machine is part water rower, part strength trainer, and part reformer. The rower has built-in anchor points which allow you to attach different accessories such as resistance bands, a strength bar, and ankle cuffs.
It incorporates over 500 exercises that will help improve your strength, cardio, and overall fitness.
It's also the first of its kind adjustable resistance water rower with a dial allowing you to switch between 4 levels of resistance, starting from 10lbs up to 40lbs.
This is not your average rowing experience as the LIT Method instructors will have you utilizing all aspects of the machine during studio-style live and on-demand classes.
A LIT membership will give you access to their app and a huge library of workouts. With new exercises and classes being added every day.
Their focus is on low impact training (LIT) that is versatile and challenging for all fitness levels, whilst keeping you injury-free.
Read our full LIT Strength Machine review.
Here at Start Rowing we include products we think are useful for our readers. If you buy through links on this page, we may earn a small commission.
A top-end rowing machine with advanced features based around a 22-inch touchscreen display.
As well as having thirty built-in workout programs to try, an iFit Coach subscription gives you access to over 12,000 interactive sessions. This allows you to participate in live and on-demand classes, with the machine's resistance levels changing automatically to match the class session being followed. There are 26 of these magnetic resistance levels which can be a bit of a challenge, yet they provide a quiet and smooth row.
The iFit coach also provides access to a range of nutritional, sleep, and exercise advice. If preferred you can do your own workout, for which there are 10 additional air resistance levels available for selection.
An ergonomically molded seat and handle aid comfort, with oversized pivoting pedals and adjustable foot-straps keeping feet of all sizes secure. When done with for the day the Nordik Track RW900 rower folds in the middle, making it simple to store in spaces that do not have much height. This rowing machine has a maximum weight capacity of 250lbs.
Here at Start Rowing we include products we think are useful for our readers. If you buy through links on this page, we may earn a small commission.
The WaterRower Natural is an aesthetically pleasing rowing machine, built from sustainably sourced ash hardwood. Resistance is generated using a water tub positioned under the ergonomically designed seat. It is built to simulate the feel and sound of rowing on water. The sound of the water moving around the tub can add a natural and calming experience to the row.
A water resistance model makes for a low-maintenance rowing machine. The S4 monitor which accompanies the rower displays the relevant data and can be uploaded onto a computer for later use. It has the capacity to monitor heart rate using a chest strap, but the receiver and transmitter are not included.
Users can utilize 6 preset workouts or set up to 9 interval sessions to suit their personal training needs. The WaterRower Natural is larger than some machines but does flip up to allow for easy storage if space is an issue. Although fairly pricey the quality of the wood build provides a durable machine that has a large weight capacity of 1000lbs.
Read our WaterRower Natural review.
Here at Start Rowing we include products we think are useful for our readers. If you buy through links on this page, we may earn a small commission.
A straightforward, functional machine that provides multiple work-out options at a budget price. Compared to some modern machines this rower can look a little retro, but the handlebars placed on each side of the machine are designed to mimic the oars of a rowing boat.
Built with a steel frame and an aluminum central beam, the BodyTrac Glider 1050 is a sturdy offering for the price range. It is a hydraulic rowing machine that uses hydraulic shocks to adjust resistance levels. There are twelve of these resistance levels which can be adjusted manually.
As to be expected for the best budget rower the monitor is basic but provides the important data required to follow progress. There are no pre-set workouts or any options to store performance.
This is a good option for those with limited space as the machine does not take up a huge amount of room with a footprint of just 23.5 x 21 x 46 inches. It is also lightweight, weighing less than 40lbs, making it easy to move for storing. With a weight capacity of 250lbs, this machine is designed to be durable for the budget range price.
Read our BodyTrac Glider 1050 review.
Best Rowing Machines Buyers Guide
Home rowing machines have soared in popularity in recent times and it's no surprise as to why. Rowing is a great workout that can get you very fit, help you lose weight, and can even be an outlet for your competitive urges.
There are several manufacturers and lots of different models available so choosing a rower can be a daunting prospect and the last thing you want to do is spend your hard-earned money on a machine that fails to live up to your expectations.
What Is The Best Type Of Resistance For A Rowing Machine?​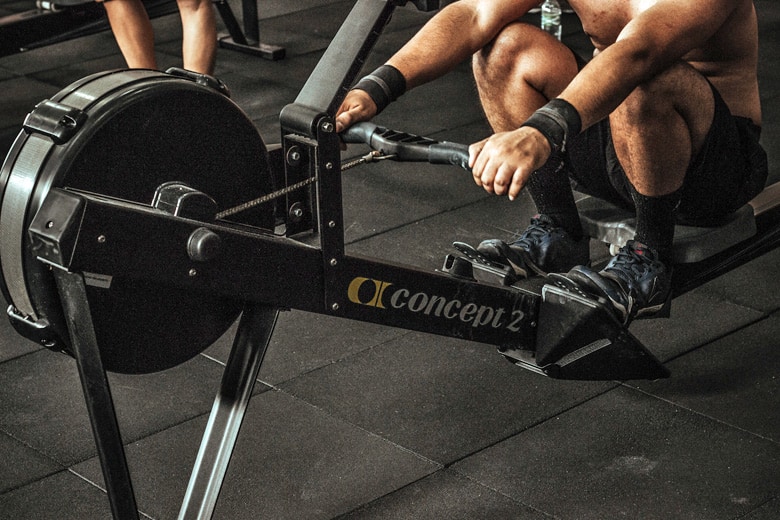 Rowers are best categorized by the mechanism used for creating resistance. There are four main types:
Magnetic Resistance​
Very smooth and quiet to use, electromagnetic resistance rowers usually require an external power source and contain often sophisticated electrical components. Resistance can be changed quickly and easily but, in my experience, the top resistance level is normally not very high. There is a lot to go wrong with an electromagnetic resistance rower but if well maintained should be reliable and long-lasting.
Water Resistance​
Built around a sealed drum of water and a propeller attached to the handle by a cord or chain, water-resistance rowers are becoming increasingly popular. The water drum looks really cool and the swishing sound they make in use gives a very authentic rowing experience. Because water is very heavy, water rowers tend to be heavy too and less portable as a result. The rowing action tends to be heavier at the start of the pull than at the end – much the same as rowing on "real" water but different to other types of braking systems where resistance is more constant.
Air Resistance​
This type of rower is the most popular with "serious" rowers. The resistance is variable and there is plenty of it for even the strongest exerciser. The machines themselves are usually hardwearing and very easy to maintain. On the downside, air resistance rowers can be quite noisy in use, especially if you are doing intervals or sprints. Air resistance rowers are generally lighter than water rowers and can be broken down into sections for easier transportation and storage.
Hydraulic Resistance​
Old school rowers almost always used hydraulic resistance. Modern rowers using hydraulics are generally cheap and far less enjoyable to use than the preceding three resistance methods. Because the handles inevitably travel through an arc rather than in a straight line, hydraulic rowers use a very unnatural rowing action that can prove uncomfortable. Resistance is usually adjustable but not by much. Hydraulic resistance rowers are light, portable, and easily folded flat for storage but are not really suitable for "serious" rowing training although Kettler, a good quality German fitness company, still uses hydraulics in their rowing machines.
Now you know a little about the different types of rowing machines resistance, let's look at a few other things that you should consider when buying.
How Much Does A Rowing Machine Cost?​
An indoor rowing machine can cost as little as $200 and as much as $3000 depending on the model you choose. Most expensive doesn't necessarily mean best and, in my opinion, the best rower around sits halfway between these two extremes. While it is true you get what you pay for, some rowers are definitely overpriced compared to the competition.
Space Available​
Some rowers are longer than others so it's important to make sure your rower will fit into the space you have set aside for exercise. Make sure the rowing machine is big enough to accommodate you too – if you are very tall, you'll probably need a rower that is around two meters in length.
Portability
Is your rower going to stay in one place, e.g. your spare room, or are you going to have to store it in one place and use it in another? While some rowers will break down into two or even three sections, others do not. Some machines are fitted with wheels for easy movement while others will need to be carried.
Functions​
Some rowers are very "no-frills" while others have every bell and whistle imaginable. More often, the more expensive the rower, the more functions on offer. Don't feel that more functions are best – you may end up paying for things you never use. Choose a model that does what you need rather than pay for things you do not want. Also, the more technology that is crammed into your rowing machine, the more there is to go wrong; an important factor to consider if your rower is going to get heavy usage.
Warranty​
Even the best rowing machines go wrong from time to time so make sure your rower has a decent warranty. More expensive rowers often have a longer warranty but in return, you get peace of mind that your investment is protected.
Number Of Users​
If your rower is going to be used by a lot of people or used heavily by just a few, make sure you chose a machine designed for light commercial or commercial use. Home rowing use machines are fine for light or occasional usage but are not up to the punishment of constant, heavy use.
Comfort​
That rower that felt fine in the showroom can be butt-crippling uncomfortable 20-minutes into your first proper workout. Make sure the rower is long enough, has a good seat, and has a sufficiently wide handle to accommodate you comfortably. The best rower in the world is a waste of money if you can use it without severe discomfort.
Availability Of Spares​
Because, hopefully, your rower will last many years, it is important that commonly required spares are readily available. Things like seats, handles, roller bearings, and monitors eventually wear out but these are small components that, if worn, should not end the life of your machine. Make sure that there are spaces available (and that there will be continued availability) for your rower.
Specificity​
If you are training for indoor rowing competitions, you should buy the type of rower you are going to be racing on. At the time of writing, that's Concept2 rowing machines. If you have no intention of rowing in competition, it's fine to go with a different model.
Final Thoughts​
There are a host of worthy rowing machines to select from depending on your budget as well as your training and fitness goals. However, the Concept2 Model D indoor rower with a PM5F console consistently comes out as the top pick among reviewers and is viewed as the "standard" for indoor rowing machines amongst competitive rowers.
I've used a lot of rowing machines and enjoyed many of them but, ten times out of ten, I always come back to Concept2. I've used the old models and the newest models and they are always a pleasure to use. Hardwearing, easy to maintain, and very long-lasting, they are not the cheapest rowing machine around but, with a little bit of maintenance, they should provide you with decades of faithful service.
I have a Concept2 in my garage and in all the years I have owned it, it has never needed more than a little oil on the chain and a new battery in the display unit. I consider my Concept2 to be the best exercise investment I have ever made.
Here at Start Rowing we include products we think are useful for our readers. If you buy through links on this page, we may earn a small commission.
FAQ
Which home rowing machine is best?
Our recommendation for the best home rowing machine is the Concept2 Model D (RowERG). It's the industry standard that's stood the test of time. If you're looking for a more interactive rowing experience then look at the Hydrow or Ergatta rowing machines
What type of rowing machine is best for home use?
The type of rowing machine that is best for home use will actually depend on your home. While there are certain factors that you will likely want to consider such as price and resistance type, you'll also need to choose a rower that is best suited for the environment you are going to put it in. For example, if you only have a very small space, you will be better off getting a more compact rowing machine or one that can be folded and stored away. If you live with a family, you may be concerned about noise, therefore a magnetic rowing machine may be better suited for you. If you're unsure of what factors to look out for, read through our buyer's guide again.
Are home rowing machines worth it?
Home rowing machines are definitely a worthwhile investment in your health and fitness. We believe a rowing machine is the best type of cardio machine you can buy and there are many options available to suit all budgets as well as training preferences. 
What is the best rowing machine to purchase?
There are some amazing rowing machines currently on the market. If you're looking for the best money can buy we suggest looking into the Concept2 RowERG, the Hydrow rower, and the Ergatta rower.
What rowers are as good as Concept2?
Concept2 has long been acknowledged as producing the best rowing machines. However, there are now quite a few alternatives that are challenging the RowERG. The most like-for-like comparison will be the Xebex rower. There are also a number of interactive rowers that are becoming very popular such as Hydrow, Ergatta, and Aviron.
How do I choose a rowing machine?
There are a few things you need to consider when choosing a rowing machine, including resistance type, rower functions, and of course price. Our guide will be able to take you through everything you need to ask yourself and know as well as present you with the best options currently available on the market.