After having studied, tested, and analyzed the best rowing machines on the market, my favorite remains unchanged from what it was a dozen years ago – the Concept2 RowErg (formerly Concept2 Model D). Concept2 has set the standard for rowing machines by combining a clean, effective design with a responsive fluid rowing action that is tracked by one of the best performance monitors you'll find on any piece of home cardio equipment.
In this article, I'll reveal the eight best rowing machines in 2023 for home use, separated by categories to make it easy for you to zero in on the best model for you. I'll also point out which rowing machines you should avoid and why. Plus also provide you with a comprehensive buyer's guide to give you a heads up when shopping for your own rowing machine. 
Start Rowing Recommends
Top Pick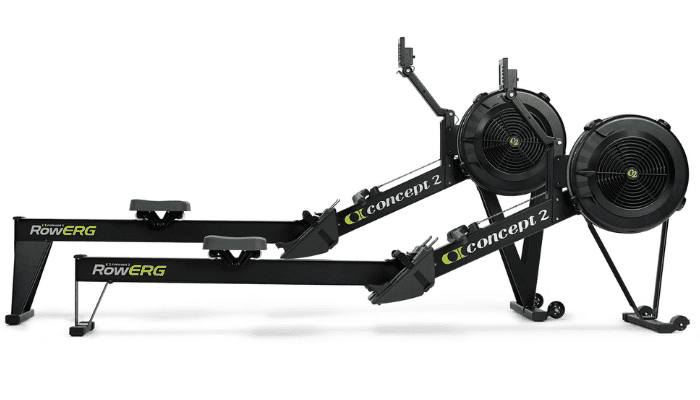 The industry-setting standard
The RowERG (formerly Concept2 Model D) can't be beaten for price, functionality, and performance. It's been the most popular rower worldwide for over 10 years and is the indoor rower of choice for most rowers and athletes.
Best Interactive Rower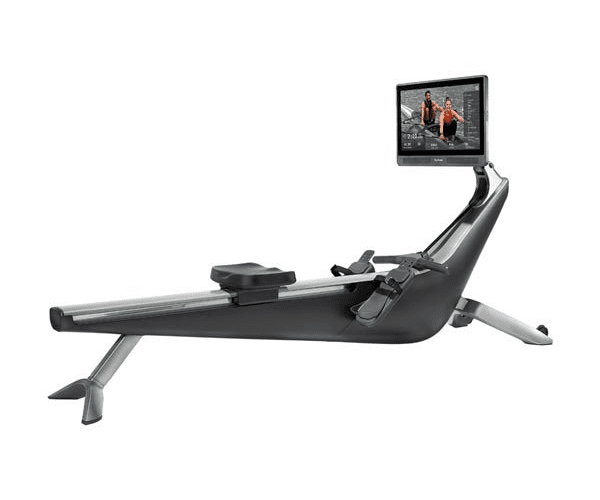 Super stylish interactive rower
The Hydrow Rowing Machine has a super sleek design, a 22-inch touchscreen and is currently leading the way for this new wave of interactive rowing machines.
Best Budget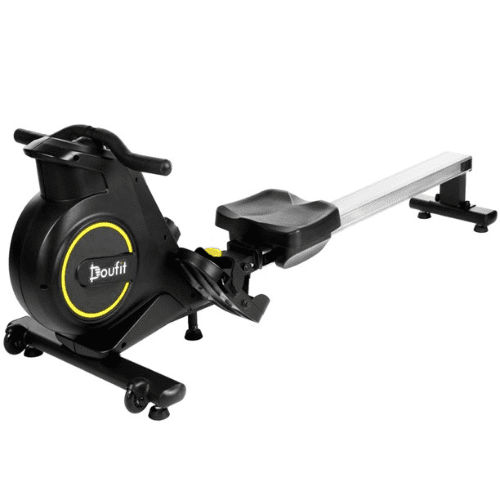 Best budget rower under $300
The Doufit is the best rower you'll find in this price range. It's compact, lightweight, super comfy and has the smoothest rowing motion we've tested on a budget rower.
---
8 Best Rowing Machines In 2023
---
Top Pick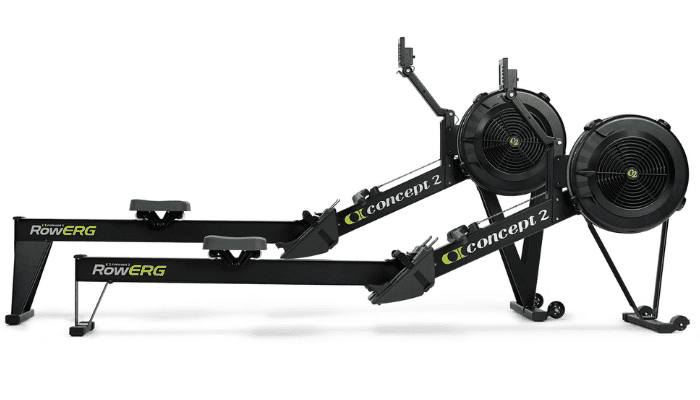 The industry-setting standard
The RowERG (formerly Concept2 Model D) can't be beaten for price, functionality, and performance. It's been the most popular rower worldwide for over 10 years and is the indoor rower of choice for most rowers and athletes.
The Concept2 ROWERG (formerly Concept2 Model D) is the industry-setting standard for an air resistance rowing machine. It's not as fancy as some air rowers but it cannot be beaten for functional performance. The Concept2 provides you with 10 damper levels, delivers a very smooth, natural rowing action, and is as quiet as you'll get for a resistance rower (though still pretty loud).
The Concept2 is a super sturdy and robust rowing machine, I love to push my limits with HIIT Tabata workouts and the Concept2 is one of the very few machines that allow me to go all out without any lateral frame movement or loss of fluidity.
I also really like the PM5 monitor on the Concept2 RowErg. It provides you with plenty of workout options to analyze your data after the workout on the Concept2 logbook. The PM5 display shows pace, watts, stroke rate, calories, and an optional pace boat or force curve. Another useful feature that I take advantage of is the Bluetooth and ANT+ connectivity so that you can pair your chest strap heart rate monitor for the most precise pulse monitoring.
Best Interactive Rower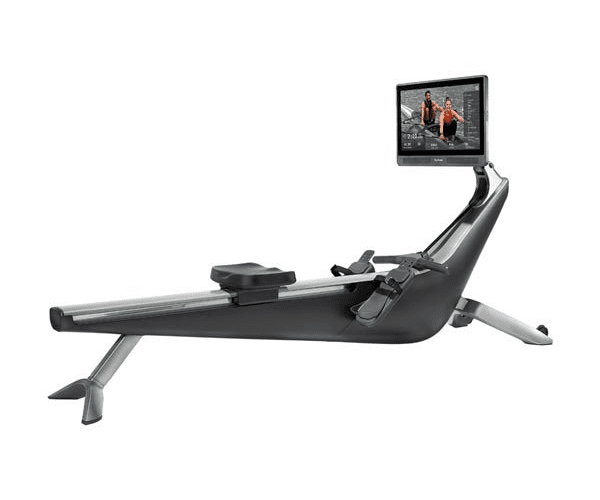 Super stylish interactive rower
The Hydrow Rowing Machine has a super sleek design, a 22-inch touchscreen and is currently leading the way for this new wave of interactive rowing machines.
The Hydrow Rowing Machine represents the latest and greatest in rowing technology. I love its sleek, futuristic design. It comes almost completely assembled, which is also great. It's got an awesome 22-inch touchscreen HD monitor which is very easy to use.
There's a whole variety of set workouts built into the machine ranging from beginner to advanced level. There are also live rows with a range of star instructors. The library tab provides you with a huge range of on-the-water workouts to follow along with. Every single day, Hydrow adds 3-5 workouts, so you will literally never run out of training options! The workouts are broken down into three categories – breath, sweat, and drive.
I love that you don't just get rowing workouts on this machine. There is also a large range of flexibility, body weight, strength, and core workouts for you to follow along with!
Best Budget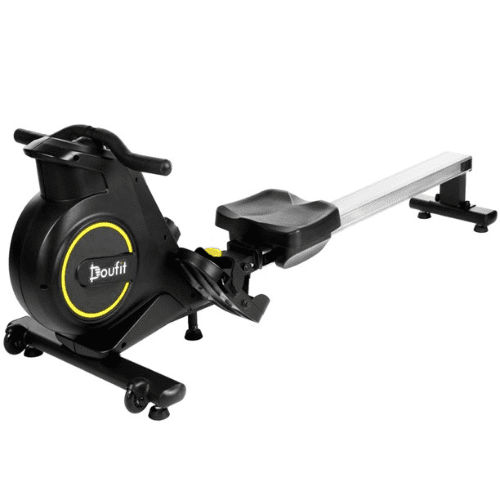 Best budget rower under $300
The Doufit is the best rower you'll find in this price range. It's compact, lightweight, super comfy and has the smoothest rowing motion we've tested on a budget rower.
The Doufit Rowing Machine is the best rowing machine I've come across for less than $300. This is a compact machine that has a low profile to the ground. It's also lightweight, weighing in at just 61 pounds. That makes it ideal for compact living spaces. The machine features a wide, contoured seat that is super comfy.
The handles on the Doufit rower feature a bullhorn curve design. This, combined with the foam covering gives you a really comfortable grip. Despite being compact, tall people will still be able to get a full rowing extension on this machine. The footplates on the machine are wider than normal, providing a really fluid rowing action. The footplates also don't pivot, which is a good thing as it gives you a more stable base.
The smooth, magnetic resistance in the Doufit is nice and quiet. It has eight different resistance levels which are adjusted by a central dial. The monitor on the machine is simple but functional. It provides a readout of your time, stroke, distance, calories, and strokes per minute.
The Doufit is an impressively sturdy machine for the price. While it may move a little laterally if you push too hard during a HIIT session, it will remain solid and steady with a medium-intensity session. As far as an affordable magnetic rower goes, the Doufit will give you a very satisfying workout.
---
Why You Should Trust Us
As a gym owner and personal trainer, I've been buying, using, and recommending rowing machines for decades. For this best of article, I've brought all of that experience to bear as I've given the most popular rowing machines a complete analysis.
I've spent many hours checking, studying, and using the machines. But I've also taken stock of the many verified user reviews online to find out what people like and don't like about each of the featured rowing machines.
In addition to this, our testing panel team has also shared their expertise and experience with various rowers to help me create the most comprehensive best rowing machine review you'll find online. We even carried out our own user research, gaining direct feedback from verified buyers.
---
Who Should Get a Home Rowing Machine
A rowing machine will benefit anyone who wants to begin an exercise program to lose weight, improve their cardiovascular fitness, or generally get into shape.
A rowing machine is just one of a whole range of home cardio machine options. So what makes it better than a treadmill, cycle, or stepper? Quite simply, rowing will provide you with a full-body workout more effectively and more safely than any of those other options. Unlike most cardio exercise machines, rowers work both the upper and lower body. The exercise works 80 percent of the muscles of your body, including the back, shoulders, arms, and core.
Rowing is a very low-impact form of cardiovascular exercise. That is because it is an example of a closed-chain exercise. That means that your feet stay in contact with the foot platform at all times. As a result, there is no impact jarring on your ankles, knee, and hip joints. That is very different from exercises like running on a treadmill.
Rowing machines also represent value when you weigh up your budget against your goals. Our best-budget value rowing machine will cost you less than $300. For that money, you will have a very durable, effective full-body cardio exercise machine that will help you achieve your weight loss and heart health goals. Even the best rower on the market, the Concept2 RowErg can be yours for not much more than a thousand dollars. That compares favorably to the best treadmills, exercycles, and steppers on the market.
---
How We Picked
Selecting the best rowing machines in a market that is saturated with models of all shapes and sizes is a daunting task. We took the task extremely seriously, working through a number of set criteria to sort out the best from the rest.
Here is a breakdown of the six key buying criteria that we looked at:
Value for money: Value for money doesn't just mean the cheapest. It represents the quality of the product in relation to the price.
Rowing machines range in price from less than a hundred dollars to more than $3000.Naturally, as the price increases, so do the features and general build quality of the machine. However, there are cases when a machine will provide qualities and features that you would not expect in its price range. These machines represent the best value for money.
Company history: We checked into the history of each company behind the rowing machines to get a handle on their reputation. We asked such questions as does it have a long history and longevity in the industry? Are they well-trusted and known for their products? What is the customer service reputation?
User reviews: Reading the opinions of verified purchasers is a valuable source of information about a rowing machine. We spent a lot of time scouring through reviews, with a view to getting answers to such questions as how rugged is the frame of the machine, how comfortable are the seat, footplates, and handles, is it noisy to use, does it wobble at high speeds and how easy is it to assemble and move around?
Look and design: Aesthetics are important. We took into account the general style and look of the machine. We also considered the ergonomics and comfort of the seat, handle, and footplates. The user capacity in terms of maximum user weight was important too, as it gave a good indication as to the strength and durability of the frame.
Rail style and length were carefully noted to determine how user-friendly the rowing machine was for taller people. Other factors that we took note of were portability and storage capabilities. Many users don't have room to keep a rowing machine on the floor when not in use and, so require a machine that can be folded away for storage.
Functionality and features: The functionality of a rowing machine takes into account the number of programs that are built into the console, the levels of resistance, monitor/ screen capabilities, available metrics, wifi capabilities, and whether or not it is capable of external heart rate monitoring, and the apps that it connects to.
---
How We Tested
In addition to learning as much about the specs of each machine, reading up about the company, and pouring over verified user reviews, we tested each machine through a number of factors.
After checking each machine through a light five-minute workout to get a feel for the machine, we tested it through actual workouts. These included a 4-minute high-intensity interval training (HIIT) workout during which we wanted to see how the frame would hold up. We also did a longer 2K duration cardio workout.
During the testing workouts, we took special note of the ease of getting on and off the machine, the comfort of the seat during a longer workout, the naturalness of the foot placement, the firmness of the foothold, the strength of the different resistance levels, and the smoothness of the transition between tension levels.
We also had taller testers (thank you David), over 6'2", use the machine to see how suitable it was for taller people. We especially took note of the length and design of the rail to assess whether taller users could achieve a full, natural stroke length.
---
Our Pick: Concept2 RowERG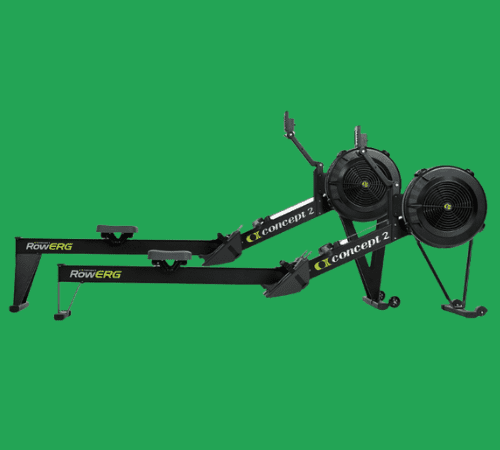 Top Pick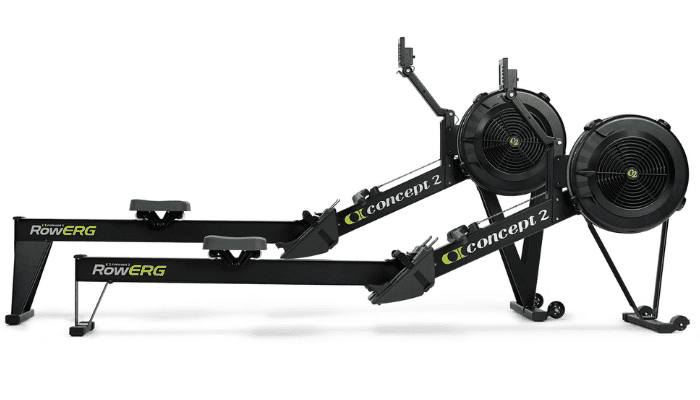 The industry-setting standard
The RowERG (formerly Concept2 Model D) can't be beaten for price, functionality, and performance. It's been the most popular rower worldwide for over 10 years and is the indoor rower of choice for most rowers and athletes.
The Concept2 RowErg is the gold standard of rowing machines. It is the only machine used by the vast majority of amateur and professional rowers around the world. That tells you volumes about the quality and durability of this machine.
The PM5 performance monitor on the Concept2 is unmatched by anything else on the market. Most monitors are either sophisticated and hard to use or simple and easy to use. The PM5 hits that sweet spot of being sophisticated but easy to use. The monitor allows you to set up a wide range of workout types. These include …
Just Row
Selected Workouts
Games
The data points that are captured by the monitor include time, distance, calories, and strokes, with each category being broken down in detail.
Bluetooth connectivity allows you to connect to your external heart rate monitor. You can also connect with the ERG Data app so that your workouts can be saved and uploaded to your own personal Concept2 Rowing Logbook. There you'll be able to compare your rowing times to those of other rowers from all over the world.
The monitor features an onboard memory that saves all of your workouts. This allows you to check back on your previous performances on the monitor itself. Overall, the PM5 monitor on the Concept2 gives you the best data analysis, connectivity, and ability to compare your rowing performance to those of other users that I have come across.
The Concept2 RowErg is surprisingly lightweight. At around 57 pounds, it is less than half the weight of many other rowers. The machine can also be easily broken down into two parts for convenient storage. However, it does not fold in a conventional manner.
Putting the Concept2 back together is simplicity itself. It doesn't require any tools or screwing and can be done in about 10 seconds. That makes it ideal for traveling around with you in the car or simply storing it in a closet. If you prefer to keep the machine in one piece, it can be stood on its end for vertical storage.
The RowErg's frame is made of aluminum that is powder-coated in a black finish. The aluminum I-beam monorail and stainless steel track deliver a very smooth drive and recovery. The frame is extremely strong, being able to support up to 500 pounds. That is pretty amazing considering that the entire machine weighs only 57 pounds.
The nickel-plated chain belt is very strong. However, if you are an inexperienced rower, you may find it hard to avoid the occasional chain bounce. The chain is also noisier than if you were rowing on a machine with a belt strap.
The handle is well padded and substantial so that it offers a decent circumference in your hands. The handle lengths are quite long, allowing for a close or wide grip. The middle of the handle is also vented, allowing you to grip with one hand if you want to. The handle padding is also sweat resistant.
The padded seat isn't the softest you will find but it is sufficiently comfortable. There are seat pads you can buy to improve this and I would recommend them if you're rowing for long stretches at a time. The seat is contoured to accommodate the tailbone. There is also contouring at the front to keep your legs in alignment.
The footboards on the Concept2 include adjustable foot pedals, allowing for ankle flexion. This enhances the body's ergonomics as you proceed through each stroke.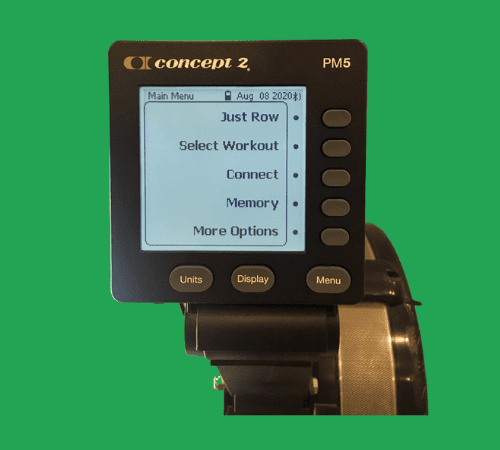 Assembly is pretty simple, requiring just the connecting of eight screws. The rower arrives in a single box and is in two pieces. The seat and flywheel are already attached, so all you have to do is attach the front stabilizer under the flywheel and connect the two long pieces of the track. Finally, adjust the console, check for stability and you're ready to row!
The footprint of the RowErg measures 8 feet by 2 feet (244 cm x 61 cm). In order to get a full range of exercise movement, you should allow an extra foot all the way around the machine. You can purchase models with either standard (formerly Concept2 Model D) or extra-large legs (formerly Concept2 Model E). The standard seat height is 14 inches (36 cm), with the long leg version providing a seat height of 21 inches (51 cm). This option is more suitable for people with mobility issues.
The height where the chain comes out of the rower is about 25 inches from the floor.
The Concept2 is an air resistance rowing machine, In fact, it was the first air resistance rowing machine developed for home use. Air resistance means that there is no limit to the amount of resistance you can generate.
The flywheel is fitted with fan blades. The harder you pull through the drive, the more air is funneled into the fan. This, in turn, generates more resistance. That means that you cannot outgrow this machine. That is a big plus over other types of resistance like magnetic or water. It is part of the reason that the Concept2 is the preferred rowing machine of top-level sportspeople and athletes.
The only negative of air resistance is that it is quite noisy. The constant movement of the air through the fan blades creates a repetitive whooshing sound. That will make it pretty difficult for your fellow apartment dwellers to focus on the TV if you're working out in the same room.
The maximum user weight on the Concept2 RowErg is 500 pounds. That is a high number for a home-use rowing machine. This provides you with a lot of rigidity and stability so that the machine will not move around when you are rowing at full speed during a HIIT workout.
The price of the standard Concept 2 RowErg (14-inch seat height) is $900.
The Concept2 RowErg with tall legs (21-inch seat height) retails for $1,050.
Taxes and shipping are additional and will vary depending on your location.
Your purchase of the Concept2 RowErg is protected by a 5-year frame warranty and a 2-year limited parts warranty.
Read our full Concept2 RowErg review here.
---
Best Interactive Rowing Machine: Hydrow Rowing Machine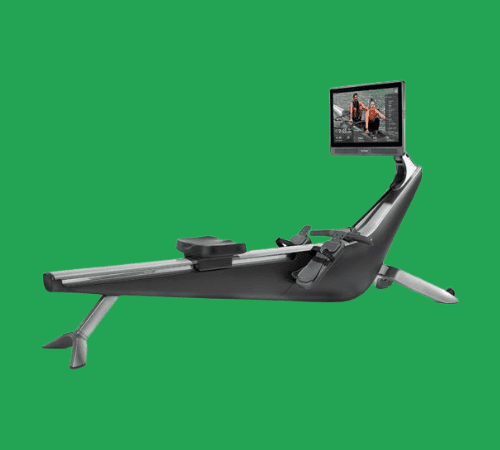 Best Interactive Rower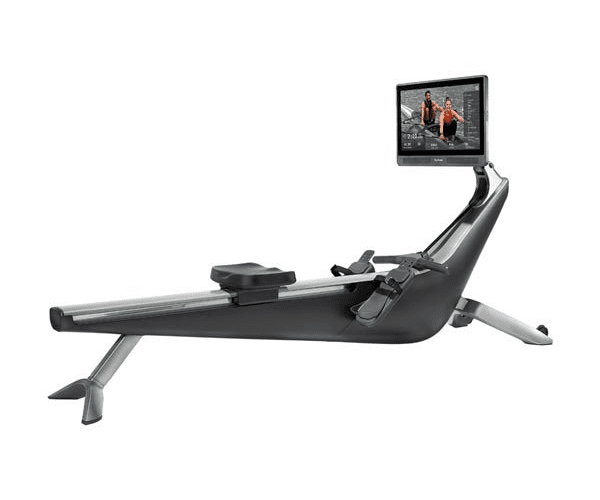 Super stylish interactive rower
The Hydrow Rowing Machine has a super sleek design, a 22-inch touchscreen and is currently leading the way for this new wave of interactive rowing machines.
The Hydrow rowing machine has been dubbed the Peloton of rowing machines as a nod to its superior interactive features and sleek design. When Peloton eventually gets around to releasing their rower, they'd do well to look to Hydrow for their inspiration. This is a seriously impressive rower. Its curved lines and polished silver finish look fantastic, making it one of the most aesthetically pleasing-looking pieces of gym equipment you will ever own. But that's just the start.
The Hydrow uses magnetic resistance. Many people are used to associating magnetic rowers with lower price points and subsequent lower performance levels. While it's true that a lot of magnetic rowers do not provide the type of smooth, on-the-water-like rowing stroke that you can get from an air or water machine, that is not the case here.
Hydrow has gone out of its way to make use of high spec componentry to deliver what is probably the smoothest magnetic resistance rowing stroke I have ever encountered. Having compared the Hydrow to the Concept2, I have to say that there is virtually no difference in the quality of the rowing stroke between them. That is quite a statement when you are comparing a magnetic system to the very best air rower on the market.
The base of the Hydrow is heavy enough that you feel very secure when you are rowing. You won't have to worry about any lateral movement when you're doing a sprint or working your way through a HIIT workout. It is much heavier than the Concept2, as it uses more steel than aluminum. That makes it harder to move around but also more stable.
The maximum user weight of the Hydrow rowing machine is 375 pounds.
Moving the Hydrow is a little challenging because of the extra weight provided by its steel frame. It does, however, have two transportation wheels up front, so, once you've got the other end in the air, it's pretty easy. In my experience, though, people don't tend to move their Hydrow machine very often. It looks so cool that they prefer to keep it as a centerpiece of whatever room it is in.
The thing that really separates the Hydrow from the rest of the pack is its interactive capabilities. The machine comes with a massive 22-inch touchscreen display monitor. When you turn on the display you get a very user-friendly Netflix-style view. The experience that you get with this interactive rower is much like that on a Peloton bike, so you feel as if you are totally immersed in the fitness class experience.
Something that separates the Hydrow workouts from competitors like Ergatta is that they take place on the open water, rather than in the fitness studio. The coaches are instructing you while they are rowing on a lake. Multi cameras are used to provide you with premium video.
To get started with the Hydrow interactive rowing experience, you go through the library and pick a class. You are not able to select a just row option like you can on the Concept2. Once you have selected your class, you can connect Bluetooth headphones to your heart rate monitor. You then select your sound and drag. The drag setting is similar to that on a Concept2 Rower. You are then ready to row.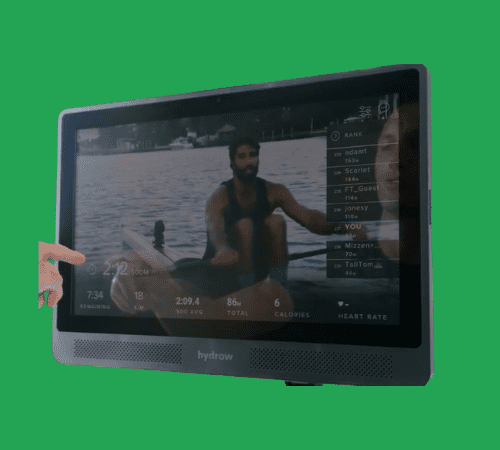 A hugely popular feature of the Hydrow experience is the competition board. It allows you to compete live with people from all over the world. It's a great feature to keep you motivated and get those natural competitive juices flowing. There are also live classes available through the app.
The Hydrow is a much quieter rower than the Concept2. That makes it great for those who want to train early in the morning when everyone else is asleep. The strap feels very consistent. You will never have to worry about the bounce effect that sometimes happens with a chain drive.
The handle is ergonomically contoured to provide a slight curve. This allows for a natural grip. The handles are long enough to allow for grip variety and well padded for comfort. They are also sweat resistant. The seat is also contoured for comfort with a tailbone swish at the back. You'll notice how smoothly the seat travels up and down the rail thanks to the high-spec ball bearings that connect the two.
Hydrow has managed to combine a fantastic interactive experience with very high-quality hardware. That cannot be said for others who have entered the interactive fitness space, including Peloton. The result is an awesome rowing experience.
The Hydrow rowing machine is expensive, retailing off the official website at $2,245.00 (though they often run special promotions and discounts throughout the year). You also have to pay for an ongoing membership to make use of the interactive features. That will cost you $38 per month. This, in effect, means that you are replacing your gym membership. Using the Hydrow without a membership is not really an option as you will be very limited in what you can actually do.
When you purchase a Hydrow rowing machine, you will get the following warranty protection:
Structural Frame & Upright Storage Kit: Five Years
Components, Screen, & Other Electronics: Twelve Months
Labor: Twelve Months
You also get a 30-day in-home trial with the Hydrow, allowing you a full month to try it out without obligation.
The Hydrow represents the very best in interactive rowing technology on the current market. It's bringing together of advanced interactive features, awesome video, a competitive element, and excellent hardware sets it apart. However, you have to pay a lot of money to get the full benefits of this machine.
Read our full Hydrow review here.
---
Best Budget Rowing Machine Under $300: Doufit Rowing Machine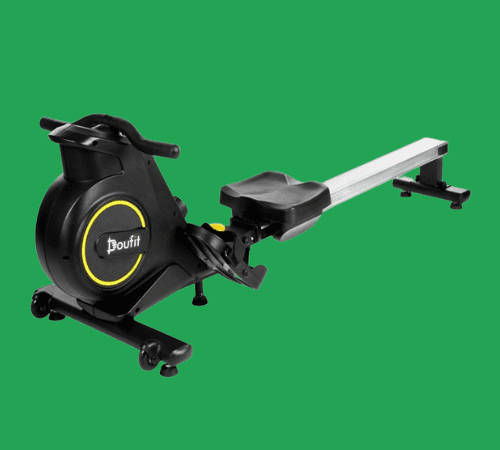 Best Budget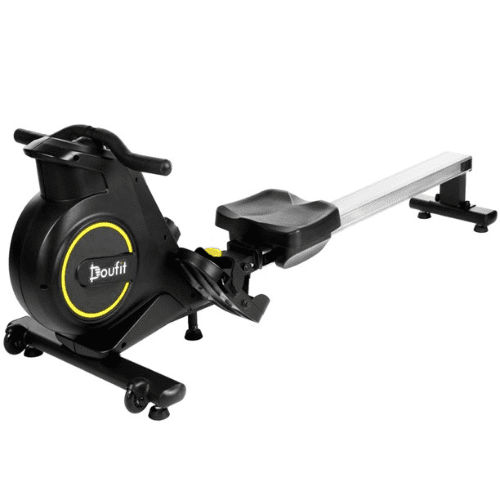 Best budget rower under $300
The Doufit is the best rower you'll find in this price range. It's compact, lightweight, super comfy and has the smoothest rowing motion we've tested on a budget rower.
The Doufit Rowing Machine is the most impressive rower that sells for under $300 that I've come across. It is currently available for just $229 on Amazon. For that price, you get a solid machine that does all the basics well, providing a smooth, comfortable rowing experience.
The aluminum and alloy steel frame of the Doufit has dimensions of 70.5 inches in length and 22.4 inches in height. The magnetic resistance provides a smooth, rowing experience that is much quieter than you'd get on an air or water rower.
There are two wheels on the front of the Doufit rower to allow for easy transport. As you'd expect for a budget rower, the monitor display is basic. However, it is highly functional, providing the key data you need to monitor your workout progress. Within two seconds of using the machine, the screen will illuminate. The display tracks time, calories, distance, count, and strokes.
The tension knob resistance dial is placed a few inches below the monitor screen. There are 8 levels of tension resistance available on this machine. The nonslip handlebar is contoured and longer than you find on most rowing machines. This allows for both close and wide grips. The seat on this rower is 2 inches high and 12.6 inches wide. It features an ergonomically contoured design to allow for your tailbone to sit comfortably and has slightly raised front edging to help keep your butt in place.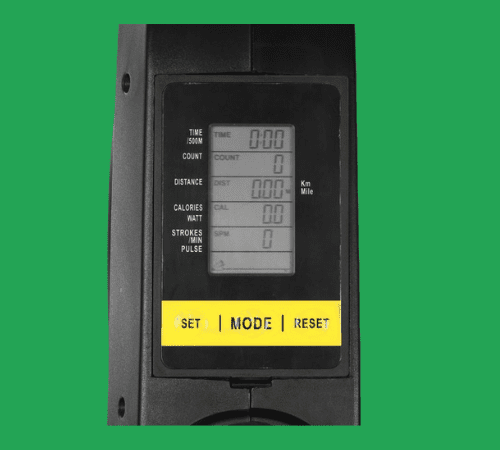 The non-slip pedals on this rower have adjustable velcro straps. There are also front and back rear stabilizers that have adjustable rubber feet to allow you to adjust the height if you are on an unstable surface.
The rowing machine case is fully enclosed with a robust plastic covering. The maximum user weight on this rower is 265 pounds, which is pretty standard for a budget rower.
Doufit offers a 12-month frame and parts warranty.
The Doufit rowing machine has a net weight of 55 lbs (25 kg). There is quite a bit of assembly required with about half a dozen parts to put together. The assembly book is detailed enough and easy to follow. There is also an assembly video available on the Doufit website.
The Doufit can be stored upright in a vertical position. It is also a foldable machine. To fold the rower, there is a bit of work to do. You have to remove a long screw and a yellow knob at the base of the rail. You will then be able to lift up the back portion of the machine until it is in an upright position close to the machine's motor housing. You then reinsert the long screw and reattach the yellow dial. This provides you with a very compact storage footprint that is very stable and secure. Bringing the machine back to usable condition will take about 30 seconds by reversing the process just described.
Being a budget rowing machine there is no video screen on the Doufit rowing machine. Unfortunately, there is also no holder for your tablet or phone. That's a shame because it means that you'll have to figure out some way to prop the phone on the ground alongside you as you're rowing if you want to make use of a rowing app like Hydrow. You'll have to pay for most apps, with the Hydrow costing $38 per month.
The tension dial on the Doufit rower goes from levels one to eight. At level one there is virtually zero resistance, that being a neutral position. The transition between the levels is pretty smooth, though you really don't start to feel things getting much harder until you get to level 5 or beyond. Level eight resistance would only be considered medium intensity on a more expensive rowing machine. It will be enough to challenge beginners and some intermediate-level rowers but won't give experienced people the intensity that they need to sustain a solid, challenging workout.
The seat does a pretty good job of moving back and forth on the seat rails. You will, however, have to regularly oil the underside and bearings as they can get stuck, leading to a rather jerky movement. The seat is really comfortable, being larger and better contoured than what I am used to finding on a rower priced at under $300.
Something I really appreciated about the Doufit is that, unlike many budget rowing machines, it is built to be used by taller people. The rail length is 48 inches, with an inseam length of 42 inches. That means that people who are taller than six feet tall will be able to achieve a full stroke, not having to compromise their performance. That feature in itself puts the Doufit above the majority of other rowers in its price range.
Overall, the Doufit rowing machine provides exceptional value for money. If you are a beginner rower, you will not find a smoother, more solidly constructed, compact and functional machine for this price on today's market.
---
How Our Picks Compare
| | | | |
| --- | --- | --- | --- |
| | Concept2 RowErg | Hydrow Rower | Doufit Rower |
| Price | $900 – $1,050 | $2,675 | $299 |
| Weight | 57 lbs (68 lbs with tall legs) | 145 lbs | 55 lbs |
| Dimensions | 95" L x 24" W x 14" H (20" H with tall legs) | 86″ L x 25″ W x 47″ H | 70.5" L x 21.3" W x 22.4" H |
| Resistance Type | Air flywheel | Computer Controlled Magnetic | Magnetic |
| Weight Capacity | 500 lbs | 375 lbs | 265 lbs |
| Folded | Separates into two pieces for storage | No, can be stored upright (with the purchase of storage kit) | Can be both folded and stored in upright position |
| Warranty | 5-year frame2-year parts | 5-year frame1-year parts | 12-month frame and parts |
| Monitor | PM5 display | 22" HD touchscreen | LCD display |
| Programming | 5 built-in workout options | Live workouts and on-demand classes | Basic data tracking |
---
Best Newcomer: Aviron Impact Series Rower
Best Newcomer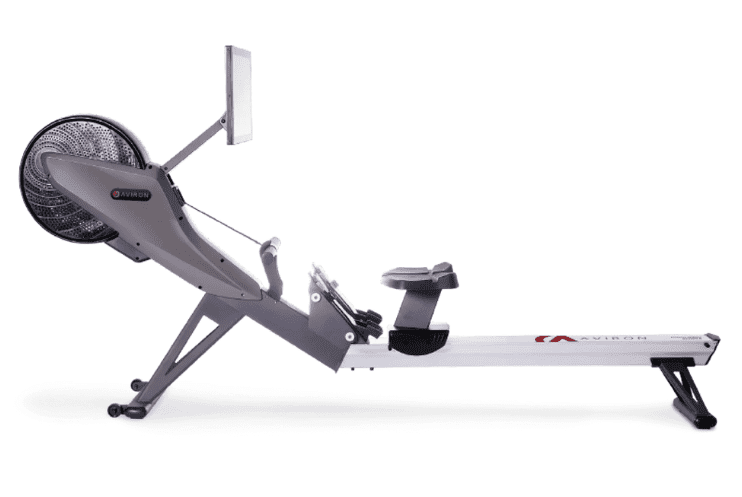 Fantastic games, competitions, and scenic workouts
The Aviron Impact Series rower is a total powerhouse. This air + magnetic resistance rower comes with fantastic games, competitions and scenic workouts all displayed on a 22 inch HD screen.
The Aviron Impact Series Rower is a worthy competitor for the Hydrow rower and a company worth keeping an eye on. This smart rower features a 22-inch touchscreen that gives you access to more than 300 workouts, with more being added all the time. The rowing videos are not as high quality as on the Hydrow but you also get access to a range of games and challenges.
The Aviron Impact has a relatively compact footprint. The machine folds away for ease of storage. There are 16 levels of resistance on this dual air and magnetic rower. The Whisper Quiet belt that connects the handle to the flywheel is amazingly quiet. In fact, this is one of the quietest rowing machines that I have ever used.
The seat on this machine sits 20 inches above the ground. That is considerably higher than standard rower height, making it easier for people with mobility issues to get and off.
The Aviron Impact sells for $2,199 on the official website. You'll have to pay an extra $25 per month for a personal membership to access the games, challenges, and programs.
Read our full Aviron rower review here.
---
Other Rowing Machines We Recommend
Best Tailored Rowing Experience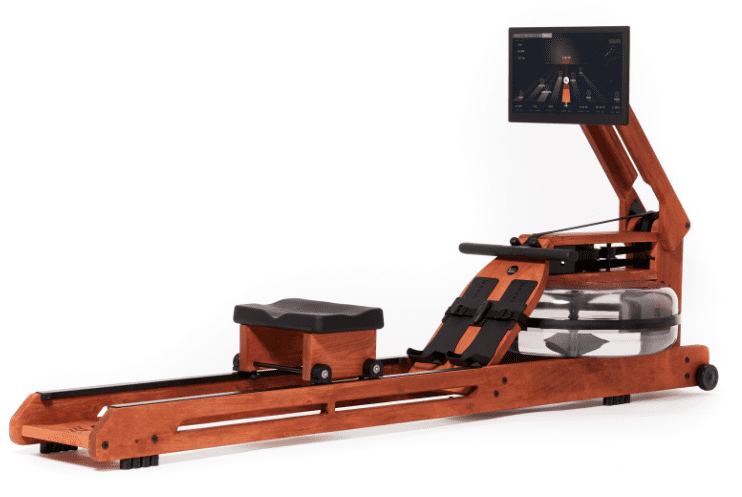 Enjoy gaming and fun, competitive workouts:
The Ergatta rower offers an interactive gaming experience with a smart monitor built on top of a WaterRower. Game on!
If you enjoy gaming and fun, competitive workouts: The Ergatta Rowing Machine does the best job of any rower in the interactive space at gamifying the workout experience. This rower basically slaps an interactive component onto a WaterRower to provide you with a machine that looks like a piece of art while delivering an advanced interactive experience to pull you in and keep you immersed.
WaterRower has many years of experience in perfecting its craft. So, you can be assured that the hardware is top-notch and that this machine will look great in any environment. The water rowing motion provides a smooth and fluid row that simulates what you'd actually get on the water. The whooshing sound that is generated with every stroke enhances that experience.
The Ergatta has a 40-inch inseam and a max user weight of 500 pounds. People who are taller than six feet will be able to use the rower with no restrictions. The only real issue with the design of the machine is that the footplates are a little too close together to allow for ideal rowing biomechanics.
The Ergatta software is designed to make working out on a rowing machine more like a game than a fitness class. There is a wide range of extremely engaging games that allow you to compete with people from all over the world. There are also plenty of workouts, grouped into four categories …
Push
Interval
Race
Scenic Row
A unique feature of the Ergatta rower is its smart intelligence system which creates a tailored rowing experience for each user. Your training is calibrated in accordance with your fitness levels and the onboard computer learns from the way that you row to recalibrate constantly to match your level. It will automatically adjust to make your workouts harder as you get fitter.
The Ergatta does the best job of any rower I've come across at beating workout boredom.
Read our full Ergatta review here.
Great Rowing Mechanics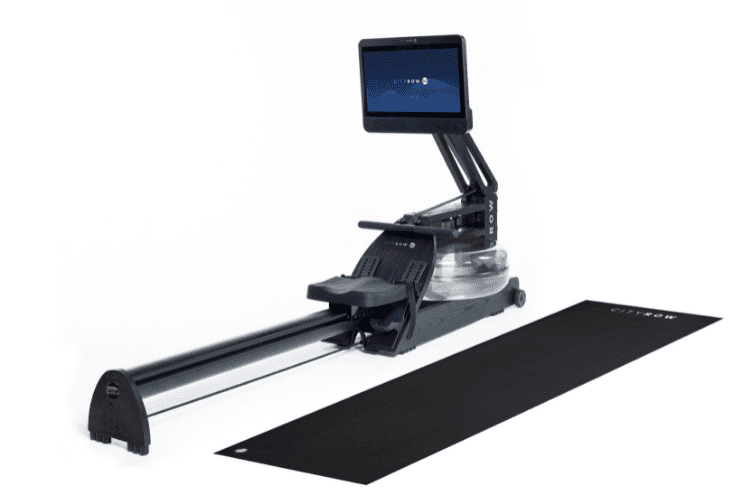 Great rowing biomechanics
The CITYROW Max Rower offers hundreds of fun instructor-led workout classes both on and off of the rower.
If you want an interactive water rower that allows for perfect rowing biomechanics: The CityRow Go Max Rower is another rowing machine that adds interactive features to a rower that is manufactured by the WaterRower company. Unlike the Ergatta, however, the CityRow has its own unique look and style. It has a wooden frame that is made from American ash wood which is paired with a powder-coated aluminum black finish.
The CityRow features a monorail. This allows for wider footplate spacing than on dual-rail machines like the Ergatta. As a result, the biomechanics on this machine is superior. Overall, you get a natural, smooth rowing experience on this machine.
The interactive touchscreen monitor on the CityRow Max is 19.5 inches. It swivels to 30 degrees on either side to allow for viewing when doing exercises off the rower, which are included in the app. There are hundreds of classes on the CITYROW Go app. The general quality of the classes and the video rendering of them, though, is not as good as you find on the likes of the Hydrow and the Ergatta.
A subscription to CITYROW Go will cost you $29 per month.
Read our full CityRow Go Max review here.
Best For Versatility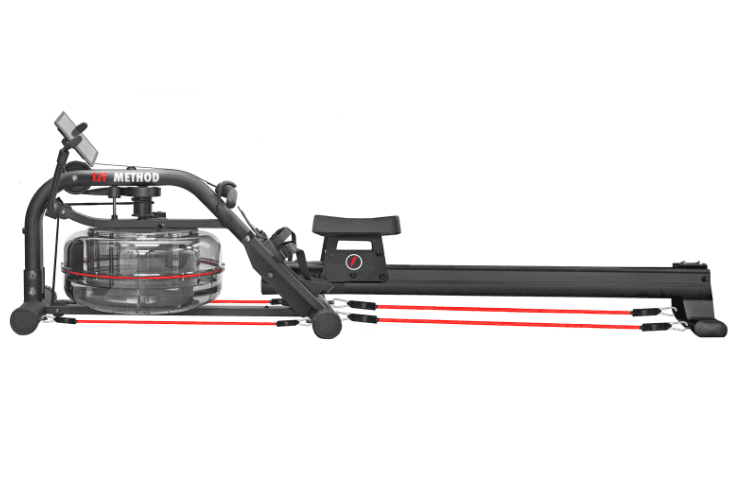 Unique all-in-one strength and cardio machine
The LIT Strength Machine offers a unique twist from the traditional rower with the use of attachments allowing for over 500 exercises to be performed.
If you want the most versatility for training types: The LIT Strength Machine is quite unique in the rowing machine market. It is a combination of strength and cardio machine to provide the ultimate in workout versatility. This is a water rower that has resistance bands attached. This allows users to attend a range of exercises both on and off the rower. You can perform more than 500 exercises on the machine, making it the most versatile rower you are likely to come across.
The LIT has a solid steel/aluminum frame that provides a decent level of strength despite the fact that it only weighs 70 pounds when the water tank is empty. The belt drive, quality seat bearings, and sleek rail make for a quality rowing experience. Expanded footplates facilitate greater drive through the thighs and hamstrings.
On the sides of the machine are eight anchor points to attach the resistance bands. The machine comes with a pair of 20-pound resistance bands with handles. Other accessories need to be purchased separately. Resistance exercises can be done separately or combined with your rowing workout.
The LIT Strength Machine does not come with a monitor so you will have to attach your tablet or phone to row along with your favorite app workouts.
Read our full LIT Strength Machine review here.
Best Budget Water Rower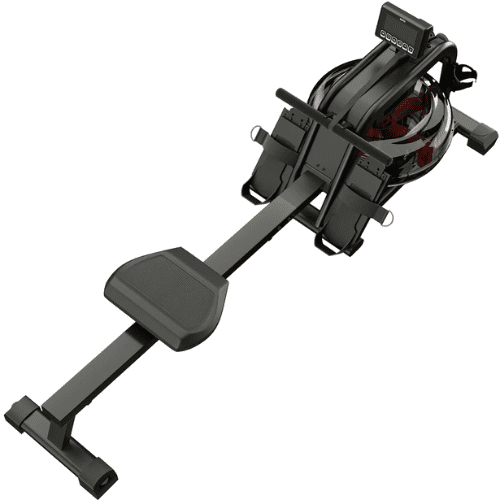 Great water resistance rower at a low price
The RIF6 rower is the best-budget water rower we've tested!
If you want a great water-resistance rower at a lower price: The RIF6 Rower is the best water-resistance rowing machine within its price range. It's truly a quality budget water rower. It features a solid steel frame with rectangular and oval tubing. It is finished in black corrosion-resistant paint. This is not a foldable rower but can be stored vertically. At 100 lbs (45.3 kg) when the tank is filled this is quite a heavy machine. It does have a pair of transport wheels attached to the front stabilizers.
The front base of the RIF6 Rower is lower than other water rowers. The rail also has a slight incline. The handle feeds in well past the footplates as well. This contrasts with most other budget rowers, where the handle stops at the footplates. These features, in addition to the wide footplates, make for a biomechanically enhanced rowing stroke.
The inseam rail length of this rower is 35.5 inches, meaning that taller users may struggle to get a full row extension. The seat is contoured to allow for comfortable secure positioning, while the footrests are adjustable with heel guards for greater stability.
The monitor on the RIF6 features a 5,5 inch LCD display that is separated into multiple sub-windows. It will record your time, strokes, time/500m, strokes per minute, distance, calories, watts, and pulse. There is no Bluetooth connectivity and the monitor is not compatible with any fitness apps.
---
Popular Rowing Machines We Do Not Recommend And Why
Now that we've gone over what we believe to be the top rowing machines on the market, I want to mention some machines that are popular amongst buyers that I would not recommend for various reasons.
This is not to say that all of these machines are bad or not worth buying, as in some cases they may be a good choice for you. However, overall I think there are better options available like the machines listed above.
So here's who didn't make the cut and why…
WaterRower Rowers: WaterRowers hit the market 30 years ago with a splash (pun intended). They have, however, been superseded and outdated. Filling and adjusting the water tank level made them a hard sell from the start. So, too, did their price point.
Water Rowers retail between $1000 and $2000, providing you with a rowing experience that, when you take away the simulation of rowing on the water experience, is no better than what you can get on a top air rower like the Concept2 RowErg, which you can buy for under a thousand dollars.
The monitors on most water rowers are pretty basic and have become outdated by competing models that don't cost as much. There is no denying that the WaterRower range looks great in its polished timber finish. But at the end of the day, you are buying an exercise machine, not a work of art!
Read our full WaterRower reviews here:
Sunny SF-RW5515 Rower: The Sunny SF-RW5515 Rower is a budget magnetic rower that is designed for beginners. It isn't recommended for those who are serious about training on a rowing machine. It could be a good option if rowing is not a major part of your training and you want to add it in occasionally. However, we'd recommend the Doufit Rowing Machine over the SF-RW5515 as a better low-budget magnetic option.
This machine has a simple, no-frills design with eight levels of magnetic resistance. The top level is not challenging enough for a serious workout session for experienced rowers or even more experienced workout enthusiasts. There is also the likelihood that you will experience some stuttering and bounce when rowing at the top speed.
The Sunny SF-RW5515 has a longer rail length than you generally get with a budget rower, which makes this machine suitable for taller users. The counter is that the handle insertions are too close together which makes it hard to achieve a full range of motion at any height.
The basic display monitor provides a running display of your workout time, stroke count, and calorie count. However, the results are not overly reliable.
If you're a beginner just getting into rowing for cardio, the Sunny SF-Rw5515 is not a terrible option, however as previously stated I feel there are better options available within this price range.
Read our full Sunny SF-RW5515 review here.
ProForm 750 Rower: The ProForm 750 rower is a magnetic rowing machine that delivers 24 levels of resistance and comes with a complimentary one-month iFit subscription. It's got a long rail making it suitable for taller users. However, this is an expensive machine for a pretty basic magnetic rower. The biomechanics of the design of the ProForm 750 is not the best, resulting in a less-than-ideal rowing experience.
The seat on the ProForm 750 is lower to the ground than you get on many competitors. This makes it harder to get in and out of the seating position. There is no reliable pulse monitoring on the monitor of this machine. The actual display is only 5 inches in diameter, which is pretty disappointing for a machine that costs nearly a thousand dollars.
Assembly of the ProForm 750 is pretty tricky, requiring two people and at least an hour. The weight capacity is only 250 pounds, which is half that of the cheaper Concept2. My advice is to save yourself around 75 bucks and buy the Concept2 RowErg.
Echelon Row Smart Rower: The Echelon Row Smart Rower is a magnetic rower that features an easy glide seat and 32 levels of resistance. Being magnetic the performance is ultra-quiet. However, this machine has pretty poor biomechanics. As a result, you will not get a great rowing experience.
The Echelon Row Smart is not going to be very usable without a subscription to the Echelon United app. Subscription to the app will cost you a whopping $39.99 per month. Yet, for less than the cost of the Echelon rower, you can purchase a Concept2 RowErg and follow along with rowing workouts on YoutTube, or even via iFit with a cheaper subscription.
Echelon is a relatively new company and so you do not have the sort of reputation standing behind you that you get when you buy the likes of a Concept2 RowErg.
NordicTrack RW900: The NordicTrack RW900 is an interactive magnetic resistance rower that is the premier rowing machine in the NordicTrack range. At first glance, it looks a lot like the Hydrow Rower but doesn't have the machine's sleek lines and aesthetically pleasing finish. It does, though, come with a 22-inch touchscreen display. It pairs with the iFit app, which does not give you as much variety on the water rowing experience or competition as either Hydrow or Ergatta.
The display monitor doesn't provide you with adjustment buttons to adjust the resistance level, which can be quite annoying. For an expensive rowing machine, the RW900 has a very low max user weight of just 250 pounds. That's lower than a lot of budget rowers and doesn't say a lot for the build quality of this machine.
Overall, the NordicTrack RW900 is too expensive for what it delivers. The rowing performance is average at best and certainly nowhere near the Concept2, which is less than half the price.
---
Best Rowing Machines Buyers Guide
With so many models on the market, and so many types of machines now available, selecting the right rower for your specific requirements can be a confusing exercise. In this section, I'll cover the eight most important aspects to be aware of when you are shopping for a new rower.
Resistance Type​
The resistance type will determine how smoothly and efficiently your rowing machine operates. It will also dictate the noise levels and resistance potential of the machine. There are four types of resistance on a rowing machine:
Air Resistance
Air resistance rowers make use of a fan flywheel to generate resistance. Pulling on the handle causes the flywheel, which has fan blades attached to it, to turn. This generates wind resistance. The harder you pull, the more wind resistance you create, and the harder it is to row.
Air resistance machines have an unlimited potential for resistance because the intensity of the row is entirely dependent on your ability to pull the handle harder and faster. This makes air rowers a popular choice for high-intensity interval training.
Pros:
Unlimited resistance potential
Natural, smooth motion
Ideal for HIIT workouts
Cons:
Very noisy
You cannot set a specific resistance level so less training uniformity
Water Resistance
Water rowers feature a water tank located at the front of the machine that is fitted with paddles. When the handle is pulled the paddles spin in the water to produce resistance. Water rowing provides the nearest to an actual on-the-water rowing experience as you will get on land.
As with an air rower, the faster and harder you pull on the handle, the greater the resistance level will be. This provides a form of variable resistance which, as with the air rower, is potentially unlimited. The level of water in the tank will also affect the resistance level; the higher the level, the greater the resistance will be.
Water rowers are usually the heaviest of the four rower types as the weight includes the water in the tank. They are almost as noisy as an air rower. However, many users find the whooshing sound to be quite relaxing.
Pros:
Variable resistance
Potentially unlimited intensity
Replicates the water rowing experience
Cons:
Need to adjust water levels
Heavy
Noisy
Hydraulic Resistance
Hydraulic rowing machines use hydraulic pistons to provide the rowing resistance. These pistons are attached to the rowing arms. Resistance is adjusted with a centrally located tension knob. When you turn the dial, which usually runs from 1-8, you adjust the level of fluid in the piston.
Hydraulic rowing machines are budget rowers that do not provide a realistic rowing experience when compared to air or water rowers. The pistons are likely to overheat and the rowing action becomes jerky at higher tension levels. The pistons may also leak oil. It is recommended that hydraulic rowers not be used for longer than 20 minutes at a time.
Pros:
Cheap
Compact
Can row one arm at a time
Cons:
Poor rowing motion
May overheat
Prone to leaking oil
Can produce a jerky, stuttery rowing action
Magnetic Resistance
Magnetic rowing machines have a pair of magnets that sit on either side of the metal flywheel. The user is able to adjust the distance that the magnets are from the flywheel by adjusting the resistance dial. The closer the magnets come to the flywheel, the greater the level of resistance.
Magnetic resistance is frictionless and is the quietest of all resistance types. You are able to control the level of resistance but can only train to the maximum resistance shown on the dial. You also do not get as smooth a rowing motion as when you use an air rower. Less expensive magnetic rowers are also likely to produce a stuttery, bouncy motion when you are rowing at higher resistance levels.
Pros:
Very quiet
Can set resistance levels
Cons:
Not as smooth as air resistance
May produce stuttery motion at higher levels
Size
Consider the space available you have for your rowing machine. A rower is one of the largest pieces of fitness equipment for home use and requires a couple of feet around them for ease of movement. The weight of the machine is another consideration, especially if you are planning to move it after every use.
Generally, the heavier a machine is, the more sturdy it will be. However, the Concept2 is one of the lightest machines out there at 57 pounds. Yet, it is still an impressively solid unit.
Look for a rowing machine that can be stored both horizontally and vertically. Machines that are foldable are easier to store. However, foldable rowing machines may have weaker frames than non-foldable ones.
Noise Level
The noise level that your rowing machine generates should be taken into account if you are going to be rowing within earshot of other people. A noisy machine will be a problem if you're planning to row early when others are sleeping or in the same room as people who are watching TV.
Magnetic rowers will give the quietest rowing performance, with air rowers being the noisiest.
Durability And Build Quality
A rowing machine is a major investment so you want it to be durable. Think about how many people will be using the machine and how often it will be getting a workout. All machines come with a stated maximum user weight. This gives a good indication as to the durability and build quality of the machine. Look for a machine that has a max weight capacity that is at least 50 pounds higher than the highest anticipated user weight.
If your rower is going to be used by quite a few people, you are better off investing in a medium to high-priced frame with a more solid frame than found on budget models.
Check User Reviews And Feedback
Online rowing machine reviews can provide you with valuable feedback and insights that you won't get anywhere else. When perusing user reviews, look for feedback on the quality and durability of the frame, whether the machine jumps around during intense rowing, how comfortable the seat and handlebars are, how smooth the row is, and whether it starts to make any strange noises over time.
As well as this site (obviously) I recommend checking reviews on Amazon, Facebook, and Yelp.
Rowing Environment And Community
Consider whether you would benefit from being part of a supportive rowing community or whether you're quite happy to go it on your own. A number of rowing machine manufacturers have built a community around their machines.
Go online and check out the community of the rower that you're thinking of buying. What is the community like – are they serious/competitive – are they more recreational and focused on fun – what kind of community would you like to be a part of if any? How are people using the machine – serious training – the experience – for classes?
Think too about the physical environment that you want to be able to row in. If you want to be able to take your workout outdoors, you don't want to be tethered to a plug and socket or an internet connection.
Maintenance And Availability Of Parts
Before you buy a machine, you should think about what will happen if something goes wrong. How thorough is the warranty? It's more likely that you'll have a problem with the monitor or parts than the frame so check that the parts and labor warranty covers at least the first 12 months.
What level of maintenance will you need to put in to maintain the machine? Keep in mind that more expensive rowers come with more electrical parts which are more likely to get damaged, malfunction, or need replacing. Does the company have a history of being reliable? If a company goes out of business or discontinues the rower, you may be unable to buy replacement parts or get repairs.
Monitor, Software, Apps, And Technology
It is easy to get carried away with the bells and whistles of rowing machine monitors. So, before you even start looking, think about just what you need and what you will actually use. Do you want follow-along-workouts, games, and detailed user metrics or does a no-frills approach suit you?
Apps and technology are likely to bring extra costs in the form of subscriptions. They will also need continuous updates, not to mention a connection to the internet, to get the most from the machine.
Can You Buy The Machine Used?
Buying a used machine can save you hundreds of dollars. However, you need to weigh up those saved dollars with the fact that you will not be covered by a warranty. Compare the price with buying new so that you can compare the value over time and see whether the rower holds value. This can be a good indicator of whether it will be a good investment long term.
Check out our article on how to buy a used Concept2 rower.
Price
Rowing machines can range in price from less than a hundred dollars to close to three thousand. The cheapest rowers are the hydraulic piston-driven variety, which can be as cheap as $50. Any rowers under $500 can be considered as budget. As well as hydraulic, you will also find a lot of magnetic resistance machines in the $100-500 category.
Between $500-$1000 is considered to be the medium price range for a rower, You will be able to get more solid framing, heavier flywheels allowing for a smoother row, and a higher spec monitor in this price range.
Rowers priced above $1000 fall into the highest price bracket. These machines will usually feature larger display monitors with interactive technology to provide an immersive rowing experience. However, the actual hardware will usually not be much higher quality than a high-medium priced rower.
Why a more expensive rower is worth it:
The old adage that you get what you pay for is certainly true when it comes to rowing machines. It can be tempting to only pay a few hundred dollars to get a decently performing magnetic rower. However, spending a few extra hundred dollars to invest in a premium performer like the Concept2 RowErg will provide you with a far more durable machine that will perform better and that has a far better monitor. A higher-spec rower will keep you more engaged, and the more engaged you are, the more likely you will be to continue exercising long-term. 
Budget rowers are generally of poor quality. Often the biomechanics are compromised, making it impossible to use proper exercise form. Resistance levels on cheap machines are often sub-par and the transition between levels can be quite stuttery. It can also be a hassle to find replacement parts for cheap machines.
More expensive machines will also provide you with more engagement in terms of interactive features, games, workouts, and videos. However, before spending all that money consider whether all of that interactivity is something that you will actually use, Take into account any ongoing monthly subscription costs.
Do You Need To Buy A Rower?
Before committing to the expense of a rowing machine, think about other options than actually investing in a machine yourself. Are you better off joining a gym and using its rowing machines? There you will find top-quality commercial rowers. You'll also be able to take advantage of other cardio machines as well as other fitness equipment and benefits. 
Are there rowing classes you can attend? Spin-type rowing classes are becoming more and more popular. These provide you with the support of a group environment as well as guidance from a fitness instructor.
---
Final Word
The best rowing machine in 2023, in my opinion, is the Concept2 RowErg. This machine delivers a premium level rowing experience for any level of exerciser, with awesome comfort and the best monitor you will find on any air rower. If you're after a top-of-the-line budget magnetic rower, the Doufit is the stand-out model. And for the best in interactive rowing machine technology to immerse and engage you, the Hydrow is the best in the business right now. 
So, now that you've got the knowledge, it's time for action. Whether your decision is to buy new, go for a used machine or to join a gym and use their rowing machines, make it happen today – your body will thank you!
---
Best Rowing Machines FAQs
Which home rowing machine is best?
Our recommendation for the best home rowing machine is the Concept2 Model D (RowERG). It's the industry standard that's stood the test of time. If you're looking for a more interactive rowing experience then look at the Hydrow or Ergatta rowing machines
What type of rowing machine is best for home use?
The type of rowing machine that is best for home use will actually depend on your home. While there are certain factors that you will likely want to consider such as price and resistance type, you'll also need to choose a rower that is best suited for the environment you are going to put it in. For example, if you only have a very small space, you will be better off getting a more compact rowing machine or one that can be folded and stored away. If you live with a family, you may be concerned about noise, therefore a magnetic rowing machine may be better suited for you. If you're unsure of what factors to look out for, read through our buyer's guide again.
Are home rowing machines worth it?
Home rowing machines are definitely a worthwhile investment in your health and fitness. We believe a rowing machine is the best type of cardio machine you can buy and there are many options available to suit all budgets as well as training preferences. 
What is the best rowing machine to purchase?
The best rowing machine to purchase is the Concept2 RowErg in our opinion. But there are some amazing rowing machines currently on the market. We also recommend the Doufit Rower (best budget), and the Hydrow (best interactive).  
What rowers are as good as Concept2?
Rowers that are as good as Concept2 are the Xebex rower and Hydrow. The Xebex provides the most like-for-like comparison, whilst the Hydrow is a popular interactive rower. We also highly recommend the Ergatta, and Aviron rowing machines.
How do I choose a rowing machine?
To choose a rowing machine you need to consider the resistance type, the rower functions, and of course price. Our guide will be able to take you through everything you need to ask yourself and know as well as present you with the best options currently available on the market.
---
Related Articles