Start Rowing Score
Amongst a new wave of interactive exercise machines, it can be difficult to stand out. Yet Ergatta has managed to create an all-new rowing fitness experience like no other. Ergatta takes your typical gaming experience and turned it into an interactive gaming competition. But does it deliver? Let's find out. Game on!
Here at Start Rowing we include products we think are useful for our readers. If you buy through links on this page, we may earn a small commission.
Pros
Beautifully designed
Workouts personalized to your fitness level
Data-driven workouts, interactive training programs, games, monthly challenges
Super lightweight and stands upright for easy storage
In partnership with WaterRower
Connectivity supports Bluetooth headphones and heart rate monitors
Cons
Expensive
No workouts led by instructors
No workouts for off the rower
This is our in-depth Ergatta review.
The Ergatta Rowing Machine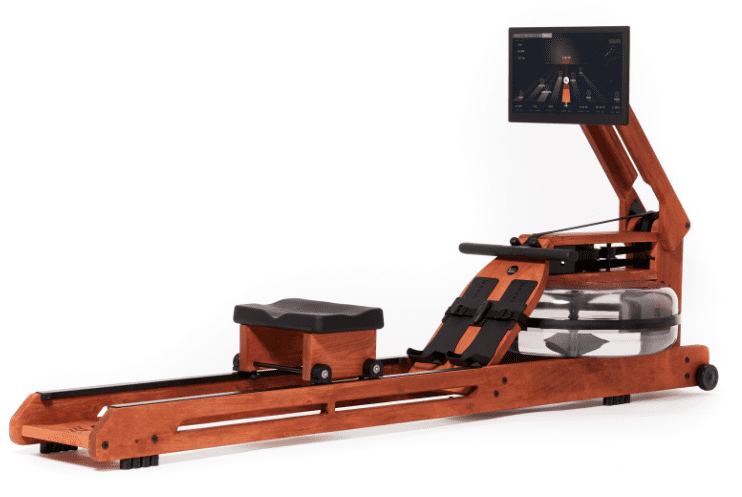 If you're thinking that the Ergatta looks somewhat familiar that's because they have teamed up with WaterRower to create this machine. That's right, you're essentially getting a WaterRower with a smart tablet on top (more on that in a moment) which is pretty cool!
WaterRower is actually quite well known for partnering with different companies and licensing their rowers, creating custom designs with the company's logo (think of CityRow and their black WaterRowers).
This is actually great thinking by the Ergatta team and a win for all its users. WaterRower has over 30 years of experience and has long been established as one of the best rowers on the market. So instantly you know you're getting a quality machine that not only looks great, but functions fantastically, and will stand the test of time.
What separates the Ergatta from other WaterRowers (apart from the console) is the care that went into the design. It was designed by furniture builders and architects with cherrywood, midcentury appeal, and stained into a darker tone to blend with a variety of aesthetics, making it visually, a perfect choice for your home.
Resistance Type and Functionality
Using the Ergatta is a real joy especially if you love water rowing machines. The rowing motion itself is smooth and fluid with all the quality you'd expect from a WaterRower. The whooshing sound of the water spinning with each stroke is particularly soothing.
The machine is very quiet (much more so than air rowers) and it's extremely easy to get the feels of being out on the water.
Speaking of being out on the water, the resistance works in a similar way as it varies depending on how hard you row. Just like rowing on the water, the greater velocity at which you row, the greater the resistance.
You can also adjust this resistance by putting more or less water in the tank. It's not difficult to fill/replace the water but it's definitely not as simple as pressing a button like on other connected rowers or by pulling a lever as you would on a Concept2.
Ergatta will deliver the rower ready-to-row with the water level already set. I suggest you leave it at this recommended level but you can adjust it if you so wish. You'll need a siphon to add/remove the water which Ergatta does provide as part of the package.
Build Quality And Design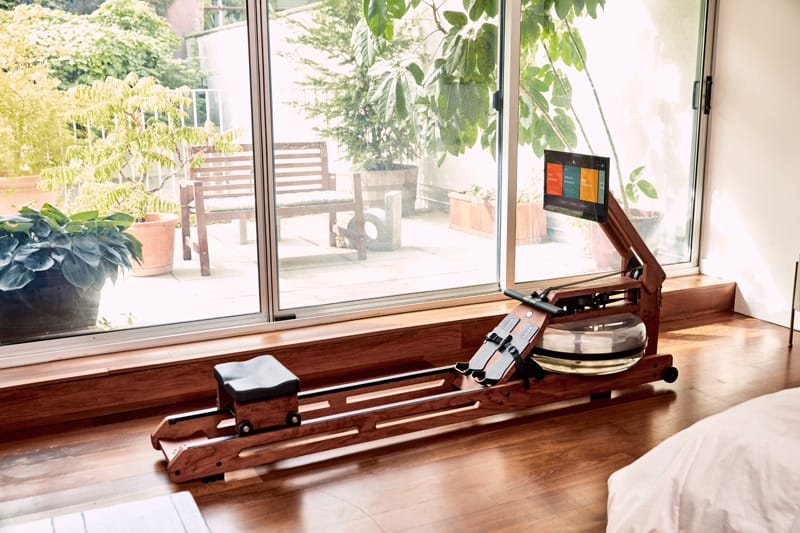 WaterRowers are known for their gorgeous aesthetics and the Ergatta is no exception. The Ergatta rowing machine is beautifully designed and comes in cherry wood with a stunning finish.
It's designed to look like part of the furniture and wouldn't look out of place in your living room or bedroom if you don't have a dedicated gym or home workout space.
If you are familiar with WaterRowers then they'll be no surprises for you in terms of how the machine looks and its rowing capabilities. For those that are not so familiar, there are a few things to be aware of.
As with most WaterRowers, the Ergatta sits very low to the ground. Visually I think this makes the machine look even less like exercise equipment and much nicer than other rowers that have a rail or base raised higher.
One downside to being so low on the ground is that it may be difficult for those with mobility issues to get on and off the machine easily. This won't be an issue for most but some may want to take this into consideration.
As for support, you can take comfort in knowing that Ergatta is a sturdy piece of kit, with elongated rails that support up to a 40″ inseam and support users up to 500lbs in weight. I've seen several users who are 6 foot + row comfortably with no length issues on the Ergatta.
Overall I'd have to say that the Ergatta is a very comfortable machine to use. The handle is firm and durable, yet feels comfortable when gripped without rubbing against the palm.
The seat also has a good balance between support and cushioning. Very important if you enjoy longer sessions or plan to use the rower quite frequently as you don't want to get sore from being uncomfortable.
The footplates on the Ergatta are slightly closer together than what you will find on other machines. This shouldn't be a problem but larger users may find it challenging to perform full range of motion strokes.
If you find this to be the case, just drop your heels lower into the footplates. This should help raise your hips and hopefully create a more comfortable position for you.
The footplates themselves are big enough to fit all soot sizes and the straps are of course adjustable.
Technical Specifications
| | |
| --- | --- |
| The Ergatta Rower | Specs |
| Dimensions activated | 86" x 23" x 40" (LWH) |
| Dimensions stored | 86" x 23" x 22.5" (upright footprint: 23" x 22.5") |
| Weight with water | 103 lbs |
| Weight without water | 76.5 lbs |
| Max user weight | 500lbs |
| Monitor | 17.3-inch tablet display console |
| Connectivity | Bluetooth connectivity |
Display Console and Connectivity
The display console is a 17.3-inch tablet that sits above the water tank. This is smaller than both the screens on Ergatta's main competitors, the Hydrow Rower and the NordicTrack RW900 but you really don't get the feeling that it is lacking in any way.
Jarrett, from Ergatta, had this to say regarding the display:
"We chose a 17.3-inch tablet to 1) keep the unit compact for storage, and 2) still provide a large-screen HD screen fitting for a gaming/competitive experience, rather than adding the largest screen possible to make fitness classes easier to see."
That's to say that the screen is an appropriate size, allows you to see and read from it clearly, and fits well with the overall machine.
The interactive display is bright and clear and can display a ton of data including:
Amount of workouts completed
Total distance rowed
Average split times
Best split
Longest workout
Longest distance rowed in a single workout
And this is just the basic stuff. The dashboard gives you a breakdown of your data where you can also view all your accumulated statistics on a day-to-day or month-to-month basis.
This is great if you like tracking your workout history and provides you with good data to measure your progress.
If you've got a competitive edge you'll be pleased to hear that you can also view where you rank on the leaderboards in comparison to other users in the Ergatta community.
Ergatta also has built-in speakers and supports Bluetooth-enabled headphones. It even syncs seamlessly with your Strava account which is a nice touch. You can also link it up to a heart rate monitor like the Polar H10.
The Ergatta Rowing Experience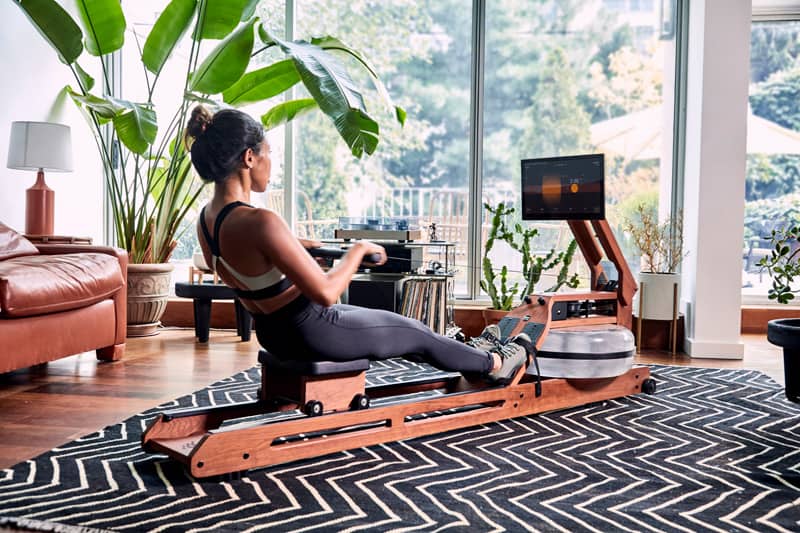 Setting Up
The Ergatta offers a subscription-based game-like rowing experience unlike anything else on the market. Getting started is simple enough. You will need to connect the machine to the internet via Wi-Fi or ethernet cable. You'll then be asked to create a profile and follow the on-screen instructions to set up.
This includes creating a username and password and selecting your level, weight, height, and birthdate. You can create an unlimited number of profiles and have separate data stored for each user. 
For those that are new to rowing, there is a 5-minute tutorial video that covers the basics. If you want to learn more about the rowing machine technique then see our ultimate guide on how to use a rowing machine.
The Calibration Row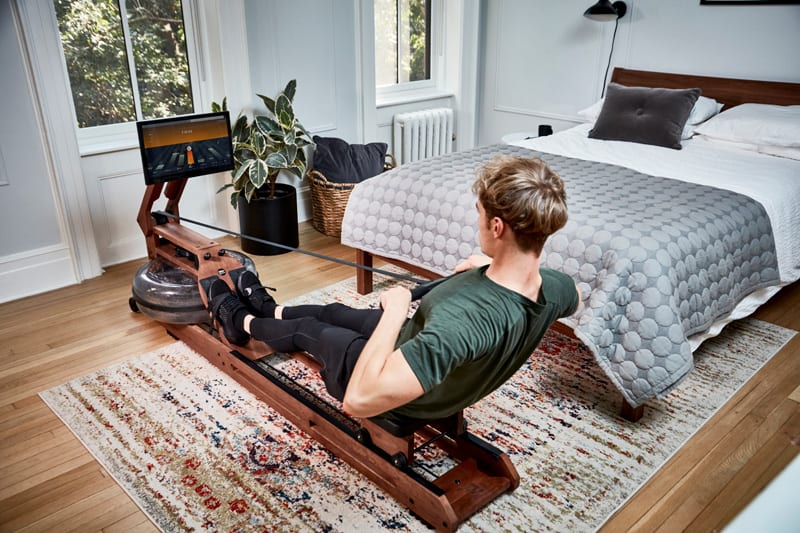 You will then be prompted to 'calibrate' your machine.
Ergatta has modified its calibration exercise from 2000m to 1000m. Thus making the initial calibration process more accessible to members that are new to rowing and more viable to members looking to recalibrate manually.
Rowing a 1k from the get-go is definitely a lot less daunting than rowing a 2k, especially if you're new to rowing, however, you should still be prepared to put some work in. Just try your best and Ergatta will take care of the rest.
That's really what is so great about this machine. Based on your 1k time it will automatically calculate your training zones and tailor your home workout specifically for you. So it's important that you perform the 1k to the best of your ability as it will define your initial rowing experience.
This really is some clever stuff from Ergatta. The machine is essentially learning about you and providing you with workouts based on your past results.
What's nice is that it takes care of all the complicated questions you may have so that you can just focus on your rowing. What's the right split time? How fast should you be performing each stroke? How long should you row for? What's a good pace to keep? The Ergatta generates all these answers for you.
The change in calibration distance does not affect how your personalized intensity zones are calculated and the automatic recalibration process will continue as usual.
The Ergatta will continuously evolve and improve, intelligently adapting to your current level of fitness so that you are always provided with appropriate home workouts and feedback.
"It's designed to challenge you. This allows you to not only get fitter but also become better, and more efficient at rowing."
Ergatta uses the information from your 1k to create intensity zones that represent your effort relative to your output. There are 4 different levels of intensity. Each level gives you a training split per 500m that falls into ranges based on the calibration row.
The 4 levels are:
Paddle (55-75% effort): This represents the lowest intensity level. It's perfect for warming up, cooling down, and recovery rows.
Steady (75-85% effort): This is a more moderate intensity level. It Will induce heavier breathing but you should be able to maintain a conversation.
Race (85-95% effort): Higher intensity, with heavy breathing.
Sprint (100% effort): Max effort, giving everything you got.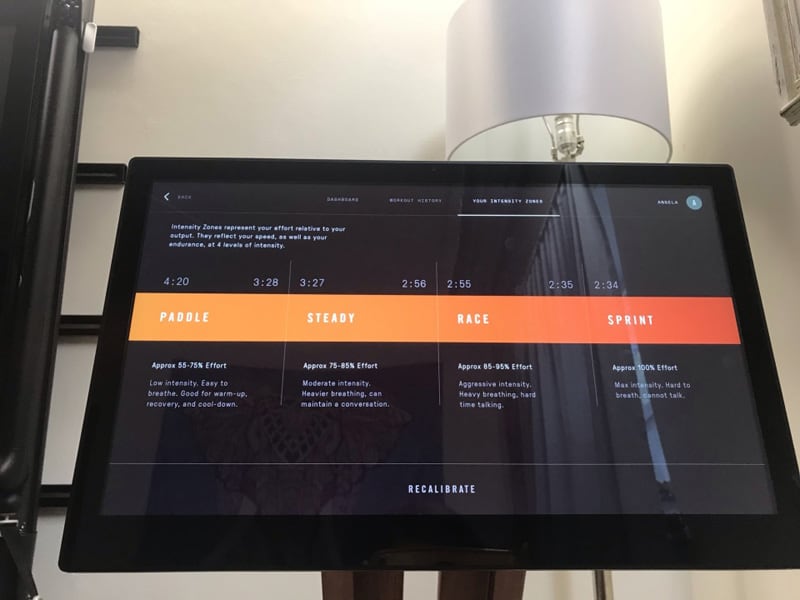 Ergatta Workouts and Games
Ergatta says that its software is designed around the idea that working out should feel less like taking a class and more like playing a sport or game. They've certainly achieved this as the workouts are fun and engaging and really bring out your inner competitor.
The data-driven workouts also pair up as your "trainer" because the system will continuously adapt your fitness profile as you improve so it knows what you are capable of. Basically, this machine will hold you accountable if you're slacking!
Ergatta offers 4 main different full-body workout types for you to choose from and your home workout experience is based on your calculated intensity zones.
Push Programs: A collection of goal-based training plans that help you increase your endurance, power, and technique. The Push Program provides a structured set of programs suitable for all fitness levels. In true video game fashion, you must complete each workout in succession to unlock the next.
If you are just starting out, try the Rowing for Beginners training plan. You'll learn the rowing fundamentals and gradually increase your ability and reinforce learned skills.
For intermediates try the Building Your Endurance plan. This program has 10 workouts where you train your way to your first 30-minute row.
If you want more of a challenge then you train and prepare for a final 10k Challenge.
And if you want something really intense then give the Power to an Hour training plan a go. This series of workouts will really test your endurance as it prepares you for an ultimate hour-long rowing session.
Interval Workouts: Challenge yourself to hit personalized targets in structured interval training workouts. These full-body workouts are pretty tough and offer more HIIT-style training. Ergatta also offers a range of games that you can play, including Pulse and the popular Meteor game.
Race Workouts: Compete in races against others in the Ergatta community. For me, the race workouts are the most fun. Here you can race against your previous times or other Ergatta rowers. What's really cool is that Ergatta will match you with users of similar ability so your races won't ever be too easy or too difficult.
The on-screen graphics are great too as you can see your fellow racers. I found this gives a nice motivational boost. Think Mario Kart without the shells. At the moment you can only race against other racers' past times but it does feel like it's live.
It would be nice to have actual live sessions or even be able to select your friends to race against and hold your own live race events. But don't worry as we have confirmation from Ergatta that these are all things they are working on bringing out in the future.
Open Row: Self-led, more relaxed rows with distance or time goals. This allows you to set a specific distance or time and just row at your leisure.
Their software is constantly evolving with updates every 1-2 weeks as well as launching new games, features, and integrations.
They also release a minimum of 5 new workouts per week and hold a 'Race of the Week' every Sunday where you can race against other Ergtta users. There is even a new community challenge each month.
If you want the entire Ergatta experience then it will cost you an extra $30 a month but it's worth it in my opinion. Especially since you'd probably end up paying more than this for a monthly gym membership.
Ergatta Community
An Ergatta membership also gives you access to their growing community of like-minded members which is great for when you need that extra motivational boost, are feeling competitive, or just what to share and discuss ideas.
The Ergatta community includes access to a members-only Facebook group where you can interact with other Ergatta users directly, share milestones, document your fitness journey, reply to other posts, you get the idea. I think we all know how Facebook groups work by now.
For more updates, news, and community highlights you can follow them on Instagram and check out their community-run Reddit group if you have any direct questions you want to ask other users.
Updates
Workout Scenes
Open Row Custom Intervals: Now, you can program working and rest intervals to construct your own workouts.
Scenic Rowing: Now, you can virtually explore 20 and counting beautiful waterways ranging from Spain to Thailand through Open Row.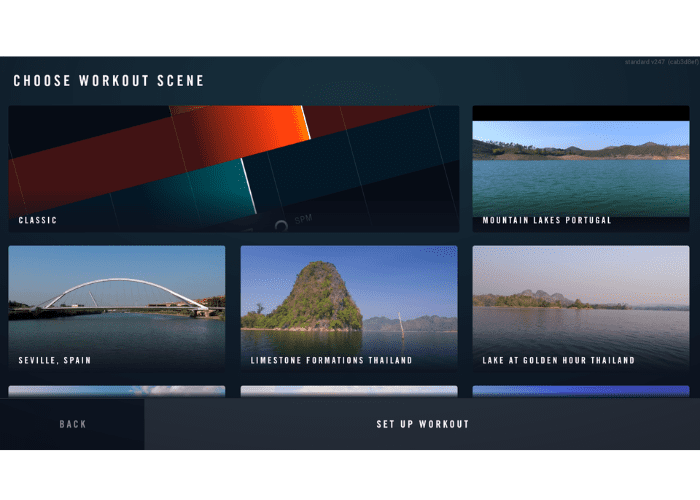 Android Companion App
Ergatta has just recently released its new companion app which is now in open beta and available to download via the Google Playstore.
This application will allow you to track your workouts, training history, and progress on the go. It even allows you to plan and schedule your upcoming workouts in advance.
More updates and features will be added over time so watch this space. And Apple users threat not, Ergatta will launch the iOS app in the summer.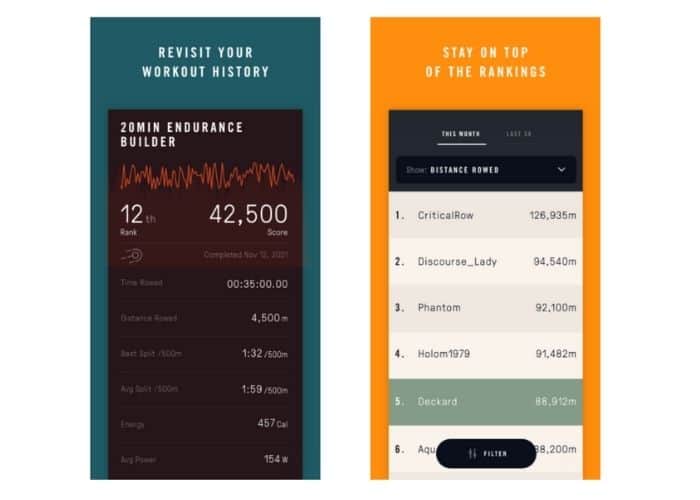 Friends
What the Ergatta Experience has been waiting for! Friends! Now you can compete and stay in sync directly with your friends (and rivals).
Access this feature in the main menu and add friends by their usernames. And if you don't have friends that own an Ergatta rowing machine you can just add other users who you've raced against recently so that you can challenge each other again and again.
Now you can:
Check friends rankings
Invite friends to private challenges
See your friend's previous workouts and challenge their times
Have complete control of your information and sharing preferences
Private Challenges
One of the best things about the Ergatta is the frequent challenges that are open to the community. Now you can create your own private challenges and invite your friends to take part!
You can challenge up to 10 friends and compete against each other to see who can row the fastest, longest, or furthest. And keep track of who's winning in your private leaderboard.
New Dimensions
You can now compete on dynamic, 3-dimensional courses on all race workouts within the platform. This feature was rolled out based on user feedback so it's great to see Ergatta responding to their member's requests. This feature adds an extra immersive layer to the workouts, making them even more fun!
Classifications
The new classifications feature allows you to find, compete and benchmark your rowing performances with other members of similar speed and ability to yourself. The classification (based on your intensity zones) places you in a league with users of a similar fitness level. This is a great feature as it allows you to race and compete with other members that will be able to challenge you.
As with any type of league, you can rise to the top and get a new classification as you improve your speed and endurance, and progress during your calibration row.
Tutorials Collection
Ergatta has updated its library of help videos with their Getting Started active tutorial which is great news for beginners. These new videos introduce rowers to all the essentials of rowing through interactive instruction and hands-on practice.
Access videos to perfect your form, master SPM, and get to grips with your Intensity Zones. In these collections of videos, you'll learn how to:
Master rowing technique – Learn rowing technique basics.
Control your speed and power – Learn how to understand your rowing split.
Find your rhythm – Learn how strokes per minute (SPM) affects your rowing.
Ready. Set. Row. – Teaches you how to maximize your Ergatta rowing experience.
Assembly
Ergatta offers a full set-up via private delivery (no assembly required on your part). Your machine will be delivered, assembled, and checked to make sure it is functioning as it should.
This service will cost an extra $249.
The rower will need to be plugged in to be powered, but as mentioned earlier, it does come with a 9-foot-long power cord, so you should have no trouble positioning it where you want.
If you do not want to pay for the extra assembly fee then you do have the option to wave this and assemble the machine yourself. Ergatta has even provided an instructional video that you can follow should you wish to do so.
If you select to have your rower assembled then they will also fill the tank for you. However, you will eventually need to replace the water yourself to make sure it stays clean. You will need a siphon to do so which is included with your order.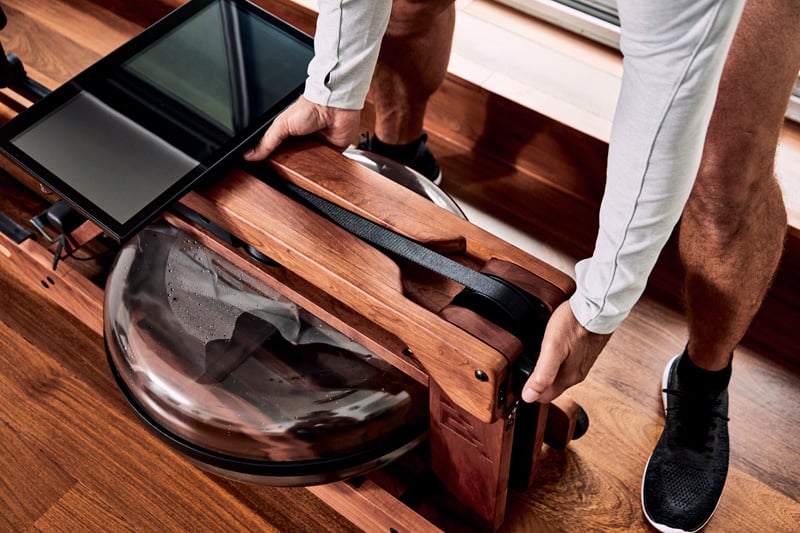 You'll also be provided with an initial 10 cleansing tablets which are necessary to keep the water clear. It's recommended that you add one tablet to the water tank every 6 to 12 months or sooner if the water begins to change color.
Those of you who have used WaterRowers may know firsthand that the tablets don't always do the trick. If that's the case you'll just have to empty the tank and refill it with clean water.
On the side of the water tank, there are lines indicating the water levels which range from 13 to 19. As mentioned earlier, the more water in the tank, the greater the resistance when rowing. Think of level 19 simulating the feel of a large boat while 13 is that of a rowboat.
Storage
Although the Ergatta looks nice enough to be left out in full view you also have the option to stand the machine up vertically (which to be fair also looks pretty nice). You can also fold down the monitor to make sure it stays protected when not in use.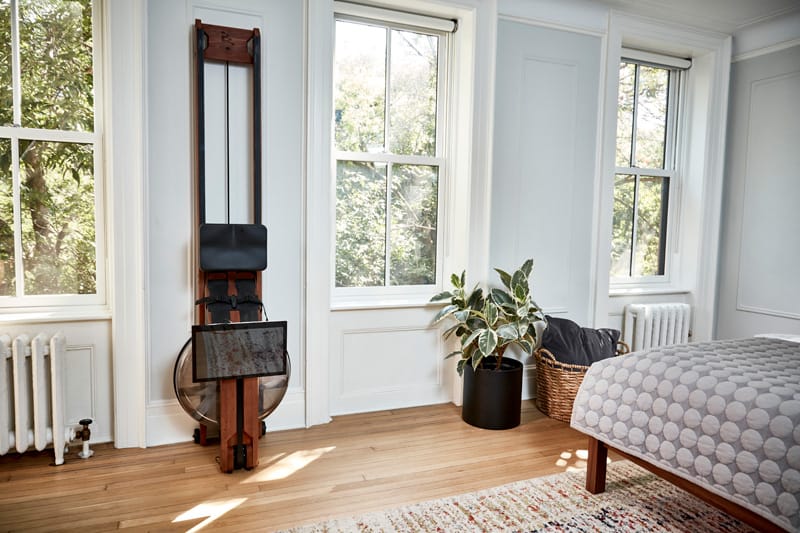 Cutouts lighten the frame and provide ergonomic handles for moving the rower from room to room.
Overall the Ergatta has a small footprint when compared to the Hydrow or Concept2 rowers. With dimensions of 86" x 23" x 40" and 86" x 23" x 22.5" when stored upright.
With the tank filled, the Ergatta weighs around 103lbs so still incredibly lightweight when compared with other high-end rowing machines. So you'll have no problem storing it or moving it should you need to.
Warranty
Your machine will be covered by a 5-year warranty on the structural frame, with 3 years on parts and a 1-year warranty on the tablet.
It would be nice to see a longer warranty on the tablet as that is the component that is most likely to be damaged or have functionality issues.
Ergatta also offers a 30-day money-back policy where you can return your rower if you are not satisfied. They also provide complimentary pickup. You can learn more about their warranty and return policy here.
Price and value
Obviously one of the main questions with a high-end product like this is what is the price tag? Currently, the Ergatta rowing machine costs $2,499 which is identical pricing to the Hydrow rowing machine at the time of writing. They also provide a financing option to make the purchase more manageable.
You will also need to pay a monthly membership subscription if you want access to the Ergatta platform, its workouts, and updates. It's worth noting that the Ergatta tablet remains fully functional without the membership however, the value you get from it is definitely worth it and is what makes the whole experience so good.
Ergatta also provides 2 months of membership for free each year when members subscribe annually ($58/yr value). Their standard monthly fee is also cheaper than that of Hydrow.
Also, the Ergatta team has stated that they are exploring the possibility of basic app packages for those who do not wish to continue with the subscription.
Check the price on Ergatta now.
Who Is Ergatta for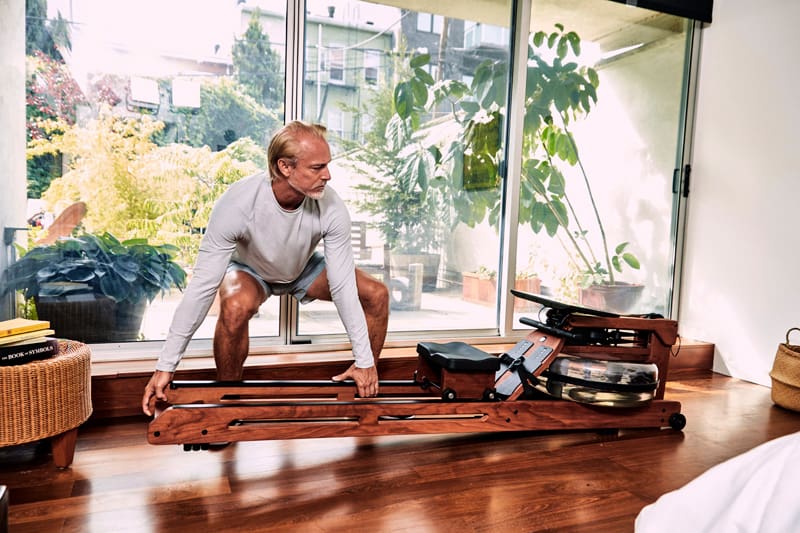 If you are the type of person who likes competition or enjoys gaming or rather the gamification of workouts then the Ergatta will be right up your street.
Tom Aulet, one of Ergatta's co-founders had this to say about his driving force behind the product.
"Classes just didn't quite do it for me: I found myself rolling my eyes, the workouts weren't tailored to me, and following along with an instructor just wasn't engaging enough to pull me in. My co-founders and I agreed: what we wanted wasn't out there, so we were going to design something new."
The Ergatta is based on three core ideas:
Designed for the home first
A smart, efficient home workout
A gaming-inspired content experience
I've spoken about the tracking capabilities and data-driven workouts. If this kind of stuff interests you then the Ergatta provides so much value. If you really want to improve your rowing ability and enhance your fitness based on your personal metrics then this is probably the machine for you.
WaterRower fans that desire a more interactive experience are also in for a treat. If you already own a WaterRower, you can purchase an Ergatta upgrade package which includes everything you need to turn your WaterRower into a connected fitness machine. This upgrade is compatible with all S4 WaterRowers.
Also, let's not forget those that appreciate the visual identity and aesthetics that the Ergatta brings to the table.
For others, however, you may find the amount of information available a little overwhelming, especially if you are a beginner and don't know what the terms mean. It can also be difficult to wrap your head around the data you are provided with.
Don't let this put you off if you are interested though. It just means you may have a steeper learning curve. All part of the fun I say.
As you can tell from Tom's comments, Ergatta has purposefully taken a different path in regard to training based on their own philosophy towards exercise. Personally, I like that they have taken this stance and done something different. 
However, if you're the type that prefers a less hands-on approach and just wants to be instructed by a coach then the Hydrow or NordicTrack RW900 may be better suited to you.
These machines may also be preferable if you are new to rowing and want more guidance as they have live and recorded classes that you can follow. But again, if the Ergatta workout styles appeal to you more then don't let being a beginner put you off.
If you're more the type who just wants to grind out a workout and be done with it then you'd be better off looking at a Concept2 or a normal WaterRower (if you want all the benefits of an S4 without the screen).
Final Thoughts On The Ergatta Rowing Machine
I really love what the Ergatta team has done with this machine and I can appreciate the value in what their software brings to the table. The really exciting thing is that it will only get better with time but they've certainly taken a unique step in the right direction.
The machine is solid (thank you WaterRower) but the real benefits lie in its connected capabilities and the growing community. The software is truly amazing.
Of course, there are things that can be improved but it's constantly being updated and the Ergatta team listens to feedback from its users so this doesn't worry me.
The price is high but no more than what we've come to expect from these kinds of connected exercise machines. If you are able to afford it then the Ergatta will not disappoint. And on the unlikely chance that you are, you can always send it back
Start Rowing Score
Amongst a new wave of interactive exercise machines, it can be difficult to stand out. Yet Ergatta has managed to create an all-new rowing fitness experience like no other. Ergatta takes your typical gaming experience and turned it into an interactive gaming competition. But does it deliver? Let's find out. Game on!
Here at Start Rowing we include products we think are useful for our readers. If you buy through links on this page, we may earn a small commission.
Ergatta Rower FAQs
Do you ever have to change the water out?
No, it is sealed in the reservoir and will not evaporate/leak. Additionally, Ergatta provides purification tablets that can be added to the water to keep it clean and clear.
Is Ergatta made by WaterRower?
The actual rowing machine is built by WaterRower, yes. Ergatta is a separate company that has partnered with WaterRower to have its display console built on a WaterRower rowing machine. 
Where does the name Ergatta come from?
The name Ergatta comes from a combination of two words within the rowing world. Ergometer, which is a rowing machine, and regatta, which is a series of boat races. I think this is quite clever. 
Ergatta Rower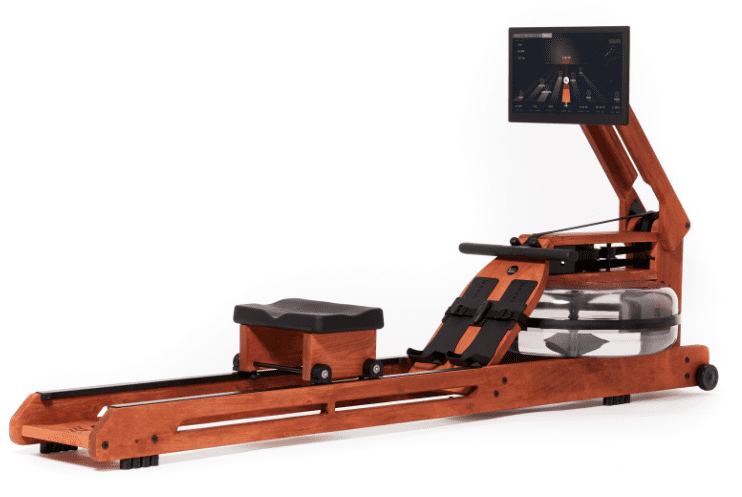 Amongst a new wave of interactive exercise machines, it can be difficult to stand out. Yet Ergatta has managed to create an all-new rowing fitness experience like no other. Ergatta takes your typical gaming experience and turned it into an interactive gaming competition. But does it deliver? Let's find out. Game on!
Product Brand: Ergatta
Product Currency: USD
Product Price: 2499.00
Product In-Stock: InStock