Start Rowing Score
The Hydrow rowing machine aims to provide the 'feel of the river' whilst working out from the comfort of your home. The state of the art rower offers a truly immersive rowing experience. But is it really worth the money? Keep reading for everything you need to know about the Hydrow rowing machine.
Here at Start Rowing we include products we think are useful for our readers. If you buy through links on this page, we may earn a small commission.
Pros
Smooth gliding rowing motion
Comfortable seat
Pre-recorded and live workouts
22" HD touch screen with interactive features
Adjustable resistance
Sleek and stylish design
Easy assembly
Quality build
Heart rate monitoring
Cons
Price tag
Membership not included
Cant be folded for storage (storage kit can be purchased separately)
This is our in-depth Hydrow review.
Things To Consider Before Buying Hydrow, the Live Outdoor Reality Rower
There are some things you should consider before purchasing a Hyrdow. The first and most obvious is the price.
As one of the most expensive rowers on the market, it really is a premium product that delivers a unique home rowing experience. But if the price is a major concern for you then consider why you even want this rower. Are the features it delivers important to you? Will they help you reach your goals? If not, just go for a cheaper option. There are plenty of excellent rowers to choose from.
The best thing about the Hydrow is using the monitor and making the most of all the benefits and features it offers. If you're used to putting on your headphones, music blazing, and powering through your workout with no distractions then this experience will differ a lot. I'm not saying you can't enjoy both, just be aware that this rower offers a different experience and is not worth the money if you are not going to immerse yourself in it.
If you're still unsure after reading this review, Hydrow does offer a 30-day risk-free trial. So you can give it a really good test run for a month and if you love it, great! If not, you can just send it back to them and get a full refund. This offer is only valid through Hydrow and not 3rd party retailers.
Resistance Type
The resistance used on the Hydrow machine is pretty unique. It uses an electromagnetic drag mechanism with computer-controlled resistance. This makes the machine super quiet (much quieter than any air rower) so you can feel comfortable exercising without disturbing the other members of your household.
It also provides an ultra-smooth rowing motion which is designed to mimic the feel of rowing out on the water. I'm not convinced it achieves this better than air or water rowers but I haven't heard any complaints from users. In fact, user feedback has been excellent regarding the feel of the resistance.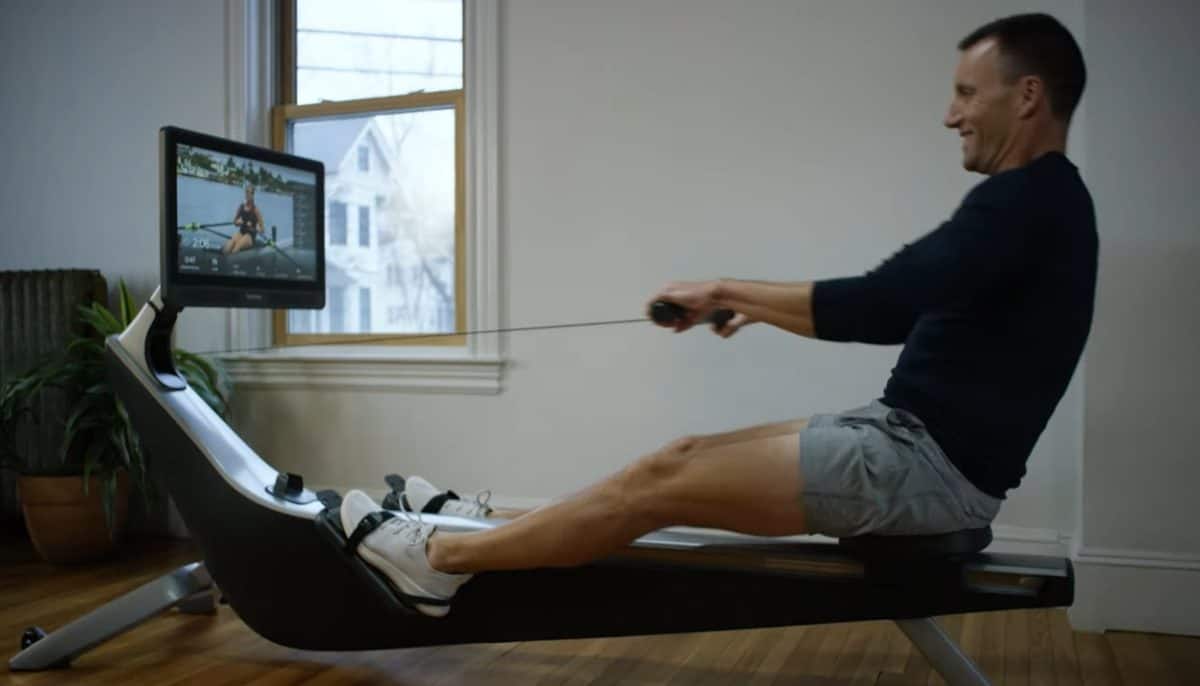 You can adjust the resistance levels by using the touchscreen monitor. The electromagnetic drag can be set on a scale from 0-300. The Hydrow coaches personally suggest starting from anywhere between 95-104 and rowing for a 20-minute "sweat." During this time you can adjust your resistance every 5 minutes until you reach a position where you feel comfortable rowing. This will take some tweaking until you find your rhythm. Finding a range within 5 on the scale that is challenging will get you the best results.
If you just want a number to start with to get going then go for 104.
The Hydrow coaches explain the resistance mechanism as a "set it and forget it mentality." Meaning you set the resistance you want at the beginning of your workout, then you forget about it and the computer system will take care of the rest.
This doesn't mean that you are virtually stuck with one resistance setting from start to finish. You can get an intense workout at low drag and high speed or high drag and low speed. The computer is able to automatically adjust the resistance in real-time during some workouts so it can handle high-intensity interval workouts just as easily as steady-state cardio workouts.
With an air rower, the resistance level is dependent on how fast or slow you pull the chain. The slower you row, the lower the resistance, the faster you row, the higher the resistance. If you are used to air rowing machines, then you will find that the Hydrow also responds to your rowing speed.
Although the resistance on the Hydrow will actually increase the faster you row it is nowhere near as responsive as air rowers such as the Concept2. But actually, Hydrow has done very well to create such a quiet machine with responsive resistance. And I'm sure this will only improve with time.  
Technical Specifications
| | |
| --- | --- |
| Hydrow Rower | Specs |
| Dimensions (L x W x H) | 86.0″ x 25.0″ x 47.0″ (from floor to top of screen) |
| Stored Dimensions (W x D x H) | 25.0″ x 33.0″ x 86.0″ |
| Hydrow Weight | 145 lbs |
| Maximum user weight | Holds up to 350 lbs |
| Material | Aluminum and steel frame with a flat anthracite polymer body, soft rubberized feet to protect floors |
| Handle | Low-stress handle grip with ergonomic design |
| Monitor/screen | 22" 1920 by 1080 Full HD touchscreen resolution. 25-degree monitor pivot in each direction |
| Workouts | Over 500 pre-recorded river and studio rowing sessions |
| Four types of rowing videos | Live Rowing, Rows on Demand, Serene River Rowing, Whole Body Fitness |
| Resistance | Quiet, electromagnetic resistance |
| Connections | Bluetooth & WiFi |
| Heart rate | Heart rate monitoring enabled |
| Functions | Speakes, microphone, and camera |
| Seat | 10-roller seat roller system facilitating a smooth operation |
| Warranty | 18-month labor warranty; 2-year warranty on wear items, screen, and other electronics; and a 6-year structural frame warranty |
Build Quality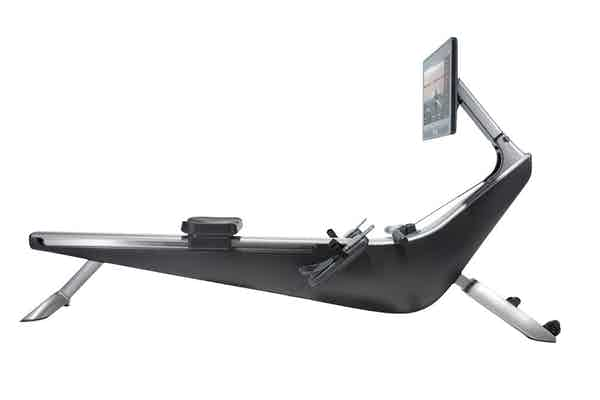 The Hydrow not only looks sleek and stylish but it's also built to last. Weighing around 145lbs it's as sturdy as they come, which is what you'd expect for the price. The ergonomic body has an aluminum frame with a plastic outer casing.
Although sturdy, it is not the most mobile of rowers and it's much better to find it a home and leave it there as you won't be able to fold it up and store it away like you can with some other rowers.
The handle is attached to a nylon belt as opposed to a chain. The belt system is way quieter than a chain-driven system and it does work very smoothly.
To me, the Hydrow resembles more of a longboat than a machine, but maybe that's just me. Anyway, it is built to the highest quality. 
Display/ Monitor
For me, the monitor is the best thing about Hydrow. You get a stunning 22" 1920 by 1080 Full HD touchscreen resolution with front-facing dual 3W speakers and a ton of cool interactive workout features (more on this later).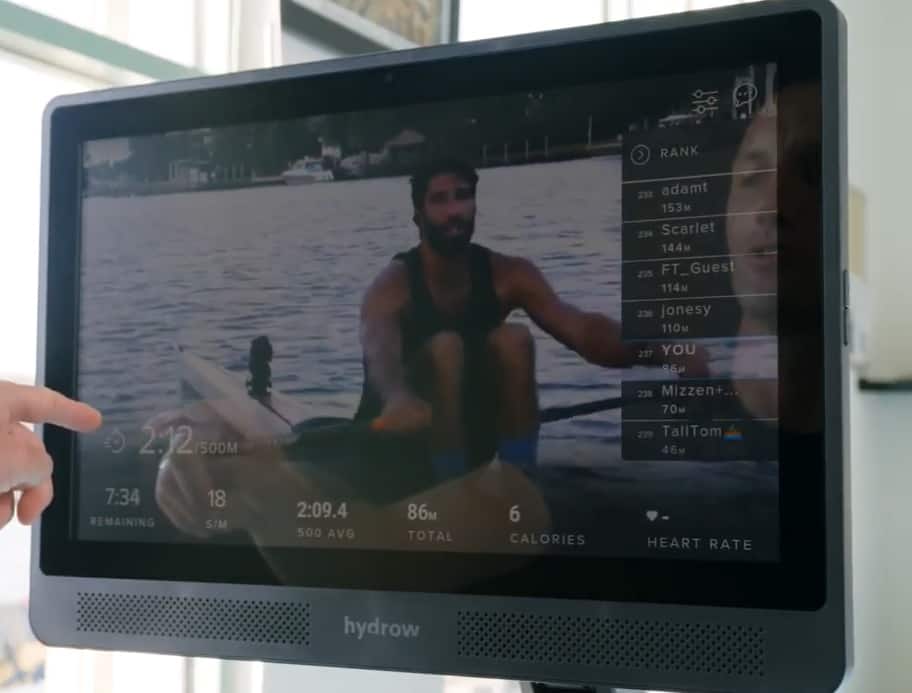 The monitor is sweat and dust-resistant and comes with live outdoor reality technology which allows you to enjoy your workouts in different locations and surroundings with the sounds of the natural environment. This can be a real game-changer if you find the standard rowers a tad monotonous. 
The monitor comes Bluetooth enabled, which means you can pair it up with a Bluetooth heart rate monitor (if you need one, I suggest the Polar H10) as well as Bluetooth headphones. You will need to plug the monitor in to operate both the screen and the resistance. And of course, you'll need a wifi connection to stream the in-app rowing workouts. 
Speaking of wifi, one thing you will not be able to do with the Hydrow is to stream your favorite video services such as Netflix, Youtube, or Amazon Prime. This would be an awesome feature and I would love to see Hydrow add it. Eventually, someone will so why not be the first Hydrow?
If this was something you were counting on then don't worry! You can always purchase a standard rower and set it up near your TV or laptop. Maybe not as cool, but is essentially the same and saves you some money.
Rowing and chill aside, the display and the videos you can watch are of very high quality. Along with the videos, you can track the usual metrics such as strokes per minute, calories burned, time, average split time, and 500m split.
You can also adjust the monitor angle and rotate the screen so that you can still easily see the display for workouts out of the rowing seat. So you'll be able to follow along to mat workouts such as yoga or ab exercises just as you would whilst rowing. It's a very nice touch.
Comfort and Capacity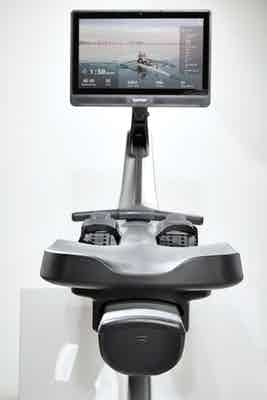 The Hydrow is a comfortable rowing machine. It comes with a cushioned seat that rolls on a 10-roller system that Hydorw says can support users of up to 350lbs. This machine may be well suited for taller users too as the seat rail design should accommodate athletes as tall as 6'6" comfortably.
The adjustable foot straps will also feel comfortable and large enough for most users to fit into with no problems.
All that being said, if you have never used a rowing machine it may take you some time to get used to it and you may find that you end up a bit sore. This is normal if you don't usually row (or exercise for that matter). It shouldn't last.
Shipping and Assembly
The Hydrow rower is not difficult to assemble. The majority of the rower comes pre-assembled so all you really have to do is attach the front legs and the monitor. Plug it in and you're good to get going.
The rower and its parts are quite heavy though so you will most likely need a partner to assist you like in the assembly video below. Bear this in mind and have someone ready to help when your rower arrives. Nothing worse than getting a new toy and not being able to play with it straight away.
Hydrow offers shipping at $149 but customers will be offered the chance to sign up for emails and receive free shipping on-site. Customers can also take advantage of Hydrow's new white-glove service that offers delivery and in-home assembly for $249.
Shipments leave their warehouse within 2-4 days when ordered during business hours. You can read more about their shipping information on their website. 
Set-up process
Once you have plugged your Hydrow in you should go ahead and follow the on-screen instructions and prompts. This will involve connecting to your WIFI and entering your password. The machine will then run a software update and you'll be prompted to sign up for a Hydrow account or login if you already have one.
During the set-up process, Hydrow coaches will take you through everything you need to know on-screen, from adjusting your foot straps to rowing with the correct technique. It's a very useful guide, especially for beginners.
I've included a handy video that will give you a better idea of what to expect when setting up your rower.
Hydrow setup and configuration with tutorial Rowing workout
Storage
As I've already mentioned, this rower is quite heavy and you won't want to be moving it around often if you don't have to. Find a good place for it (or create one) and leave it there if you can.
If you want to create some more space you do have the option of turning the machine and storing it upright. The monitor folds inwards so don't worry about it getting damaged.
Hydrow offers an upright storage kit that you attach to the wall which straps to the rower to keep it in place. Unfortunately, this piece of equipment does not come with the rower so if you want it, you'll have to purchase it separately. It would definitely be a nice gesture from Hydrow to include this for free. 
It's necessary to point out that you don't need the kit to store the rower upright. It will stay up on its own but if you want peace of mind (and why wouldn't you) you should get the storage kit or create your own if handy with tools.
Warranty
I've heard differing opinions about the warranty offered by Hydorw. Some are elated and others think the cover should be greater considering the price.
Overall I would have to say that I think the warranty is pretty good. You get a 6-year warranty on the frame and storage kit, 2 years on wear items (which includes the handle, strap, seat assembly, and the hinge on the screen carriage, 2 years on the screen and other electronics, and 18 months labor.
I think most people would like to see a higher warranty on electronic components as they potentially have a higher risk of something going wrong. This may be true, but comparing the warranty of the screen with the warranty of rowers without a screen is not really fair. When comparing the screen with other electronic items, 2-years is usually standard.
Higher coverage is obviously preferred and welcomed but the warranty is not so different from competitors NordicTrack and their RW900 rower, although this does come with 10 years on the frame!
You can read more about Hydrow's warranty on their site. 
Price and value
The first thing I stated in this review is if you can't afford this rower or justify the benefits and features then this is not the rower for you. Instead, you should look at one of our other rower reviews or the best rowing machines review.
However, if you have the means to get your hands on a Hydrow then you won't be disappointed. It's the best magnetic rower with interactive workouts on the market. You get huge value in build quality, design, video production, workouts, and motivation. Plus, it makes working out fun!
If you're interested in a financing plan, Hydorw makes it easy for you to make monthly payments with no money down & 0% APR financing.
You can also team up with Hydrow by supporting water.org. For every 60 days rowed on Hydrow they will make a donation to water.org.
To top it all off, Hydorw has a fantastic support team that will be happy to help you with any issues that may arise.
Hydrow Rower Membership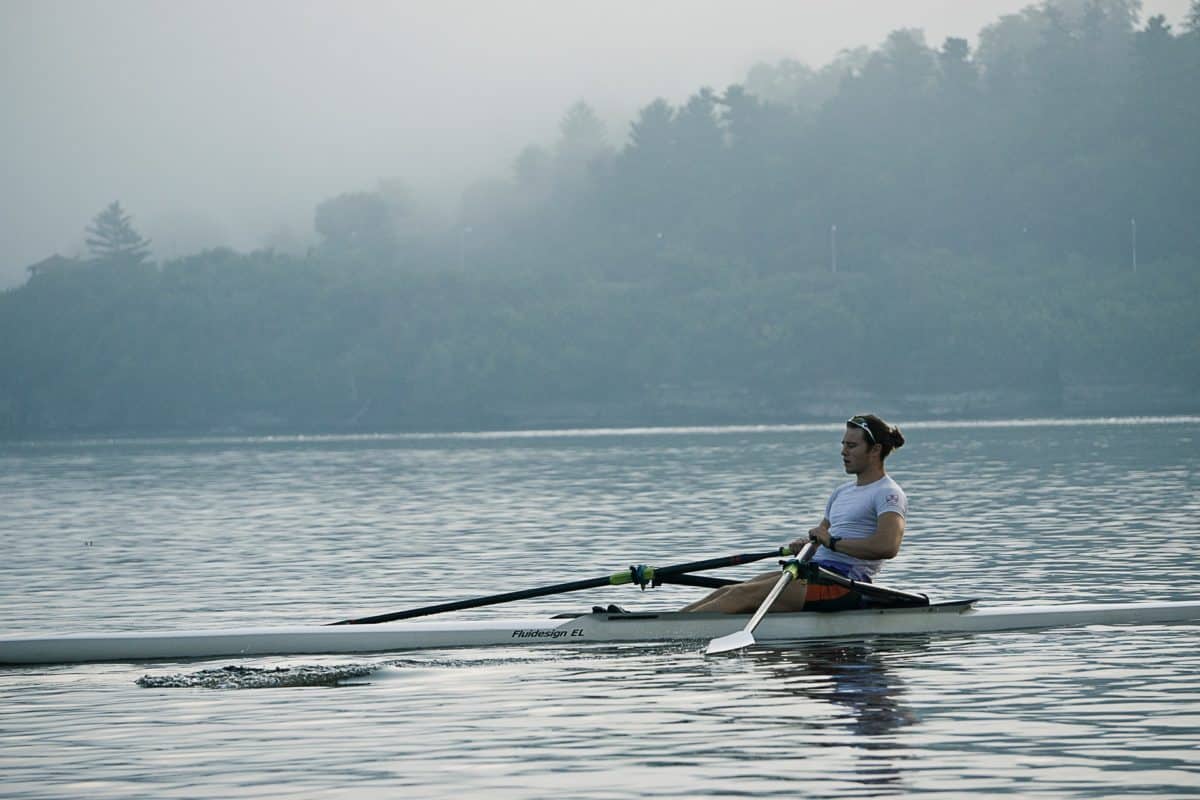 The Hydrow Rower membership is what gives you access to all of the cool functions that make the rower worth getting. Once you've signed up you'll have access to an array of workout options, including leisurely rows down the river or more intense sessions competing against others or trying to match your coach's efforts.
It's important to note that any of the features and Hydrow exercises listed cannot be accessed without a membership. The membership is not included with the price of the rower but is a monthly subscription, currently $38/month (subject to change).
If this puts you off, there is a "Just Row" mode that will allow you to use the basic features (tracking metrics and setting resistance levels) without a subscription. This would be a complete waste of money (in my opinion) if you decide to do this. The glory of this rower is truly in the membership.
And to be honest, the subscription is worth the price.
I suggest looking at it as your gym membership or the cost of having a personal trainer. Because that's essentially what you're getting. Your membership will give you access to hundreds of pre-recorded workouts that you can access at any time you want. Plus you can expect Hydrow to add even more videos in the future as well as non-rowing workouts such as yoga, functional movement routines, stretching, pilates, and resistance training (some of which are already available).
You'll also be able to stream live rowing workouts. This feature allows you to follow along with coaches and other members during live workouts. We're talking about live broadcasts straight from your coach's boat on the water or studio to your home. This really does help keep the workouts motivational and fun.
The Hydrow membership also allows you to set up unlimited profiles for your family so that everyone can track their individual progress.
Key features of the Hydrow Connected Rower Membership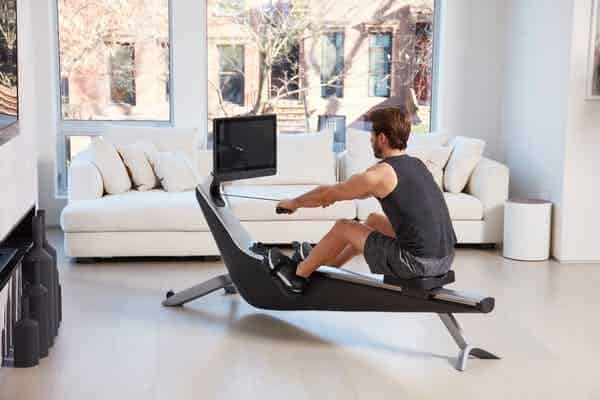 Live Rowing Workouts
Rowing on demand
Learn rowing basics from your coaches
Keeps you motivated and accountable to help you achieve better health and fitness results
Become part of the Hydrow rowing community with live leaderboards
Gives you access to future benefits and updates
Updates
Check below for all the latest updates and additions to the Hydrow rower and membership.
New Workout Series
This month Hydrow released a new bodyweight strength workout series led by Hydrow athlete and former Olympian Peter Donohoe. As the name suggests, you will not need any equipment for these workouts meaning they can be performed anywhere. So perfect for when you're on the go and cant use your rower or if you just fancy switching up your routine a little.
The workouts vary in duration from 10-30 minutes and are appropriate for all fitness levels. Check out this article to learn more.
Alternatives To The Hydrow Rower
No.2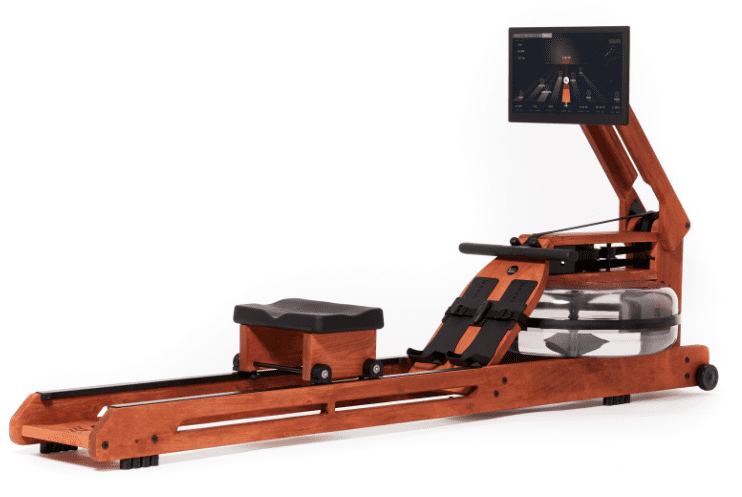 Beautifully designed
Workouts personalized to your fitness level
Data-driven workouts, interactive training programs, games, monthly challenges
Super lightweight and stands upright for easy storage
Here at Start Rowing we include products we think are useful for our readers. If you buy through links on this page, we may earn a small commission.
Another interactive rowing machine that aims to offer a unique rowing experience on their game-based workout platform. The main difference between the Ergatta rowing machine and the Hydrow is the resistance type. The Ergatta uses a water resistance system which is great if you like the sound of the water whilst rowing.
As mentioned, the Ergatta offers a more gamified experience where you are able to race against your own times and other users. But in terms of workouts and immersive features, it offers a lot less than the Hydrow.
The display is also smaller at 17.3" and lacks the sound quality of the Hydrow.
Aesthetically I think the Ergatta is beautifully designed and will look great in any room. Both machines are built superbly and can be stored upright with attachments.
The Ergatta rower is slightly cheaper and also offers a monthly subscription. But in terms of interactive functionality, you definitely get more for your money with a Hydrow.
Read our full Ergatta review or check the price.
Concept2 Model D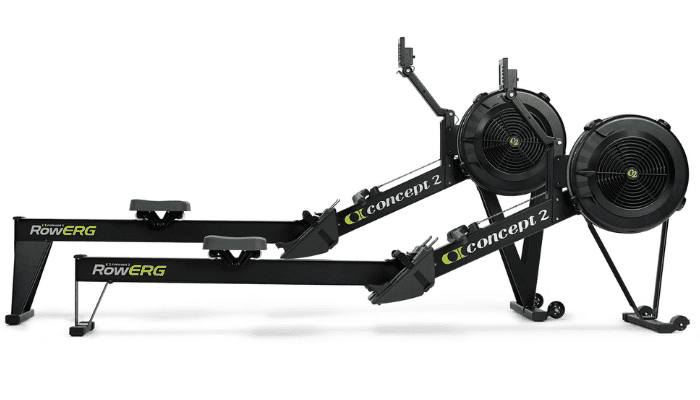 High quality, long-lasting build
Quick and easy assembly
Fairly high price but good value for your money
Considered the industry standard
Here at Start Rowing we include products we think are useful for our readers. If you buy through links on this page, we may earn a small commission.
Often cited as the industry standard, and at less than half the price of a Hydrow, you can't go wrong with the Concept2 Model D. It doesn't come with all the bells and whistles of the Hydrow but you'd do well to find a rowing purest that doesn't train on land with an offering from Concept2.
As a matter of fact, it is also the rower of choice for most competitive athletes and sportspeople in general.
There's a reason it's one of the best-selling rowers on the planet, with a history of durability, reliability, and constant high quality.
Unlike Hydrow, the Model D is an air rower with a flywheel that generates air resistance. It comes with a PM5 LCD monitor with various settings and built-in features.
If the features of Hydrow don't excite you, (on-demand workouts, training, community, etc.) and you just want a workhorse of a machine then go ahead and check out our full Concept2 Model D review.
NordicTrack RW900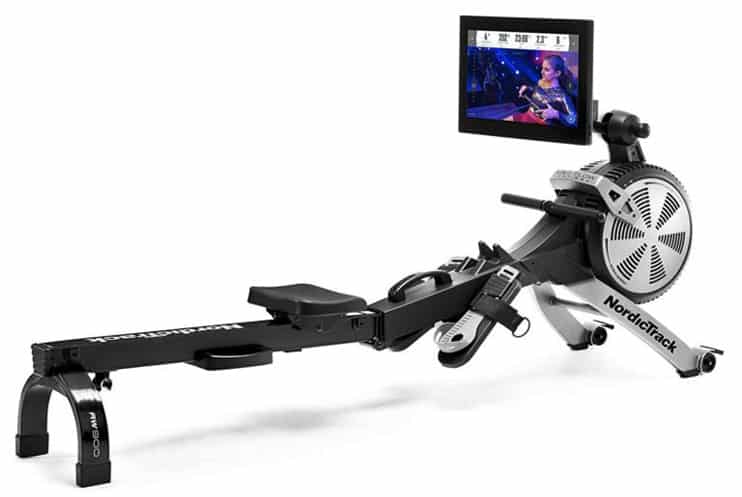 22" tilting touchscreen display
Super smooth and quiet
26 resistance levels
Folds in half when not in use
Excellent warranty
Here at Start Rowing we include products we think are useful for our readers. If you buy through links on this page, we may earn a small commission.
The NordicTrack RW900 is currently the most like-for-like rower on the market when compared with the Hydrow.
Like Hydrow, it utilizes magnetic resistance as well as air resistance, comes with a 22" touchscreen monitor, and has features that include on-demand workouts and pre-recorded classes out on the water.
It doesn't have the same size catalog of workouts as the Hydrow or the same community support but the RW900 will cost you less to purchase. On top of that, you will get a free 1-year subscription to iFit Coach compared to the equivalent Hydrow membership that you'll need to pay for monthly.
So if you really want a more interactive rowing machine experience and workout support but the Hydrow is above your price range, NordickTracks RW900 could be a good alternative.
Final Thoughts (should you buy the Hydrow Rower?)
If you've made it to the end of this review then you must be really interested in this rower. If you want to know if you should buy the Hydrow indoor rowing machine then the answer is yes (assuming you can afford it). I say this because there is no downside other than the loss of your time. You get to try out a quality product and if you don't like it you just send it back within 30-days. If you do like it, then you've just joined an ever-growing community of like-minded individuals that will help keep you motivated toward reaching your health and fitness goals. Sounds good to me!
Start Rowing Score
The Hydrow Wave is the second model in the Hydrow rowing machine stable. It's more compact, and a thousand dollars cheaper yet retains the sturdiness and sleek performance of the original. The Wave features a 16-inch touchscreen, a polycarbonate frame that doesn't vibrate, and access to awesome workouts featuring on-the-water video coaches.
Hydrow Rower FAQs
Where Can I Find A Hydrow Rower For Sale?
The best place to buy a Hydrow indoor rowing machine and see the latest offers is directly from Hydrow.com. You can also purchase a Hydrow rower from Best Buy, Amazon, and other authorized retailers.
How Much Does A Hydrow Rower Cost?
Hydrow offers several package deals including the Hydrow Starter Package and the Hydrow Pro package. They also offer several add-on training accessories that you can add to enhance your Hydrow experience. You can visit their website to check the latest prices.
Is Hydrow worth the money?
The Hydrow rowing machine is definitely worth the money if you can afford it. It offers a unique rowing experience with great user features. The membership gives you access to their wide collection of workout videos as well as live workouts and coaching.
Do You Have To Pay Monthly Fees?
If you want access to Hydrow's online content then you will have to pay a monthly membership fee of $38 USD. You also have the option to pre-pay in advance for a full year's membership.
Can you use Hydrow without subscription?
Yes, you can use Hydrow without a subscription. However, the membership is essential to the Hydrow experience and you would be missing out on its key features. Without a membership, the machine has basic functionality and only operates in "Just Row Mode."
Should I buy a Hydrow?
If you are looking for a fun and interactive solution to working out from home then you should certainly consider buying a Hydrow. You'll be getting a fitness machine of the highest quality with the capabilities to train you and help you reach your fitness goals.
Is Hydrow good for beginners?
Hydrow is a great machine for beginners to rowing or those looking for a new way to work out. The machine has instructional videos to help you learn and perfect your indoor rowing technique. You'll also get access to coaching tips and workouts for expert coaches.
Can I Purchase A Used Hydrow Rower?
Yes, you can purchase a Hydrow rower that has been used by previous owners or from unauthorized retailers on platforms such as Facebook Marketplace and eBay. However, Hydrow is clear that machines purchased in this manner are no longer covered by their warranty, and costs of repairs and parts will be the responsibility of the owner.
Also worth noting is that memberships are also not transferrable regardless of the amount of time remaining. You will have to subscribe as a new user and purchase a new membership if you wish to use Hydrow's online content.
Is There A Hydrow Discount Code?
For the latest Hydrow discount code and deals and you should check their website.
Can you watch Netflix on Hydrow?
No. Hydrow cannot be used in conjunction with any other media services for streaming, watching TV, or browsing the internet. You can only use the monitor to stream Hydrow's own personal content.
Hydrow Rower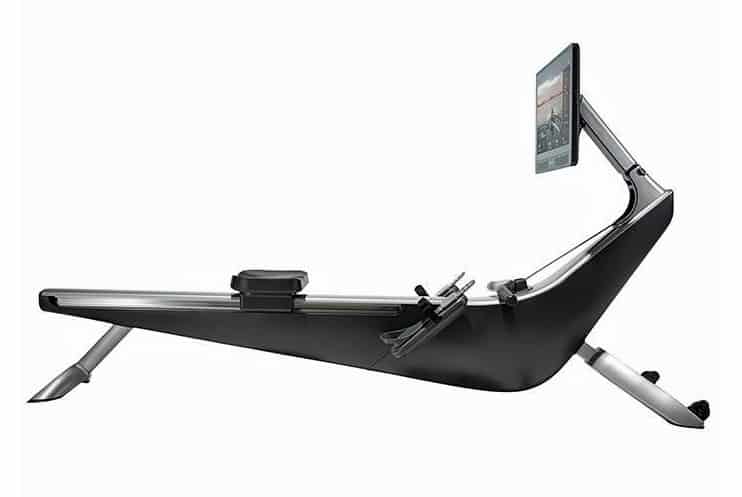 The Hydrow rowing machine aims to provide the 'feel of the river' whilst working out from the comfort of your home. The state of the art rower offers a truly immersive rowing experience. But is it really worth the money? Keep reading for everything you need to know about the Hydrow rowing machine.
Product Brand: Hydrow
Product Currency: USD
Product Price: 2495
Product In-Stock: InStock