Start Rowing Score
The Lit Strength Machine brings a unique training experience that sets itself apart from your standard rower. LIT claims it to be the most versatile strength training machine on the planet. A hybrid that's equal parts rower, reformer, and strength trainer all in one.
Here at Start Rowing we include products we think are useful for our readers. If you buy through links on this page, we may earn a small commission.
Pros
Unique all in one strength and cardio machine
Low impact, high-intensity workouts
Incorporates over 500 exercises
Upbeat, instructor-led studio-style live and on-demand classes
First of its kind adjustable resistance water rower
Innovative design
Stream app from any device
Real-time shout outs from instructors
Cons
No monitor
No traditional rowing experience or tracking of rowing metrics
This is our LIT Strength Machine review.
I am getting used to reviewing these newer interactive types of rowing machines but I have never seen anything like this one.
In fact, the creators would probably view me calling it a rowing machine as a major disservice since they view it as an all-in-one strength and cardio system.
But is this machine really anything more than a water rower with some resistance bands and attachments? Is it worth the expense? How does it compare to other high-end rowing machines? And is it right for you and your fitness goals?
Well, I'll answer all these questions and more in this in-depth review. Keep reading!
Functionality And Design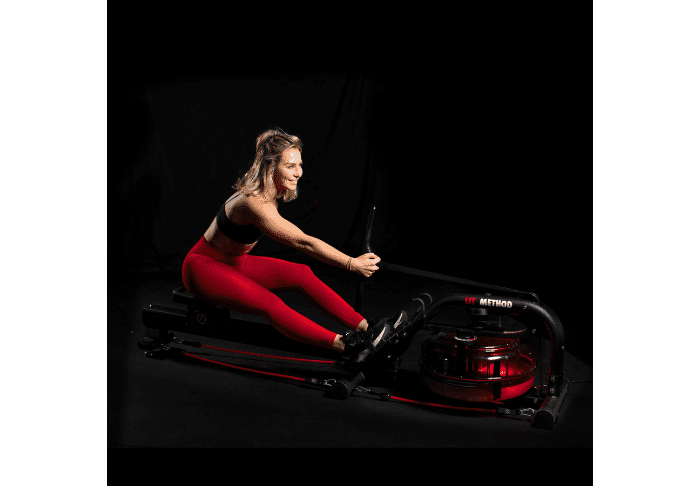 At first glance, the LIT Strength Machine looks like any other water rowing machine. Albeit with a cool design, black finish, and signature red lightning bolt. But upon closer inspection, you will notice there are bands attached along the side. Which begs the question, why?
Well, that's because the LIT team truly views this as an all-in-one workout machine, not just a rower. You'll notice from the name "LIT Strength Machine" that the word rower doesn't even appear.
And with their patent-pending resistance band technology, users of all skill sets will be able to perform a whole host of exercises both on and off the machine.
Although ultimately, the machine is a rower with band attachments along the side (let's have it right), they are really trying to separate themselves from the rest of the market industry leaders. Not just rowers, but home fitness equipment in general.
And although it may seem a bit gimmicky at first, the machine is actually quite impressive, allowing you to perform over 500 compound and isolation exercises!
Let's go through the elements of this machine and see what sets it apart from the rest.
The LIT Strength Machine
The machine is nicely built with a steel/aluminum frame. It feels strong and durable but also super lightweight at only 70lbs without water in the tank. This makes it easy to pick up and transport should you need to move it or store it away.
When using the rower, the strokes feel smooth as the seat glides effortlessly across the rail. As it's a water rower you of course get that wonderful whooshing sound with each stroke.
However don't expect a calming workout with scenic images as LIT delivers fast-paced, high-intensity studio-style workouts. Think rowing meets Insanity.
The rowing handles are attached via a belt drive as opposed to a chain. One concern with a belt attachment is strength. Many machines that use this kind of belt often have customer complaints that the belt snapped during vigorous exercise.
Luckily you won't have this problem with the LIT Machine. It's built to withstand high-intensity workouts with exercises focused on both power and speed, so you shouldn't have any issues.
Plus the stroke motion is smooth and virtually silent, unlike machines that use a chain.
The seat sits quite high up on the rail which may seem strange at first if you are used to other rowers. But you will get used to it, and it actually helps promote proper posture. It also allows you to perform more non-rowing exercises on the machine more comfortably (remember this is not just a rower).
The machine comes with expanded footplates allowing you to drive more from the hamstring and quads while the foot straps keep your feet comfortable and secure.
Along the side of the machine, you will find 8 different sturdy anchor points where you can attach the various LIT accessories. 
You may have noticed that the LIT Strength Machine has no digital monitor or screen of any kind. It does come with a tablet holder but there is no tablet included.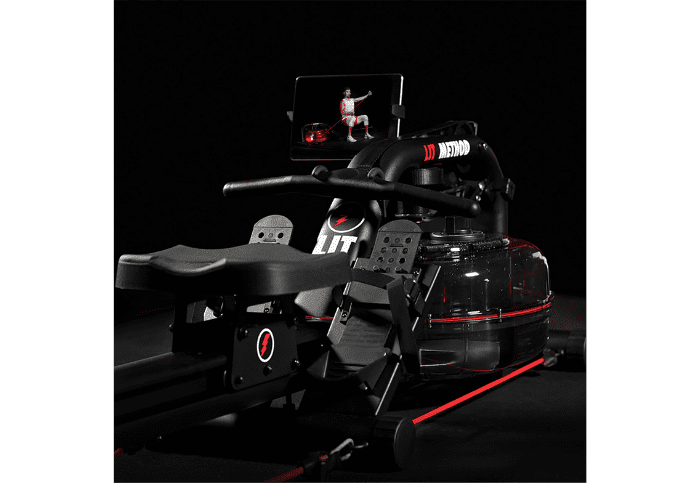 Considering part of the appeal of this new wave of interactive machines is the big screen and all its built-in functions, the decision not to include one is interesting.
But it's a decision that the LIT team made intentionally. I spoke with LIT regarding this and here is what they said:
"The LIT Strength Machine is built on versatility. We didn't put a monitor on the Strength Machine as we wanted users to utilize all eight anchor points and perform exercises in a complete 360 around the Machine. The Machine has built-in Bluetooth capabilities to track data and store this inside our app."
They also said:
"We recently partnered with Polar to implement their Verity Sense wearable tech piece to display metrics including heart rate, calories, workout duration, and performance zones."
Even with this explanation, I'm sure some people will still find the absence of a screen a bit odd. Personally, I understand the decision but still think a rotational display would be a great addition to the machine.
It may cause a slight inconvenience depending on where you want to place the machine in your home and if you have easy access to a TV or tablet. However, no monitor does mean no electricity is required to use it. So this may suit you better.
Either way, I don't see this as a deal-breaker.
You will find it disappointing though if you're looking to track your rowing metrics such as strokes per minute, speed, distance traveled, etc.
The app and integration of Polars Verity Sense will track and display general fitness metrics but none related to your rowing performance.
If you want the best rowing experience then this is probably not the machine for you. Your workouts won't include rowing splits, 2k rows, or any of the other types of rowing workouts you might expect. 
For a pure rowing experience check out the Concept2 RowERG. And for a rowing experience with all the bells and whistles, you should check out either the Hydrow Rowing Machine or Ergatta.
The Lit Strength Machine is more for those who want variety in their workouts. Rowing is just one component of this machine and the workouts that accompany it.
LIT Accessories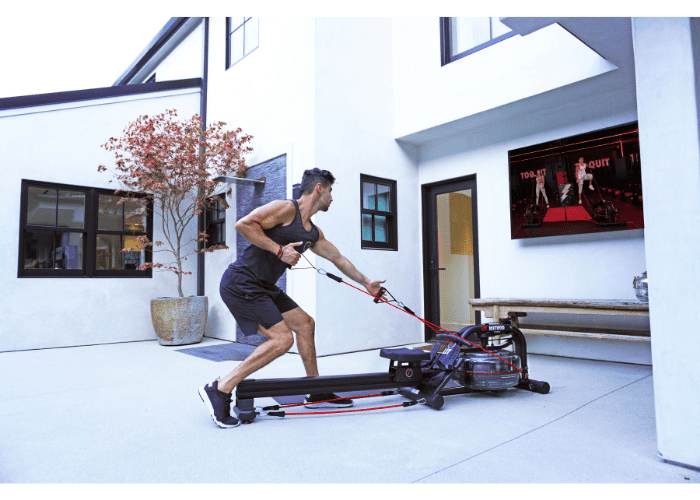 The machine includes a pair of 20lb resistance bands, a pair of handles, and a tablet holder.
There are quite a few attachments you can get with the LIT Strength Machine but unfortunately, they are not all included with the standard purchase.
This is a bit of a shame as although what's included is enough to get you going, the real fun starts with the add-on equipment! I would strongly recommend at the very least getting the strength bar (which mimics a barbell).
Possible accessories include:
Strength Bar
45LB Power Band Set
30LB Speed Band
50lb Speed Band
Ankle Cuffs
Machine Mat
Polar Heart Rate Sensor
Of course, you don't need to purchase any extra attachments directly from LIT. Any bands or equipment you have or purchase elsewhere with a clip can easily be anchored to the machine.
Amazon has a ton of bands, attachments, and clips that you could use. 
LIT also offers the option to "customize your experience" by selecting one of their package deals with various attachments.
You can choose from either the LIT Performance Kit, the LIT Strength Kit, or the LIT Cardio Kit.
Each kit contains different attachments that will help optimize your experience during specific classes. You can check the prices for each on the LIT website.
With all the bands you get a combined resistance of well over 100lbs. This is great as it means as you get stronger you can continue to increase the resistance and intensity levels of your workouts.
You can even combine your band exercises whilst rowing since there are anchor points behind the tank end of the machine. This will create an ever greater resistance as you row and pull against the bands at the same time.
Attaching and removing the accessories is easy. Simply press the clip to remove/add the piece of equipment you want (just as you would with a cable machine).
The accessories really increase the workout/exercise capabilities of this machine and are worth the investment if you want to be able to participate in any class.
Luckily if you don't wish to purchase the extra accessories, LIT still has enough workouts in their app (with more being added) to provide you with plenty of variation.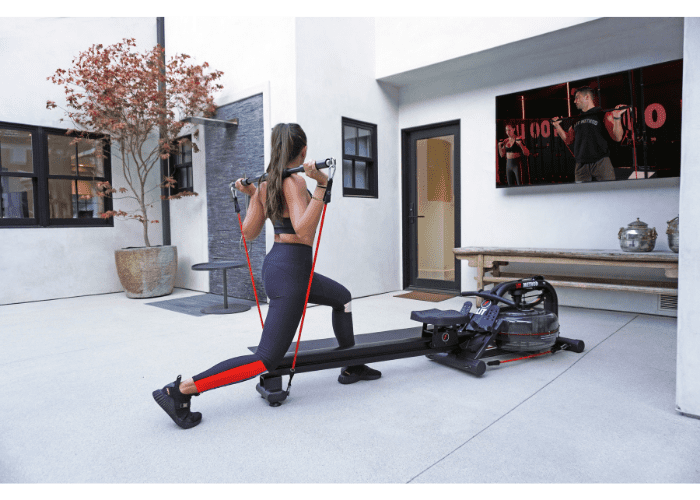 If that's not enough, you can also purchase other equipment directly from LIT such as foam rollers, bootie bands, and heart rate sensors. You can view all their items in the Method Accessories section of their website.
These are additional extras and not needed at all, but it's nice that they have a selection of equipment if you're interested.
Water Resistance
With all the attachments and accessories you can get with the LIT Strength Machine it's easy to overlook it as a rower. But the team at LIT has created a very solid rowing machine.
Strip everything else away and you'd still be left with a high-quality water rowing machine.
One really interesting thing is that this is the only water rower (at the time of writing) that has up to 40lbs of resistance that you can change at the turn of a dial.
Dials for controlling resistance levels are common on rowing machines but not on machines that use water resistance.
Usually, the water is set in the tank and then the level of resistance is dependent on how hard you row. Then if you want to change the resistance further you can do so by adding water or removing water from the tank using a siphon.
This is a process that most water rowing machine users never do. Usually, the water is set at the recommended level and left.
The LIT machine works similarly. Of course the harder you pull the higher the resistance is, but you can then increase and decrease between 4 levels without having to remove any water.
Here are the 4 resistance levels and how LIT recommends using them:
Level 1: 10lbs – for speed training
Level 2: 20lbs – for stamina training
Level 3 – 30lbs – for strength training
Level 4 – 40lbs – for power training
To see the LIT Strength Machine in action, check out this short video by LIT.
Technical Specifications
| | |
| --- | --- |
| LIT Method Strength Machine | Specs |
| Product Size | 7ft x 1.75ft x 1.6 ft |
| Product weight | 70lbs assembled and 89lbs filled with water |
| Max user weight | 400lbs |
| Warranty | Lifetime warranty on Strength Machine and 5-year warranty on all smaller parts |
| Materials | Steel frame, extruded aluminum |
| Resistance Levels (LIT Levels) | 10-40 LBS of resistance with the turn of a knob |
It's great that the LIT machine is so light. It's very easy to move if you need to store it out of the way. It can also be stored upright effortlessly if you don't want it to take up much floor space.
One thing to also consider though is that you may end up with quite a few attachments so you'll likely need to store away any accessories you get with it.
Setup
Unlike some other companies, LIT won't bring your machine assembled nor will they set it up for you at your home.
However, it's pretty easy to assemble yourself and LIT provides all the tools needed. You'll also get a pump that will allow you to fill the water tank up accurately.
Setting up the bands is simple. You just clip them to the anchors along the side. The short set of bands go at the front and the long set goes at the back. This is the standard set up but the bands are interchangeable depending on what exercise you are doing.
The LIT Method
The Lit Method workout was created by trainer couple Justin and Taylor Norris.
They started out by using low-impact training (which is what "LIT" stands for) methods such as rowing and resistance band exercises as a safer alternative to more traditional training such as running, jumping, and weight lifting.
Justin and Taylor both have a history of injuries and strongly believe that low-impact training is a fantastic method not just to aid recovery but to also prevent injury whilst still being able to train hard.
They opened their first studio in 2016 which involved classes that utilized their LIT Method of training. Fast forward and they've now created a way for you to experience their LIT Method at home.
Their workout app and strength machine have been growing in popularity and even gained investments from Jay-Z's venture capital firm. I would love to see Jay-Z put through one of their classes. Make it happen LIT!
Classes
For me, the best part about this machine is the classes you get with the membership subscription.
Many of the classes are fast-paced, and high-tempo with lots of energy. There are tons of workouts to choose from and routines to follow designed to cover all areas of fitness and utilize all aspects of the machine.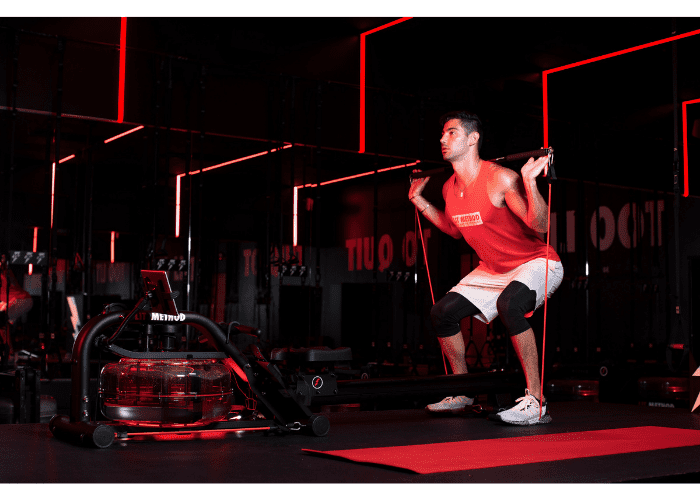 As I mentioned already, don't expect any standard rowing sessions. The classes will contain a mix of exercises. You may be doing rowing strokes one minute, followed by ab work, then jumping up to perform squats. The focus is on overall health and fitness, not rowing. 
They also offer a variety of classes that include mindfulness, recovery, and other training off of the machine
More classes are added daily so you will never get bored or run out of options.
The classes are led by certified personal trainers, including both Justin and Taylor which I think is great. It's clear to see they both care and want each member of the LIT community to reach their full potential.
All the instructors are really enthusiastic and you get the feeling that you are taking a class in a studio. During the live sessions listen out as the coaches may even give you a shout-out!
I was a bit disappointed that there are no instructional videos. I know that improved rowing technique is not the goal but it would have been nice to see an instructional video for those who are new to rowing.
As a beginner, you may find the pace at which the instructor transfer from one exercise to another is too quick to keep up with. But you will get used to it once you become comfortable with all the attachments and exercises. 
Classes can be streamed on any device. So you can use the machine's tablet holder and have your tablet act as a monitor or stream from your TV.
The LIT App
The LIT app gives you unlimited access to their ever-growing library of live and on-demand workouts.
After your 30-day free trial, you will need to pay a yearly or monthly subscription which is now the norm for any smart piece of fitness equipment.
Of course, you can use the LIT Strength Machine without the app membership but you'd be missing out massively if you did. The classes are a must in my opinion and are what really make the machine worth it.
The production value is high and the instructors are great. They help you utilize the machine to its fullest. Honestly, you'll be doing exercises on it that you would never have thought up on your own.
Not to mention the extra motivation from the coaches, other LIT community members, and the library of custom programs to help you reach your fitness goals.
I guess some users may become comfortable enough with the machine that in time they can formulate their own workouts and not need the membership. But I don't think most users will want that kind of hassle. Plus good luck trying to recreate the energy of the classes.
Also, since the machine has no monitor, if you don't have a membership there is no way to track your workouts.
The app offers over 8 different fitness categories including rowing, pilates, mat strength, rowing x strength, ab lab, and cardio.
If you are the kind of person who likes to follow a progressive program, they have options for that too as you can follow along with one of their 1-4 week programs.
You will also be able to track your progress and join in with LIT community challenges.
Within the app, you'll be able to see the list of classes with information stating the instructor, type of class, class length, equipment needed for the class, and skill level.
This allows you to pick the class that best suits your needs whilst also making sure you don't get caught out participating in a class you don't have the equipment for.
Price And Value
With this type of exercise machine, you can always expect a hefty price tag to come with it. The LIT Strength Machine is no exception.
Currently, the standard machine costs $1750. This includes the tablet holder, a pair of 20lb resistance bands, and a pair of handles.
If you wish to upgrade your kit (get more equipment) you can purchase the Cardio Kit for $1849, Strength Kit for $1899, and Performance Kit for $2035.
Check out the LIT site to see what each kit includes.
The price is actually pretty good when compared to competitors, outpricing Hydrow, Ergatta, and the CITYROW GO Max.
LIT also offers complimentary shipping throughout the US and Canada.
Membership for the LIT app is also cheaper than both Hydrow and Ergatta memberships at $24.99 a month or $240 a year. It also comes with one-month free access.
Financing options for the Strength Machine are also available starting from $48 a month up to 36 months with 0% APR financing if you qualify.
Warranty
LIT offers a great warranty on its Strength Machine. You get a lifetime warranty on the metal frame and 5 years on the tank and mechanical components. You can check their website for full details on the warranty.
If for whatever reason you are unhappy with your purchase, they also offer a 30-day money-back guarantee.
Alternatives
I would have to say there is no machine directly comparable to LIT's Strength Machine. It's extremely unique and currently, there are no other machines like it.
That being said there are other alternatives if you are looking to compare it with other rowing machines.
I would start with our review of the CITYROW GO Max. With their water rower and large exercise library, their offering is the most similar to LIT. 
Also, see our reviews on the Hydrow Rower and Ergatta Rower. 
If you want a quality rower but a more affordable option see our review of the Concept2 RowERG.  
Should You Buy The LIT Strength Machine
The LIT Strength Machine is for you if:
You want varied workouts and classes
You want live and on-demand classes guided by certified instructors
You want a low-impact training method
You want a multi-purpose machine that involves more than just rowing
The LIT Strength Machine is not for you if:
You want a traditional rowing experience and workouts/classes
You do not want to pay for a monthly membership
Final Thoughts
The LIT Strength Machine is a fantastic choice if you are looking for a low-impact training option.
The versatility of this machine is unmatched. Acting as a rower, strength trainer, reformer, and much more, you are sure to get in a great workout every time.
It probably won't be right for rowing purists or for those that want to focus on rowing, but it's really not aimed at that personnel. 
Check out the LIT Method kit reviews to see which bundle is best for you or see our selection of the best rowing machines on the market.
Start Rowing Score
The Lit Strength Machine brings a unique training experience that sets itself apart from your standard rower. LIT claims it to be the most versatile strength training machine on the planet. A hybrid that's equal parts rower, reformer, and strength trainer all in one.
Here at Start Rowing we include products we think are useful for our readers. If you buy through links on this page, we may earn a small commission.
LIT Strength Machine FAQs
How much is LIT Method?
The LIT Method app and membership costs $24.99 a month or $240 a year. It comes with one-month free membership and includes classes both on and off of their strength machine. 
What is LIT Machine?
The LIT Machine is a first-of-its-kind strength trainer, reformer, and water resistance rower with 10-40lbs resistance all rolled into one. The machine is equipped with several anchor points that allow you to attach various accessories to perform an array of exercises and movements.  
What are LIT workouts?
LIT workouts involve live and on-demand low-impact training. Their promise is no running, no jumping, and no weights. The workouts include a combination of training methods including strength training, cardio, and rehabilitation, using resistance bands, body weight, and strength exercises. 
What are low-impact workouts?
Low-impact workouts are simple workouts that place a low amount of impact on your joints. They are considered safer and reduce the chances of you gaining an injury. Low-impact workout examples include rowing, resistance band training, swimming, and yoga. 
LIT Strength Machine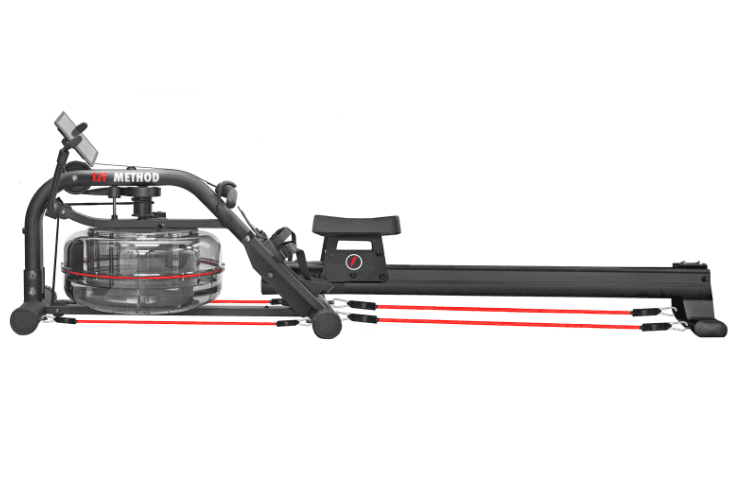 The Lit Strength Machine brings a unique training experience that sets itself apart from your standard rower. LIT claims it to be the most versatile strength training machine on the planet. A hybrid that's equal parts rower, reformer, and strength trainer all in one.
Product Brand: LIT Method
Product Currency: USD
Product Price: 1749.00
Product In-Stock: InStock