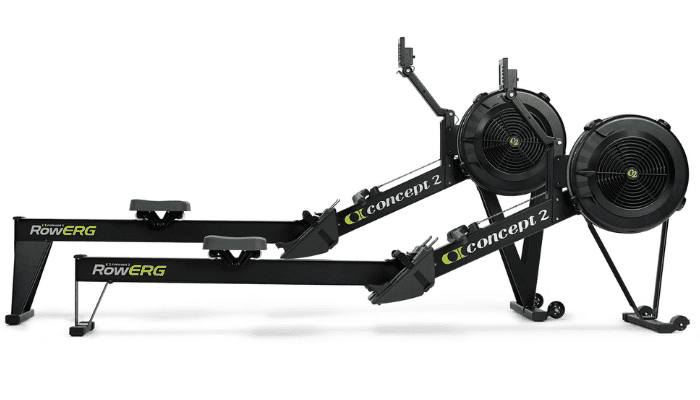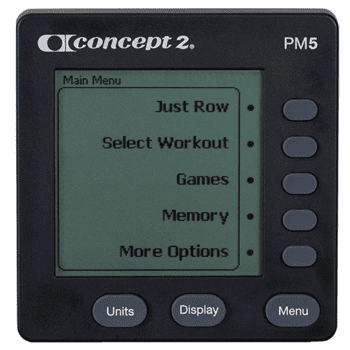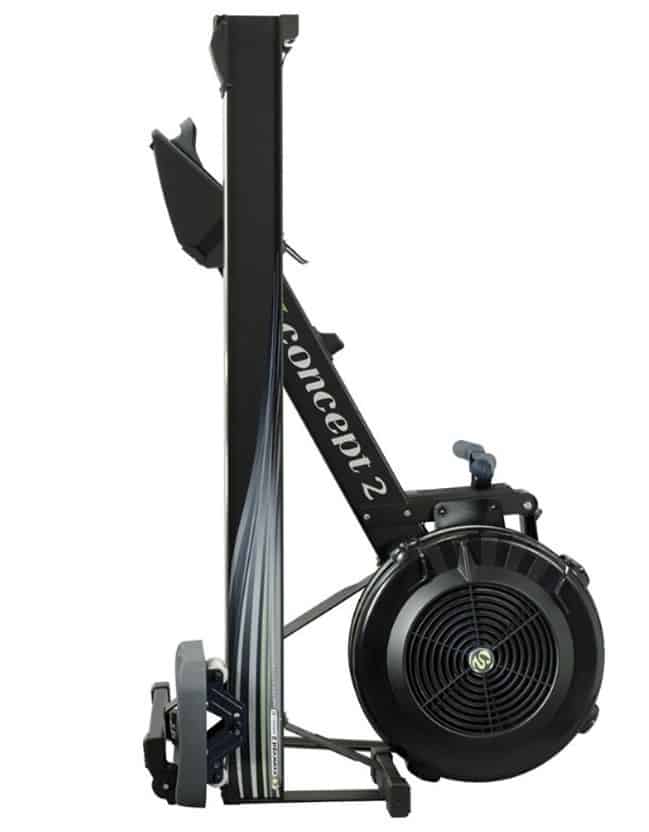 Start Rowing Score
Concept 2 makes the most popular rowing machines in the world and has been doing so for 40 years. Their rowers are the choice of CrossFit, most indoor rowing competitions including the world championships, and are also the machine that most competitive rowers use for their indoor training. Simple to use, hardwearing, and supplied with a two-year warranty, the Concept 2 Model D is a good purchase for anyone from an Olympian to a keen at-home exerciser.
Pros
High quality, long-lasting build
Quick and easy assembly
Fairly high price but good value for your money
Considered the industry standard
Realistic smooth rowing motion
High-performance monitor
Bluetooth compatibility
Easy to fold and store
Cons
High price (but worth it)
Is quite loud
Seat hard for some users
Is long but can be folded away nicely
This is our in-depth Concept2 Model D review.
You may have noticed that Concept2 has made some product changes and changed the name of their rower. The rower formerly known as the Model D is now called the RowErg. This change in name is so that it more appropriately aligns with Concept2's other products, the SkiErg and the BikeErg. This does make sense but it has caused a bit of confusion amongst buyers.
The RowErg is the exact same model as the Model D. Nothing has changed but the name. You can now purchase this model which currently comes in black only. You can choose to purchase the model with a seat height of 14″ or with a height of 20″ (the same as the Model E). The actual Model E has now been discontinued.
The change also eliminates the product selection headache for those who could not decide between the Model D and E or struggled to see what the difference was that warranted the higher price in the latter.
Things To Consider Before Buying
There's not much to consider before purchasing the Concept2 Model D, to be honest. It's one of the best rowers I've ever used. There's a reason that you find it in most commercial gyms, home gyms, and Cross-Fit Boxes across the world.
That being said, it is not a cheap bit of kit and there are certainly other alternatives that may better suit your budget. So although I think the Model D would be a great investment, if you don't have the money definitely look at alternative rowers.
Concept2 RowERG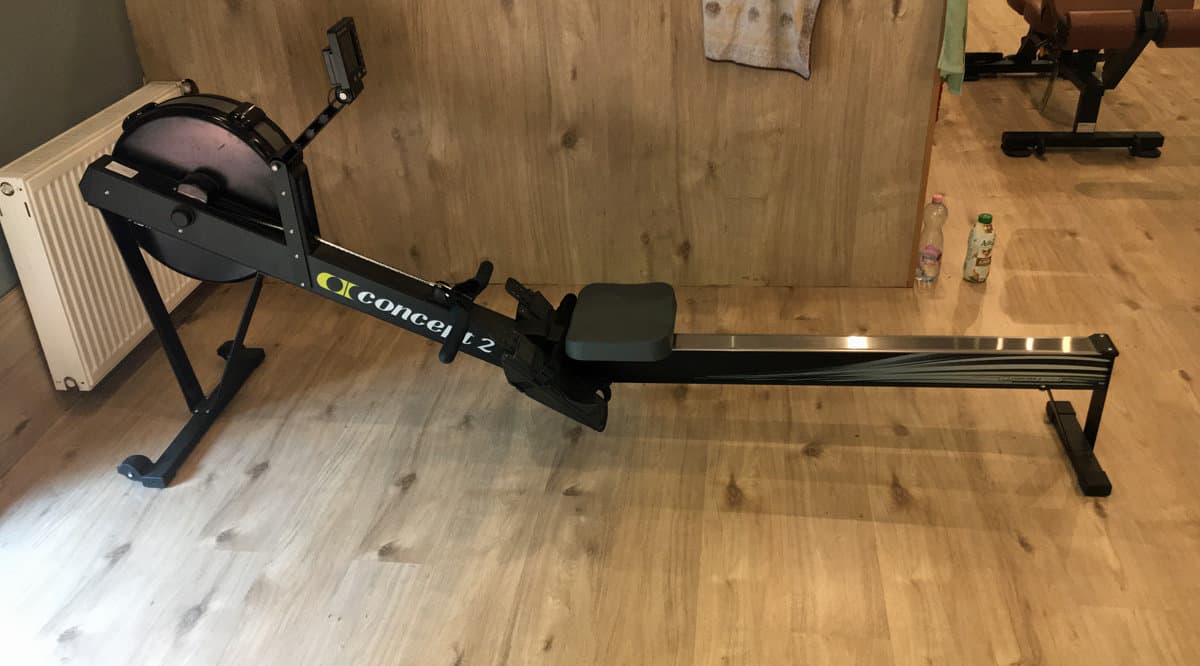 Available in matt black, the Model D indoor rower is Concept 2's bestselling rowing machine and can be found in commercial gyms, rowing clubs, high schools, spare bedrooms, and garages all over the globe.
Using a large semi-open fan for air resistance, a simple but effective variable damper allows you to quickly and easily adjust the drag to customize your workout to suit your fitness levels and workout needs.
In addition to using the damper to adjust the airflow of the flywheel, you can also vary the resistance level depending on the intensity at which you row. The harder you row, the higher the resistance, and vice versa. This feature makes the rower suitable for both novice and advanced rowers and is one of the reasons why the Concept2 Model D is such a popular rower.
Be aware that the higher the settings of the damper the slower your rowing motion will be. Think of the high settings as rowing on a big heavy boat, whilst the lower settings will feel more like a small, much lighter boat.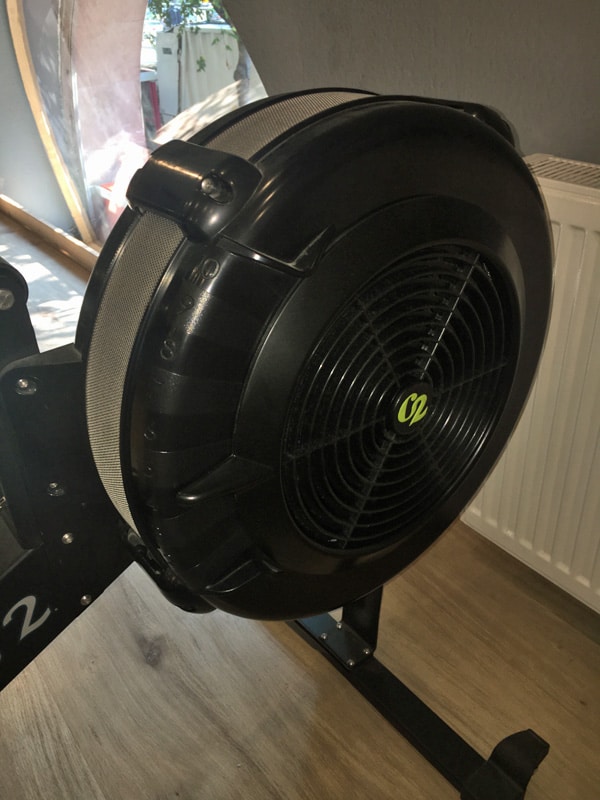 How to set the perfect Concept2 Model D Damper setting
Functionality And Design
A strong (actually, pretty much unbreakable!) nickel-plated chain connects the rowing handle to the fan and provides a smooth rowing action. The contoured seat, which is on duel rollers, glides forward and back with very little resistance while flexible footplates and straps make sure your feet are optimally positioned for comfort and rowing efficiency.
Constructed from hardwearing materials like aluminum and ABS plastic, the Model D rower is built to last and requires minimal servicing to keep it running smoothly year after year.
Some maintenance may be required from time to time. The nickel-plated chain is partly exposed and may require some oiling to allow for continuously smooth rows.
Note that the monitor arm is made of plastic, whereas metal arms are used on the Model E and the Concept2 Dynamic rowers. It's not a huge issue, but obviously plastic is not as durable as metal.
To take your rowing experience up a level, Concept2 offers optional slides that are compatible with your rower. These slides are designed to simulate the feeling of rowing on the water by moving the rower back and forth whilst you row. Not only are they great fun but can also improve your rowing workout, allowing for a quicker catch and higher stroke rate.
They simply attach to the rower with the use of bungee cords and can be used for single rowers or connected to multiple Concept2 rowing machines to create a team boat slide.
Features And Benefits
Let's take a look at the features that make the RowERG such a great option.
Display/ Monitor
The Model D rower is fitted with Concept2's PM5 adjustable performance monitor that comes with many advanced features built-in. This easy-to-use monitor will spring into life as soon as you start rowing and measures distance, speed, stroke rate, pace, calories, and watts for each workout you do and you can choose between five different display options: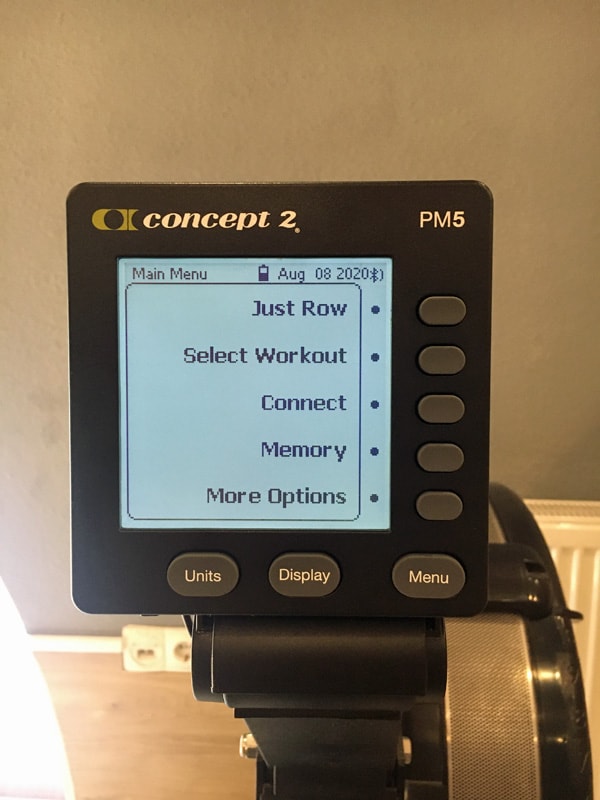 All data
Force curve
Bar chart
Large print
Pace boat/pacer
The PM5 is compatible with most heart rate monitors and also has Bluetooth and USB flash drive options drive so you can record your workout performance and download it for analysis later. The drive allows up to 5 users to store their data which is great if there will be multiple users wanting to track their progress, though most likely this feature won't be needed by most users.
The PM5 monitor comes pre-loaded with several workouts and games, and can also be linked to other PM5 monitors for head-to-head racing. This is awesome when you're looking for that extra motivation, to get those competitive juices flowing, or just to switch up your regular routine.
You can continue to recharge the batteries whilst you continue to row so that you can extend the life, which I think is a nice touch.
Concept2 Model D PM5 Monitor Basics
Comfort and Capacity
The seat on the Concept2 Model D holds up. It's quite comfortable and remains so even during longer rowing sessions. The seat is pretty low to the ground. Some users may see this as a positive and others as a negative (especially if you've got some knee trouble). If the Model D interests you but you want a higher seat then you should consider the next model in their range, the Model E as it has a higher seat that is easier to get on and off of.
The foot straps are easily adjustable to fit a wide range of shoe sizes.
The ergonomic handle of the Model D has a 10-degree bend which helps support a more natural rowing position. It's comfortable to hold which is vital if you want to do longer rowing sessions.
The Concept2 Model D is a sturdy rower and has a high user capacity with a maximum weight of around 500 pounds.
Storage
The Concept2 Model D can be stood on its end when not in use or broken down very easily into two parts using a quick-release mechanism, so no tools are required. It can then be reconnected in a matter of seconds when you next want to use your rower.
Given the frame of this rower, it's great that it can be folded and stored away so well. So if you have limited room you don't need to be put off by it taking up floor space. Fold it up when you're not using it and store it out of sight.
It also comes with caster wheels that make it easy to roll to a different location or just to the position that you want it.
Technical Specifications
| | |
| --- | --- |
| Concept2 Model D | Specs |
| Dimensions | 96″ x 24″x 28″ |
| Resistance Type | Air/Flywheel |
| Length | 96 inches / 244 cm |
| Width | 24 inches / 61 cm |
| Max Supported Weight | 500 lb / 277 kg |
| Color | Black |
| Storage Space | 25″ x 33″ x 53″ (h) |
| Storage | Separates into two parts |
| Machine Weight | 57 lb / 26 kg |
Assembly
Assembly of the Model D is super easy and will most likely take you around 20 minutes (if not less) to have it up and running.
Here is a video showing you just how easy it is.
Warranty
You get a good warranty with the Concept2 Model D. The frame is covered by a limited 5-year warranty and 2-year warranty on the electronic computer and moving parts.
Price and value
The Concept2 Model D indoor rowing machine with a PM5 performance monitor isn´t exactly the cheapest rower available, but Concept 2 rowers can last a lifetime and it's not uncommon to see ancient Concept 2 rowers still in heavy use in commercial settings.
Most major parts are easily replaceable should they malfunction and the standard two-year manufacturer's warranty should provide complete peace of mind. Despite the initial cost, the Model D rower represents very good value for money as it's probably the last rowing machine you'll ever have to buy.
Alternatives
Here are some alternatives you may want to consider instead of the Model D.
No.1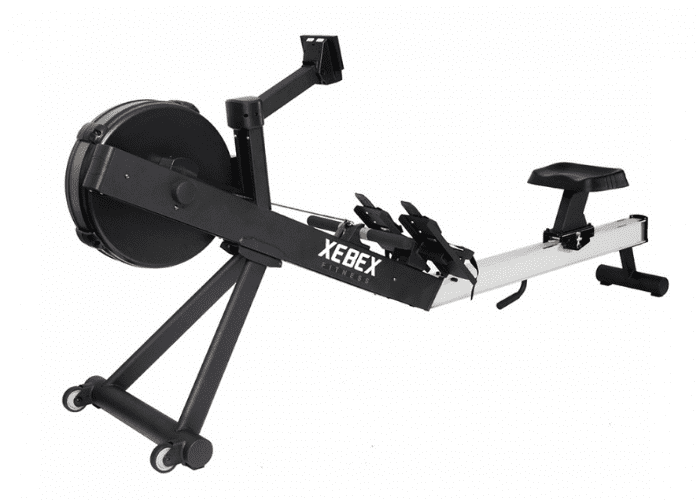 Smooth rowing motion
20 inch seat height
Good monitor
The Xebex Rower is a relatively new player in the rower market. It is manufactured by a company called GetRX'D which has been producing gym equipment since 1985. There are two models on the market; the Xebex 2.0 and the recently released Xebex 3.0. The differences are that the 3.0 has a lower monorail, a blue backlit monitor, and a bamboo handle.
The Xebex rowing machine looks and performs much like the RowERG. The rowing action is just as smooth as the RowERG and has a similar monorail length. The seat height of the Xebex is 20 inches, significantly higher than the Concept2 RowERG, at 14 inches. This adjusts the ergonomics and angle of pull of the rowing action. The higher seat also makes it easier for people with compromised mobility to get on and off the machine.
The monitor on the Xebex is not as user-friendly as the Concept2´s PM5 performance monitor but is still very good and I suspect will only continue to get better.
If you are looking for an alternative to the RowERG, the Xebex Rower is a great choice.
No.2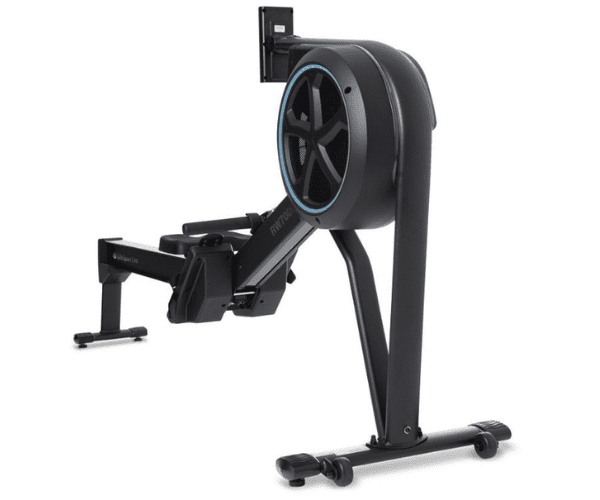 Stylish design
Strong and durable (will last a long time)
Comfortable padded seat
The Lifespan RW700 is a sleek and stylish rower that combines the benefits of both air and magnetic resistance.
Like the Model D, it has a high build quality and is super durable. It comes with a stainless steel rail and a nickel-coated steel chain. The rower has been put to the test commercially and is long-lasting which makes it a great choice for home use especially if you're only going to use it a few times a week.
The RW700 is a comfortable machine to use with a padded contoured seat, smooth handle, and adjustable foot straps. The seat is placed around 19" off the ground compared to the 14" of the Concept2 Model D. So if you have any difficulty getting on and off a rower the RW700 may be better suited for you.
With its hybrid resistance, you get the low noise of a magnetic rower combined with the smooth rowing strokes of an air rower. Although the rowing motion on the Model D is still superior, the noise factor may be enough to sway you.
Both machines come with built-in workouts but the RW700 is lacking in a few features. For example, it is not PC-compatible so you're restricted in what you can do with your workout data. 
The RW700 is also a little pricier than the Model D which might put you off. But if noise levels and a higher seat are important to you then this machine is worth a look.
No.3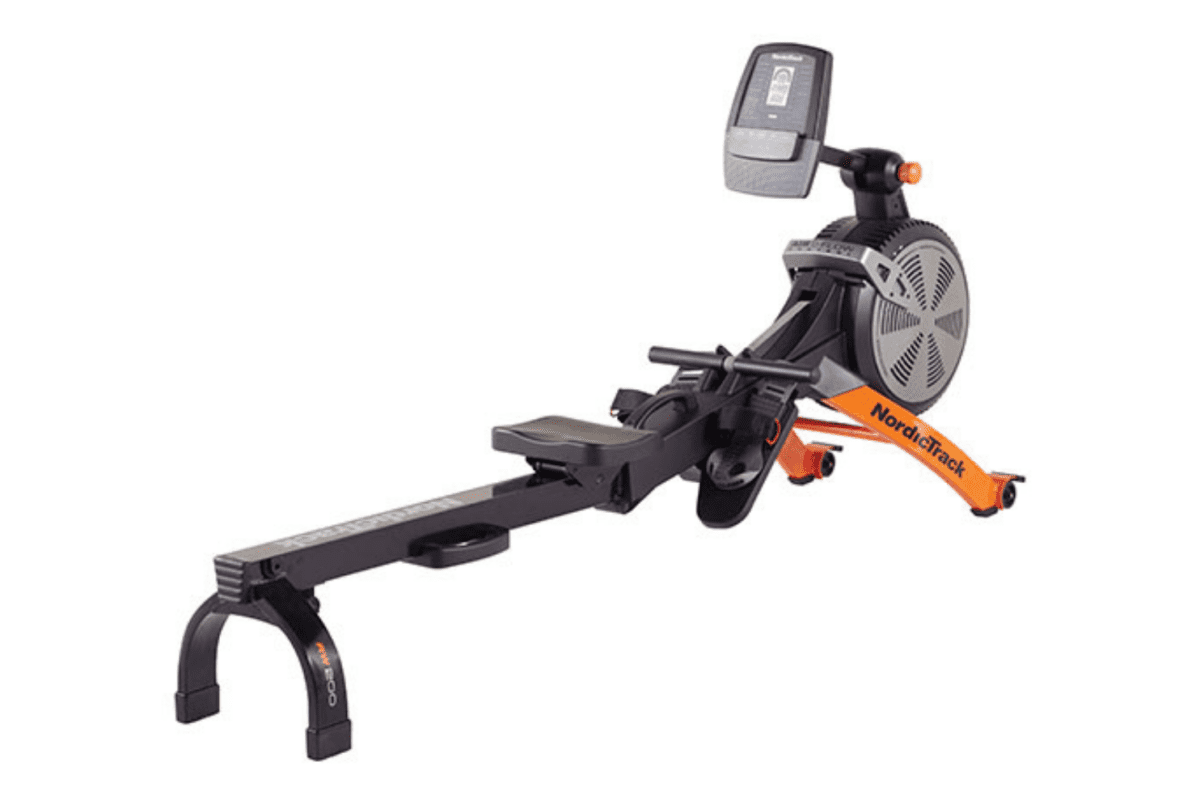 Long rail, suitable for taller users
20 preset workouts
Cheaper alternative
If the previous options were out of your price range then the NordicTrack RW200 may be better suited. It's a middle-range rower with good build quality.
It has a long rail which makes it well-suited for taller rowers. Shorter rails are an issue for tall rowers because they are unable to complete the full motion of the rowing stroke (see rowing technique for details). 
The RW200 comes with a rather small display screen compared to the Model D but it still does everything you'd expect from a standard rower. In fact, it comes with 20 preset workout programs which are a lot more than what you'd get with similarly priced rowers.
Since it is cheaper you'd expect it to be lacking somewhere and in this case, it's the resistance level. Like the Concept2 Model D, the RW200 is an air rower that has a flywheel with a resistance level of 1-10. However, unlike the Model D, the NordicTrack RW200 resistance range is lagging. More experienced rowers will struggle to raise the intensity even at level 10.
The Model D is a superior rowing machine, but if it's out of your budget and you consider yourself unfit or a beginner, the RW200 could be a good choice for you.
Read our full NordicTrack RW200 review.
Our Verdict On The Concept2 Model D (should you buy?)
In short, absolutely! Concept 2's Model D indoor rowing is a serious piece of exercise equipment that delivers an effective, comfortable workout every time you use it. Once you have tried one, you'll soon see why these rowing machines are the choice of Olympic athletes and professional rowers but are also perfect for home use and more general workouts.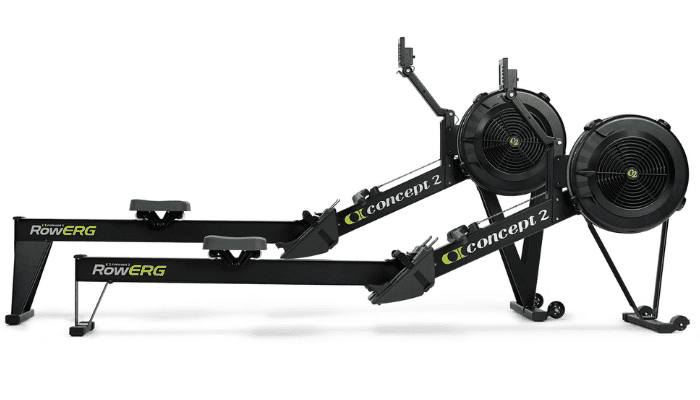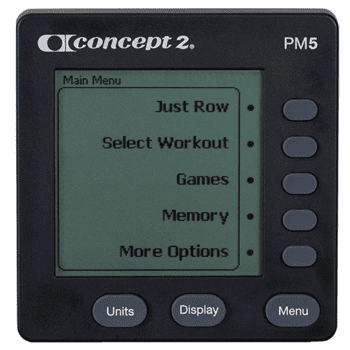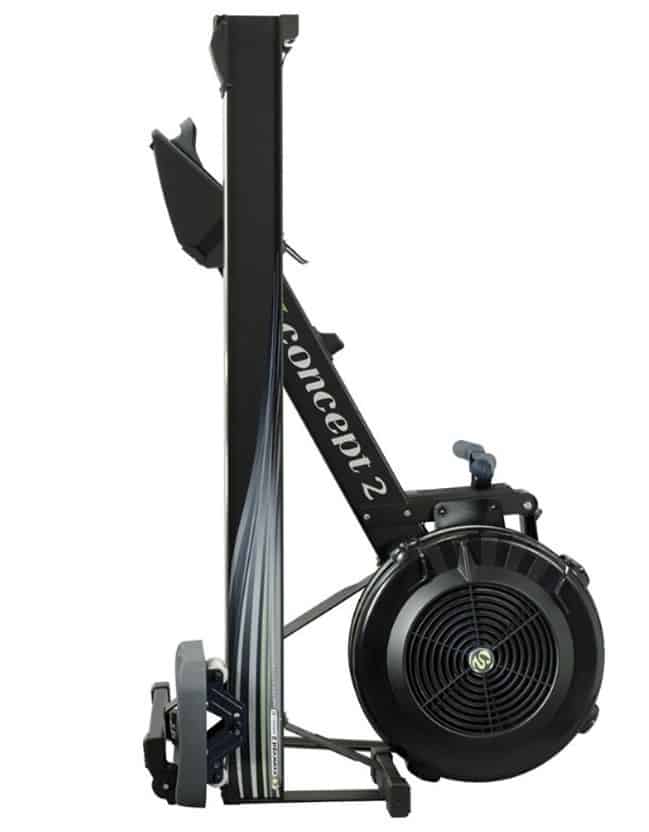 Start Rowing Score
Concept 2 makes the most popular rowing machines in the world and has been doing so for 40 years. Their rowers are the choice of CrossFit, most indoor rowing competitions including the world championships, and are also the machine that most competitive rowers use for their indoor training. Simple to use, hardwearing, and supplied with a two-year warranty, the Concept 2 Model D is a good purchase for anyone from an Olympian to a keen at-home exerciser.
Concept 2 Model D Rower FAQs
What is the RowErg?
The RowErg is the new name Concept2 has given to its rower. This name is more in line with the brand's other products, the SkiErg and the BikeErg. You can now only purchase one model type in black but have the option of 2 heights. The RowErg with the standard 14″ seat height is what was formerly known as the Model D. The taller seat option of 20″ is the same height as the Model E. However the Model E has now been discontinued.
How old is the Concept 2 Model D?
The Concept2 Model D rower was released in 2003.
What is the difference between Concept 2 Model D and E?
The main difference between the two models is the seat height. The Concept2 Model D seat height stands at 14″ whereas the Model E has a much higher height of 20″. The higher seat may be preferable to taller users and those with mobility issues.
Is a Concept 2 rower worth the money?
A Concept2 rower is definitely worth the money if you can afford it. Concept2 rowers are considered the industry standard for a reason. They are not only great rowers in terms of performance but also highly durable and long-lasting. However, parts are easily replaceable if and when needed. Concept2 rowers also keep their value really well with second-hand machines often selling for 10-20% less than retail price.
Is Concept 2 the best rowing machine?
Concept2 produces some of the world's best rowing machines. They have been around for over 40 years and are extremely popular, especially amongst rowers, cross-fitters, Olympians, and other elite-level athletes. You can't go wrong with a Concept2 but whether or not they are the best machine for you, however, will depend on what features you are looking for.
How much does a Concept 2 rower cost?
A Concept2 rower will cost you $900 to $1250 depending on whether you opt for the Concept2 RowErg or 2714: Dynamic Indoor Rower. You can check the price on Rogue or Amazon.
Does Concept 2 ever go on sale?
Concept2 rowers very rarely go on sale. If you want to find one at a discounted price then your best bet is to look to buy one second-hand. We have a detailed guide on how to buy a second-hand Concept2 rower.
Concept2 Model D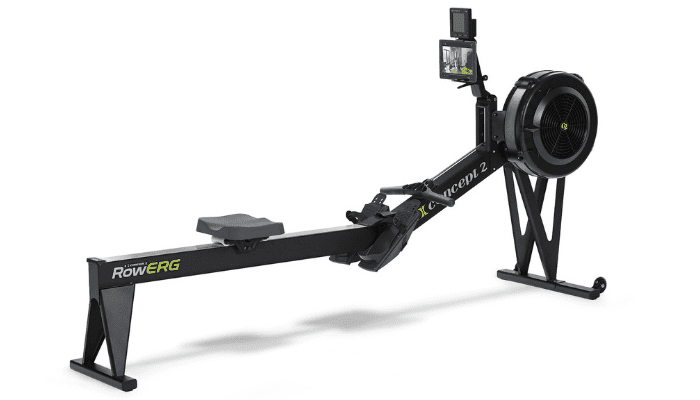 Concept 2 makes the most popular rowing machines in the world and has been doing so for 40 years. Their rowers are the choice of CrossFit, most indoor rowing competitions including the world championships, and are also the machine that most competitive rowers use for their indoor training. Simple to use, hardwearing, and supplied with a two-year warranty, the Concept 2 Model D is a good purchase for anyone from an Olympian to a keen at-home exerciser.
Product Brand: Concept2
Product Currency: USD
Product Price: 900
Product In-Stock: InStock