Concept2 rowers aren't cheap. If you're lucky you may be able to find a great deal on a used one and save yourself a lot of money. Following the steps in this guide will certainly increase your chances of achieving this.
Why Buy A Used Concept2 Rower
Concept2 produces some of the best rowing machines on the market. Their rowers are wildly popular and loved for their fantastic performance, high build quality, and durability. If you want to learn more about the most popular models then you can check out our reviews for the Concept2 Model D and Concept2 Model E before continuing.
But if you're already here then I guess you don't need any convincing as to how awesome these rowing machines are, you just want to know how you can get one for an amazing price so you can start training.
First, we advise that you check the current retail price of the model you are interested in and take note. This way you will be able to see how much you are saving and more accurately gauge if the deal you found is legitimate (more on that later). You can check the current price for the most popular model (RowERG) below.
Concept2 Model D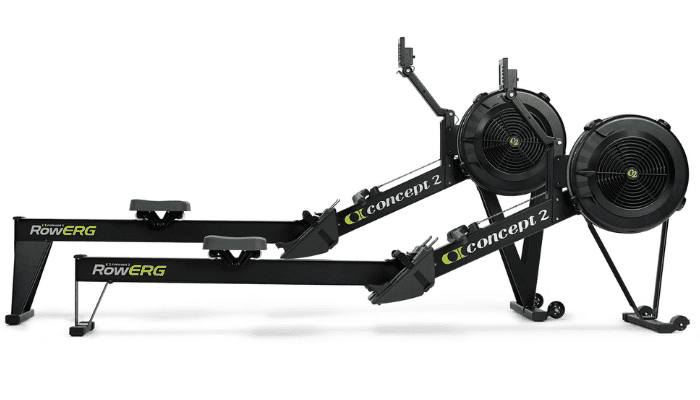 High quality, long-lasting build
Quick and easy assembly
Fairly high price but good value for your money
Considered the industry standard
Here at Start Rowing we include products we think are useful for our readers. If you buy through links on this page, we may earn a small commission.
Tips For Finding A Used Concept2 Rower Online
Before I show you the best places online to buy a used C2 rower I want to go over some tips and tricks you can use while searching to help you find a great deal. Also note, that if you are looking for a used rower for sale near you from another brand, the same tips will work.
To get your hands on a used rower that's in good condition and for a great price, you will need a few things.
Patience – You'll likely need to play the long game here. You may find a great C2 rower for a great price ready to be picked up just around the corner from you. If so, count your blessings. However, chances are that the process will drag out a little and you'll need to show some perseverance to find your rower.
Even if you find a rowing machine you want, you need to make sure that it's within a distance that you can get to for collection. If there's nothing available in your area then you may have to sit tight as you don't want to be paying large shipping fees.
Speed Wins! – Once you have found a rower that you like and meets all of your standards then you need to act fast. Chances are if you love it, other people will too.
Sometimes owners may not realize the value of the rower when used. If they post one for super cheap you can bet that they'll be plenty of interest. If you're quick you may get a great deal.
Note: If you are purchasing from a seller or marketplace that does not allow you to view the product first (eBay for example) then don't rush your decision. Make sure you find out as much as you can about the rower before finalizing the purchase. And only buy if you feel completely comfortable doing so.
Cash In Hand – Make sure you have the cash ready/available to make your purchase. Letting the owner know that you are ready to pay asap (the same day if possible) will be a huge plus.
Photos Are A Must – Look for listings with actual pictures of the rower you will be purchasing. Ignore listings with official company photos, commercial shots, and definitely those with no images at all.
Overly Cheap Rowers – Ignore listings at ridiculous prices. More than likely, if the offer is too good to be true then it probably is. I'd suggest you skip these listings but if you find one and it all looks legit then by all means go for it.
Just be aware that some of the sites we'll be using often have spammy deals and commercial sellers. Try and use the platform settings that you are on to filter these listings out if possible. If it's not, just ignore them.
Search Query – I suggest simply searching for the term Concept 2 in the search box and not including any additional info such as model type. This is because some people may use various different terms and not list the rower specifics. But you can be pretty sure that they will include the brand name.
Alerts/Notifications – One awesome trick that you can utilize to stay ahead of the pack is setting up alerts so that you are notified every time a new post is listed that matches your query. The query "Concept2" will probably bring in the best results but you can also try by model type as well.
There are a few ways to do this for the various platforms which I'll touch on below but you can also create a general Google alert that will send you an email every time Google indexes a post with your query. You can also tell Google-specific sites that you want to be notified about. For example, you could ask Google to send you an email every time a new post on Craigslist appears with the term Concept2, rower, or rowing machine.
Save Your Findings – Make sure you bookmark any good/promising posts so that you can refer back to them again if needed. Chances are you'll be able to find it again but if you're looking at a lot of different rowing machines this can save you quite a bit of time.
Where Can I Buy A Used Concept2 Rowing Machine For Sale?
There are actually quite a few options available to you when looking to purchase a used C2 rower. Some of them you are probably aware of but there are also some more obscure options that may bring you surprising results. Let's go through them now.
Craigslist Rowing Machine
Craigslist is a great place to start and probably the most popular marketplace we'll speak about. You'll probably find more options available here which is great, but it will also be more competitive as there are also many users. This is why acting fast when you see one you like can be so crucial.
If you don't get in contact, someone else will.
A quick google search for Craigslist will bring up your current location and you can simply start your search from there. Here are some decent options that look pretty good that I was available to find within a few minutes of searching.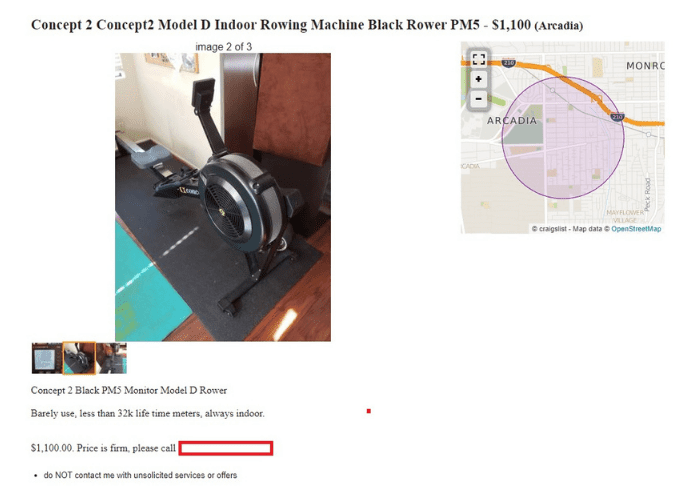 As you can see, the seller has used good images and clearly described the rower. This is what you should look for in a listing.
However, the price of this particular one is too high for my liking. You can see that it's the latest Concept 2 Model D rowing machine with PM5. It's been barely used with less than 32k lifetime meters which is why it's priced so highly.
You could probably get them to throw the mat in too but it still wouldn't be the bargain you'd be hoping for.
I already own a rower so didn't want to dive too deep into the searching abyss (I'll leave that for you) but I do want to give you an idea of some better deals you can expect to find. So here's another offer I found that is probably more of the sort of price range that you're looking for.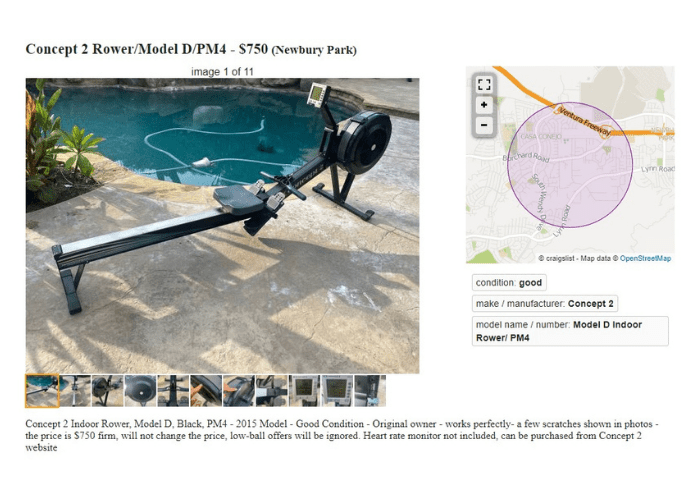 This listing is much more like it! $750 for a Model D. Note that it's with the older PM4 monitor, which is still a great monitor, just something to be aware of when searching.
The seller is being upfront about the condition with lots of images of the rowing machine and any scratches. Don't be put off by this type of thing. Most machines will come with a little wear and tear (they are used after all) better to have an honest seller who gives you the whole picture.
Personally, this is the type of listing I'd want to find, and would definitely follow up with my interest right away if I was looking to buy.
Earlier I mentioned setting up alerts for new listings. If you want to do this then there is a great guide you can follow to set up Craigslist alerts here.
You can also sometimes find great-conditioned WaterRowers for sale on Craigslist.
Facebook Marketplace
Another good place to find used rowing machines for sale is Facebook Marketplace. You can find the FB Marketplace tab (unless FB has changed it since the time of writing) along the left side of your screen where your profile, friends, and messenger option are.
From there you can start your search, set your location, and set filters up to a 100-mile radius of your chosen location.
Here's a listing I was able to find. Just like the first Craigslist example, it says that the rower has hardly been used and is "like new". And again the asking price is much higher than you'd want.
I would say with Facebook you'll probably have better luck trying to haggle the price down. Unless they specifically state that they won't budge on the price, it's always worth a go unless the deal is already super good.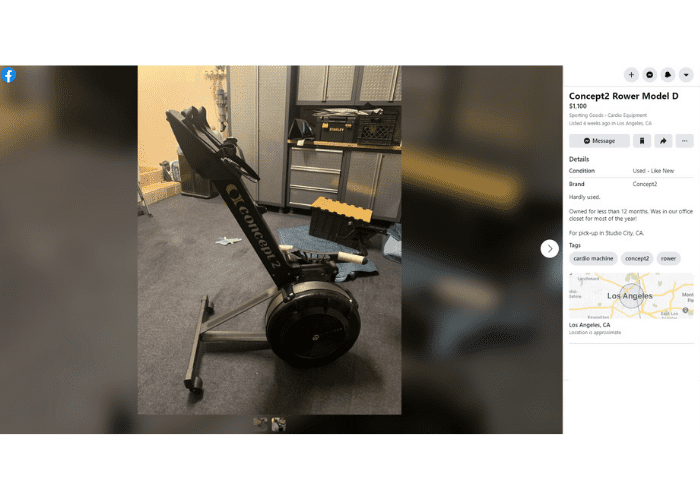 If you want to turn on notifications for Facebook Marketplace read how to do so here.
Just to note, highly-priced used C2 rowers may still be desirable. If you want to buy a new rowing machine but can't, a used (but almost new C2 rower) may be a great alternative for you. Especially if you are desperate for a rower or want to be prepared in case we go into another lockdown. You may be willing to pay a bit more so you can get your hands on one.
Sellers will also be aware of the current situation so don't be surprised if you see people raising or asking for a higher price.
Row2k
Row2k.com is a site dedicated to competitive rowing information. It's quite a busy site but the page that will be of most interest to you can be found here https://www.row2k.com/classifieds/. From here you can select 'Rowing Machines For Sale' which will bring up the list of rowers available.
Don't expect to find many posts though as not many people use it compared to Craigslist or Facebook. When I checked there were only 4 listings posted and only one of them was a Concept2. Still, it's definitely worth checking as you may discover a nice find.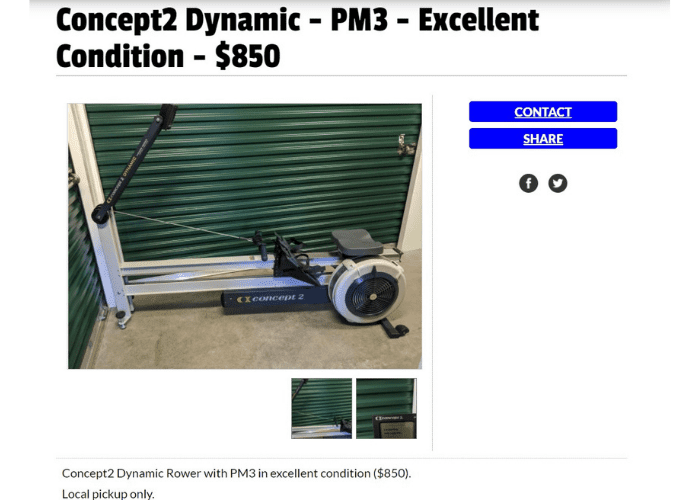 With so few listings you can check the page within a few seconds. If you do find a rower you like then you can contact the seller via a contact form.
Most listings are likely to be local pick-up only and they can sell super quick.
So don't waste your time asking lots of questions. Just say that you're interested and want to go over and check it out asap. Once there you can ask all the burning questions you may have.
OfferUp
I've never personally used OfferUp before but I know it's possible to find a good deal on here.
Admittedly, I couldn't find any good deals at the time of looking but I did find a Concept 2 rower that had recently been sold for $600. Evidence that good offers can become available.
As you can see from the screenshot, the listing was only posted 18hours before I found it. These rowers get snapped up fast when a good offer becomes available. I keep saying it, but that's why you need to be quick.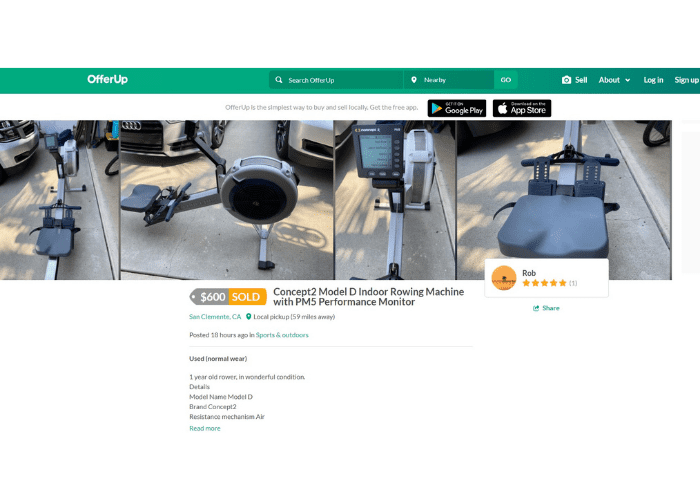 eBay
We all know about eBay so I don't think an explanation is necessary. I love eBay and have bought and sold many items from here.
With eBay, you will want to use the word "used" in the search query as eBay often brings up listings for new items.
Also, be aware of spammy listings. All sorts get posted here so make sure you do your research and make sure you are purchasing from a trusted seller.
The biggest issue with using eBay to buy your rower is that it's unlikely you'll have the option to view it before buying. For this reason, I would only use eBay as a last resort.
If it's impossible for you to go and collect the rower then you may also be able to find a good delivery option on eBay. Always check the postage costs. Many sellers list the price of the item low but add on a high delivery price. Sneaky.
However, eBay can be great if you are looking for spare parts to replace old or broken ones on your rower.
Local Rowing Clubs and Gyms
This method could be a bit of a stretch but has the potential to find an awesome bargain!
Type the query 'local rowing clubs' into Google and get in contact (phone is best) with any clubs within the area. Ask them if they have any old rowers that they no longer need and may be willing to sell or better yet, just get rid of!
Don't expect to get your hands on the latest models with this one as C2s are long-lasting machines. But maybe an older model will be available.
You can do the same with local gyms or health centers. Often gyms that are closing down will be willing to sell their equipment.
Google Search Operators
One trick that you can try to find used concept 2's is to use a search operator in Google to try and find mentions of the rower you are looking for.
Using the query "used concept 2" + "for sale" I was able to find a few sites such as https://www.used.forsale/concept-2-rower that generate a roundup of used concept 2 rowers from sites I've mentioned already such as Craigslist and eBay but also others such as Shoppok, which I would have never of found on my own.
You can also try the query "used rowing machines for sale" if you want more options.
This can be a good way to really make sure you've exhausted all your resources but perhaps only needed if you can't find anything else using the previous methods.
What To Do Once You've Found A Rower
Okay, so you've found a rower that you would like to purchase. What's next? How do you go about claiming your prize?
How To Make An Offer Or Declare Your Interest
You want to try and get on the phone with the seller as soon as possible. If you can not reach them by phone call then leave a text message. Express your interest and state that you would like to go and view the rower. If you can set up a meeting on the same day then that's even better.
Feel free to ask any questions you have that could save you a wasted trip over the phone. But don't be too stringent over the phone. You want this person to agree to let you view/test the rower, not be put off by all your questions.
Be clear about your intentions. Tell the seller that you will arrive promptly and pay the full asking price in cash but you would also like to test the rower. This avoids arriving to find the rower has been boxed up and not easily accessible.
If they say you can't test it out or seem reluctant to let you do so, this is a red flag. Abort mission!
Collection/Viewing
When you arrive it's time to really make sure that you verify all the information that was written in the listing.
Inspect the rower, including the flywheel, handlebar, and footplates. You should also row a couple of 100m just to make sure everything is in working order.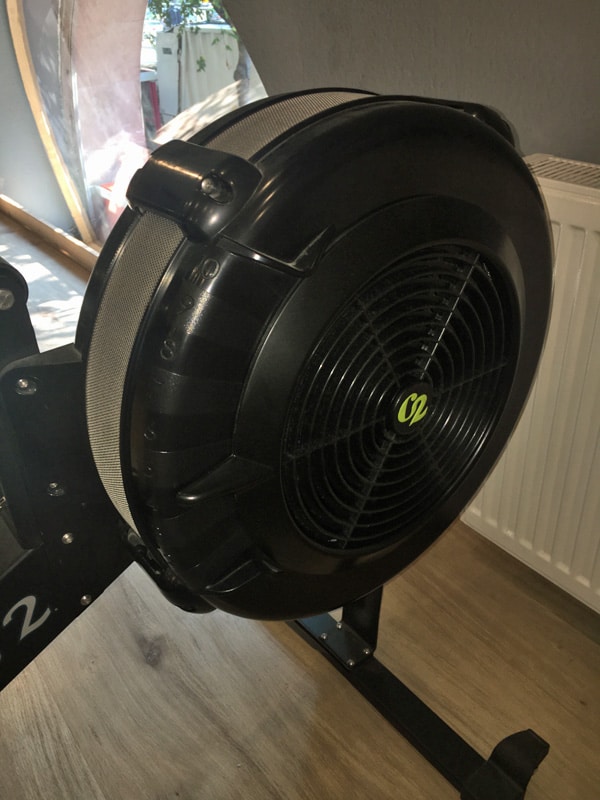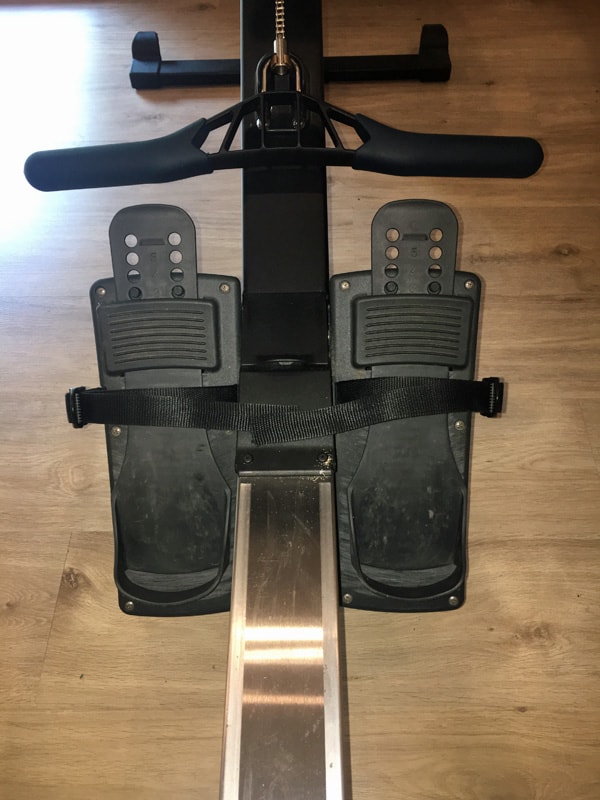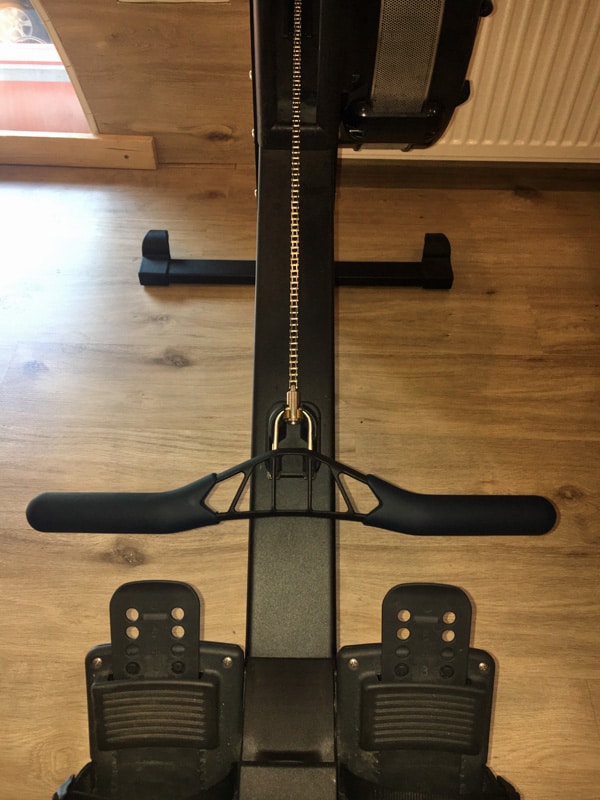 Handy tip: bring AA and D batteries with you for the PM just in case the seller provides the rower without any.
If you notice any problems or issues with the rower, functionality, or appearance-wise, that weren't mentioned in the listing don't be afraid to mention it and see if you can negotiate a lower fee (assuming you're still happy to purchase it).
Be prepared to pay in cash there on the spot if you're happy with everything.
How Much Does A Used Concept2 Rower Cost?
The price will vary a lot. People will value their products differently and have different reasons for selling so it's hard to say. You may find an offer that's a steal because the person just wants to be rid so badly. Or on the flip side, you may find people asking for way more than the retail price!
It also depends on the condition of the rower, how new it is, how much it's been used, which model is for sale, etc.
I personally would consider anything under $700 for one of the newer models an amazing deal (assuming functionality/performance are to standard). What you can expect is that most of the newer used C2s are likely to sell for only 10-20% less than the retail price.
If you want to get an idea of how much you could be saving, check out the latest Concept2 rower prices on Amazon or Rogue Fitness.
Concept2 Models
Currently, Concept2 has six different models. Not all of them are still manufactured but since we're looking at used rowing machines you may still come across some of the older models. You should get familiar with the different models so that you can distinguish them during your search and make sure that you don't overpay for an older model.
Dynamic – Nov 2010–Present
Model E – Aug 2006–Present
Model D – Updated Aug 2006–Present / Original Jul 2003–Aug 2006
Model C – Manufactured 1993–Jul 2003
Model B – Manufactured 1986–1993
Model A – Manufactured 1981–1986
For more information on the model types available you can visit Concept2's page here.
As well as having different models you'll also find that the same models may come with different performance monitors. There are currently 5 performance monitors that you may find, PM1, PM2, PM3, PM4, and PM5. The PM5 is the latest version and comes with more functions, games, and indicators than its predecessors.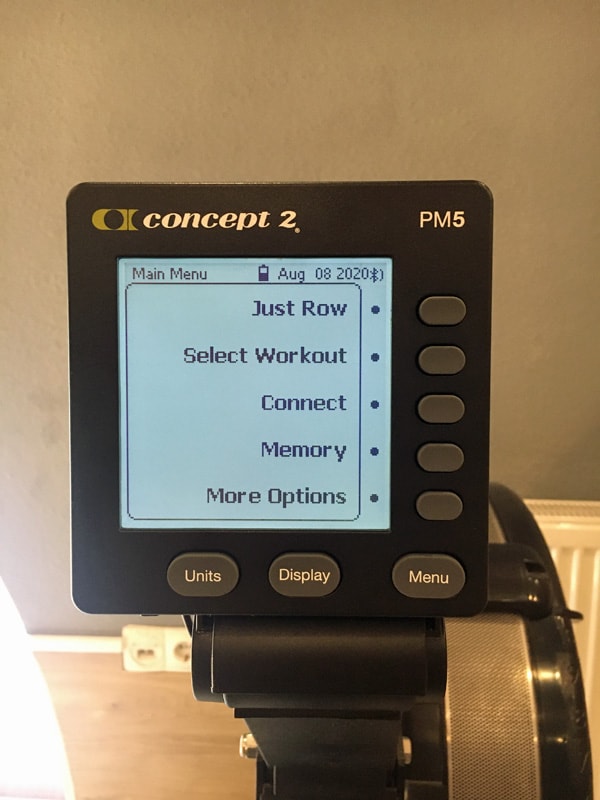 There is not a huge amount of difference though between the performance monitors. They all look pretty similar and will all give you great data compared to most other rowers.
Worth noting that the PM5 is the only monitor that is still in production but it is compatible with all the Concept2 models. So if you have an older model and the PM fails, you can easily replace it with a new one or of course search for a used performance monitor for sale.
Having Your Rowing Machine Delivered
I've already advised against this as you really want to be able to test the rower first and avoid paying for delivery. But in some instances, it may just be impossible for you to collect yourself.
If this is the case then you should expect to pay a couple of hundred dollars at least. Just be sure to check the posting so that it doesn't come to a lot more than expected and ruin what should have been a nice deal.
Tip: If viewing and testing are not a possibility then you can always try getting in touch with the seller via video call and ask for a virtual viewing and get them to do a few strokes. This may seem a tad extra but you want to make sure the item turns up as expected. Could be worth a try.
How To Get Used Parts
Concept2 rowers are some of the most durable machines you'll come across but even they can fail eventually. Luckily all parts can be easily replaced.
You may just be after some parts and not need an entire rower. In that case, you can use the platforms mentioned above to find spare parts for your model. Alternatively, you can contact Concept2 directly and order your new parts.
Concept2 is not the only option
So you wanted a Concept2 rowing machine, have been searching and waiting patiently for months, and still, come up empty-handed?
The good news is that there are plenty of other used rowing machines sold online. Often you'll be able to find some great deals on used WaterRowers or used Stamina rowing machines as the brands are less popular than C2. They could end up being a cheaper alternative.
The list doesn't end there though. Check out the best-selling rowing machines on Amazon for some inspiration.
If all else fails and there are no good deals but you really want a Concept2 then it may be time to cough up the cash and just buy one brand new. If that's an option for you then you can check out the latest prices for C2s on Amazon.
Concept2 Model D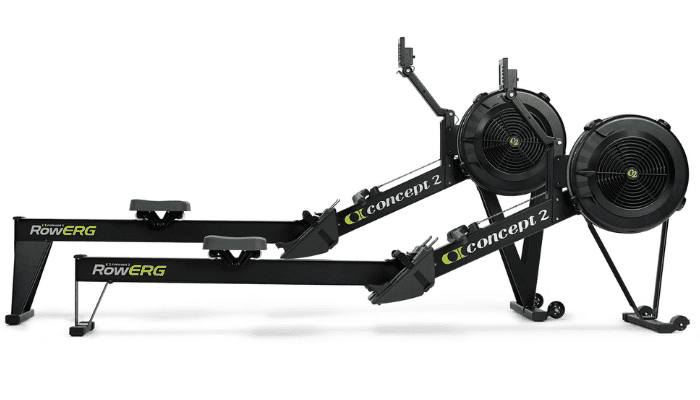 High quality, long-lasting build
Quick and easy assembly
Fairly high price but good value for your money
Considered the industry standard
Here at Start Rowing we include products we think are useful for our readers. If you buy through links on this page, we may earn a small commission.
Final Thoughts On How To Buy A Used Concept 2 rower
So there you have it. Everything you could possibly need to know about how to find a great deal on a used Concept 2 rowing machine. This one was a long one so kudos to you if you made it to the end.
It's very possible to find a great deal for a used Concept2 rower. It will just require a good deal of patience, due diligence, and perhaps some master negotiation skills.
Whether you're looking to buy or sell a rower, I hope you've taken something away from this article and maybe learned some cool tricks that ensure you get the best bang for your buck.
Happy hunting!
How To Buy A Used Concept2 Rower FAQs
How much is a used Concept 2 rower worth?
A used Concept2 rower is worth around $700-$850. But the price will depend on the condition, the model, and of course the price the seller is willing to accept.
Should I buy a Concept 2 rower?
Yes you should buy a Concept2 rower if you are looking for a great, durable and affordable rowing machine.
What should I look for in a used Concept 2 rower?
In a used Concept2 rower you should look for mechanical faults and make sure everything is in working order and that nothing is broken. You should fully inspect the machine in person and test it out when possible. If this is not possible then try and get as many pictures (or even better a video) so you can make your decision.
Do Concept 2 rowers go on sale?
Concept 2 rowers do not go on sale. As mentioned, Concept2's hold their value extremely well. If you ever see a Concept 2 rowing machine advertised as new at a largely discounted price then you should be very cautious as the deal is likely to be fraudulent. Concept 2 even states "We don't put our equipment on sale, because our philosophy is to offer the lowest, business-sustainable pricing possible all the time. If you find a price online that is significantly lower than our factory-direct pricing, proceed with caution". You can read their entire fraud alert here. If you want to buy a Concept 2 rower for less than its sale price then your best bet is to follow this guide a try to purchase a used one.