Start Rowing Score
The NordicTrack RW200, NordicTrack's first entry into the rower market, has a long rail making it suitable for taller users, and represents good value for money. However, it is lacking in resistance capability and has some rather flimsy-looking plastic parts.
Pros
Long beam
Strong frame
Affordable
Quiet
20 pre-set workout programs
Adjustable monitor
Built-in speakers
Cons
Limited resistance
Flimsy plastic damper selector
Uncomfortable seat
No pulse monitor
This is a review of the NordicTrack RW200 rower.
Having been in the fitness industry for 35 years, I can remember the original NordicTrack ski machine. Over the decades I've seen the company gradually expand its home fitness footprint and have been impressed with the quality of their treadmills, ellipticals, and exercise bikes. So, I was keen to get a close look at their entry-level rowing machine market – the NordicTrack RW2000.
I found the NordicTrack RW200 rower to represent good value for money for beginner rowers who are after a solid machine that will allow them to row at a steady pace. Its long rail makes it suitable for taller people but this machine simply doesn't provide enough grunt for serious rowers to build up any decent intensity.
In the paragraphs to follow, I'll break down the features, benefits, and drawbacks of the NordicTrack RW200. I'll also compare it with some popular alternative rowers and spell out exactly who should consider buying this rowing machine.
Read on to get the full story in the NordicTrack RW200 rower.
NordicTrack RW200
The NordicTrack RW200 rower is an entry-level rowing machine with a low-medium price point. This rower has a longer than standard beam to suit larger people. The seat, while lacking somewhat in comfort, is set quite high, making it more user-friendly for people with mobility issues.
This is an air rower / magnetic resistance hybrid that uses a flywheel with a damper setting. The main problem with the RW200 is that you are not able to generate enough intensity to deliver an intense workout. As a result, intermediate and advanced rowers will find the resistance on this machine too easy.
Functionality And Design
The NordicTrack RW200 features an inertia-enhanced flywheel that produces a natural, smooth rowing experience. This is a hybrid air and magnetic rowing machine.
As with all air rowers, though, it is quite noisy. You can adjust the airflow on this machine by way of a manual adjustment lever at the base of the machine, under the monitor. However, the difference between Level One and Level Ten is negligible.
The RW200 is part of the NordicTrack SpaceSaver series so it can be folded for ease of storage. It has a long rail and sturdy steel construction.
Build Quality
The RW200 has a solid steel frame, and a cell foam molded seat with a vinyl cover. There is also some plastic componentry. The result is a machine that feels secure when you sit on it and that won't wobble or move laterally when you're rowing.
The max user weight of the RW200 is 250 lbs, which is quite limiting. The overall weight of the machine is 105 lbs.
Features and Benefits
Now let's look at the features of the RW200.
20 Built-in Workout Programs
There are twenty different workout programs built into the monitor of the RW200, which is pretty impressive for this price range. Half of them are based on watt performance, while the remainder are calorie based. These programs cover all fitness goals.
Monitor
Your workout progress is displayed on a rather basic yet functional monitor. It will provide a readout of your key training data including watts, strokes per minute, total strokes, calories, distance, and energy expenditure. The monitor features a backlit light and the monitor angle can be adjusted.
One thing that is missing from the monitor of the RW200 is a heart rate monitor. That means that you'll need to purchase an external pulse monitor if you want to work according to your training great rate zone.
A couple of speakers are built into the monitor and it also has a sound jack port. The sound level produced by the speakers is perfectly fine for all but the most discerning music aficionados.
Space Saver Design
The Space Saver design of the RW200 allows the rower to be folded in half for a very small storage footprint. With a simple one-step action, you can fold the machine vertically. It also features front wheels to roll it away.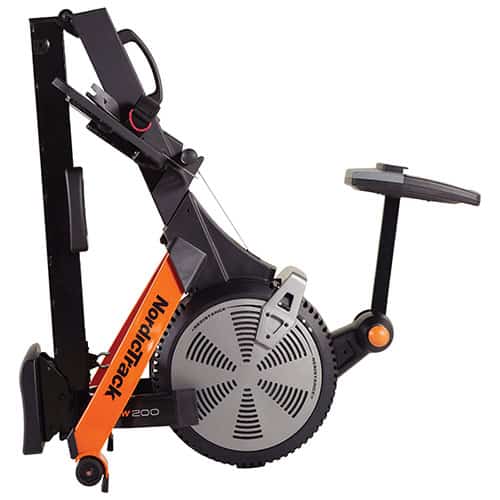 Air/Magnetic Resistance
The RW200 uses a combination of both air and magnetic resistance. This gives you the advantage of variable resistance determined by the speed and strength of your row along with the ability to set specific resistance levels.
The first model of the RW200 used air resistance only. As a result of customer feedback that it did not provide enough resistance, the second version of the machine added magnetic resistance.
The magnetic resistance makes use of a pair of magnets that are placed on either side of a metal flywheel within the housing of the machine. When you adjust the resistance level, the magnets mother either closer or further away from the flywheel, increasing or decreasing the resistance.
There are 24 levels of silent magnetic resistance on the RW200. While these will meet the needs of the beginner exerciser, they do not provide enough resistance at the highest levels to challenge intermediate or advanced rowers.
The RW200 has a damper setting. While the folks at NordicTrack claim that this will allow you to adjust the air resistance level, this is not strictly correct. The damper setting allows you to control the amount of air that flows through the flywheel. The different levels will impact how freely the flywheel is able to turn. It can be linked to the difference between rowing in a light boat and a heavy boat.
On this machine, there is not much difference between a level one and a level ten damper setting.
Comfort Level
The RW200 has a molded seat with foam padding. The padding does provide comfort but the seat is not large enough to provide comfort for larger users. The quick-adjust pedals are oversized and feature adjustable foot straps to provide a secure foot lock-in.
iFit Membership
Your purchase of the NordicTrack RW200 comes with a 12-month iFit membership. This provides access to personalized trainer-led global and studio workouts.
Technical Specifications
| | |
| --- | --- |
| NordicTrack RW200 | Specs |
| Resistance Type | air/magnetic |
| Max User Weight | 250 lbs (113.3 kg) |
| Dimensions | 85"x 22" x43" |
| Machine Weight | 105 lbs |
| Material | Steel frame, vinyl, cell foam molded seat |
| Color | Black painted rail, silver damper, and flywheel, orange or gray stands |
Setup Process
The RW200 is relatively easy to put together. It will arrive partly pre-assembled, so all you need to do is to put the monitor on the base and mount the seat. You should be able to do this without any assistance in 15 minutes.
Your purchase includes an easy-to-follow instructions manual and all the tools you will need to get the job done.
Here is a video to walk you through the assembly process in case you need some extra help.
Price and Value
The price of the NordicTrack RW200 can change markedly depending on where you buy it from. You should look to pay around $500. For that money you are getting a good value product, especially considering that it combines two resistance levels and comes with a 12-month iFit subscription. However, if you are looking for a challenging workout, you probably won't find it with this machine. It should, therefore, be regarded as a stepping stone rower for beginners.
Warranty
The RW200 comes with a 10-year frame warranty, with 2 years on parts and 12 months on labor. The rower is also sold with a 30-day money-back guarantee.
Alternatives
Here are some alternative machines to the NordicTrack RW200 that may also interest you.
Concept2 Model D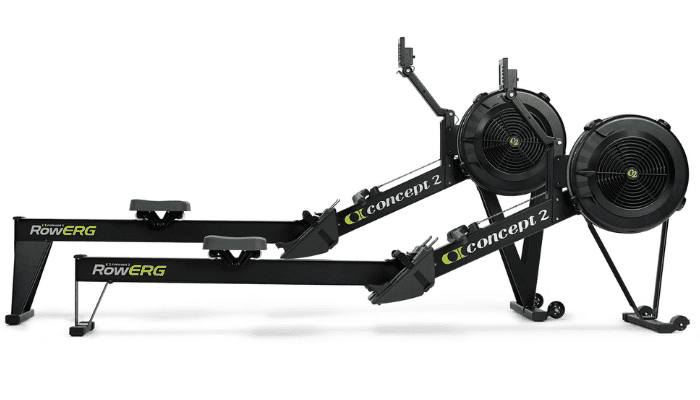 High quality, long-lasting build
Quick and easy assembly
Fairly high price but good value for your money
Considered the industry standard
Here at Start Rowing we include products we think are useful for our readers. If you buy through links on this page, we may earn a small commission.
The Concept 2 RowErg will cost you a few hundred dollars more than the RW200. For those extra dollars, you get the most acclaimed, smooth, and reliable rower on the market. This machine is considered the industry standard, being made from durable materials and delivering an excellent rower experience.
The Concept 2 RowErg only has four inbuilt fitness programs, compared to the 20 on the RW200. You also won't get a free coaching app subscription and there are no speakers built into the monitor. However, the high-performance PM5 is the best on the market, and the rower features a strong nickel-plated chain, contoured seat, dual rollers, and flexible foot plates, and the machine breaks down into two parts for storage with a quick release mechanism.
Read our full Concept2 Model D review.
NordicTrack RW900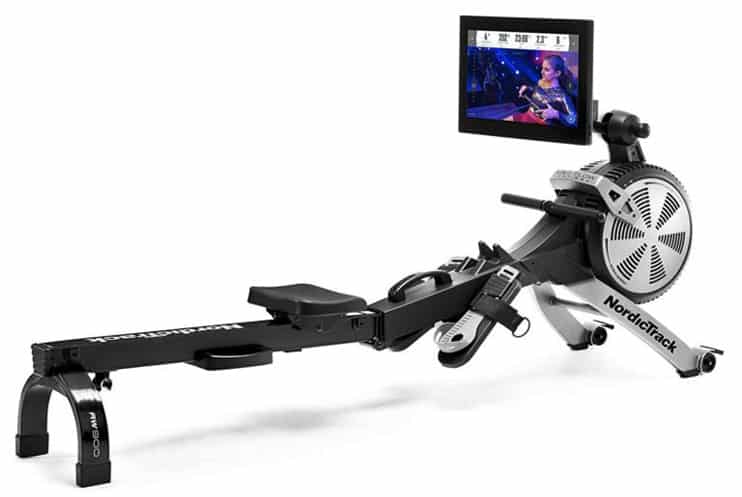 22" tilting touchscreen display
Super smooth and quiet
26 resistance levels
Folds in half when not in use
Excellent warranty
Here at Start Rowing we include products we think are useful for our readers. If you buy through links on this page, we may earn a small commission.
The NordicTrack RW900 is an upgraded version of the RW200. A key difference is that this machine has a larger monitor, with a 22-inch tilting touchscreen display. There are 26 resistance levels, though you will find it more challenging than the RW200. Most of the other features are similar.
ProForm 550R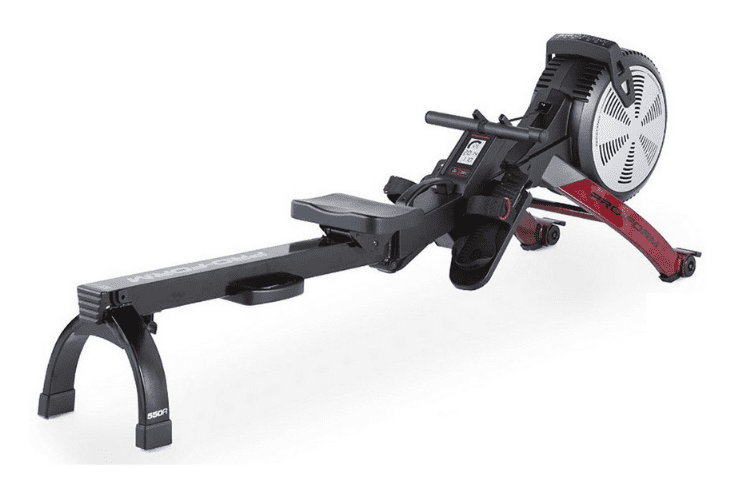 Compact
Durable machine for its price range
Adjustable damper
Easy to assemble
Here at Start Rowing we include products we think are useful for our readers. If you buy through links on this page, we may earn a small commission.
The ProForm 550R is an air-resistance rower, similar to the RW200. This machine, however, does not include magnetic resistance. It does have an adjustable damper to allow you to adjust the airflow. Its dimensions are similar to the RW200, for the design is slightly different, with the monitor placed lower on the frame between the footrests.
The ProForm 550R is cheaper than the NordicTrack RW200.
Read our full ProForm 550R review.
Should you Buy The NordicTrack RW200?
If you are looking for your first rowing machine and are a relative newcomer to rowing, the NordicTrack RW200 represents a good investment. The combination of air resistance and magnetic resistance provides you with more training options than you would normally get at its price point. This is a solid machine that will last but should be considered a stepping stone to a machine that will provide greater intensity as you advance beyond the beginner stage.
The NordicTrack RW200 is for you if:
You are a beginner rower
You're recovering from injury
You want a low-medium intensity air/magnetic resistance hybrid
The NordicTrack RW200 is not for you if:
You're an intermediate or advanced level rower
You want a large HD monitor
You do want a hybrid resistance system.
Final Thoughts On The NordicTrack RW200 Rower
The NordicTrack RW200 rower is an entry-level hybrid resistance rowing machine that provides a smooth, natural rowing action and includes features to enhance your rowing comfort. However, its limited resistance level, small monitor, and relatively low max user weight will put this machine out of the running for many users.
Looking for a higher-performing rower at a bargain price? Check out our complete guide on how to buy a used Concept2 rower.
Start Rowing Score
The NordicTrack RW200, NordicTrack's first entry into the rower market, has a long rail making it suitable for taller users, and represents good value for money. However, it is lacking in resistance capability and has some rather flimsy-looking plastic parts.
FAQs
Is the NordicTrack RW200 an air rower?
The NordicTrack RW200 is a combination air row and magnetic rower. The original version of this machine was a standalone air rower. However, after the company received customer feedback that the resistance level was not powerful enough, they released a new version that included magnetic resistance. As a result, you now have the option of either air or magnetic resistance.
Is NordicTrack RW200 magnetic?
Yes, the NordicTrack RW200 is a magnetic rower. However, it is also an air rower, having both capabilities. The magnetic resistance system features an internal steel flywheel that has magnets on either side. When you adjust the resistance control, you move the magnets either closer to or further away from the flywheel. This makes the resistance easier or harder.
Does NordicTrack make good rowers?
Yes, NordicTrack does make good rowers. Having built a 30-year reputation in the fitness industry. NordicTrack entered the rower market with high expectations. Their RW line of rowers has met those expectations. They currently offer a range of rowers across all price points that feature both air and magnetic resistance systems, touchscreen displays, and the iFit training app.
Can I use the NordicTrack rower RW200 without iFit?
Yes, you can use the RW200 without iFit. The rower has twenty built-in workout programs that do not require the app to operate them. 
How much does the NordicTrack RW200 rower weigh?
The NordicTrack RW200 rower weighs 105 lbs. It has a maximum user weight of 250 lbs. 
NordicTrack RW200 Rower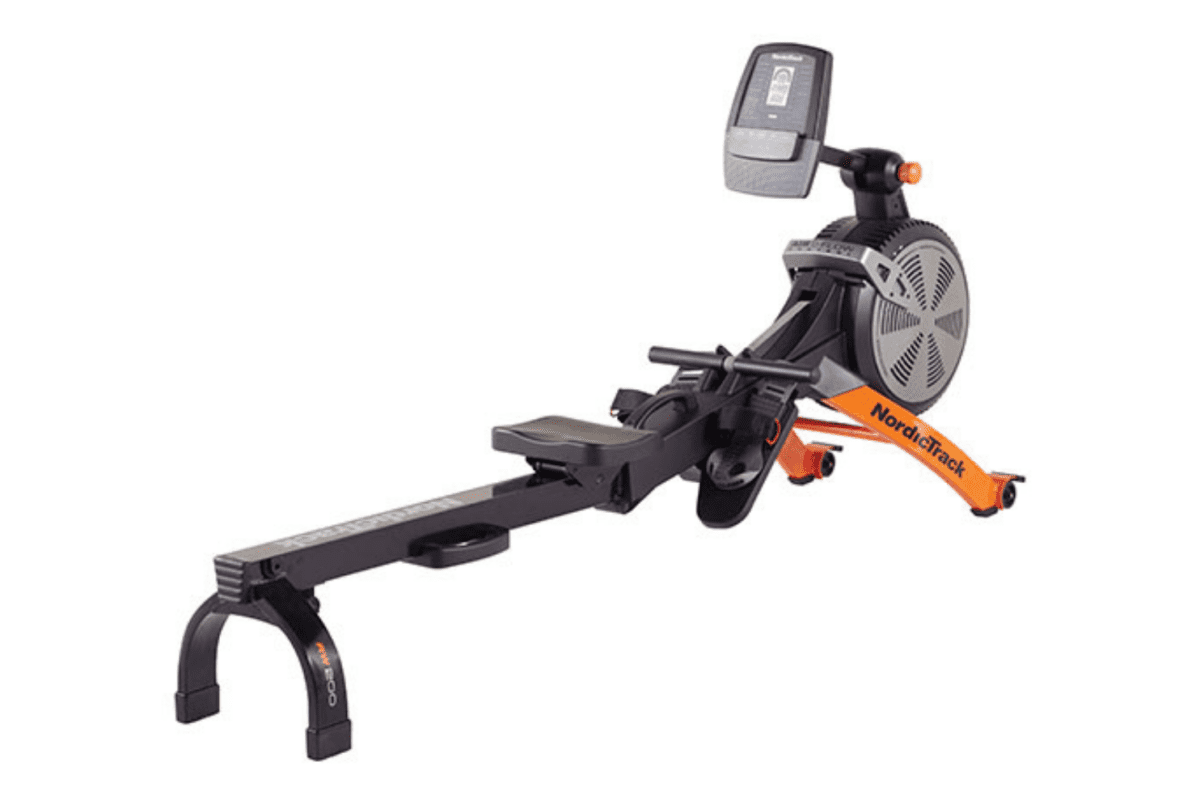 NordicTrack offers the RW200 rower a full-body cardio fitness machine with low to moderate impact. The manufacturer had convenience and comfort in mind when designing this rowing machine. It is solidly built and can withstand regular use at home. There are few added features on the rower, but it gets the job done.
Product Brand: NordicTrack
Product Currency: USD
Product Price: 714.99
Product In-Stock: InStock
Pros
Long beam
Strong frame
Affordable
Quiet
20 pre-set workout programs
Adjustable monitor
Built-in speakers
Cons
Limited resistance
Flimsy plastic damper selector
Uncomfortable seat
No pulse monitor