I tested 8 products and found the Concept2 RowErg to be the best rowing machine for beginners.
Top Pick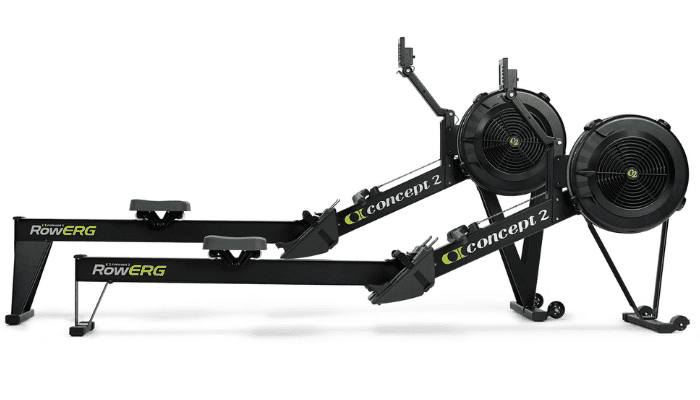 The industry-setting standard
The RowERG (formerly Concept2 Model D) can't be beaten for price, functionality, and performance. It's been the most popular rower worldwide for over 10 years and is the indoor rower of choice for most rowers and athletes.
Best Tech Integrated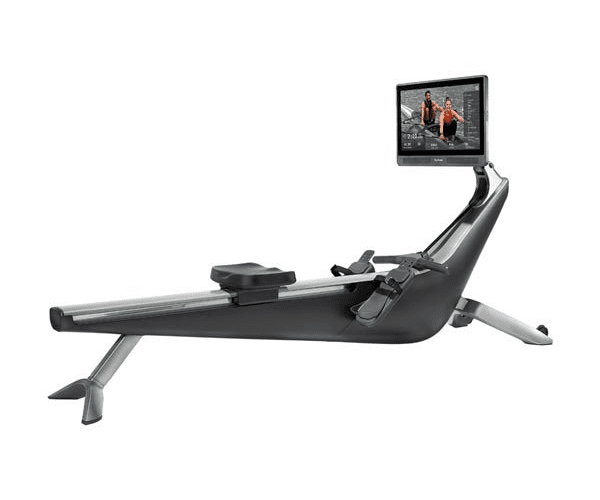 Super stylish interactive rower
The Hydrow Rowing Machine has a super sleek design, a 22-inch touchscreen and is currently leading the way for this new wave of interactive rowing machines.
Best Gamified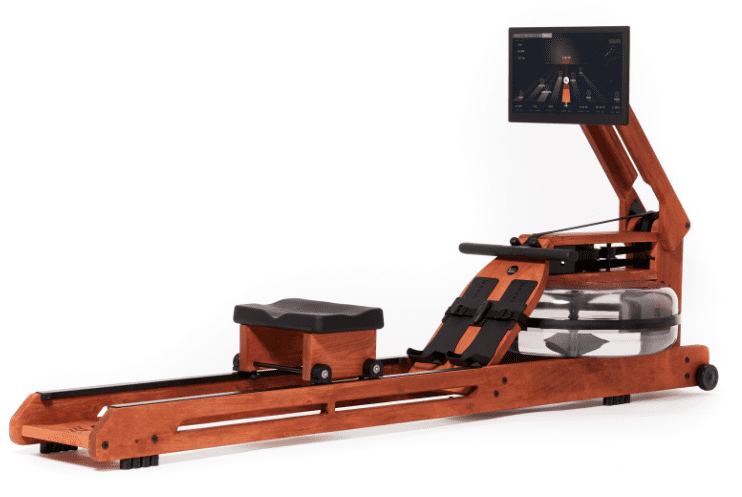 Game On!
Amongst a new wave of interactive exercise machines, it can be difficult to stand out. Yet Ergatta has managed to create an all-new rowing fitness experience like no other. Ergatta takes your typical gaming experience and turned it into an interactive gaming competition.
Over the last four decades, I've been training people in their homes to lose weight, improve cardio fitness and build muscle. Over that time, I've recommended rowing machines to many of them. That has given me a lot of insight into what goes into a quality rowing machine for beginners.
I've brought my forty years of experience to this search for the best rowing machines on the 2022 market for beginners. I have spent many hours comparing, evaluating, and reviewing the online comments of verified users to narrow down to the eight best rowing machines for beginners. I've then put those eight rowers head to head to sort out the best from the rest.
The best rowing machine for beginners on today's market is the Concept2 RowErg. This rower has been the most popular home use rowing machine on the planet for at least the last dozen years. So, what makes it stand out?
The Concept2 is an extremely sturdy, rugged machine with its 500-pound max user weight and sturdy frame it will deliver a wobble-free, reliable ride every time. It's also got an advanced monitor, a 14-inch seat height for ease of access, and adjustable footrests.
Above all, Concept2 delivers a very smooth, natural, and quiet rowing experience.
As well as bringing you the best overall rower for beginners, I've also broken down the category to reveal the best water rower for beginners, the best tech-integrated rower for beginners, the best for gamers, and the best budget rowing machine for newbies. 
Keep reading to get the full picture of the rowing machines that matter for beginners. 
The Best Rowing Machines for Beginners
Best Overall: Concept2 RowErg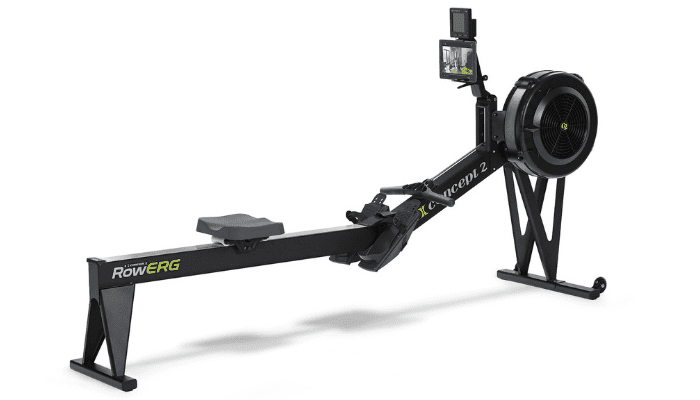 The Concept2 RowErg, which was previously known as the Concept2 Model D, is the most popular rowing machine on the planet, whether it's in commercial gyms, in competitive events, or in people's homes. The reason that it is so popular is obvious:
It is affordable, sturdy, reliable, comfortable, smooth, and ergonomic,
The Concept2 RowErg is an air-resistance rower with a large flywheel and a 10-setting damper which allows you to adjust the drag or airflow. While all air rowers are noisy, this one is quieter than most, with an average noise output of about 75 dB. 
The display monitor on the Concept2 is top-notch. It allows you to monitor the following training diagnostics:
Pace
Watts
Stroke Rate
Calories
Pace Boat for competition
Force Curve
You will get a comfortable row on this machine thanks to its ergonomically designed seat, adjustable footrests, long rail to provide a full range of motion even for taller users, and smooth, natural gliding motion.
The Concept2 RowErg is a foldable machine that comes apart at the rail. It can also be stored in an upright position.
Overall, the Concept2 RowErg represents great value for money, providing you with a competition-level rower for under a thousand dollars.
Read our full Concept2 RowERG review. 
Check the price on Rogue Fitness.
Best Tech Integrated: Hydrow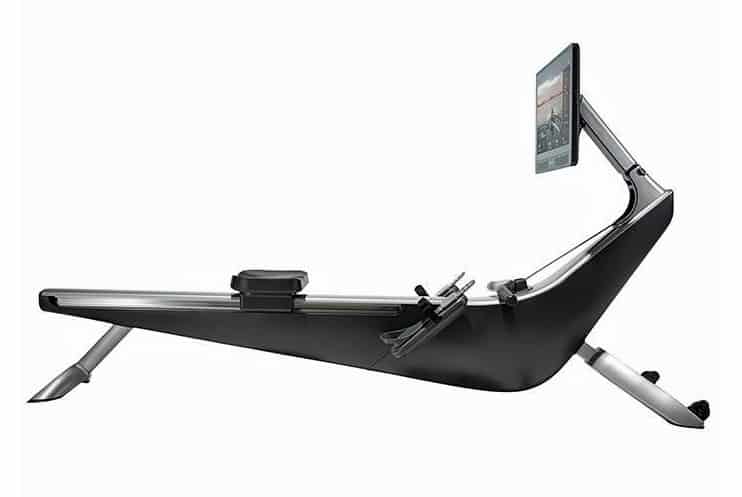 The Hydrow Rowing machine breaks the mold of the conventional streamlined rower aesthetics. It looks more like something out of the Jetsons, with rounded curves and a futuristic vibe. Hydrow has also broken the mold by advancing tech integration with thousands of on-demand workouts.
The Hydrow is a compact rower, with dimensions of 86 x 25 x 47 inches. You can also get an upright storage kit so that it can be stored safely against a wall. This is a magnetic rower that provides a smooth rowing performance with no lags or stuttering.
A key feature of the Hydrow is the 22-inch HD touchscreen that allows you to row in time with professional rowers from all over the world. Unlike almost every other interactive rower, you are actually rowing on the water! There are literally thousands of on-demand workouts from all over the planet to keep you absorbed and engaged. 
The built-in speakers that come with the monitor are very impressive, belting out the audio directly toward you when you're working out.
In addition to the huge number of rowing workouts on offer, you also get access to a range of pilates, strength, and yoga routines with full video instruction. 
To access the interactive features, including videos, you need to pay a monthly membership of $38.
Read our full Hydrow rower review. 
Best Gamified: Ergatta Rowing Machine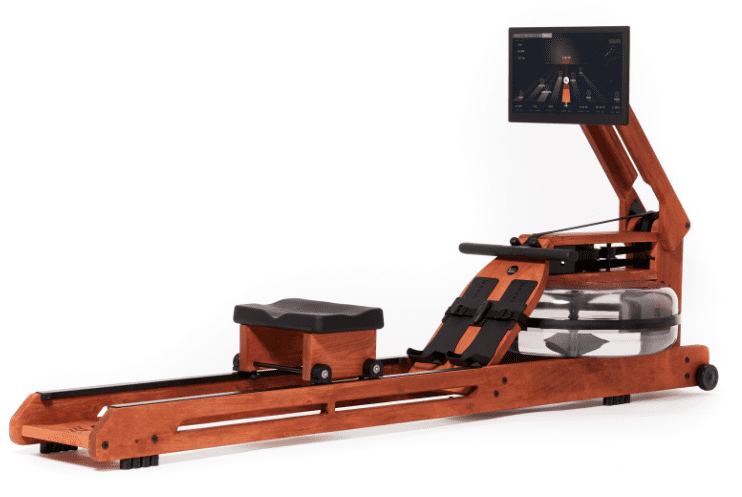 The Ergatta rowing machine leads the way in terms of rowing machine gamification. It makes working out fun by using video-game-style races to motivate and engage the user.
Ergatta is a software company that designed interactive fitness games and wanted to combine them with a top-quality rowing machine. They went to the WaterRower company and the two struck a deal. The result is the Ergatta rowing machine, which has a water rower body and a super cool interactive monitor.
The frame of the Ergatta looks great, thanks to the proven WaterRower design with its stained timber finish and stylish lines, not to mention the large, padded seat. With a 500-pound weight limit and 40-inch rail in-seam, this rower is suitable for users of all shapes and sizes.
The Ergatta is a water rower. It provides you with a close to the real thing water rowing experience that feels smooth and natural.
Ergatta membership costs $29 per month. This gives you access to dozens of extremely addictive games as well as challenges and competitions. This is all viewed on a 17 inch 1920 x 1080 HD screen.
Read our full Ergatta rower review. 
Best Water Rower: WaterRower Natural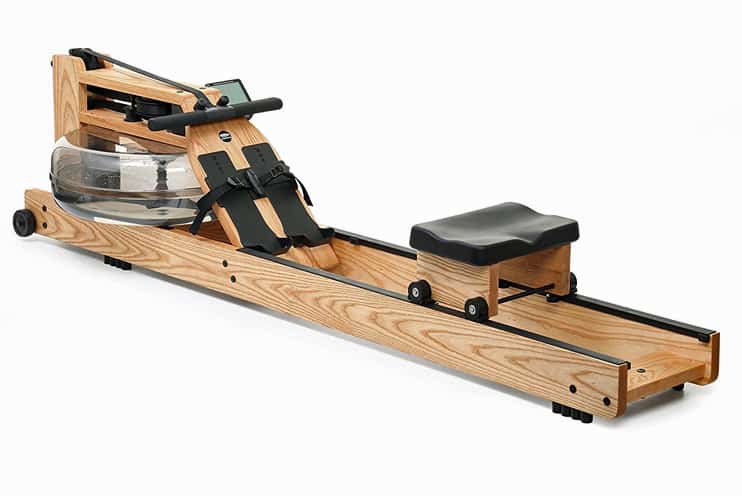 WaterRower is the original water rowing machine company and their products have been favorites from the get-go. The WaterRower Natural is a work of art as well as a functional piece of cardio gear. It is crafted from solid ash wood, with a honey oak stain finish. 
The large padded seat on the WaterRower Natural is larger than most and sits higher than on many other machines. That makes it more comfortable and easier to get on and off of. The rowing action is very smooth and natural, with the gentle whooshing and churning of the water transporting you to the lake for a realistic rowing simulation.
The console on this rower is functional and a decent size. However, it is offset and sits a bit too far from the seat for ease of viewing.
This machine can be stored upright but you should empty the tank before doing so.
Read our full WaterRower Natural Review.
Best Budget: Sunny Health & Fitness SF-RW5515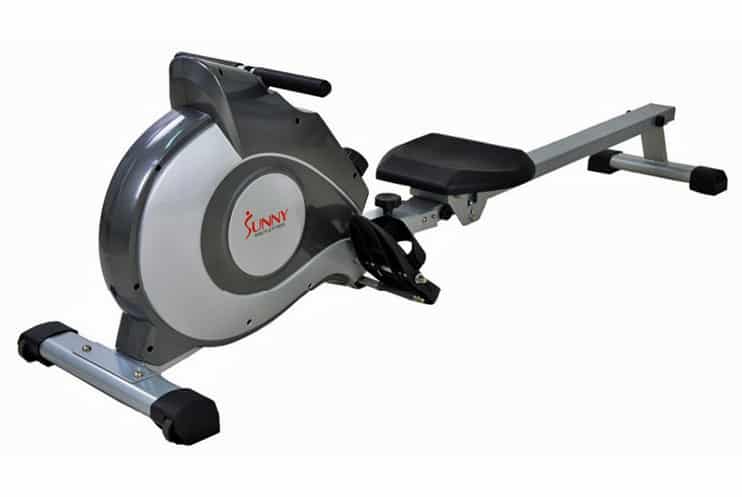 The Sunny Health & Fitness SF-RW5515 is a magnetic rowing machine that provides quality, form, and function at a great price. It provides you with 8 resistance levels, with adjustment controlled by a centrally located knob.
There are not as many resistance levels as many competitors but Sunny claims to have created a new resistance technology that provides greater resistance that is more fluid and smoother. Most users seem to agree based on the reviews.
The monitor on this rower is simple but functional, providing you with readouts of your time, strokes, calories, and total strokes.
Considering the budget price, the frame on this machine is of good quality. Obviously, it's not as rugged as a thousand-dollar machine, but it is strong enough to give you a number of years of reliable performance. It comes with a comfortable padded seat and foam-covered non-slip handles.
The Sunny Health & Fitness SF-RW5515 is a foldable machine that can be stored in a cupboard or under a bed. It also has transport wheels for ease of movement.
You can purchase this magnetic rowing machine for less than $300.
Read our full Sunny Health & Fitness SF-RW5515 review. 
Check price on Sunny Health & Fitness.
Echelon Row S Smart Rower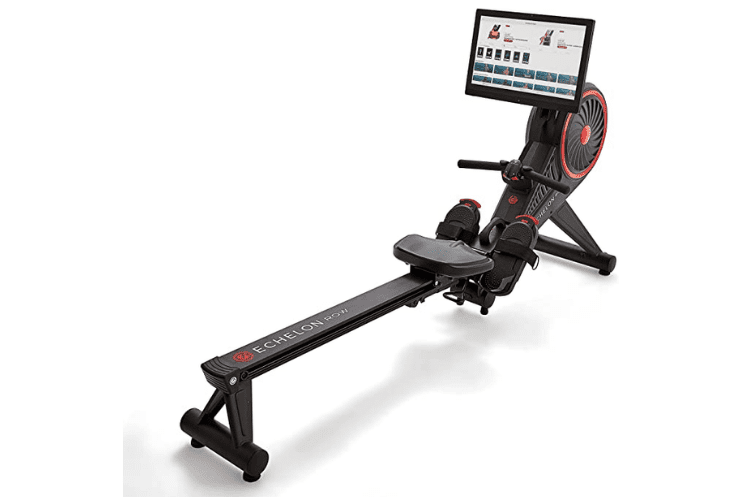 The Echelon Row S Smart Rower is a magnetic rower that provides 32 levels of tension adjustment by way of a Bluetooth controller on the handle. It provides a smooth rowing action and is quiet to operate.
The 22-inch touchscreen on the Echelon is huge and has the ability to turn 180 degrees. This allows you to follow along with non-rowing exercises when you are off the rower. The seat is comfortable and there is thicker footrest strapping than you get on many other rowers. 
The Echelon Fit membership plan will cost you $34.99 per month. This will give you access to five user profiles and a range of on-demand classes. You can also watch Netflix on screen, provided you've got a subscription.
NordicTrack RW900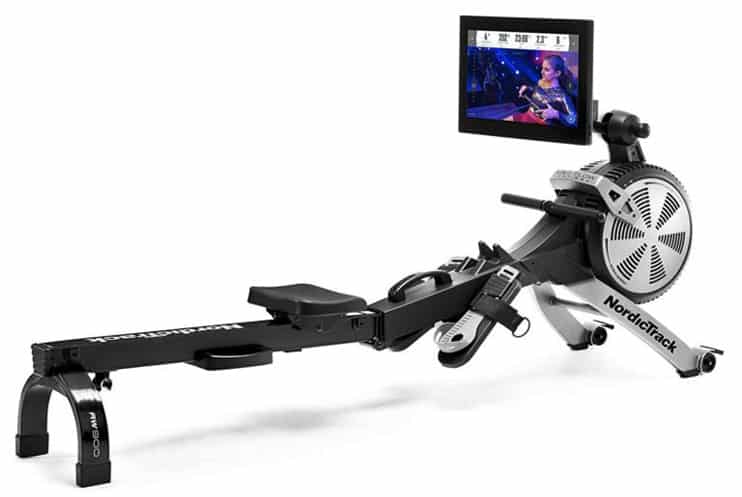 The NordicTrack RW900 is a combination magnetic / air resistance rowing machine. It features a large 22-inch smart screen for scrip viewing of the onboard workouts, which you can access with a NordicTrack iFit membership for $39 power month.
This rower features quiet magnetic resistance technology to provide you with a reduced noise workout, whether you are using air or magnetic resistance. If you choose magnetic, there are 26 preset digital resistance levels.
The ergonomic seat is well padded, providing a high level of comfort. The pedals are also placed wider than normal for enhanced ergonomics and comfort. It is a foldable machine that can be stored away with a very small footprint. 
Schwinn Crewmaster Rowing Machine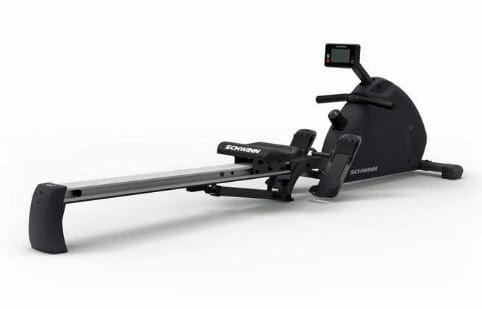 The Schwinn Crewemaster rowing machine is a solid magnetic resistance rower that features a durable frame and a quiet, smooth resistance. The long rail on this machine will allow users as tall as 6'4" to get a full range of motion.
The seat handles and footrests are all well-designed, with the footrests being wide and adjustable and the seat being wide and well-padded. There are 10 labels of manually adjusted resistance on this machine.
The monitor on the Schwinn Crewmaster is large and functional, providing you with a readout of your training time, stroke count, distance, stroke speed, calories, and recovery heart rate. It is also fitted with the ability to work with a chest strap pulse monitor, though you will have to buy the strap separately.
On the downside, there are no pre-set programs built into the monitor of the Schwinn Crewmaster. It does, however, come with a very good warranty, with 10 years on the frame, 3 years on parts, and 1 year on labor.
Read our full Schwinn Crewmaster review.
Rowing Machine For Beginners Buying Guide
As a brand-new rower, it can be quite overwhelming when you start checking out the rowing machine market. There are so many manufacturers out there, with a huge range in prices and completely different methods of resistance. 
In this section, we drill down on the key considerations you need to take into account to make the process a whole lot easier.
Resistance Type
The resistance type is the mechanism used to power the rowing machine. You will come across the following resistance types as you check the rowing machine market …
Air – a large fan wheel, fitted with blades is fitted to the front of the machine to generate wind resistance. This provides a natural feel but is quite noisy. You are unable to set the resistance level as it depends on how fast you row.
Water – a similar concept to air resistance that replaces that fan wheel with a water tank fitted with rotor blades. When you pull the handle, the blades churn through the water to create resistance. This resistance type provides the best simulation of actually rowing on the water. However, to change the resistance you have to add or subtract water from the tank.
Magnetic – a flywheel sits at the front of the machine. There are also magnets on either side of the flywheel. When you adjust the tension setting, the distance between the magnets and flywheel changes; the closer they are, the more tension is created.
Air + Magnetic – this combination of air and magnetic resistance provides the natural feel of an air rower while adding the resistance control of a magnetic rower.
Hydraulic – the resistance comes from a pair of hydraulic pistons that are housed in the rowing arms. The seat on a hydraulic does not move so the action is quite artificial. Hydraulic rowers will often produce a jerky rowing action. 
Price
There is a huge price fluctuation when it comes to indoor rowing machines. You can pick up a cheap hydraulic rower for around $50 (though I would not advise it) and you can also spend in advance $2500 for high-spec water, air, or magnetic rower with integrated technology. 
The most expensive machines are water rowers, followed by air and magnetic. When it comes to quality rowers that will stand the test of time, you can expect to pay anywhere between $600 and $1200. 
The Concept2 RowErg, our top-rated rowing machine for beginners, can be purchased for around $900. The average air rower price across the market is $750.
Air + Magnetic rowers are, naturally, a bit more expensive than either resistance type independently. The average air + magnetic rower price is around $1100.
Magnetic rowers are among the most economical resistance-type rowing machines, They have an average price of around $450.
The average price of a water rower is $1300.
The average for a hydraulic rower is $220, making it considerably cheaper than any of the other resistance types. However, I do not advise buying a hydraulic rower as it will not provide you with a natural, smooth full range of motion action to simulate the on-the-water experience. 
You should avoid going much below the average price, regardless of which resistance type you are looking at. A low price will generally indicate one or more of the following:
Cheap construction
Noise
Lack of fluid motion
Limited range of motion
Basic monitor
Unstable frame
Noise Level
No one wants to buy a noisy rowing machine. But having quiet exercise gear is even more important if you're living in an apartment or other close living quarters environment.
Two factors impact the noise level of a rowing machine:
Resistance type
Frame construction
The noisiest type of rowing machine is the air rower. Every time you pull on the handle, a whooshing noise will sound out as the air is pushed through the rotor blades. While not being super loud, it is still enough to annoy your neighbors early in the morning if you've got super thin apartment walls. It will also be a pain for others trying to watch TV while you're working out.
There will be a whooshing sound when you use a water rower. However, because it is contained within the water tank, it is not as loud as an air rower. Many people actually find the sound of the water churning through the tank to be quite soothing, enhancing the on-the-water simulation.
Monitor
The monitors on rowing machines can vary greatly, with the cheaper rowers simply giving a record of your training time and strokes per minute while others give much more, including providing challenges and interactive games.
An average-priced rowing machine monitor should provide you with a readout of your:
Time
Distance
Speed
Stroke Rate
Pulse Rate
You should also look for a monitor that provides challenging workouts such as countdowns where you are racing against the clock.
Foldability
Some rowing machines are folding in the slide rail, making them easier to store in a cupboard or under a bed. However, this may comprise the strength of the frame. Look for a rower that can be stored upright when not in use as this will significantly reduce its footprint. 
You should also look for a rower that has transportation wheels. This will make it easier to move the machine in and out of position.
Drive Mechanism
The drive mechanism consists of the resistance type, the handle, and whatever connects the two. This can be either a chain or a belt.
Chain drives are stronger. But they are also noisier and more expensive. A belt drive will wear over time, but should not have to be replaced for around 5 years.
Chain drives require regular lubrication, while belt drives do not.
Warranty
When the manufacturer stands behind their rowing machine with a good warranty, it gives you a good indication of the quality of the machine.
An example of a good rowing machine warranty would be …
Frame: Lifetime warranty
Parts: 5-year warranty
Electronics: 2-year warranty
Labor: 1-year warranty
Conclusion
Rowing is one of the best forms of cardio you can do that also works your entire body. The best rowing machine on the market right now is the Concept2 RowErg. This is a very durable, sleek, comfortable-to-use rower that delivers a smooth, natural rowing action and comes with an advanced monitor.
FAQ's
What is a good beginner rowing machine?
The best beginner rowing machine is the Concept2 RowErg. This perennial favorite is extremely sturdy, provides a very smooth row, and has a very good monitor. You can buy a Concept2 RowErg for around $900.
How long should a beginner use a rowing machine?
A beginner should start with 10-15 minutes of rowing. During this time, they should focus on the proper mechanics of the movement and slowly build up their time by about 5 minutes per session to a total of 30-40 minutes.
Is a rowing machine hard for beginners?
There is a learning curve when it comes to rowing for beginners. However, it doesn't take long for most people to get the mechanics down pat. From that point on, it is just a matter of doing what you know.
Can you get in shape by just rowing?
Rowing by itself can improve your cardiovascular fitness. However, to achieve significant results in terms of losing weight and shaping up, you should also do some resistance training and control your nutrition intake. The combination of all 3 – rowing, resistance training, and proper eating – will allow you to get in the shape of your life.