So you want a rowing machine so that you can workout at home but you're concerned because you either don't have a lot of space or you don't want a huge machine becoming an eyesore in your home. Luckily there are many small rowers on the market that also have the ability to be great space savers.
I put the best compact rowing machines through their paces, and these were the ones that stood out.
Best Compact Interactive Rower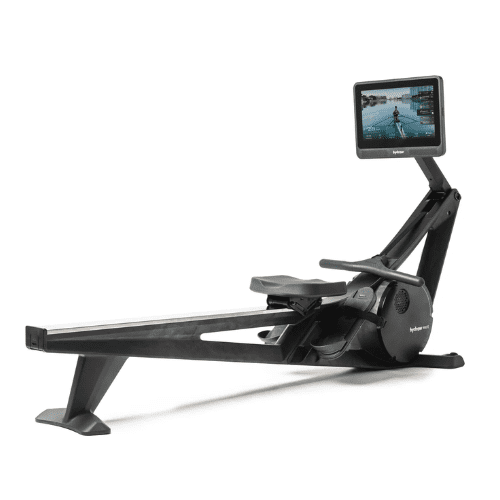 Best Budget Folding Rower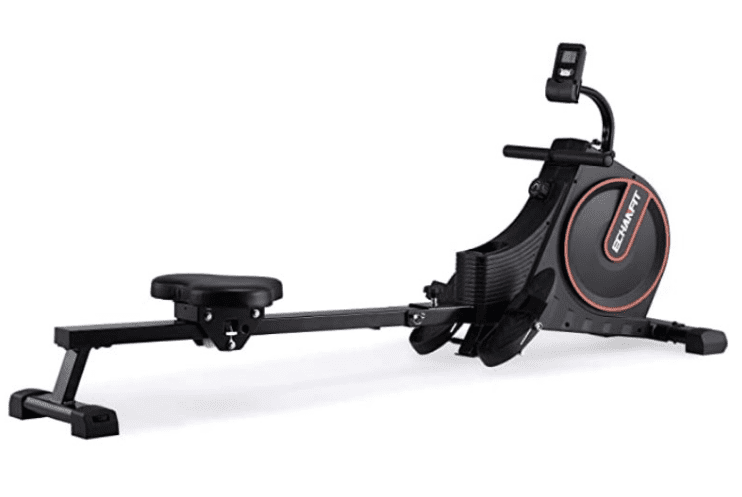 In this article, we'll take a look at our top picks for the best compact, folding, and portable rowing machines available in 2022. 
---
Best Folding Rowing Machines
Best Overall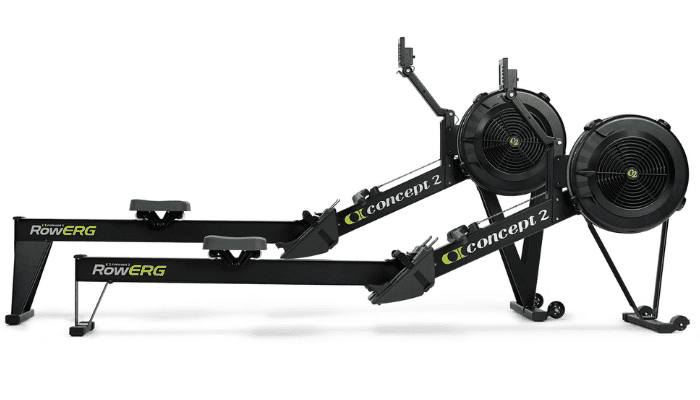 Very durable
Low profile
Air damper
PM5 technology-enhanced monitor
Pros
High quality, long-lasting build
Quick and easy assembly
Fairly high price but good value for your money
Considered the industry standard
Realistic smooth rowing motion
High-performance monitor
Bluetooth compatibility
Easy to fold and store
Cons
High price (but worth it)
Is quite loud
Seat hard for some users
Is long but can be folded away nicely
The Concept2 Model D is a fantastic rowing machine. If you purchase this machine you won't be disappointed. It's the world's best-selling rowing machine for a reason.
But what about its foldability?
Well, you actually have two options, both easy and convenient. Firstly, you can choose to store the machine upright on its end without the need for disassembly. Or you can break the machine down into two separate components by using a quick-release mechanism placed around the middle of the rail – no tools required. You can then reconnect the machine just as easily when you are ready to use it again.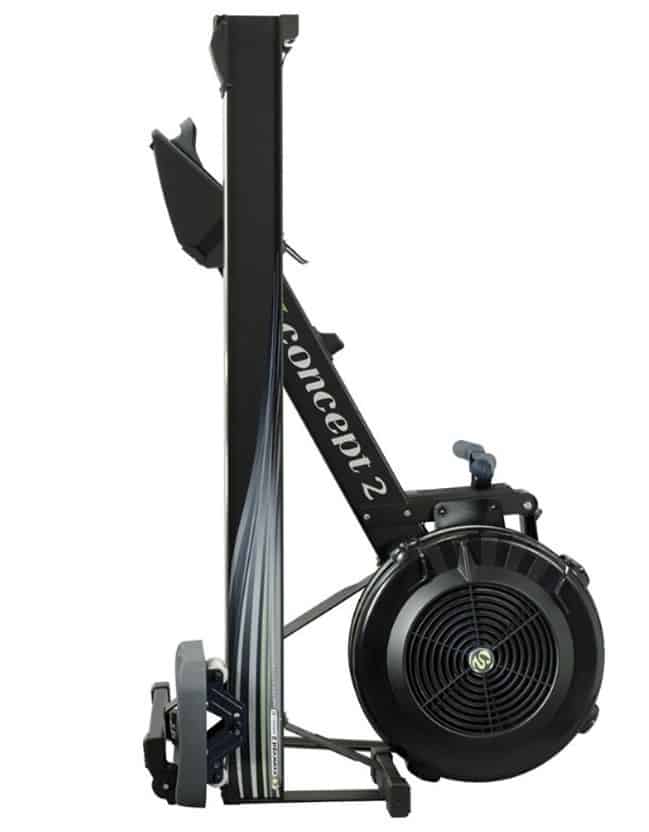 The Model D can be easily stored in the closet, under the bed, or just in the corner out of the way. It's easy to move and you'll have no trouble maneuvering the two parts. It also comes with caster wheels so if you choose to store it upright you can easily move it or change its location if need be.
The monitor arm and screen can also be folded down for storage so you don't need to worry about them getting damaged.
Another thing to point out is that this machine is very well built. The frame is sturdy and has a maximum weight capacity of 500lbs.
Dimensions (Inches): 96 x 24
Folded Dimensions: 25 x 33 x 54
Weight: 57 lbs.
Weight Capacity: 500 pounds
Resistance Type: Air-resistant flywheel
Read our full Concept2 Model D review.
Best Budget Folding Rower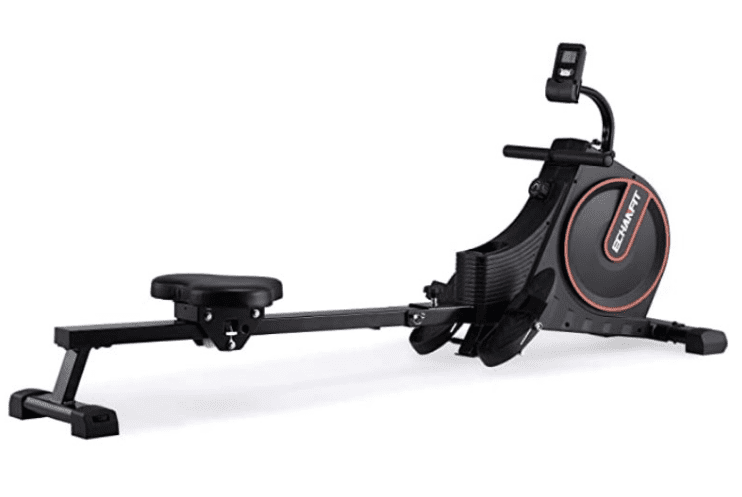 16 levels of tension
Silent magnetic resistance
Adjustable console
Pros
16 levels of magnetic resistance
Smooth and quiet
Budget-priced
Cons
Not for taller people
No built-in programs
The EchanFit is a budget magnetic rower that provides you with 16 levels of magnetic resistance. Adjustment is made by way of a centrally located knob. This resistance range will suit most beginners but more experienced rowers will find the highest levels not powerful enough.
The LCD monitor on this magnetic rower is pretty basic, as is standard for budget magnetic rowers. You get the standard data to monitor your workout but there are no built-in programs.
The EnchantFit rower is not built for tall people. If you are over 6'1, then you will not be able to get a full leg extension on your row.
This is a compact rower machine that folds up easily for storage. It comes with a one-year frame warranty with 6 months parts coverage.
Dimensions (Inches): 75" x 19" x 34"
Folded Dimensions: Not Specified
Weight: 59 pounds
Weight Capacity: 265 pounds
Resistance Type: Magnetic
Best For Interactive Versatility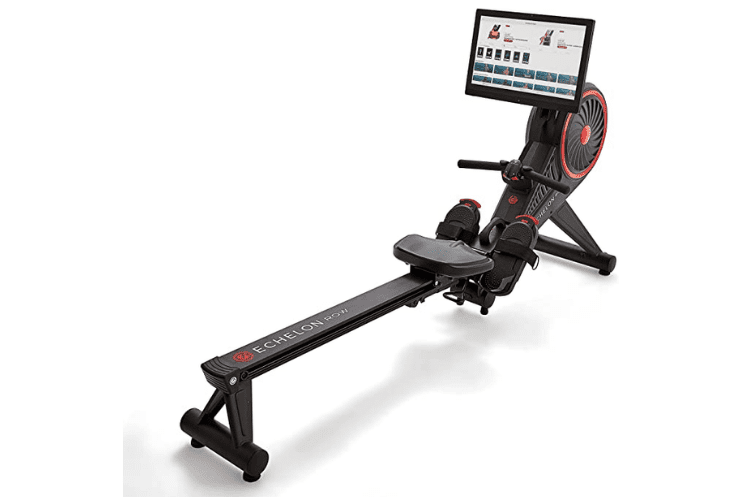 Echelon Premier Membership with access to more than 3,000 live and on-demand connected fitness classes
22" rotating HD screen for off-row workouts
Stay energized and motivated with the best music in the industry
Pros
Quiet operation
Affordable
32 resistance levels
Cons
Limited 12-month warranty
The Echelon Smart Rower is a magnetic folding rowing machine that sets out to rival high-end smart rowers like the Aviron by providing smart rowing options that pair with your personal tablet. So rather than a display monitor, the Echelon simply has a tablet holder. When you attach your tablet you are able to stream FitPass rowing classes via Bluetooth.
The Echelon delivers 32 levels of smooth magnetic resistance, adjustable by way of up/down buttons on the handles. This means that you don't have to stop rowing to adjust the resistance level. The resistance used here is extremely quiet, making it ideal for people who are rowing in apartments or other close-quarters settings.
This is a storage-friendly mode. It folds in half to enable you to store it vertically when you're not using it. This rower makes use of a belt drive rather than a chain drive system. This contributes to the quiet operation of the machine.
The FitPass App provides you with the following training options:
Indoor rowing classes
Outdoor routes
Live classes
On-demand classes
The Echelon rower provides you with a comfortable workout. It features wide pedals, an ergonomically contoured seat, and a padded handle.
Dimensions (Inches): 83.5" x 42" x 20.5"
Folded Dimensions: Not specified
Weight: 108 lb
Weight Capacity: 300 lbs
Resistance Type: Magnetic
Best Budget Air Rower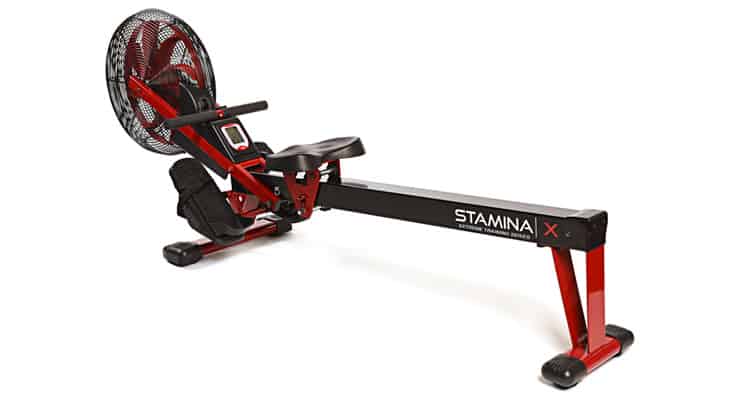 Durable frame
Angled seat rail
Molded seat
Pros
Durable frame
Angled seat rail
Molded seat
Pivoting foot pedals
The Stamina X Air Rower provides a solid stable frame, coupled with a durable chain and molded seat for a reliable, comfortable rowing experience. The seat rail is angled, allowing for a smoother return. The padded handles and pivoting footplates enhance the comfort of this machine.
The monitor on the Stamina X Air Rower provides you with a readout of your key training diagnostics, including your strokes power minute, total strokes, distance, speed, time, and calories burned. However, you won't find any built-in workout programs on this monitor. You are also unable to download your training data to your tablet or phone for later analysis.
The rower will arrive partly assembled. All you need to do is to connect the rear support footplates and console, which should take less than 30 minutes. Your purchase is covered by a 3-year frame warranty with 90 days on labor. That is pretty good for a rower in its price range.
Dimensions (Inches): 78.5" x 18" x 29"
Folded Dimensions: Not Specified
Weight: 63 pounds
Weight Capacity: 250 pounds
Resistance Type: Magnetic
Best Membership Trial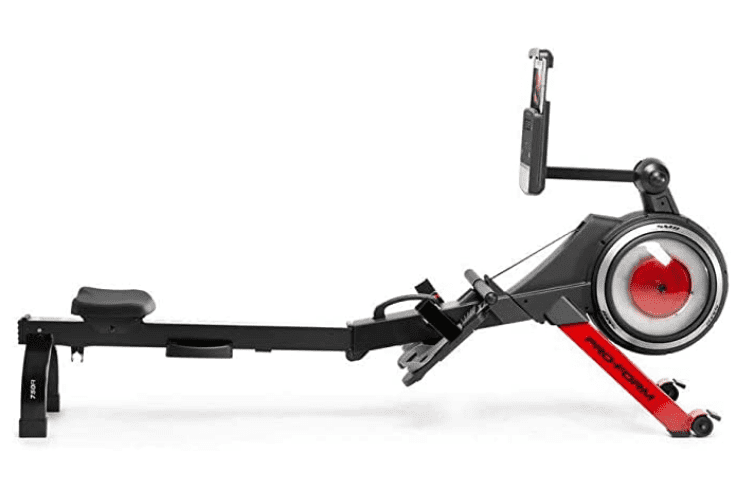 Complimentary 30-Day iFIT Membership
Stream interactive iFIT workouts
24 Digital Resistance Levels
Pros
24 resistance levels
20 inbuilt programs
Smooth resistance
Inertia enhanced flywheel
Cons
Max user weight is only 250 pounds
The ProForm 750R smart rowing is a quiet smooth magnetic rower that provides 24 levels of resistance. This is a good choice if you're wanting live-streaming fitness classes. Your purchase comes with a complimentary one-month subscription to iFit.
You can get a challenging workout with this rower making it suitable for intermediate and advanced level trainers. The monitor tracks most of your key training diagnostics but this does not include heart rate monitoring. In addition to classes available through iFit, there are 20 inbuilt programs on this machine.
The 5-inch monitor on this machine is vertically adjustable for a better viewing angle. There is also a tablet holder to attach your own device. The inertia-enhanced flywheel provides a very impressive, smooth, jerk-free resistance.
Even though the frame is strong, the ProForm 750R only has a max user weight of 250, making it not suitable for larger people.
Dimensions (Inches): 22" x 86.5" x 45.5
Folded Dimensions: Not specified
Weight: 115 pounds
Weight Capacity: 250 pounds
Resistance Type: Magnetic
Best Features On A Budget Rower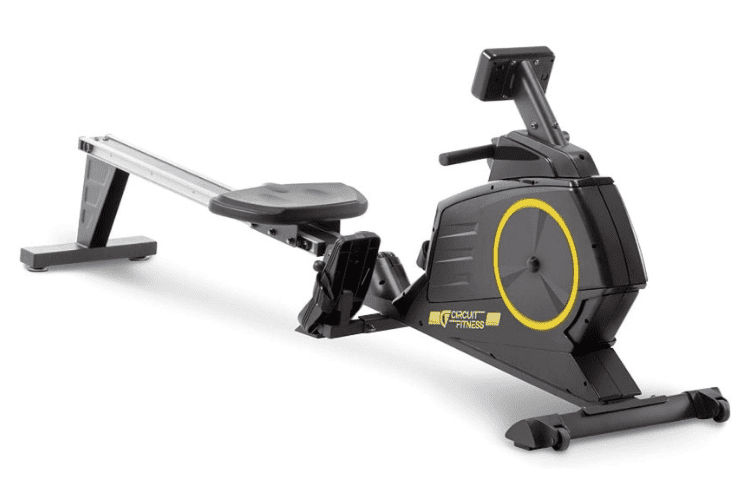 Led display
Durable mold-injected seat
Compact and foldable
Pros
Quiet resistance
11-pound flywheel
Great for tall people
Race + manual mode
Cons
No heart rate monitoring
Monitor not backlit
The Circuit Fitness Deluxe Foldable is powered by an 11-pound flywheel to deliver a level of smooth resistance that you don't usually get for a magnetic rower in its price range. With a 91-inch length, this machine is ideal for taller people. This is a folding model that can fit under a bed or in a cupboard. It comes with wheels for ease of transportation.
The seat is positioned about 12 inches from the ground and is angled for a smooth glide. The footrests are slightly wider than you normally see. Secure foot straps keep you locked in for a secure ride. The max user weight of this machine is 300 pounds.
This machine comes with 8 levels of adjustable resistance, controlled by a central shift stick. The display console is large and easy to read, providing you with readouts of your time, calories, stroke rate, and meters. It is also compatible with a chest strap pulse monitor. You can set goal-based workouts based on time, distance, calories, stroke, or pulse.
The monitor also allows you to choose between either manual or race mode. In race mode, you get to select between 15 levels and then race against the computer.
At a price of around $400, the Circuit Fitness Deluxe foldable packs in quite a few features that you normally wouldn't see under $500.
Dimensions (Inches): 91" x 21" x 31.5"
Folded Dimensions: Not Specified
Weight: 90 pounds
Weight Capacity: 300 pounds
Resistance Type: Magnetic
Best 2 in 1 Rower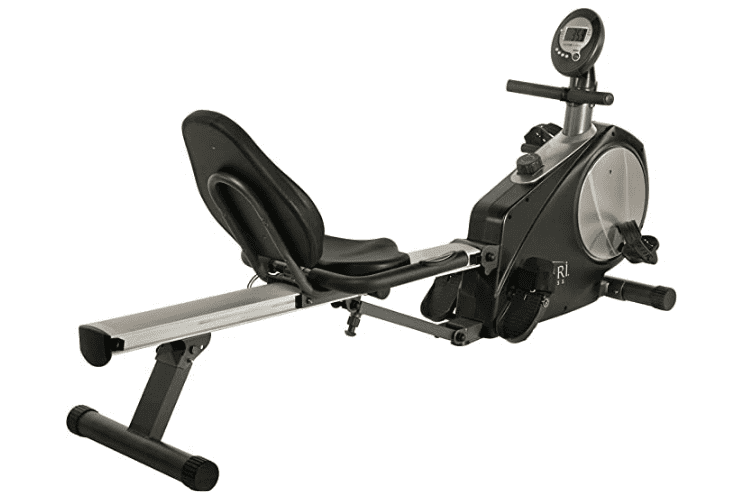 Smooth, quiet magnetic resistance
Oversized, molded, adjustable foam-padded seat and seatback
Multi-function monitor displays speed, distance, time, odometer, heart rate, and calories burned
Pros
Two machines in one
Recumbent positioning
8 levels of magnetic resistance
Large monitor
Cons
Max user weight limited to 250 pounds
The Avari Conversion II Rower is a recumbent rowing, providing a high seat back to provide more back protection. That makes this machine ideal for people who are suffering from lower backache. Better still, this machine is also a recumbent cycle, providing pedals for you to switch between rowing and cycling at your convenience. That means that you're getting two machines in one.
You get eight levels of magnetic resistance on this rower, ranging from very easy to quite challenging. The frame is quite solid but will only support a max user weight of 250 pounds, meaning that it won't be suitable for larger people.
The large centrally located monitor will give you a readout of your speed, distance, time, calories, and pulse. A scan function cycles through these data points every six seconds.
Assembling the Avari Conversion II is quite labor-intensive, requiring about two hours of your time. It comes with a three-year frame warranty and 90 days on parts.
Dimensions (Inches): 74.5" x 23.5" x 34"
Folded Dimensions: Not Specified
Weight: 102 pounds
Weight Capacity: 250 pounds
Resistance Type: Magnetic
Best Budget Adjustable Resistance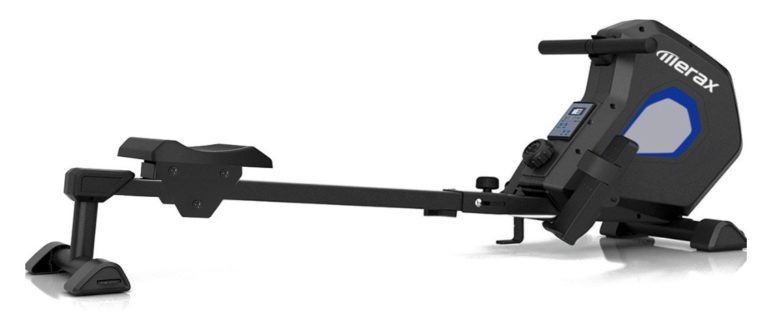 Very compact and lightweight
Easily foldable for storage
8 levels of adjustable resistance
Pros
Very compact and lightweight
Easily foldable for storage
8 levels of adjustable resistance
Multi-function fitness monitor
Decent warranty
Cons
Can't perform full range of motion strokes
Basic monitor controls
Resistance levels not acceptable for advanced users
Seat is hard
The Merax Magnetic Exercise Rower is a solid machine. It's well built, sturdy, and surprisingly comfortable to use. I say surprisingly because with all its sharp lines it looks as though Merax went for design over comfort. But I can assure you that this is not the case. It's not just me that thinks so, this product scored very high with consumers.
The machine comes with 8 resistance levels which can be adjusted using an easy-to-reach dial positioned just under the monitor. It's nice that it's within reach whilst you are already on the rower. You won't need to struggle to lean forward or get up to switch up your resistance for intervals or other training.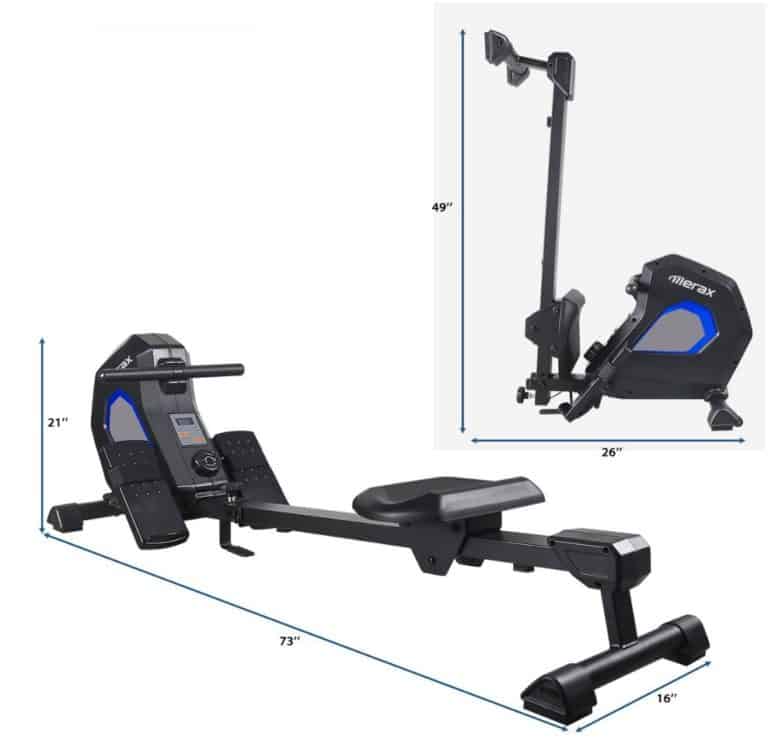 Of course, the rower can be easily folded. It has built-in wheels for easy transportation when you want to put it away. To fold, simply take out the locking pin from the seat rail and fold the seat rail into an upright position. Then simply reinsert the pin to make sure the machine is secure.
Dimensions (Inches): 73″ x 16″ x 21″
Folded Dimensions: 26″ x 16″ x 49″
Weight: 74 pounds
Weight Capacity: 264 pounds
Resistance Type: Magnetic
Best Budget Magnetic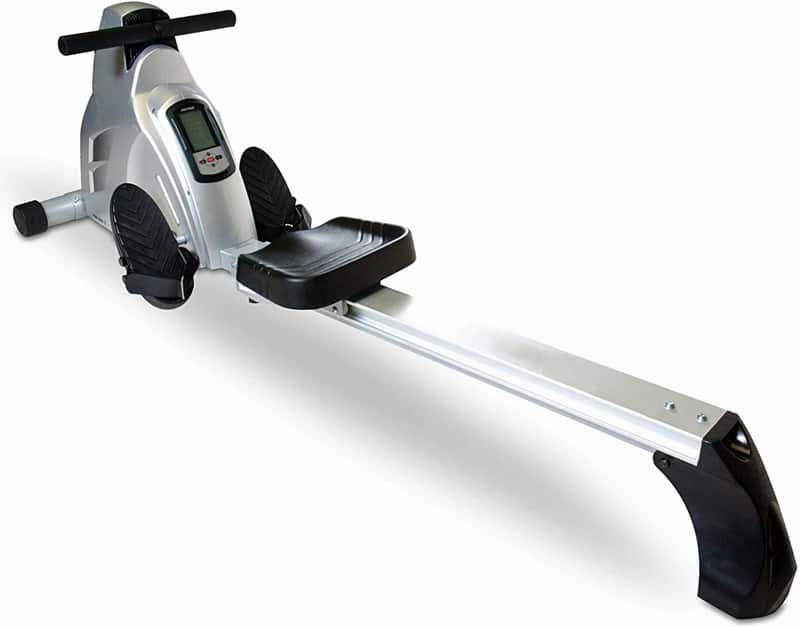 Smooth and very quiet
Durable
Large monitor with a backlit screen
Pros
Smooth and very quiet
Durable
Large monitor with a backlit screen
Comfortable, large seat
Velcro straps secure feet
Heart rate monitor
Foldable for storage
Cons
Requires power supply to use resistance
Short monitor and parts warranty
The Velocity Exercise Magnetic Rower is a reliable machine that comes at a reasonable price. It also has very good customer reviews. It is a great choice as an entry-level rower for those looking to start exercising and get fit.
The magnetic rower allows you to control the resistance with buttons on the control panel. What's nice about this machine is that it provides good levels of tension, something that is often lagging on magnetic rowers. This is due to the drum magnetic control system with electronic tension that allows for a noticeable variance in resistance.
As for the build, you get a sturdy and durable frame that's made from aluminum. This keeps the rower lightweight and you should have no trouble moving it around your home. The rower also has a large molded seat and large footplates which make it comfortable to use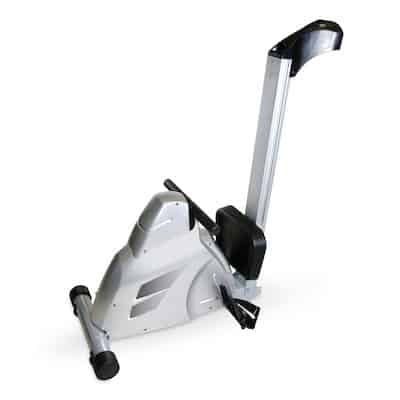 If you're short on space at home then the Velocity Exercise Rower will be a great choice. As with a lot of machines you first have to remove the knob from the seat rail. This will allow you to fold the machine up. Once it's in place simply screw the knob back on to make sure the machine is secure. Then you're ready to store in the closet, under the bed, or wherever you see fit. You can also transport easily using the built-in wheels.
Dimensions (Inches): 80.71 x 25.2 x 20.08
Folded Dimensions: 4.5 x 3 x 2 feet
Weight: 74.94 pounds
Weight Capacity: 275 pounds
Resistance Type: Magnetic
---
Best Compact Rowing Machines
Best Compact Interactive Rower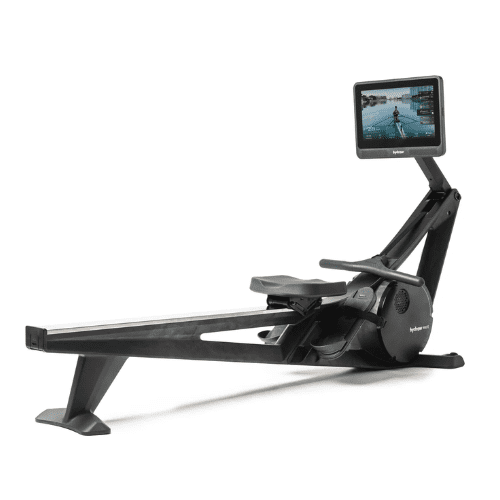 Reactive electromagnetic resistance
Intensity levels from 1-300
16-inch screen
Pros
Economical version of the original Hydrow
Beginner friendly workouts
Solid polycarbonate frame
16-inch touch screen
Cons
Touchscreen does not swivel
Not worth it without the membership
The team at Hydrow has managed to do something quite special with their new offering. The Hydrow Wave is a smaller, lighter, and more compact version of their original Hydrow Rower. Yet maintains the high quality that made its predecessor so great.  
If you ever considered getting a Hydrow but were put off by the size and price, then you need to seriously consider the Hydrow Wave.
Not only is it 30% smaller than the original Hydrow rower, but it's also surprisingly lightweight (at 102lbs) and easy to move around…making it a great option for those with less space.
In use, the Wave has dimensions of 80″L x 19″W x 43″H. It can also be stored vertically, folding the screen down and attaching it to a wall anchor (dimensions of 26.5″W x 30″D x 82″H).
This is the same way in which the Hydrow Rower is stored but the size difference and portability of the Wave just make this so much easier. You won't have any issues storing it or moving it into place when you're ready to workout.
The Wave is made from polycarbonate (as opposed to steel) which allows it to be lightweight. But the machine still feels durable and doesn't give or move when you row hard which is really impressive.
In fact, the sliding motion along the rail feels just as, if not more smooth than the Hydrow Rower.
Speaking of the rail, it's actually the same length as the one on the original. This is great news for taller users as they'll be able to use the Wave without compromising their rowing form.
The Hydrow Wave comes in a black finish with the resistance mechanism exposed. It has a less futuristic feel than the original but has its own uniqueness. Personally, I really like the look and feel.
The magnetic resistance on this rower works brilliantly. It produces a smooth rowing motion and is quiet in use. You would not be able to tell the difference between the Wave and the original. That's some feat!
The seat, handle and footplates come with the same ergonomically designed features making the Wave very comfortable to use in all aspects.
It comes with a 22-inch monitor with a high-definition 16-inch touch display. Although smaller than the original it's still by far the best screen you can get on a compact rowing machine. And iff you're looking for a compact rower then I don't think the smaller screen will bother you at all.
My one issue with it is that it does not swivel. This will make the screen more difficult to view if you want to perform off-the-rower workouts and could have easily been added. But I guess they need to save some features for their flagship rower hey.
Apart from the size, the monitor is almost identical to the original, using the same speakers and software, giving you access to the full Hydrow experience.
This includes live workouts, on-demand workouts, and distance rowing.
You do need the membership to access these features though and that is an extra cost (currently $38/month).
But of course, you also save a lot with this machine compared to the original. The Wave is $1000 less, currently at $1,495. Still pricey compared to the other rowers on this list but it's a great price considering what you get.
I highly recommended the original Hydrow Rower even with its high price tag, so this more budget-friendly option is a no-brainer for me.
If you have the money to spend and want a quality interactive rower that won't eat up space, this is the only option you should be considering.
However, the interactive features are really what brings this machine to life and you lose a lot of functionality if you don't sign up for the membership (no workouts and no tracking data and metrics).
So if you don't want to pay for a monthly membership then I wouldn't recommend this rower (or any interactive rower). If your budget is around $1000, look at the Concept2 RowERG instead.
Read our full Hydrow Wave review for more information. 
Best Budget Hydraulic ROwer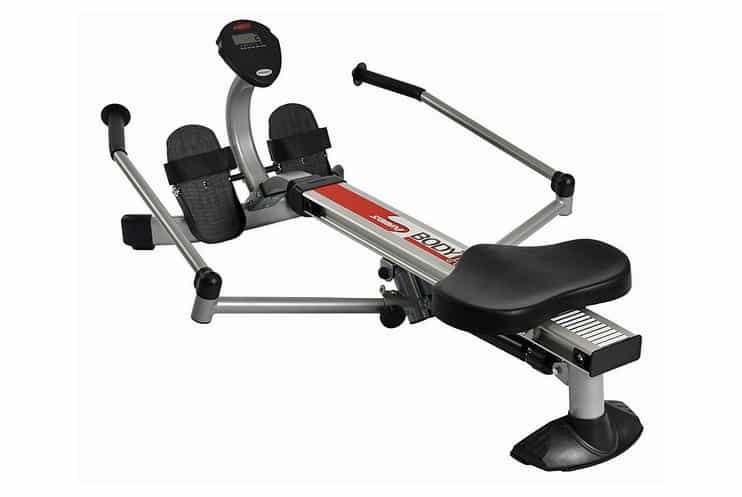 Durable build
Lower price option
Comfortable seat
Pros
Price
Durable
Small footprint
Lightweight
Multi-functional work-out design
Padded handles for comfort
Twelve resistance levels
Cons
Comfort of seat on longer sessions
Foot straps may not suit all
Resistance can drop off on longer sessions
The Stamina BodyTrac Glider 1050 is the perfect option if you are looking for a rower to fit your healthy lifestyle but don't have the space to match at home. Not only does it have a small footprint compared to other machines before it's even folded but it's also a legit rower too. Meaning you will get a good workout from using it.
To fold, just bring the arms in towards the frame, and voila, it's ready to store. When folded the rower is nice and streamlined which makes it super easy to store standing up or lying down. You can even place it in a cupboard or under a unit out of sight. The BodyTrac Glider 1050 is also very lightweight which makes it easy to move around and take it from storage space to workout space.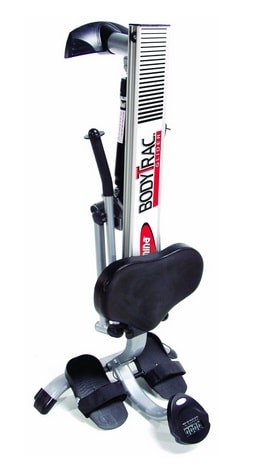 The Stamina Body Trac Glider 1050 offers a unique rowing experience. Unlike most rowers that have a single connected handle via a chain or belt, this machine has two independent rowing arms which mimic the motion of sculling to give you the feeling that you would have in a real boat.
Dimensions (Inches): 58L x 43W x 18H
Folded Dimensions: 48L x 34W x 18H
Weight: 59 pounds
Weight Capacity: 250 pounds
Resistance Type: Hydraulic
Read our full Stamina BodyTrac Glider 1050 review.
Best Hydraulic Rower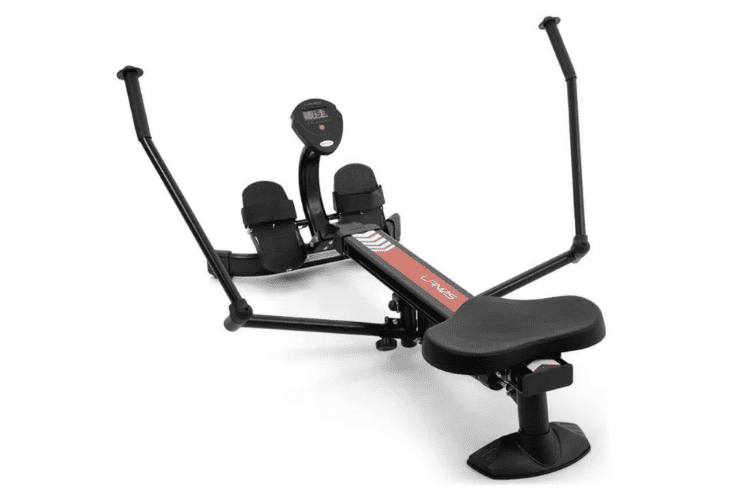 Solid frame
Comfortable seat
Fluid, jerk-free rowing motion
Pros
Solid frame
Comfortable seat
Fluid, jerk-free rowing motion
Cons
Plastic nut connecting arms to the base
The Lanos Hydraulic rowing machine is one of the best-value hydraulic piston machines for beginners that you'll find anywhere. While hydraulic pistons provide a compact rowing alternative, the resistance can't be adjusted while you're rowing. The Lanos rower delivers a more fluid, jerk-free rowing action than most competitors at this price range.
The Lanos rower comes with a basic but functional monitor that monitors your scan, time, count, calories, and total count. A solid steel body with a sturdy base and solid arms make for a durable frame. However, some of the accessory components, such as the plastic nut connecting the hydraulic pistons to the frame are a weakness.
The Lanos rower provides a comfortable rowing experience, thanks to the extra-large seat with enhanced padding and pivoting footrests. The handlebars also feature an easy-grip foam covering. This is a functional, compact machine that folds for easy storage in a cupboard or under a bed.
Dimensions (Inches): 50 x 36.22 x 20 inches
Folded Dimensions: 49 x 23 x 29 inches
Weight: 34 pounds
Weight Capacity: 330 pounds
Resistance Type: Hydraulic
---
Folding Rowing Machine Buyers Guide
Here are a list of features you should consider when looking to for a compact rowing machine that is suitable for your space.
Weight
You should consider the weight of any rowing machine that you're thinking about purchasing. Even if the rower can be folded, a heavy machine can make it difficult to maneuver. You don't want setting up and putting the rower away to be a workout in itself.
You can gauge if the machine will be heavy or not based on the material. Rowing machines usually have steel, aluminum, or wooden frames (such as the WaterRower). The steel frames will be the heaviest type with aluminum being the lightest material. Water rowers will also have some weight due to the water tank.
Size
Having a machine that is foldable is all well and good but if the rower is significant in size then you may find that even when folded it still takes up too much space or does not fit in with the space you have available.
You may need to consider your own size as well when selecting your rowing machine. Smaller, more compact rowers will usually have a lower maximum user weight than their larger counterparts so may not be suitable for you if you are overweight.
Likewise, if you are tall, you may need a machine with a longer rail to make sure you can row back and forth smoothly without bumping/avoiding your knees with every stroke. If you fall into either category don't worry, there are still options available. Just make sure you have checked all the specifications before you buy. A good source to check if you need more information is the manufacturer's website or even try giving them a call.
Comfort
Comfort may not be the first thing that comes to mind when you picture putting yourself through a grueling workout but I can assure you, if you're going to be using your rowing machine for a long length of time then you want it to be comfortable.
Size may be the biggest factor in comfortability for the reasons mentioned above. If the machine is too small for your needs then you will almost definitely be uncomfortable when rowing. Working out can be hard enough without having to endure discomfort every time you get to work. It's also important as you do not want to cause yourself any pain or unnecessary injuries because you can't perform the correct technique.
On top of this, you want to make sure that you purchase a rower with a comfortable seat, handles that don't irritate your hands and footplates that are stable and secure.
Portability
This one is obvious. If you're looking for a foldable rowing machine for your home, chances are you will want something that is easy to move and store away once you've completed your workout.
The easiest thing to do would be to have a designated space for your rower and leave it there. But since you're reading this that probably isn't an option. To make sure your rower is easy to transport and move around go for one that is lightweight and has wheels.
You also want to make sure that folding your rowing machine is as simple as possible. You don't want to be fiddling around with small parts trying to make sure everything is secure before you're done.
Depending on the space you have available you may not even need a foldable machine. Some rowers, though they can't be folded can be raised to stand vertically. This may even be a better option for you
Other Factors
When looking to purchase a home rowing machine that suits your training goals and needs there are other factors that should be considered before you buy. There's no point in having a machine that fits your space but does not meet your other requirements or doesn't provide a good user experience.
Things such as resistance type, cost, monitor screen, and warranty are all important. To read about them and to make sure you know everything there is to know before you buy, check out our complete buyer's guide.
---
Final Thoughts On The Best Folding Rowing Machines
There you have it – our list of the top compact rowing machines for all budgets. Whether you're looking for a small rowing machine, a portable rower, or one you can even slide out from under your bed. This list has you covered.
If you're interested in looking at some of the best rowing machines available then you can check out our best rowing machines review.
---
FAQs
What is the most compact rowing machine?
The most compact rowing machine is the Velocity Exercise Magnetic Rower, which has folded dimensions of 26″ x 16″ x 49″. That makes it ideal for confined spaces and storage under beds or in cupboards.
Are foldable rowing machines any good?
Some foldable rowing machines are excellent in terms of their functionality and sturdiness. However, many others have compromised strength as a result of the folding mechanism. Use this guide to help you choose the best compact rowing machines on the market.
Can a rowing machine fit under a bed?
Yes, some folding rowing machines will fit under a bed. Look through our list of the best folding rowers and check the dimensions to see which ones will fit under your bed.
Can you fold a Concept 2 rower?
Yes, the Concept 2 rowing machine can be folded down. There is a quick-release mechanism that allows you to break the machine down into two parts. You don't need any tools to do this. You can also store the Concept 2 in an upright position. 
What is the best fold-up rowing machine?