Start Rowing Score
The CITYROW GO Max offers a unique boutique-style fitness class workout. Manufactured by the mighty WaterRower, its quality design and functionality, combined with a huge workout library make it one of the top rowers on the market.
Pros
Hundreds of workout classes
Fun instructor-led workouts
Manufactured by WaterRower
Suitable for all fitness and experience levels
Rotating interactive 19.5″ touch screen
Very compact for a smart rower
Can be stored upright
Cons
No live classes or leaderboards
No pre-designed training programs
This is our review of the CITYROW GO Max rowing machine.
You may have already heard of CITYROW GO. They started off as a franchise business offering live rowing classes in their studios (they may even have one near you).
They then added the app and recorded classes to cater to those who prefer to workout from the comfort of their home.
The app is now available to purchase along with their Max and Classic rowers.
We'll look at how the Max fairs against the other smart rowers on the market and why everyone is talking about the CITYROW app and their trainer-led classes.
Keep reading to see if this machine is right for you. "Why spin when you can row," well let's find out!
Functionality and Design
Just like the Ergatta rower, the CITYROW GO Max is manufactured by the folks over at WaterRower. So if you think the machine has some sort of familiarity about it, that'll be why.
WaterRower has a long history in rowing machines, producing some of the best-looking and best-performing rowers. Therefore you can rest assured that the quality of the machine and its rowing capabilities are of the highest standard.
But don't be fooled into thinking this is just another WaterRower as the CITYROW GO Max has its own unique look and style, with a 19.5-inch interactive touch screen worthy of rivaling the best smart machines (but we'll get to that!).
The CITYROW GO's wooden frame is made from sustainable American ash wood and its distinct black finish from powder-coated aluminum really makes it pop. Personally, I prefer the aesthetics of the brown WaterRowers, however, I like the fact that CITYROW decided to stand out from the crowd. The machine still looks beautiful and would look great in most rooms.
Although not too dissimilar to most WaterRowers in the design front, the Max is built on a mono-rail (unlike the Ergatta which has 2). This doesn't have any real effect on performance. The rail feels sturdy and smooth during each rowing stroke which is important and I suppose it's another aesthetic choice to be aware of.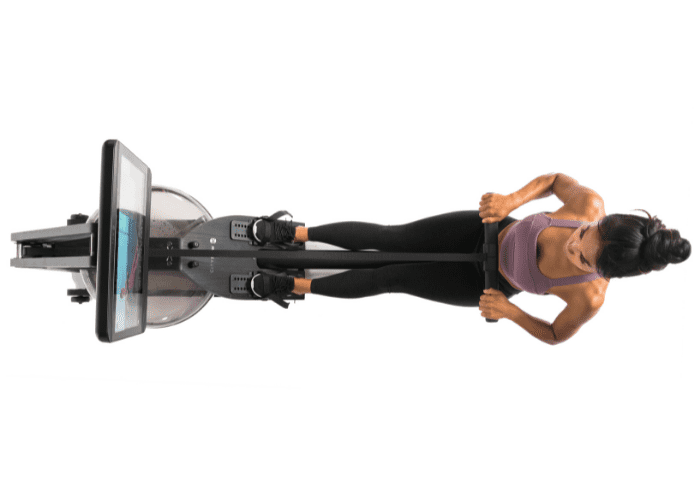 The overall comfort of the machine is high which is vital as the CITYROW classes can last up to 50 minutes.
You can also expect this machine to hold up under high usage with no maintenance issues. So no problem if you're looking to exercise 4-5x times a week. I'll tell you how to solve any issues that may occur a bit later.
As with all rowers produced by WaterRower, the water is concealed in a clear water tank. I love being able to see the water swirl around the tank and the whooshing sound creates a calming and realistic rowing experience.
One unique aspect of water rowers that sets them apart from other types of rowing machines is that there is no lever, knob, or button to increase the resistance level. The resistance will adjust to your level of effort. Meaning the harder you row, the stronger the level of resistance will be.
You can always adjust this by adding more water to the tank but it's recommended to leave it at the level set by CITYROW. Trust me, it offers more than enough resistance.
One downside to water rowers is that some users find them noisy. Not as noisy as air rowers but not as quiet as magnetic rowers. I love the sounds from water rowers and never really understand the "noise debate" as you're more likely to have your TV louder than these machines go. That being said, if you want to be as quiet as possible then this is something to consider.
Monitor Design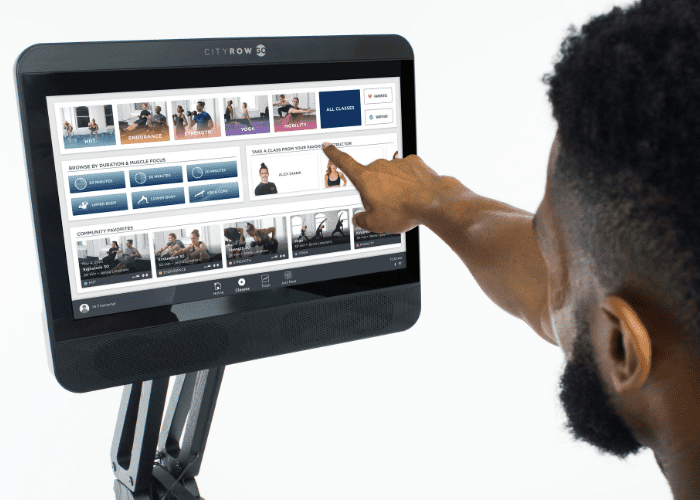 The CITYROW GO Max comes with a whopping 19.5-inch interactive touch screen. It's super clear and allows you to see all your metrics and follow classes with ease.
The monitor is sweat-resistant and swivels 30 degrees on either side. The CITYROW GO app offers a wide variety of workout classes, some of which include exercises off of the rower. So, turning the screen is very useful to make sure you can still see it from all angles.
The monitor also comes with 20-watt speakers with volume controls to the right of the display. It also supports BlueTooth so you can connect your headphones and heart rate monitor.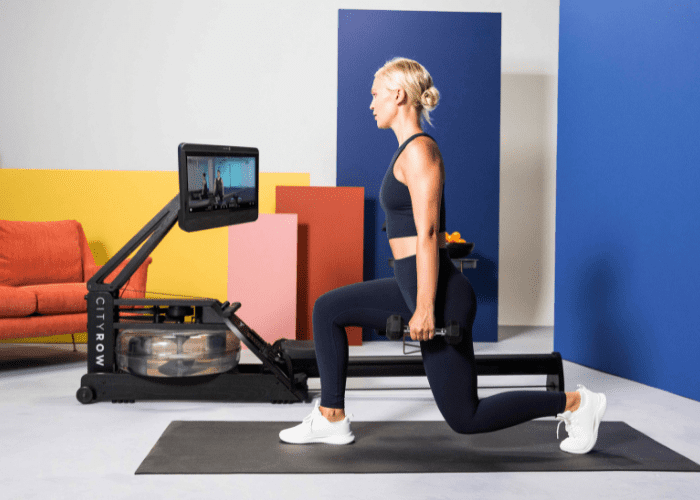 Technical Specifications
| | |
| --- | --- |
| CITYROW GO Max | Specs |
| Frame | sustainable American Ash wood and black powder-coated aluminum. |
| Monitor | 19.5″ sweat-resistant touchscreen with two 10-watt speakers and Bluetooth connectivity for your headphones and/or heart rate monitor. |
| Dimensions | In Use: Length – 83.5"| Width 22.25" |Height 45.25"Stored: Depth – 24" | Width 22.25" | Height 83.5" |
| Weight | 75 lbs dry | 112 lb with water |
| User Limits | Max height: 39″Max weight: 375 lbs. |
| Connectivity | Long cable for easy access to a plug and the ability to choose a WiFi connection or connect with an ethernet cable. |
As to be expected with a smart rower, the Max does take up some space. However, unlike some smart rowers, it is incredibly compact and lightweight, (weighing 112lbs with water in the tank) and can easily be stored upright.
When storing the machine vertically you can fold down the display arm which will keep the monitor safe when not in use.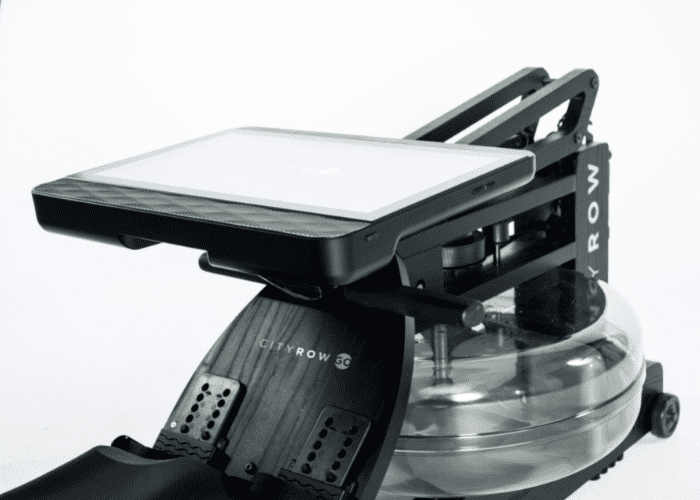 Two small wheels allow you to transport the rower to and from its storing/workout location with ease.
Setup
Here I will go through the setup process and everything you need to know.
Delivery and Installation
Don't worry if you're not handy with tools as CITYROW will deliver your rower fully assembled and ready to go. The tank will also be filled with water and you won't need to change it as long as you keep up with the maintenance.
The delivery is also included in the price which is great.
Maintaining the water couldn't be simpler. All you have to do is put 1 purification tablet in the tank about every 4-6 months to stop it from going funky!
If your water tank is constantly exposed to direct sunlight then you may have to do this process more frequently.
4 purification tablets come included with your rower but once you register your machine you can get free tablets sent courtesy of WaterRower.
Of course, to get your rower up and rowing you will need to plug it in. The machine comes with a power adapter and long cable so you have the freedom to position it where you want it.
User Account
Before you start rowing you will need to connect to the WIFI and set up a user account.
Just to note: Try and make sure you have a good internet connection. Some users have reported buffering issues when trying to load workouts. Most likely due to poor connectivity rather than a fault of the rower.
You will then be prompted to answer a few questions and input some data such as your rowing experience, how many times a week you plan to workout, and if you own any other equipment such as dumbbells.
Go ahead and enter all the information as applies to you. Don't worry if you won't be the only user as you'll be able to set up unlimited users for free.
That means that anyone using the rower can log in with their details and retain all their workout information and stats.
If you are new to rowing or just want some extra guidance you can now take the option to go through a tutorial video that will teach you the correct rowing technique and what data and metrics you'll be able to see during your workouts.
From here you'll be ready to get going and explore the workout library.
The CITYROW GO Experience
CITYROW GO offers a full-body training experience with cardio, strength, endurance, and mobility workouts all in one.
Monitor Interface
Let's start with the monitor interface.
All the workouts and data are displayed on the crisp and clear 19.5-inch interactive touch screen. What I love most about the interface is how well everything is organized. It's so easy to see all your data or find new workouts to try out.
At the bottom of the screen, you'll notice a black toolbar. From here you can access/change your user profile, see the time, the strength of your wifi connectivity, and choose between four different tabs; Home, Classes, Track, and Just Row
Home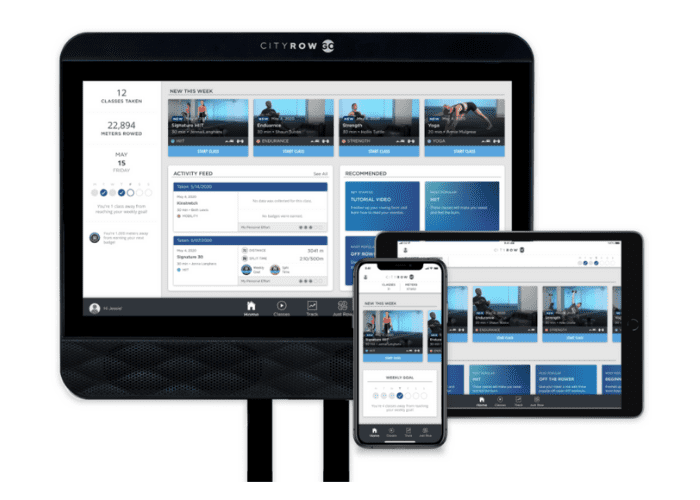 On the home screen navigation, you will notice a sidebar on the left. This area displays your total workouts, the number of meters rowed, the date, workouts completed that week, and what rowing distance you need to reach to achieve your next badge (a reward for reaching certain milestones).
There is even a prompt reminding you of how many workouts you have left for the week to reach your weekly goal (which you would have decided upon during the setup stage).
Along the top of the screen, you will a selection of new workout classes for you to choose from. CITYROW GO brings out new classes every week so you'll never be short on options.
You also get an activity feed. This section will give you information about the latest actions you took; and any classes or challenges you participated in with data such as distance rowed, split times as well as your personal effort score.
The data that's accumulated and stored is great. It's nice to be able to look back and see how you've improved and what you've achieved.
The personal effort score is really interesting. I've not seen this yet on any other machine. It allows you to rate your effort levels from 1 to 5 in a single workout. This can be a great way to monitor the weekly intensity of your training but also act as an indicator for other issues.
My effort goes down dramatically when I've had a poor night's sleep or haven't eaten properly. So it makes me more conscious of other lifestyle habits I need to improve.
And finally, there is the recommended section. Here you are offered suggestions for actions to take.
It will often display classes that are very popular among the CITYROW GO community. You'll also see tutorials to help you with form and challenges like their Beginner Program.
Classes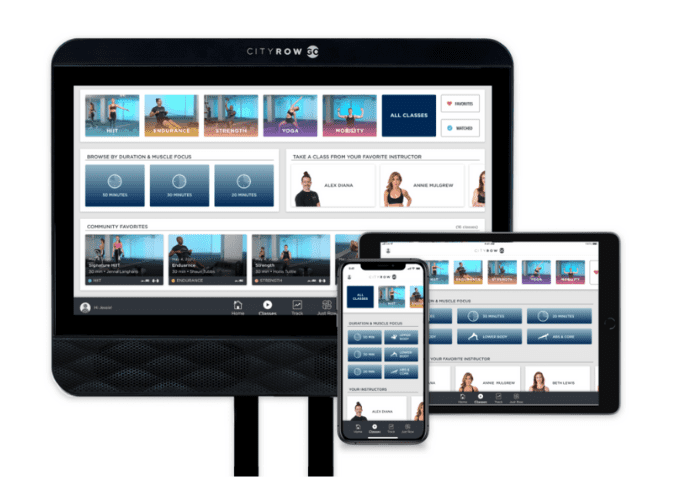 Here you'll have access to hundreds of CITYROW GO classes.
You can browse through their library and see which workouts take your fancy or use the filter option to help narrow down the options and find something more specific.
You can filter between class type which includes:
Signature HIIT
Endurance
Mobility
Strength
Yoga
Cardio + Core
Kinstretch
All Classes
Favorites
Watched
You can also filter between duration and instructor. CITYROW's sessions last either 50, 30, or 20 minutes long.
With so many classes you could easily find yourself spending more time browsing than exercising so the filter option is a great feature that helps make class selection quick and easy.
I like that you can quickly find previously watched classes. Completed classes will also include a checkmark next to them so they are easily identifiable.
As all your previous data is stored you can complete the same workout and try and improve your performance.
CITYROW GO doesn't currently offer any kind of user interaction or leaderboards so this can be a nice way to instill some competition if that's what motivates you.
There is also a scrolling carousel that includes the top classes favored by the CITYROW community.
Track
The Track tab holds your activity data and metrics. This is handy if you're interested in tracking your progress and workout performance.
Don't worry if this sounds daunting as the data is represented visually in a way that is easy to scan. You will see a graph that shows all your information from the past weeks or months.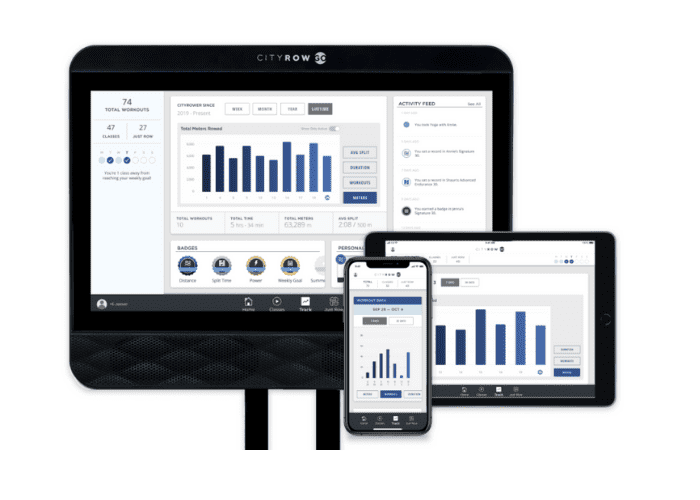 You'll also be able to view your personal records, distance rowed, fastest split times, as well as all the badges you accumulate.
Just Row
If you don't want to follow a specific class then the Just Row option will allow you to proceed with an unguided workout.
You can create your own workout using the distance and time interval controls and the machine will track your performance data in real-time.
The feature allows you to use quick-set intervals to build your own program and track your progress towards personal goals and badges.
Unlike the Hydrow rower, CITYROW's app doesn't offer any kind of scenic rowing workouts.
CITYROW GO Subscription and Workouts
In this section, we'll talk about the CITYROW GO subscription and what it gives you access to.
Subscription
To get access to all of the classes and features you must pay a membership fee of $29 a month or $348 a year.
They do offer a 14-day free trial but let's be honest, the subscription is the heart of the machine and you won't want to purchase the Max if you don't want to pay for the membership.
For those that oppose the membership fee, I suggest viewing it like a gym membership and personal trainer rolled into one.
If you still don't like the idea of paying for the membership I suggest you look at getting either a WaterRower or RowERG.
Workouts and Classes
CITYROW GO offers awesome instructor-led boutique fitness class-style workouts.
What makes CITYROW stand out from its competitors is that they offer a wide variety of workouts in one. Yes, you purchase a rowing machine because you want to row, but it's also nice to have the option to perform other types of exercise.
CITYROW allows you to do this with various types of HIIT, endurance, mobility, strength, and yoga classes.
I also really like how they incorporate a mixture of exercises into their interval training. For example, you may find yourself doing a round of rowing followed by a round of dumbbell shoulder presses.
It makes for a fun workout and helps alleviate boredom within your workout routine.
Of course, it helps if you have some other equipment handy at home.
I recommend getting at least a mat and set of light and medium-heavy dumbbells so you can make the most of all the classes.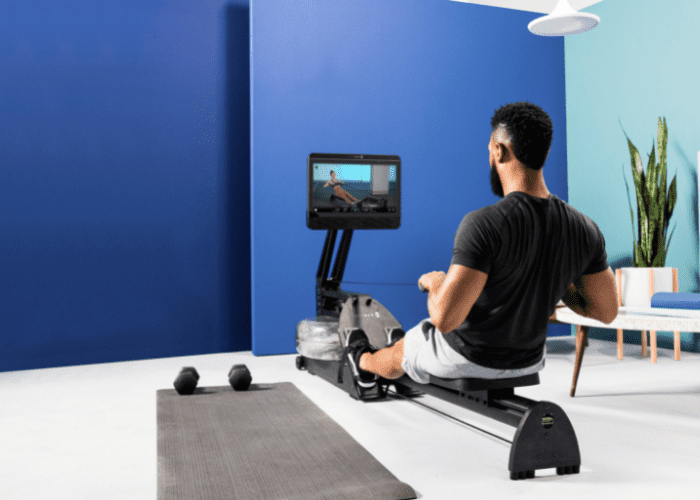 But don't be afraid to get creative if you don't have equipment. You can fill a backpack or use household items as weights to replace dumbbells.
If you tap on the preview workout photo you'll be able to see all the information about that class, including any additional pieces of equipment you will need. I recommend always checking the first time you start a new class to make sure you have everything you need.
The preview also shows a written description, class rating out of five, and the average distance other users completed during the class.
During your classes, you'll get to meet your instructors. They are all super motivated and encourage you to keep "pushing it" throughout the class. It really does feel like you're in a studio with an instructor.
The instructors are all fitness professionals and you can even select your favorites to lead all your workouts. My favorites are Sara DeBerry and Shaun Tubbs.
Appropriate music is selected for each session type, be it fast-paced for HIIT sessions or more relaxing for a yoga class. Either way, it will help get you in the zone.
If you are not a fan of the music (which you don't get to select) you do have the option to turn it down (or off completely) and just hear the instructor. You can then opt for playing your own music through another device if you wish.
You also have the option to pause, rewind and skip forward in any class. Though I recommend not doing this though if you want to feel like you're in that workout class environment.
It would be nice to see CITYROW bring out some live classes in the future.
If you're a beginner and want some tips to get going then you can start by watching the tutorial videos.
Then I suggest starting the special Beginner Challenge which will have you performing three specific classes per week aimed at helping prepare you for your fitness journey.
If you're not a beginner then you can dive right in. There are lots of challenging workouts for you to test yourself with.
With all the exercise classes and workout types available it would be nice if CITYROW put together a few training programs to help users split up their routine effectively.
I'm sure something like this could be in the pipeline and I hope to see it soon.
The CITYROW GO APP
You need a CITYROW GO subscription to stream the classes but you don't need to have one of their rowers.
So if you are looking for a more affordable rower you can still benefit from their classes. You will just need to display the workouts on your own screen. The only downside here is that your data may not be connected depending on your rower of choice.
The app is compatible with some other rowing machines. Of course, it pairs with the CITYROW GO Classic but it also connects easily to a Concept2 PM5 monitor and WaterRower S4. That's pretty cool.
Membership benefits include:
Unlimited access to huge workout class library
Unlimited user profiles
Access to mobile app
Unlimited streaming on your own device
Stats tracking from your mobile
The app also connects with the WaterRower ComModule.
Community
The CITYROW GO community is ever-growing. They have a Facebook group that offers great tips and encouragement. The members also often help other users solve common problems as well as provide individual class reviews.
The owner of CITYROW and many of the instructors who lead you through the classes are also members of the group so it's a great place to get your voice heard, sharing suggestions for improvements or any other comments.
If you have the app then I highly recommend joining the Facebook group.
Price and Value
You can currently purchase the CITYROW GO Max fr $2195. This is slightly cheaper than both its main competitors, the Hydrow and Ergatta rowing machines but only just.
If you're willing to spend this amount then the price of these rowers won't be the deciding factor in your selection.
The membership will cost you $29 per month or $348 per year. The monthly price is the same as the Ergatta and cheaper than Hydrows at $38 per month. However, the Ergattas membership is discounted if you pay yearly.
You also have the option to finance the Max rower starting at $122 per month for 18 months with 0% APR.
The rower comes with a 30-day trial program in which you can contact CITYROW at any point within that period to get a complete refund if you are not happy with your purchase.
Warranty
5-year frame warranty
3-year non-electronic component warranty (seat, clutch, and tank)
1-year tablet warranty
If you ever have any problems with your machine be sure to get in contact with CITYROW. They have a very good customer service team.
Also, WaterRower has a good reputation for replacing parts quickly.
Alternatives
As mentioned already, the GO Max's main competitors are the Hydrow rowing machine and the Ergatta.
Both of these smart rowers offer something different to the Max and I suggest you check out our Hydrow review and Ergatta review if you are unsure.
There is also the RW900 rowing machine by NordicTrack but the overall machine quality just doesn't match the machines mentioned above.
If you love the machine and want access to all the workouts you could also take a look at the CITYROW GO Classic rower. It's the same rower just without the monitor.
Instead, it has a LED-backlit monitor that displays real-time performance data. It's BlueTooth compatible and you can watch the classes in the app on your phone, tablet, or TV.
If you decide not to get a machine with all the bells and whistles, then for the money you would have spent on a smart rower it's a no-brainer, you must go for the Concept2 RowERG.
Should you Buy The CITYROW GO Max Rowing Machine
The CITYROW GO Max is for you if:
You love boutique fitness class-style workouts
You want a machine that has various workout types in one
You want instructor-led classes
You want workout variety
You want a water rowing machine
The CITYROW GO Max is not for you if:
You don't like fitness class-style workouts
You enjoy more competitive training
You don't want to pay a monthly or yearly subscription
Final Thoughts
I highly recommend the CITYROW GO Max rowing machine. The machine itself is such high quality being a WaterRower and their workout classes are so much fun.
If you are the type of person who likes that kind of exercise class environment then you will love CITYROW.
There are a ton of workout options, allowing you to try different training types both on and off the rower.
Go and check out the customer reviews on CITYGO ROW and see for yourself.
Start Rowing Score
The CITYROW GO Max offers a unique boutique-style fitness class workout. Manufactured by the mighty WaterRower, its quality design and functionality, combined with a huge workout library make it one of the top rowers on the market.
CITYROW GO Max FAQs
Is an internet connection required?
Yes, an internet connection is required to access the classes. 
Can I use my own device instead of the screen?
Yes, you can. You can stream the workouts from any device, including your TV, as long as you get a subscription to the membership. 
Will this store my workout data?
Yes, all your workout data will be stored. You can have an unlimited number of users and all their data will be stored in their user account. 
Is CITYROW GO free?
No, CITYROW GO is not free. The app costs $29 per month or $348 per year.
Is CITYROW a good workout?
You can get a great workout by following the classes on the app. The classes are all led by fitness professionals who will help and encourage you throughout your workout. 
[rank_math_rich_snippet]