Home workouts are seeing something of a boom period in recent years, with people setting up all manner of alternatives to commercial gyms in their own home. While some have the luxury of installing large and expensive multi-gyms, others are looking for smaller, more affordable options.
Today, we will be comparing the Vigorfit 3000 XL vs Total Gym XLS which both compete in the same market. So if you find yourself in that latter category, I would highly recommend reading on.
ATTENTION! April 2021 update.
Vigorfit has announced that they are no longer selling their Vigorfit Gyms. You may still be able to purchase them elsewhere or secondhand. For this reason, we will leave this review in case you still wish to compare the two products. However, given that it is now more difficult to get your hands on a Vigorfit Gym we have provided you with our top 3 alternatives below. 
Total Gym XLS Overview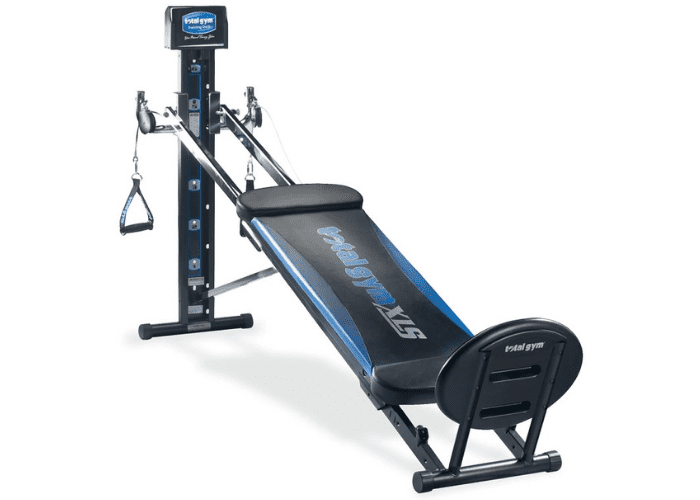 Pros
Good range of exercises
Easy to store
Nutrition and workout guides included
Suitable for users of any height
Cons
Expensive
Limited warranty
Much more experienced in the industry, Total Gym has been producing these sorts of products since 1974. While their products are remarkably similar to what Vigorfit has begun producing, their near half-century in the business shows their expertise and experience, providing products such as the XLS with a glowing reputation.
Features
Warranty- 5 years frame, 6 months-moving parts
Listed exercises- 80
Resistance levels- 6
Dimensions- 19(W)x90(L)x43(H)
Weight- 80lbs
Material- Aluminium frame, rubber-coated steel cable pulleys, nylon handles.
Vigorfit 3000 XL Overview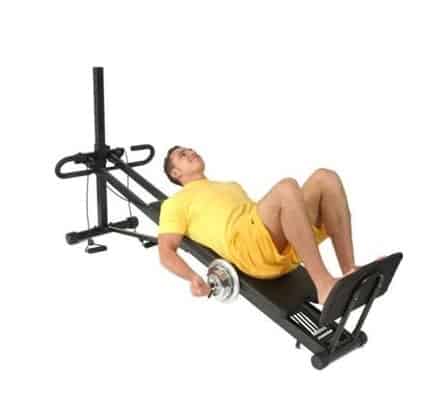 Pros
Comfortable
Good value
Wide range of exercises and resistance levels
Lifetime warranty
Huge range of attachments
Easy to store
Cons
Pulleys use rope instead of cable
A relative newcomer to the fitness industry, Vigorfit has only been around for a few years. The business model they use seems clear, in that they've taken a time-tested style of workout equipment, where a pulley system is utilized to move a user's bodyweight on an incline bench, and tweaked it, to provide an item that gives a smooth and varied workout, at an affordable price.
Features
Lifetime warranty
Listed exercises – 107
Resistance levels – 75
Dimensions- 19 (W)x90(L)x43(H)
Weight – 80lbs
Made from solid steel and high-density foam
Functionality And Performance
Vigorfit 3000 XL
The Vigorfit is designed much like an incline bench, featuring a system that allows the user to train with their own bodyweight as the resistance, eliminating the need for heavy, clunky machinery.
It's worth noting that there have been some Vigorfit complaints with users commenting that the bench does not travel as far as Total Gym models. It's unlikely that the difference will have a great effect on performance for most users however, if you are very tall it could be a consideration.
Total Gym XLS
While it obviously has its own design and styling, the Total Gym and Vigorfit are virtually identical in how they operate, as well as how successfully they perform.
Verdict- Vigorfit 1 – Total Gym 1
With two such similar products, that operate just as effectively as one another, it's simply impossible to separate them in this category.
Pulley System
Vigorfit 3000 XL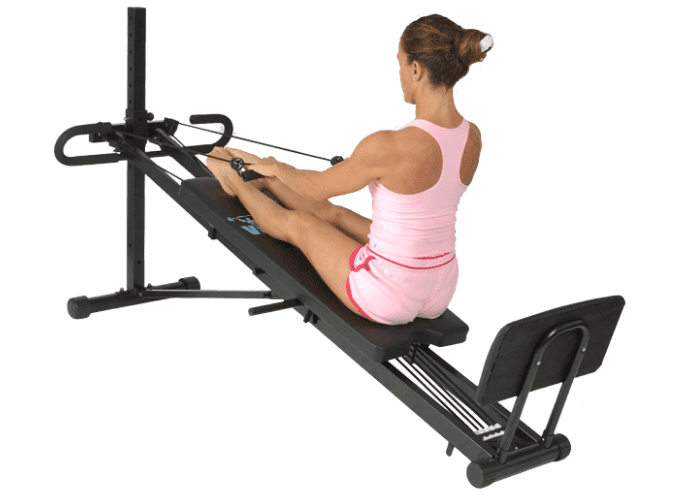 The primary resistance on the Vigorfit is a pulley system, which incorporates thin ropes, designed to utilize the user's own bodyweight, while positioned on an incline bench.
Total Gym XLS
The system on the XLS is virtually the same as that of the Vigorfit, except they swap out the ropes on the pulleys for rubber-coated steel cables.
Verdict Vigorfit 1 – Total Gym 2
With incredibly similar systems, this one is a close call, but the XLS using rubber-coated steel, as opposed to rope, gives it the edge here.
Build Quality And Design
Vigorfit 3000 XL
Constructed with a heavy-duty steel frame, high-density foam padding, and further padding on all grips and handles, this is a product that has a high-quality level of construction, which will provide quality and comfort throughout its life.
Total Gym XLS
The Total Gym opts for an aluminum frame and nylon, strap style handles, making for an overall lighter feel to the product, while the bench itself features a similar level of padding.
Verdict Vigorfit 2- Total Gym 2
The sturdier frame and more padded handles of the Vigorfit supersede the benefits of the Total Gym and so give it the win in this category.
Resistance Levels
Vigorfit 3000 XL
The Vigorfit offers a whopping 75 levels of resistance, split across power bands, free weights, and body weight, topping out at 440lbs, which should provide an effective workout for the majority of users.
Total Gym XLS
Unfortunately, there are no two ways around this, the fact that the Total Gym XLS advertises itself as having just 6 levels of resistance is a real limitation on the longevity and flexibility of the product.
Verdict Vigorfit 3- Total Gym 2
While the previous categories have all been close, this is the first one that isn't. The Vigorfit features more than 12 times the options on resistance levels and allows you to utilize up to 72% of your bodyweight, as opposed to just 50% on the Total Gym, giving it an easy win.
Comfort
Vigorfit 3000 XL
Comfort has been taken into careful consideration on the Vigorfit, as it features foam grips on all the handles and 2 inches of high-density foam on the bench itself.
Total Gym XLS
Its nylon handles and padded bench make for a product that is certainly comfortable to use, however it doesn't feel like any additional effort has been put in to take this aspect anywhere beyond what they deemed would be acceptable.
Verdict Vigorfit 4 – Total Gym 2
While much closer than our previous category, this is still one that's easy to award to Vigorfit, as it's clear they've simply put much more thought and effort into the comfort level of their product.
Size, Capacity, And Storage
Vigorfit 3000 XL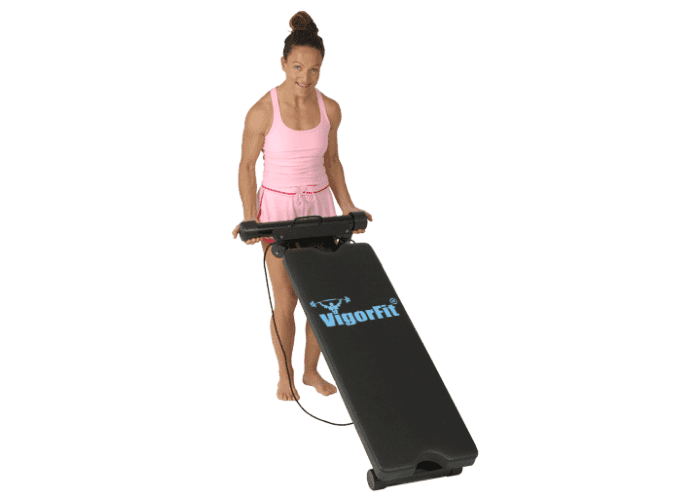 The Vigorfit is 19(W)x90(L)x43(H), weighs 80 lbs, and is listed as suitable for users up to 6ft 5inch and 350lbs. When it comes to storage, however, it can be folded to a height of just 8 inches and is equipped with wheels, to make it quick and easy to store away.
Total Gym XLS
The total gym comes in at 19(W)x90(L)x43(H), which drops to 19(W)x51(L)x9(H) when folded. It is capable of supporting users up to 400lbs and has no upper height limit.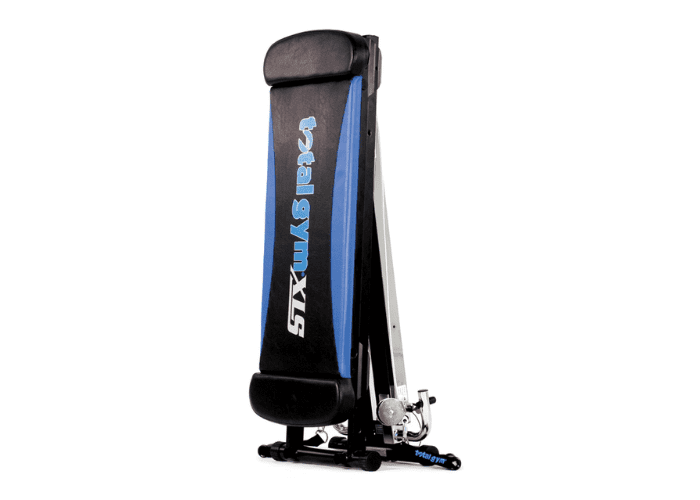 Verdict Vigorfit 4 – Total Gym 3
While virtually identical in size and ability to store, the ability to be used by larger users makes the Total Gym appealing to a wider range of users, so gives it the nod on this one.
Available Exercises
Vigorfit 3000 XL
The Vigorfit is listed as being able to provide 107 "gym-quality exercises", however, as with any product like this, it is certainly possible to achieve, even more, depending on your knowledge and experience.
Total Gym XLS
The Total Gym advertises itself as providing "over 80 exercises", allowing you to complete a varied and well-rounded workout routine.
Verdict Vigorfit 5-Total Gym 3
While both offer a good range of available exercises, 107 to 80 is simply too big of a disparity to overlook, with the Vigorfit providing an additional 1/3 of the exercises capable on a Total Gym.
Attachments, Accessories, And Additional Resources
Vigorfit 3000 XL
One area where the Vigorfit truly shines is what comes with it. Coming bundled with a push-up bar, pull-up bar, weight bar, and clips, dual leg ropes, pilates shoulder pads, sit-up station, toe bar, padded footplate, and exercise manual and videos, this is a product that provides plenty to keep your workouts varied and interesting.
Total Gym XLS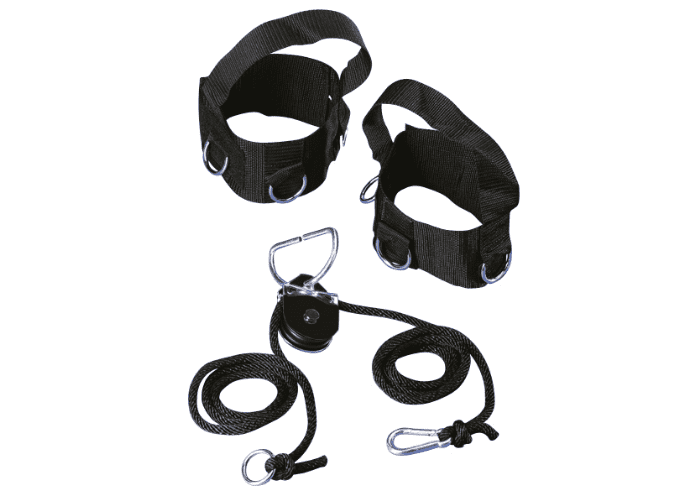 The Total Gym also doesn't do badly in its own right, coming with a squat stand, wing attachment, leg pull accessory, ankle cuffs, wall chart, a personal training plan, and nutrition plan.
Verdict Vigorfit 6- Total Gym 4
I've listed this one as a tie, as your own personal needs will determine which package you prefer. The Vigorfit certainly comes with more physical accessories to keep your training varied, however, the nutrition and workout guides that come with the Total Gym will be much more beneficial for newer or less knowledgeable users.
Warranty
Vigorfit 3000 XL
The Vigorfit comes with a lifetime warranty for all of its parts- you can't ask for more than that.
Total Gym XLS
The Total Gym features a 5-year warranty on the frame and 6 months for all moving parts.
Verdict Vigorfit 7- Total Gym 4
6 months for moving parts on a piece of equipment like this seems quite short at the best of times but, when compared to a product with a lifetime warranty on everything, it's simply no contest.
Price/Quality Ratio
Vigorfit 3000 XL
The Vigorfit is by no means a cheap piece of equipment, however, nothing of a good quality ever is, especially in the fitness industry. Compared to many home fitness solutions available, it actually features a somewhat modest price which, when put side by side with the quality of the product, actually makes it a good value purchase.
Total Gym XLS
Fitness equipment never comes cheap, and that is certainly the case here. While that doesn't necessarily make it a bad value purchase, its limited warranty and comparison to similar products does make the price tag seem a little over-inflated.
Verdict Vigorfit 8 – Total Gym 4
A fitting end to this contest sees a product that has been either equal or better in almost every category make a decisive final victory, as the Vigorfit is available for less than half the price of the Total Gym.
Final Thoughts On Vigorfit Vs Total Gym
These are two remarkably similar products, which both achieve what they set out to with a high level of success. That said, when comparing the Vigorfit vs Total Gym one of them manages to generally be slightly better in most areas and still charge less than half, there is really only one way to go.
So, if you were considering purchasing either of these products, I would highly recommend going with the Vigorfit. If you are interested in seeing what else Total Gym has to offer, please see our best Total Gym models review article.
Vigorfit Vs Total Gym Frequently Asked Questions
Despite giving the win to the Vigorfit, I know the Total Gym will still have its fans, so allow me to answer two of the questions most frequently asked about it before I go.
Does Total Gym Work?
This is a question that depends entirely on what you are hoping to gain from it. If you're looking to tone up, increase strength, and generally get fitter while gaining more control over your own body, then the answer is yes, the Total Gym does work.
That said, if you're looking to add serious mass or develop a bodybuilder-style physique, you will need to look elsewhere, as those kinds of results simply aren't realistic to expect from this product.
How Do You Set Up A Total Gym?
There's no need for any assembly with the Total Gym. Simply take it out of the box, unfold it and you are ready to go.