Home workouts are more popular than ever these days, with people buying up all the fitness equipment they can get their hands on. While those with plenty of space and funds available have been setting up full home gyms, people limited in either of those areas have been turning to alternative options, such as resistance band systems.
Today, I am going to take a look at one of the more popular choices among those systems, the X3 Bar, then provide you some potential alternative choices to it.
So, if you've considered a resistance band system, but haven't been certain enough to actually make a purchase, I'd highly recommend reading on.
What Is The X3 Bar?
The X3 Bar is an alloy steel bar, designed like a traditional Olympic barbell, which comes with a footplate and a selection of high-strength, durable resistance bands. Its purpose is to allow you to attach the bands to the bar and footplate, letting you workout with a greater range of exercises and resistance than you would be able to achieve with just resistance bands on their own.
Pros
Train with up to 600lbs of resistance
Easily stored and transported
Footplate to secure the bands
Cons
Bar is narrow, removing the ability to perform wide grip exercises
Expensive
What Are The Advantages And Limitations Of Resistance Band Training?
The main advantages of resistance band training are pretty clear. They allow you to train anywhere you want, at any time, making them a perfect option for people on the go to maintain and even develop their physiques while traveling. Their compact nature also makes them easily storable for and suitable for use in very close quarters.
Unfortunately, the main disadvantage of resistance bands is equally clear, in that their potential to help you grow is finite. Those looking to build serious mass simply won't have the overall weight, range of exercises, or explosive potential that training with free weights provides.
6 Best X3 Bar Alternatives
So, while the X3 Bar is one of the market leaders in its field, as you may have guessed from the title, we will today be looking at some of the best alternative options to it, 6 of them in fact.
Body Boss 2.0 Resistance System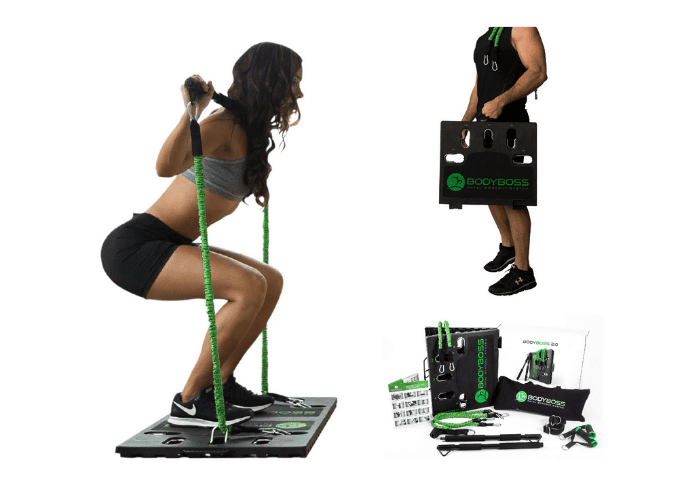 A more complete gym experience than most resistance band systems, featuring much more equipment, including a footplate with multiple points of attachment, as well as numerous handles, bars, and cuffs, leading to a wider variety of potential exercises.
Check price on Body Boss 2.0: Use code STARTROWING at checkout for a 15% discount!
Pros
Versatile, well-rounded system
500lbs maximum resistance
Good value
Cons
Not as easy to transport as some alternative equipment
Rogue Monster Bands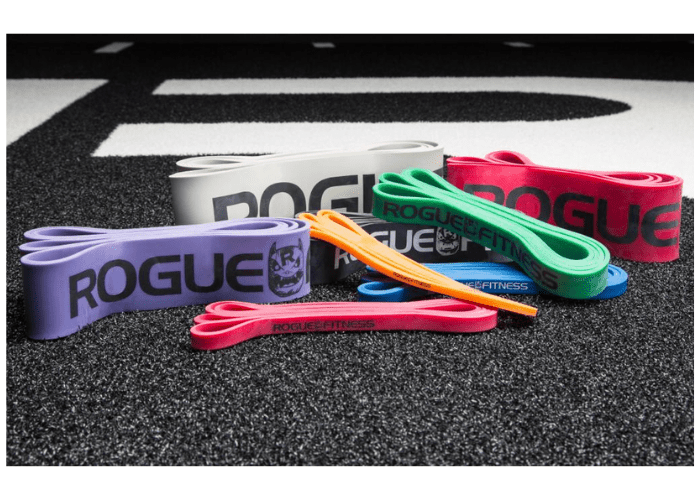 These Monster resistance bands from Rogue are tried and true and would easily become a staple in your training routine.
They are great for workouts on the go and are extremely useful when performing rehab exercises, mobility work, or exercises where you may initially need assistance (such as a pull-up).
They come in 8 versions, color-coded with varying levels of resistance. Each band varies in width, thickness, and overall resistance making each band more suitable for specific training types and exercises.
Pros
Easy to store and transport
Good value
High quality – long-lasting
Various resistance levels
Cons
There are cheaper resistance bands
Gorilla Bow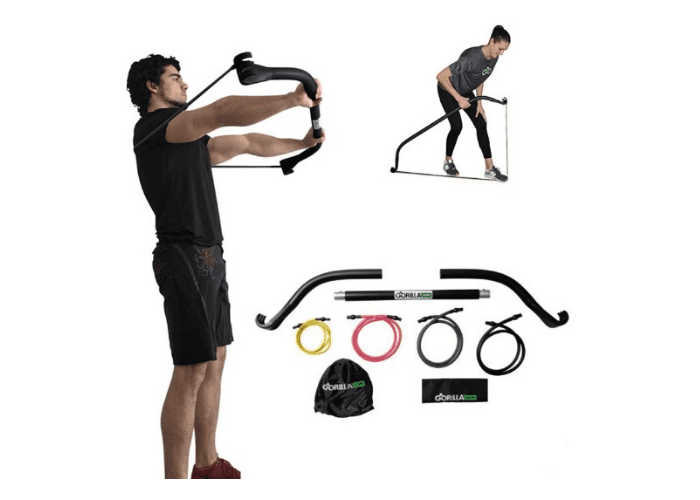 The Gorilla Bow is a system that looks just like a traditional bow, featuring a solid frame that resistance bands are secured across instead of a string.
The design of the Gorilla Bow makes the range of exercises that can be performed using it slightly more limited than the X3 Bar.
It comes in 3 varieties, including Original, Lite, and a Portable option which can be dismantled. Read our in-depth Gorilla Bow review for more information.
Pros
Reasonably priced
Easy to store
Transportable
Risk-free money-back guarantee
Good for toning
Perfect for training on the go
Cons
Warranty is a little short
Not suitable for building mass
Tension Toner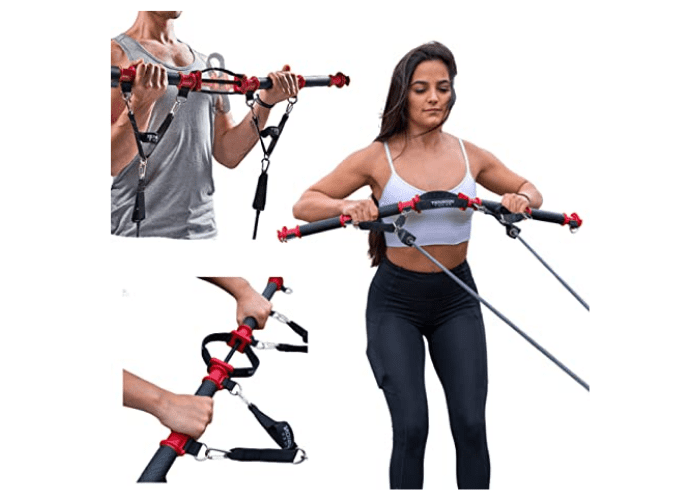 A much wider version of the X3 Bar, with a considerably lower price tag, could be seen as an option for those seeking more variety in their workouts.
However, as the name suggests, it's purely for toning, with a max resistance of 108lbs. It's also foldable for easy storage and transportation.
Pros
22 levels of resistance
Over 200 exercises
Greatest user capacityGreat value
Width provides a great range of exercises
Foldable for transport and storage
Great range of online coaching clips included
Cons
Extremely low maximum resistance
OYO Full Body Personal Gym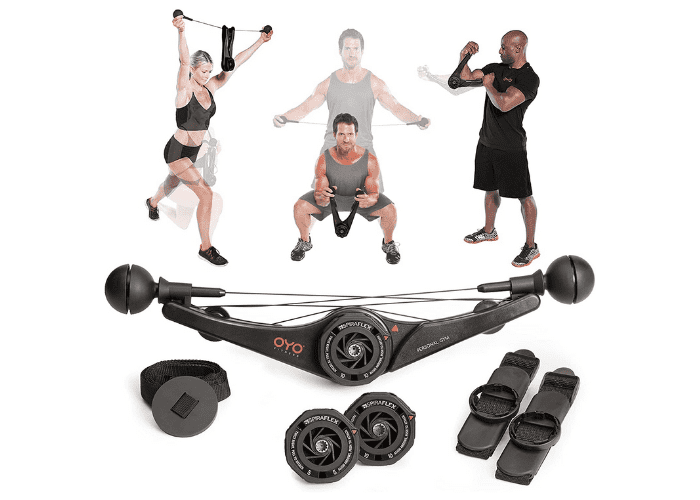 The most unique alternative we've looked at, the OYO isn't based around traditional resistance bands, but instead features a frame containing cables and is actually the equipment supplied by NASA to keep astronauts fit in space. That said, it does have a rather limiting max resistance of 25lbs.
Pros
Good value
Unique design
Good range of available exercises
Bullworker Steel Bow Personal Home Gym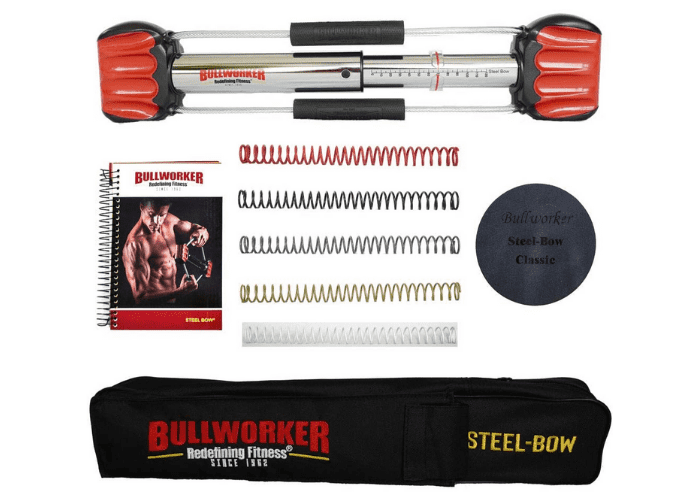 Another option that differs from traditional resistance bands. The Bullworker Steel Bow resembles the Press Exercisers of the '80s and '90s which, considering they were also known as Bullworkers, explains the company's name.
More compact and providing greater resistance than the traditional versions (up to 130 lbs), they provide a limited range of exercises but are a step up for those who remember being a fan of the original machines.
Pros
Compact
Good value
Retro design
Workout booklet included
Cons
Limited range of exercises
Limited max resistance
Features To Consider In An X3 Bar Alternative
If you've decided you want to obtain some kind of portable fitness equipment but aren't sure exactly which option is best suited to your personal needs, there are a few important factors to consider, which may help you narrow down your search.
Resistance
No matter what product you're looking at, when it comes to fitness equipment, ensuring it can efficiently challenge you and help you to advance is essential to it being an effective purchase.
When it comes to a product like this, begin by asking yourself what level of resistance you are going to require, and then check that against the upper limit of the products you are looking at. This could potentially help you eliminate some from contention right away.
Portability And Weight
One of the main selling points to resistance bands is their ability to be taken with you, enabling you to maintain your training whenever and wherever you go.
To be effective in this aspect, they need to be convenient to transport, so in order to narrow your search, checking the weight, size, and accessories for transport that they come with could easily show you if it's the right choice for you.
Ease Of Use
For a product designed for quick and easy, on-the-go use, no one wants to spend ages assembling and dismantling their product every time they use it.
Check whether your product remains in one piece after use or, if it does need to be taken apart, how quick and easy is it to set up.
If a particular product doesn't match your expectations on this front, it makes it easy to rule it out.
Build Quality And Durability
Despite the fact these aren't the most expensive pieces of fitness equipment on the market, they still aren't that cheap either, which means you're going to expect it to last for a reasonable length of time before it starts to deteriorate.
By checking the reviews from other customers before purchasing, you can ensure that the product matches up to the quality you expect, giving it the lifespan you would require from such a purchase.
Capacity To Build Muscle
With a product designed for resistance training, the vast majority of people who use it will be aiming to develop their muscles in one way or another. While resistance band systems are convenient options, they certainly have their limitations.
Before sinking a large sum of money into one of the above systems, ensure that the level of muscle-building attainable matches what you are hoping to achieve, otherwise you're destined to be disappointed.
How Many Exercises Can You Perform With It?
Another big question when it comes to muscular development, in order to develop a full physique, you need to be able to train your entire body, with a wide range of exercises for each part.
Finding out roughly how many exercises are achievable with each product and what they are will allow you to gauge if it's capable of making the changes you desire, and therefore whether or not it is going to be a suitable product to purchase.
Does It Include Workout Programs?
Many fitness products these days come with their own selection of workout programs and guides, either in the manual or online. For people less experienced in the fitness world, as well as those new to resistance bands, this may be considered an essential part of getting the most from your product.
Take a minute to look at the online marketing, company website, and user reviews before making your purchase, to ensure the one you choose actually comes with everything you are expecting.
Price
Last but not least, whenever you are making a purchase, the price will play a pivotal role for most of us. Go into your search with a clearly determined budget, then make sure you can afford each product before you do any further research.
This will stop you from wasting time looking at products out of your price range and potentially stop you from being disappointed by falling in love with a product that's out of your reach.
Final Thoughts
Quite clearly, the high price of the X3 Bar is likely to be one of the biggest factors making people look for an alternative. That said, its maximum resistance being so much higher than the competition draws it as many admirers as the price tag puts off.
At the end of the day, it's a product that does what it sets out to as well as could be hoped, and those happy to pay the price tag should be more than satisfied.
For everyone else, if you're looking at this sort of product but the X3 Bar isn't for you, the range of alternatives I've listed should feature at least one that meets most, if not all, of your requirements.
Frequently Asked Questions
Can A Resistance Band Home Gym System Actually Help You Build Muscle?
Before I go, I just want to clarify one of the most frequently asked questions regarding resistance bands, something which I previously touched on in a section above, which is can you actually build muscle by using them?
The answer, however, isn't quite that simple, as it depends on what you mean by "build muscle".
If you are looking to tone, define, sculpt, or add a small amount of size to your muscles, then you can absolutely achieve this with resistance bands.
However, if you are looking to add serious mass or achieve a bodybuilder physique, then you are going to need to look at more traditional, gym-based options to achieve your goals. That said, they will still allow you to maintain them when traveling, so don't necessarily discount them altogether.