This article will review the best shoes to wear on a rowing machine.
I tested 7 of the most popular rowing shoe types and found Merrel Trail Gloves to be the best for comfort, form, foot placement, and power output.
I've been rowing for too many years to count and have evolved in my choice of rowing shoe. My personal experience, starting with my normal running shoes and getting increasingly minimalistic as time went by, combined with hours of research and machine trialing, have informed the opinions in this review.  
I've done the heavy lifting so you don't have to. 
---
Best Indoor Rowing Shoes 2022
---
The Best Rowing Shoe At a Glance
My #1 choice as the best rowing machine shoe on the market right now is the Merrell Trail Glove. This is a barefoot-style glove that provides a glovelike toe fit, and a zero drop from heel to toe while ensuring a secure grip. 
I was also really impressed with the classic Chuck Taylor from Converse. In addition to being one of the most cost-effective shoes on the market, Chucks features a thin, flat sole, has an extremely durable canvas upper, and will last for decades/.
Keep reading for a complete breakdown of the top 7 shoe brands to wear during your rowing machine workouts. 
---
Best Indoor Rowing Shoes
Rather than review a particular shoe, I've selected several shoe types from different companies. That's because new shoes are being brought out all the time. An overview of the brand category is, therefore, more useful than a narrow review of a particular shoe.
#1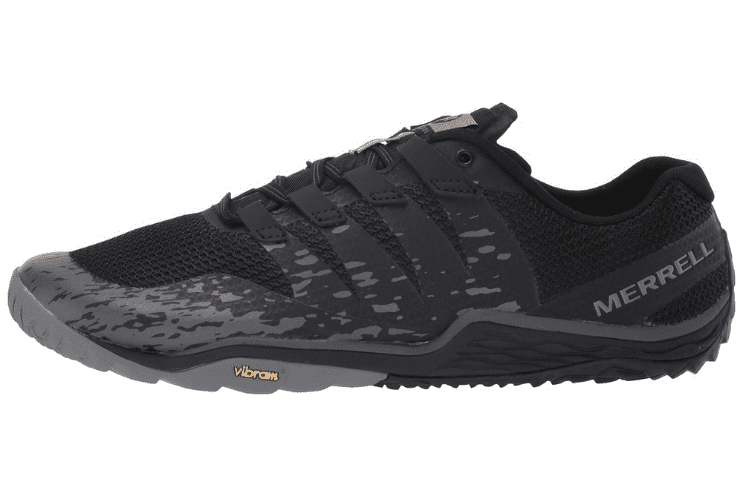 Pros
Lightweight
Zero drop
Odor reducing
Glove-like fit
Cons
Trail Glove 5 includes a rock pate which limits flexibility
Even though the Merrell Trail Glove was designed for runners, its combination of zero drop, high level of sole traction, and lightweight TPU material makes it a very good rowing shoe. 
This is a comfortable shoe that features the Omni-fit lacing system to ensure that you get a secure fit.
This shoe has also been treated to reduce odor and moisture build-up. The shoe features a fixed foam footbed to provide a decent amount of comfort padding without impairing your pulling power.
The Merrell Trail Glove fits true to size. This is a minimalist shoe that really does fit like a glove. It is available in four color options to provide a stylish finish.
#2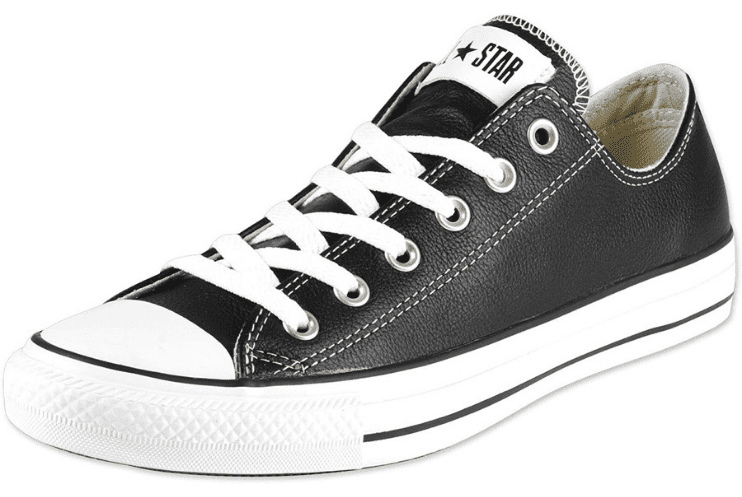 Pros
Thin sole
Extremely durable
Unisex design
Great price
Cons
We go with what works. That's why Chuck Taylors are on the list. When Nike bought Converse a few years back some feared the venerable CT All-Stars would get a high-tech makeover.
Fortunately, Nike knew a winner when they saw one and didn't mess with the formula. The result is that today's CTs are as good as yesterday's at doing what the best rowing shoes should do:
Last 'til kingdom come
Provide a flat, stable, non-slip medium between foot and machine
Leave you with money in your pocket for other things
The thin, flat sole of the Chuck allows you to correctly position your foot on footrests. However, because the upper is made of canvas it is not as breathable as the other shoes that I reviewed. They're also a little restricting for people with wide feet. Taken in balance, though, a pair of Chucks will meet the needs of most rowers.
#3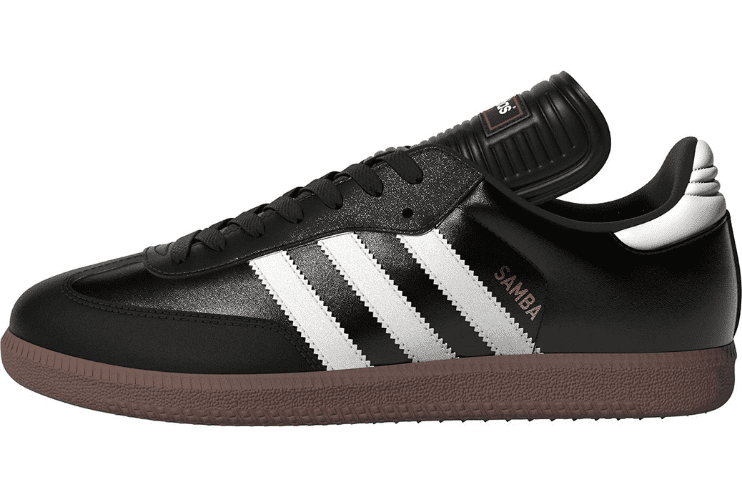 Pros
Lightweight yet solid
Minimalist design
Non-marking gum rubber outsole
Affordable
Cons
Here at Start Rowing we include products we think are useful for our readers. If you buy through links on this page, we may earn a small commission.
The Adidas Samba has the distinction of being the longest-running sports shoe in history, having been around since 1950. Originally designed for soccer players, the Samba has become a popular rowing machine shoe thanks to its minimalist style, a flat sole, and lack of cushioning. 
The outsole of the Samba features a non-marking gum rubber outsole that provides flexibility and traction.
The lightweight die-cut EVA midsole is flexible and comfortable, while the soft leather upper is soft enough to mold to your ankles while also being thick enough to ensure a long life. 
This breathable shoe is lightweight and comfortable though it does have quite a narrow toe-box.
#4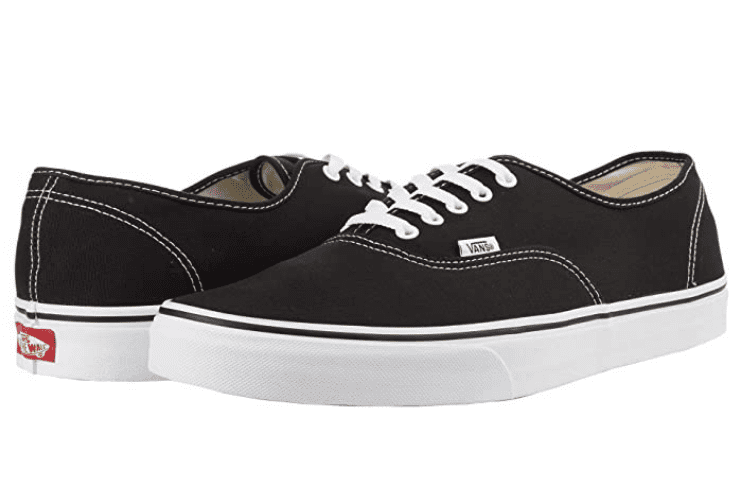 Pros
Thin soles
Lightweight
Spongy insole
Minimalist design
Cons
Some online reviewers have noted that the sole detaches after 18 months of use
Here at Start Rowing we include products we think are useful for our readers. If you buy through links on this page, we may earn a small commission.
Vans are the original skating shoe manufacturer. Since 1966, they have been making shoes for skaters, runners, and casual wear. Their range includes:
The Era
Authentic
Old Skool
Ski8-Hi
Classic Slip-On
Vans Classics have become quite popular as a rowing shoe thanks to their thin, flat soles, lack of padding, lightness, and secure fit. The suede fabric is durable while also being breathable and responsive. The thin, spongy insole provides the padding you need without getting in the way of your firm hold on the rowing machine. 
Vans Classics shoes lock the foot in, with very little room for the heel or midfoot to slip while you're rowing. At the same time, internal heel stiffening technology keeps the sole stable and improves durability. 
#5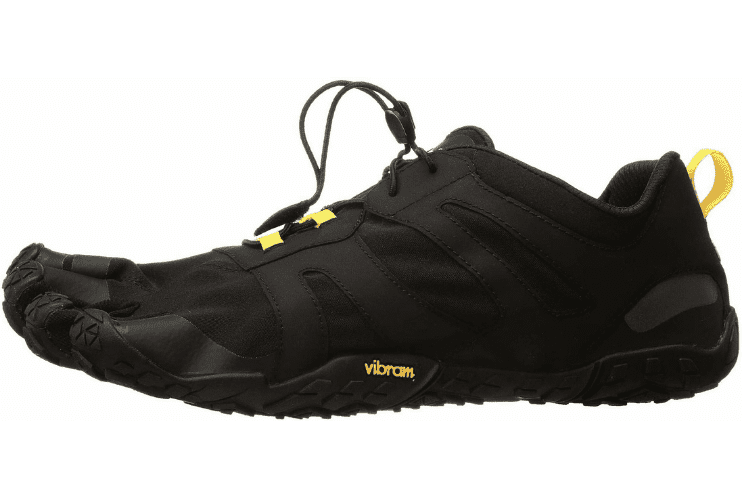 Pros
Lightweight and Breathable
Follows contours of the foot
Grippy outsoles
Cons
May not be enough cushioning for some users
Here at Start Rowing we include products we think are useful for our readers. If you buy through links on this page, we may earn a small commission.
When it comes to minimalist shoes, it doesn't get any more pared down than the Vibram Five Fingers. With individual finger pockets for each toe, these shoes are thin, lightweight, and flexible. 
They don't offer much in the way of sole support, which is by design. These shoes are intended to give you the feeling of being barefoot while also protecting your feet from blisters or abrasions.
A key selling point of Vibram shoes is that they follow the contours of your feet to allow for more natural movement. The thin sole of this shoe allows you to get a great feel and grip on the footrest. These shoes are also very breathable.
The best Vibram Five Fingers shoe for rowing is the Vibram Men's KSO EVO Cross Training Shoe.
#6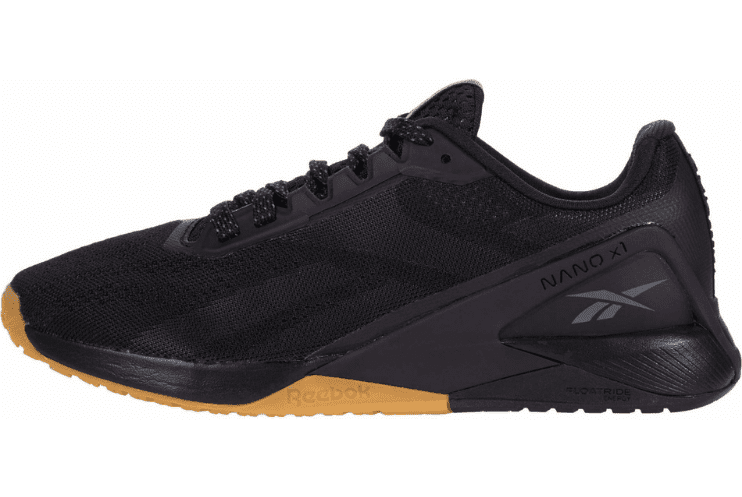 Pros
Excellent breathability
A minimal outsole drop
Anatomical toe-box
Minimalist design
Cons
Here at Start Rowing we include products we think are useful for our readers. If you buy through links on this page, we may earn a small commission.
The Reebok CrossFit Nano was designed as a specialty CrossFit shoe. If you hadn't noticed, a lot of CrossFit WODs include rowing, so it's not surprising that it's also become a popular rowing shoe. It's got all the elements that you need in a rowing shoe, including its minimalist design, firm hold, and secure grip. 
The Reebok Nano features amazing stability, excellent ventilation, and breathability thanks to the Flexweave upper of the shoe.
The heel of the CrossFit Nano features a unique heel construction to provide a secure fit. There is also special technology built into the toe box for enhanced comfort and lockdown.
Reebok has released 9 versions of the Nano, with the latest iteration coming out in 2019. It features a new Flexweave upper, a minimal drop outsole, a wider anatomical toe-box, and support cage, and a low-cut design for greater ankle mobility. All of those features are good things if you're a rower.
#7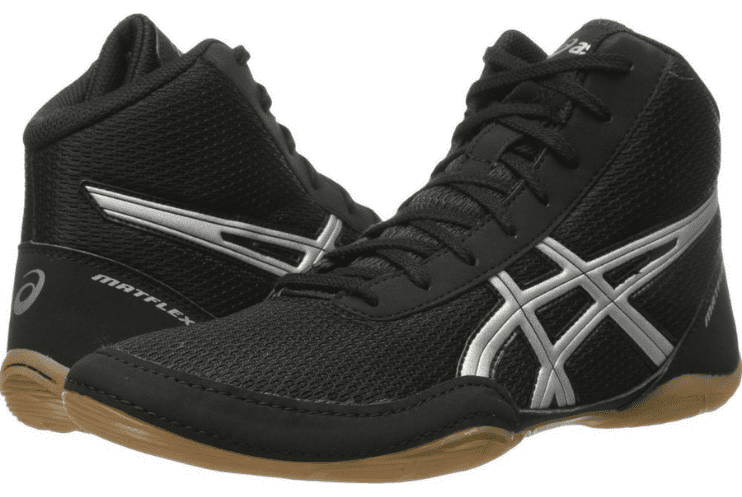 Pros
Excellent grip
Secure fit
Affordable
Cons
These shoes usually run half a size too small and fit tightly
Here at Start Rowing we include products we think are useful for our readers. If you buy through links on this page, we may earn a small commission.
The Asics Matflex is one of the most popular wrestling shoes in the world. Many of the qualities that make it excellent for that purpose directly lend themselves to rowing. Wrestlers need a lightweight shoe that is extremely secure, grippy, and breathable.
These shoes are designed to be slightly tight-fitting to make sure that they won't come off halfway through a wrestling match. That may be slightly uncomfortable;e for some rowers. 
Asics Matflex shoes are affordable, averaging around $40. This is another minimalist shoe that will grip very well to the rowing machine's footrests and allow your feet to breathe.
---
Why The Right Shoe Matters When Rowing
To get the best performance out of your time on the rowing machine, three essential elements are inextricably bound to what you are wearing on your feet.
Foot Placement
A great rowing workout is made up of thousands of well-executed strokes. Every single one of those strokes starts with proper foot placement. If you don't position your feet in the right place, you will not be able to achieve a full powerful stroke. You do not want your feet positioned too high or too low on the footrest.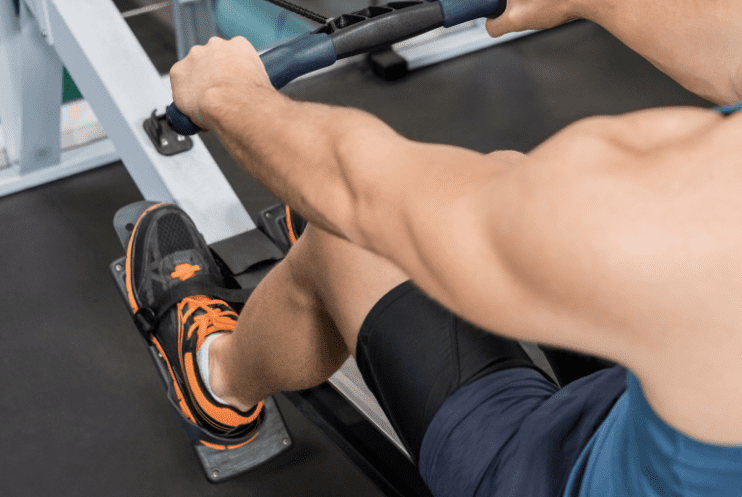 If your shoes have an excessive amount of padding, you probably won't be able to put your feet high enough on the floor rest. The more minimalist the shoe is, the more likely you will be to get the right foot placement.
Rowing Form
There are two aspects of your foot placement that directly affect your rowing form. The first has to do with where the foot is placed on the footrest, as we've just covered. If it's too high, you won't be able to get a full stroke length and if it's too low you'll be compromising the power of your pull. 
The second aspect has to do with your foot angle. The higher the heel, the more compromised your rowing position will be. A low, or ideally zero heel will put you in a more biomechanically ideal position to execute the row.
Rowing Power
The more padding you have on your shoe, the less power you will be able to generate. Conversely, the more rigid the sole is, the more power you'll be able to generate.
The impact on the power output of your shoe's padding and rigidity will become greater as your workout progresses. So, choosing a shoe that has minimal padding and maximum sole rigidity will enable a more productive workout
---
Best Shoes For Rowing Machine Buying Guide
To get the performance you want, your rowing shoe needs to be thin, stiff, and flat. It also needs to provide a great fit, through the width, length, and size. Here's a breakdown of what to look for when shopping for your next pair of rowing shoes.
Heel Arch and Support
Heel arch and support are critical for continuous rowing with proper mechanical action. If your arches are not properly supported, you are likely to suffer from arch pain.
Stable Sole
You need a stable base to your shoe in order to provide the solidity to produce force from. Just as you cannot fire a cannon from a canoe, you cannot produce power on the upward drive of the row if the sole of your shoe has too much cushioning. The force production will be greatly enhanced with a stable base.
Comfortable Fit
Regardless of other considerations, you want your shoe to fit snugly and be comfortable. If the shoe is loose, it is likely to slip while you're in the middle of your workout, which could be dangerous.
Obviously, you need to make sure that you get the right shoe size for you. The higher the quality shoe that you purchase, the better the fit you will be. Do not skip out on quality for a lower price when it comes to your rowing shoes. Rowing is an intense activity and quality, reliable shoes will give you the support and confidence that you need to bring your best.
Lightweight
When you're smashing out rowing PR you don't want anything that can slow you down. That includes carrying extra weight on your feet. That's why the lighter your shoes are, the better.
Breathable
Your rowing shoes need to be breathable to prevent blisters, overheating, and sweat build-up. Make sure, too, that the shoes are odor resistant.
Price
You get what you pay for and rowing shoes may come in at a slightly higher price than normal trainers.
---
Types of Indoor Rowing Shoes
Now let's look at the specific characteristics of a shoe that make it a good rowing shoe so that you know exactly what to look out for.
Minimalist Training Shoes
Minimalist shoes have become very popular in recent years. A minimalist shoe is designed to provide you with more stability, better grip, and greater protection from injury.
When you're looking for a rowing minimalist shoe, you need to consider the drop, which is the height distance between the height of the heel and the height of the forefoot. A rowing minimalist should have a lower drop than normal. Ideally, you will want it to be no more than 4 mm. This will more evenly distribute your weight through the foot.
You also want a shoe that has a hard sole. This will ensure that you remain firmly planted to the rowing machine footplates. Your rowing machine minimalist shoe must also be durable.
Sport Specific
Sports-specific shoes are designed for specific sports applications. You are unlikely to find a shoe, however, that is made just for use on a rowing machine. You can get shoes that are built for outdoor rowing but these will be very expensive. When it comes to sports-specific shoes, those that are best suited for rowing machine use are:
Skater Shoes
Indoor Soccer Shoes
Wrestling Shoes
Flat Soled
A flat-soled shoe has zero drop between the heel and the toe. These are ideal for rowing, allowing you to get a firmer hold on the footrests. Skating, wrestling, and deadlift shoes are designed with flat soles, so are all appropriate for rowing.
Barefoot Style
If it wasn't for the discomfort that comes from blisters and abrasions, barefoot rowing would be ideal. Barefoot-style shoes get you as close to being barefoot as possible while still giving you protection from the skin discomfort that comes with direct contact. There are several styles of barefoot shoes including:
Finger shoes
Water shoes/socks
Yoga socks
---
Final Thoughts
If you want to get the best out of your rowing workouts, you can't expect to be able to jump on the machine wearing your running shoes. In fact, you'll get the best performance with a shoe that is everything your running shoe is not: minimalist with hardly any padding with stiff, solid flat soles and excellent fitting.
The best rowing shoe that meets all of our criteria is the Merrel Trail Glove, which delivers a lightweight shoe with a glove-like fit, zero heel drop, great breathability, and moisture and odor-reducing technology.
Check out the best price on the Merrel TrailGlove.
---
FAQs
What shoes should you wear for rowing?
The best shoes for rowing will be lightweight, have a flat, thin sole, have minimal padding, and securely lock the foot into the shoe. The best shoe to meet those needs right now is the
Merril Trail Glove
. 
Should you wear shoes on a rowing machine?
Wearing shoes on a rowing machine is a matter of choice. If you are comfortable in bare feet, then you should go without shoes. However, sweat slippage may cause your feet to slide around. Wearing shoes can prevent sweat slippage, blisters, and abrasions and provide some padding while improving grip.
What do I wear on my feet when rowing?
You should wear a light shoe that has minimal padding, a flat sole, and a secure foot lock. Shoes designed for
CrossFit
are usually a good match for use on a rowing machine.
What are rowing shoes?
Rowing shoes are athletic shoes designed to be used when you are exercising on a rowing machine.