In this article, I'll be comparing the Hydrow rowing machine with the Peloton exercise bike.
I've been training with and recommending cardio machines for more than 3 decades and these two brands, Hydrow and Peloton, represent the creme of the crop in the rowing and indoor cycling categories. I've used both of them extensively for my own personal use and as a trainer.
For this article, I've also spent a lot of time doing online research, including reading verified user reviews. All of that experience and research come together in this article as we provide a definite answer to the question of which is better; Hydrow or Peloton.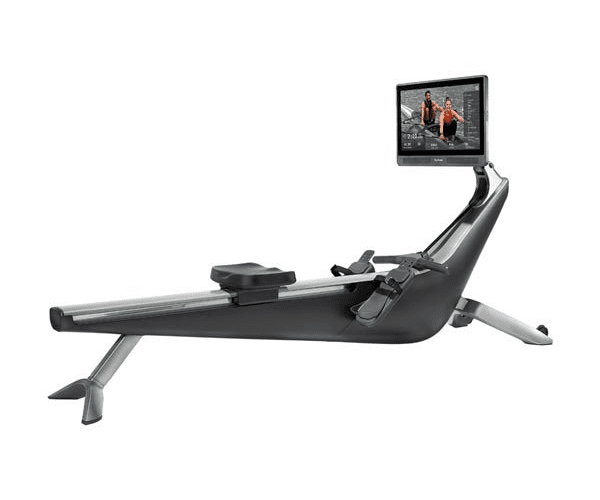 Hydrow
Immersive fitness experience
3,000+ workouts
World-class instructors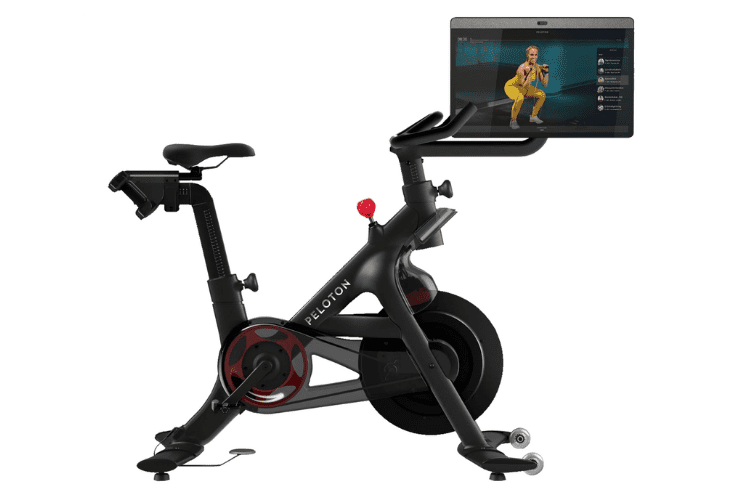 Peloton Bike+
Lots of engaging content
Awesome graphics
Powerful flywheel for smooth performance


Here at Start Rowing we include products we think are useful for our readers. If you buy through links on this page, we may earn a small commission.
At a Glance
For those of you who don't have time to read the entire comparison, let's cut to the chase…
The Peloton and the Hydrow are both great machines with awesome subscription features but the Hydrow rower comes out on top in a head-to-head. It's cheaper, has a better warranty, is not so bulky, and allows for a more complete full-body workout experience. Its interactive features are not quite as impressive as the Peloton but the Hydrow subscription offers more variety in terms of off the machine workouts. As a result, if you had to choose just one machine, that machine should be the Hydrow rower.
When it comes to investing in a top-of-the-line piece of cardio equipment for our home, few of us can afford the luxury of getting both a rower and a bike. If you're after the best in terms of both workout performance and the interactive and immersive training experience, then your options are going to come down to the Hydrow rowing machine or the Peloton exercise bike.
In this article, I'll delve into the features and benefits of the Hydrow rower and the Peloton bike. I'll then put rowing and cycling head to head to determine which provides the better workout. Then it'll come down to a head-to-head comparison based upon the six key features of both machines. At the end of this article, there'll be only one workout machine left standing.
Read on to discover which will prevail; Hydrow or Peloton.
Hydrow Rowing Machine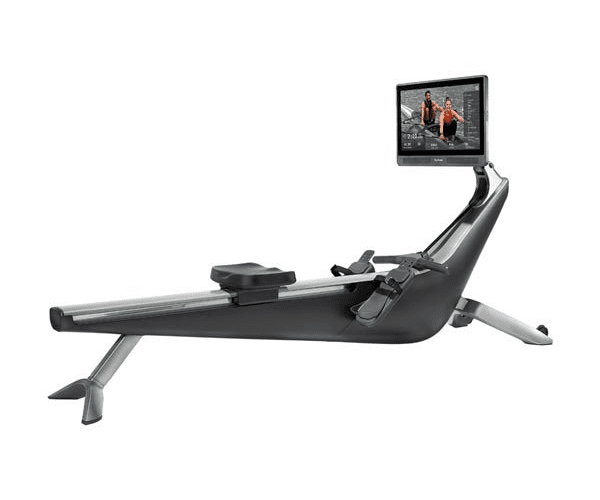 The Hydrow rowing machine provides live and on-demand workout classes, thanks to a huge 22-inch HD screen and a powerful monitor. This rowing machine is often dubbed the Peloton of rowing machines and is recognized as providing the best interactive experience of any rower on the market right now.
The Hydrow measures 86 inches in length by 25 inches in width. The monitor incorporates hi-fi speakers, a 2-megapixel camera built-in microphone, USB 2.0 connection, and is both Bluetooth and Wifi capable. This rower has a distinctive look, featuring sleek curved lines that give it a futuristic aesthetic.
The Hydrow is an electromagnetic machine that delivers a smooth, quiet workout. There are 10 rollers under the seat, ensuring a very smooth glide up and down the rail. The 22-inch screen can be angled 25 degrees to either side. This allows you to get a good view while doing a vast range of non-rowing exercises which are available with full instruction.
To benefit from the interactive features of the Hydrow you need to pay a recurring monthly subscription of $38. That provides you with access to live on the water rowing sessions with top rowers from around the world. You also get access to more than a thousand recorded workouts, with more being added every month.
Hydrow Rowing Machine Highlights:
Robust aluminum and steel frame
1920 x 1080 full HD 22-inch adjustable angle screen
More than 1000 on the water and in the studio rowing workouts
Live on the water rowing sessions daily
Whole body fitness workouts
Quiet operation
10 roller seat for a smooth glide
Heart rate monitoring
Peloton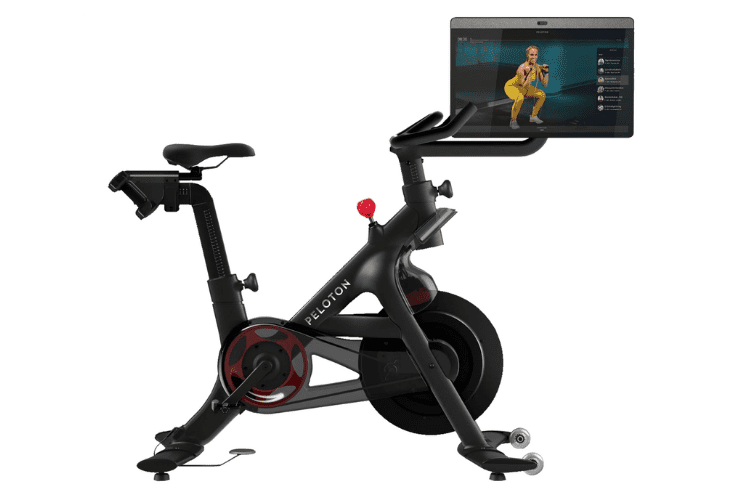 The Peloton spin bike has been on the market since 2014. Over the past eight years, it has established itself as the premium home exercise bike on the market. The latest version is the Peloton Bike+. The main improvement is a larger 24-inch display monitor, which swivels to allow for clear viewing while doing floor exercises.
The Peloton Bike+ is made from high-grade powder-coated carbon steel. That makes it very strong but also extremely heavy, weighing in at 138 kg. The monitor features an 8-megapixel front-facing camera with a built-in privacy slider so you can chat with your buddies during the workout.
This spin bike is powered by a 17 kg (37.5 lb) flywheel. That is a heavy-duty flywheel and it provides the basis for an exceptionally smooth, reliable workout experience. You're able to get a huge range of intensity settings from very light to extremely heavy. The Peloton Bike features a new electronic resistance controller which automatically adjusts the resistance level during the workout.
A Peloton subscription will cost you $40 per month. This will give you access to more than a thousand exercise classes, across a full range of exercise platforms. There are also an average of 10 live classes on offer each day.
Peloton Bike+ Highlights
Very solid bike
Lots of engaging content
Looks great
Awesome graphics
Powerful flywheel for smooth performance
Electronic resistance controller
Comfortable seat and handlebars
Rowing vs Cycling
The question of which is better, a rowing machine or an exercise bike, does not have one definitive answer. That is because it depends on what your workout goal is.
When it comes to weight loss, a rowing machine will provide a full-body workout while also significantly elevating your heart rate. However, fitness experts do not recommend relying on rowing as your main fat loss exercise. That's because rowing requires more technical skill than other forms of exercise like cycling. So, unless you are performing the exercise with technical proficiency, you won't see a great fat loss result.
An exercise bike, on the other hand, works the muscles of your lower body while also delivering an effective cardio workout. It is also ideal for high-intensity interval training. Moreover, exercising on a bike is a lot less technical than rowing. As a result, cycling is a better option for weight loss.
If, however, your goal is to tone and strengthen your muscles while also building some muscle, the rowing machine is the better option. Both types of exercise will work your muscles, but the emphasis while cycling is on the glutes, quads, hamstrings, and calves. There is minimal upper body activation when you are on a bike.
The rowing machine involves the muscles of your whole body. Here's a breakdown of the muscle effort when you are rowing:
60% legs
30% pendulum effort
10% arms and back
A rowing machine workout will bring your abdominals, latissimus dorsi, rhomboids, trapezius, deltoids, biceps, triceps, glutes hamstrings, quads, and calves into play.
Of course, if you're specifically wanting to build your legs then the bike is a better option for you. Conversely, if you're intent on making your upper body stronger, go with the rowing machine.
When it comes to calorie burn, there is not a lot of difference between a rower and an indoor bike. According to Harvard Health Publishing, a 185-pound person will burn the same number of calories with 30 minutes of moderate exercise, that being around 294 calories. 
If you have knee problems or are recovering from an injury, the bike is going to be a better option for you.
At the end of the day, the most important consideration when deciding between the rowing machine and the exercise bike is your personal preference, The type of exercise, you love the most will, at the end of the day, be the one that you keep doing.
Head-To-Head Comparison
Now let's look at the features of these machines head-to-head
Design
Hydrow
The Hydrow rower is a stylish-looking machine that features rounded edges and sleek lines. It certainly doesn't look like your standard rowing machine, offering an aesthetic appeal that you don't normally get. Still, it has a powerful, robust frame that ensures that it will stay put regardless of how hard you're rowing.
Despite its rigidity, this is a relatively lightweight rower, weighing in at just 145 lbs. It is made from aluminum and heavy-duty plastic outer covering of the motor unit. This is not a foldable rower, though, and isn't the easiest to move around. Ideally, it should be left in the place where you'll be working out as a permanent piece of furniture.
Rather than a chain, the Hyrdow rower uses a nylon cord to connect the handle to the inner mechanism. That makes the movement much quieter and does not require the sort of maintenance needed for a chain-driven rower.
Peloton
The Peloton is an impressive-looking spin bike. The moment you get on it, you feel that it is as solid and high-performing as it looks. It's made from premium grade powder-coated carbon steel, making for a heavy durable frame. It does come with front transport wheels but you'll probably want to keep this in place rather than bringing it out for every workout.
The huge 24-inch touch screen on this bike can be swiveled to both sides to follow the off-the-bike workouts. This bike features a 17 kg flywheel to deliver a very efficient, smooth pedaling motion.
Winner: Hydrow
Comparing the design of a rower and a cycle is definitely a case of apples and oranges. Both machines look great, are solidly made, and deliver a great workout. However, purely based on the Hydrow being much lighter and easier to move around, I've got to give it the edge here.
Touchscreens
Hydrow
The touchscreen display monitor on the Hydrow is a standout feature, being larger and better performing than any other rowing machine monitor on the market. You get a 22-inch 1920 x 1080 full HD touchscreen resolution with front-facing dual 3W speakers. This hardware allows you to get the maximum experience from the massive amount of interactive features that come with your subscription.
The Hydrow monitor is both sweat and dust resistant and is Bluetooth capable, allowing you to train with a heart strap monitor. The monitor provides an accurate rendering of your key training diagnostics, including your time, calories burned, strokes per minute, average split time, and 500-meter split.
The display monitor is fully adjustable so that it can be angled to the sides of the rower for when you are following the numerous full-body workouts that are available.
Peloton
The Peloton Bike+ features a massive 23.8-inch screen, that is more than 2.5 inches bigger than the previous version. It connects to the bike by way of a 360-degree mount so that you can swivel it to any angle. The 1920 x 1080 resolution delivers awesome visuals with the touchscreen also providing a running readout of your training data.
An 8mp front-facing camera sits above the display allowing you to video yourself or interact with fellow trainees from around the globe.
If you choose not to go with the monthly subscription, your options on the Peloton are severely limited. That's because there are no pre-programmed workouts built into the monitor. You will still be able to pedal the bike but nothing will show on the monitor.
Winner: Peloton
The Peloton display monitor is larger than the Hydrow and has a more powerful camera.
Workout Experience
Hydrow
The Hydrow rower makes use of a unique electromagnetic resistance mechanism combined with a computer-controlled auto adjustment. The result is an extremely smooth rowing experience that is also super quiet. In fact, rowing on the Hydrow is among the best replicas of actually rowing on water that you will get on any magnetic rowing machine. There's none of the unnatural jerkiness or return lag that is commonly associated with magnetic rowers.
The resistance level can be adjusted on the touchscreen at the start of your workout. The computer system will then adjust the resistance level in accordance with the speed of your row. Overall, the Hydrow provides a very impressive workout, allowing you to get a full stroke action, keeping you securely affixed to the machine, and delivering a smooth, natural rowing action.
Peloton
The Peloton will allow for an intense, stable, and consistent workout. Even when you're pedaling at full tilt, there is no lateral movement or other signs of instability. The resistance settings range between 0 and 100 and are powered by an impressive 17 kg (37.5 lb) flywheel to deliver a very smooth, natural pedaling experience.
You can either adjust the resistance with a red knob that is within easy hand reach or you can simply allow the electronic resistance controller to automatically adjust the resistance of your workout. The seat and handlebars are comfortable, though some reviewers have noted that the handlebars tend to become wobbly after a couple of months of use. This is an easy fix with the spanner set that comes with your purchase.
Winner: Draw
Both machines deliver a very high-quality workout experience. You won't experience any of the lag or jerkiness that is common with lower-quality cardio machines on either of these market leaders.
Price
Hydrow
The Hydrow rower will cost you $2245. However, Hydrow frequently runs specials off their website. At the time of this writing, they are offering a $200 discount and a free $90 machine mat.
The company also sells a range of accessories, including a heart rate monitor and upright storage kit. These are nice to have but not needed to make full use of the Hydrow.
A monthly subscription will cost you $38.
Hydrow does not provide a complimentary subscription period with your purchase of the rower.
Peloton
The classic Peloton Bike+ retails for $2495. Peloton also sells their classic bike for $1895. An essentials package, which includes things like cycling shoes, is available for between $150-200.
Membership of the Peloton app will cost you $39 per month.
As with Hydrow, there is no complimentary membership with the Peloton purchase.
Winner: Hydrow
While the ongoing monthly costs are the same, the Hydrow machine will cost you a few hundred dollars less than the Peleton Bike+, giving it the price edge.
Warranty
Hydrow
Hydrow provides a 6-year warranty on the frame of this rowing machine. You also get two years' coverage on the working parts, such as the handle, strap, seat assembly, and screen carriage. The screen and other electronics are also covered by a two-year warranty. Finally, you get 18 months of labor coverage.
Peloton
The Peloton Bike+ comes with a 5-year frame warranty. You also get 12 months of coverage on the display monitor, components, pedals, and labor.
Winner: Hydrow
Hydrow offers a year's longer warranty on the frame and doubles the time period for the moving parts – enough said!
Customer Experience
Hydrow
Customers are near universal in their praise of the rowing experience and the interactivity of the Hydrow rower. It has a 4.5-star average rating on TrustPilot. A common theme among reviewers is the impressiveness of the workout range and the engagement of the instructors. There is also a lot of praise for the customer service team.
The few complaints focus on the fact that videos cannot be paused or the volume adjusted. People also note that the Hydrow monitor is not compatible with the Apple Watch.
Peloton
Peloton also gets near constant positive online reviews. In terms of the bike itself, people comment on the powerful performance thanks to the heavy-duty flywheel, the smooth ride, and the user comfort. They also rave about the interactive workouts, both in terms of their quality and their quantity.
Online complaints are mainly to do with taller users not getting an easy knee movement, the speakers being positioned in the front rather than the back of the machine, and the external wiring which hangs down from the back of the machine.
The Peloton biker has gotten some negative press lately as a result of a couple of TV shows which featured people having cardiac episodes after using the bike. This has negatively affected the company's share price.
Winner: Hydrow
Both of these machines get big props from their customers. However, the Hydrow has fewer minor issues than the Peloton.
Comparison Table
| | | |
| --- | --- | --- |
| | Hydrow | Peloton |
| Price | $2295 | $2495 |
| Monthly membership | $39 | $39 |
| Live Classes | Yes | Yes |
| Touchscreen Size | 22 inches | 24 inches |
| Bluetooth Enabled | Yes | Yes |
| Resistance Type | Magnetic | Magnetic |
| Warranty (Frame) | 6 Years | 5 Years |
Hydrow vs Peloton: The Winner
The overall winner in the head-to-head between the Hydrow and the Peloton is the Hydrow, though it is a very closely run race. Both of these machines will provide you with an awesome workout experience, with smooth, fluid, and reliable performance. However, the Hydrow is a lighter and more movable machine. It's also cheaper and comes with a better warranty. 
If you are after a full-body workout that challenges the muscles of both your upper and lower body, then the Hydrow is the machine for you. However, if you are a cycle lover who is after more of a fat loss, cardio workout then the Peloton is the better option for you.
Now that you've got the full story, it's time to check out the official websites for these two powerhouse cardio machines. Check out the latest offer on the Hydrow rower the best offer on the Peloton Bike+.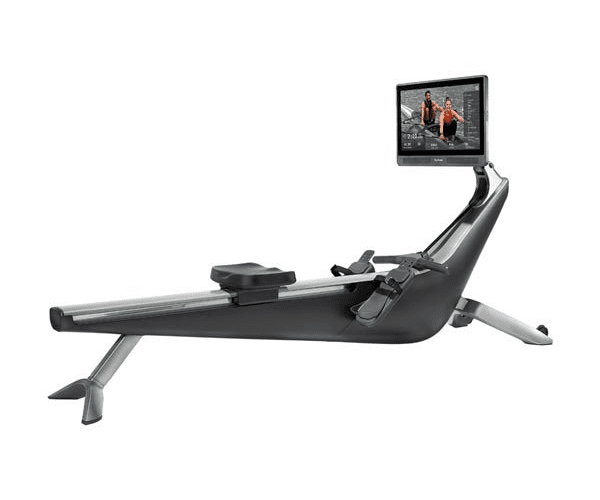 Hydrow
Immersive fitness experience
3,000+ workouts
World-class instructors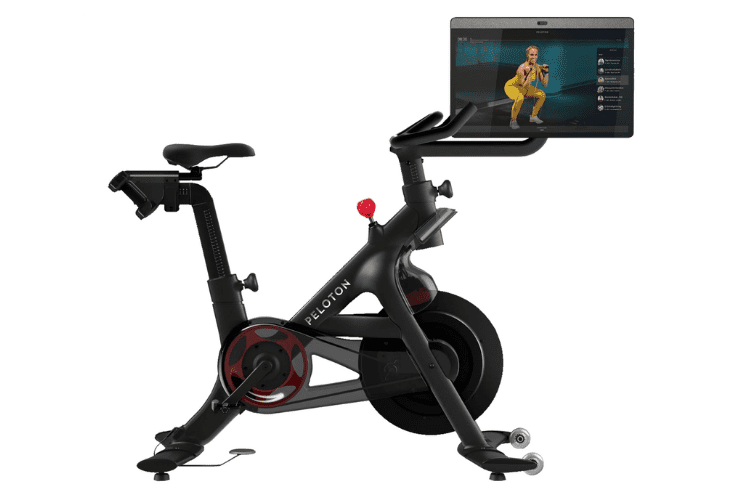 Peloton Bike+
Lots of engaging content
Awesome graphics
Powerful flywheel for smooth performance


Here at Start Rowing we include products we think are useful for our readers. If you buy through links on this page, we may earn a small commission.
FAQ
Is rowing or Peloton better?
That depends on what your training goal is. For calorie burn and fat loss, the Peloton is a better option. However, if you are after a full-body workout and want to tone, build and strengthen your upper and lower body muscles, you're better off with a rowing machine.
Is Peloton coming out with a rower?
Yes, Peloton is coming out with a rower. There have been rumors of a Peloton rower for several years. They were supposed to release their rower in 2022 but that timeline is by no means set in stone.