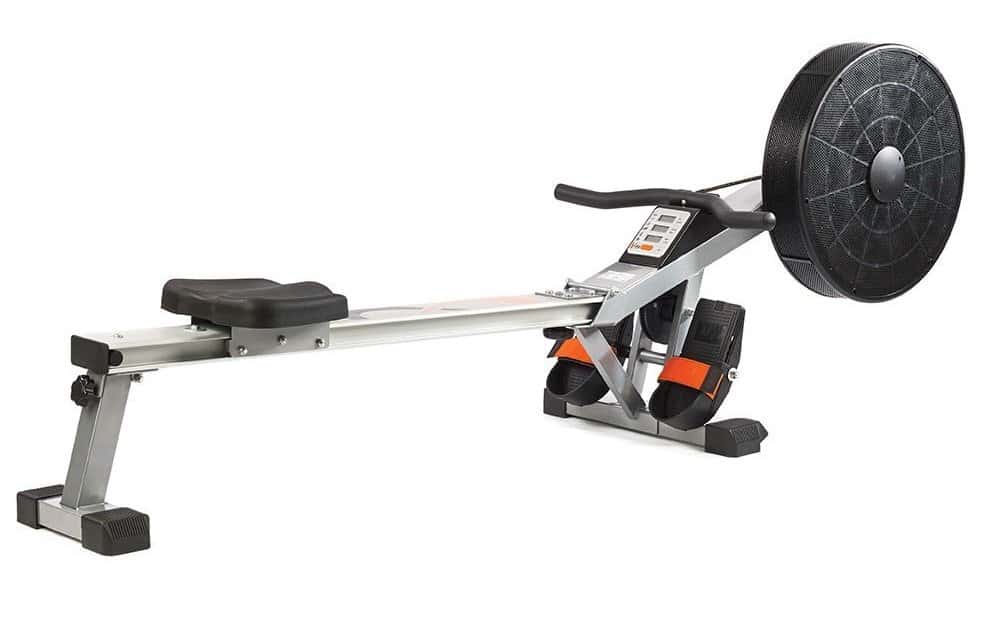 The V-Fit Tornado is a solid piece of fitness equipment that offers a low to medium-impact cardio solution. It is made with a home fitness persona in mind by offering convenience, a compact design, and basic features that one would require when exercising at home. For this reason, the V-Fit Tornado has become a popular home rowing machine in the UK.
Pros:
Good digital display to track your metrics
Nice club-style design with a solidly built frame
More affordable than many other air rowers
Comes with a contoured seat and oversized footplates that enhance comfort
Cons:
Is quite noisy
Some users found its assembly complicated
Things to Consider Before Buying the V-Fit Tornado Air Rower
The first differentiating factor among different rower models is the mode of resistance. There are various forms of resistance, including magnetic, air, hydraulics, and water. The V-Fit Tornado uses air resistance. It comes with a flywheel at the front, which creates wind when you pull the handle.
Check on the general robustness of the frame. Go for a solid aluminum frame that can handle your weight during the rowing exercise. Besides, it should be easy to assemble the rower without requiring professional help or technical tools. Most importantly, check the features of the roller, including fitness programs, display characteristics, and supported metrics.
Features & Benefits
Here are some primary features of the V-fit Tornado.
Assembly
Much of the rowing machine comes preassembled, so all that you are required to do is mount the seat and monitor as well as adjust your footplates. It comes with an instruction manual that shows the procedure of assembling the different parts. You will need a screwdriver to drive the nuts in place.
Its shipping weight is a little over 25 kg. While most people can lift it without a problem, it is good that you get a helping hand when assembling it. Most people have no issues assembling different parts. However, some users have stated they find it hard to assemble.
Resistance Type
As said earlier, the rowing machine uses air resistance. It uses a chain drive air resistance with a flywheel that sucks air in to drive a fan. The wind that is created by the fan creates resistance. As you row faster, the flywheel sucks in more air.
This increases the wind, which, in turn, creates a stronger resistance. Therefore, you get a resistance that is proportional to your speed.
The output is directly proportional to your input, which makes the rower suitable for people of different fitness levels. As you get fitter and can row faster, the amount of resistance produced increases. This ensures that you would need to work your muscles more, thereby allowing you to train at an optimal level.
Technical specifications:
Full Dimensions: 80mm / 40mm and 50mm / 25mm tubular aluminium mainframe
Dimensions (when folded): 120cm x 75cm x 44cm (LxHxW)
Maximum user weight: 115kg
Weight: 24 kg
Material: Aluminium frame, a contoured cell foam seat, PVC footplates
Colour: Silver rail, black flywheel, and stands with orange accents
Display/ Monitor
V-Fit Tornado comes with an adjustable mono-color, three-screen, and six-function display that comes with six metrics that you can use to track your workout progress. 
These metrics include calories burned in a workout session and the number of strokes per minute, total strokes in a given session, the distance you have rowed, time spent per exercise, and a timer to help you track your rowing laps.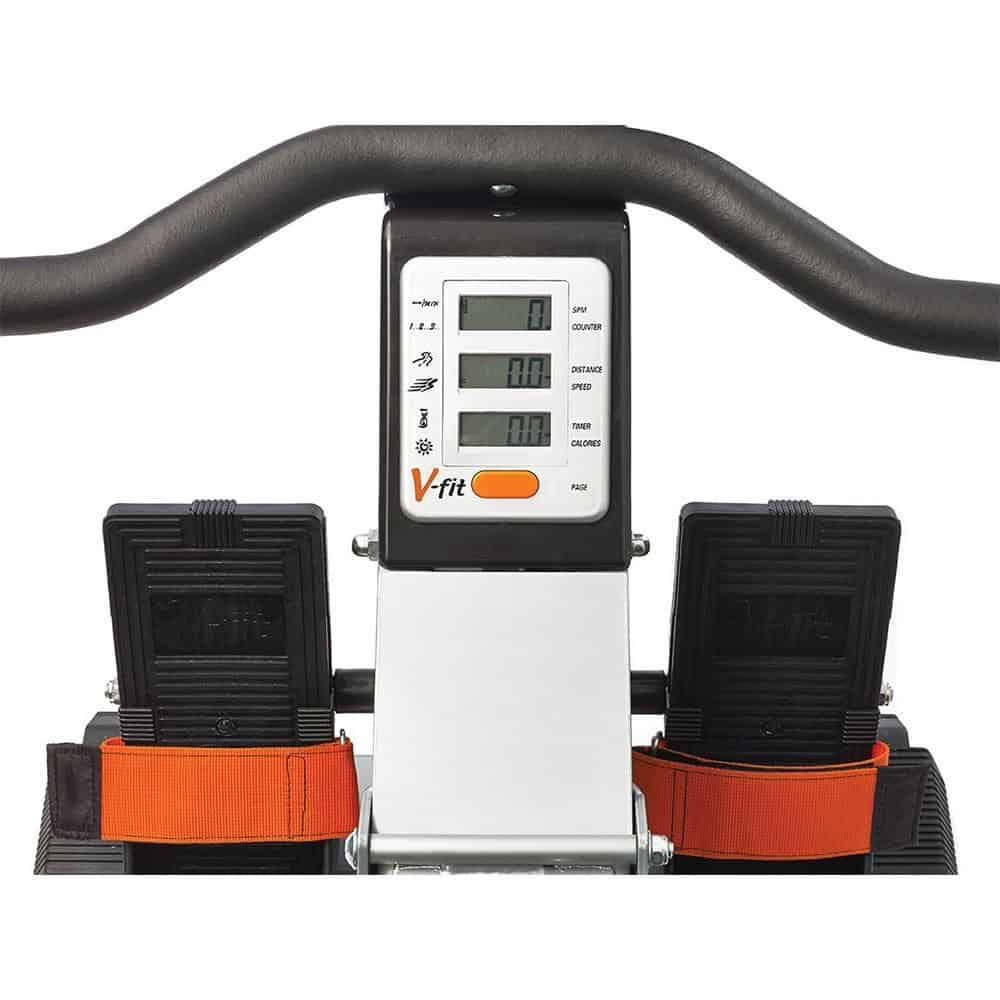 The display is placed at the front-facing end of the rower and comes with large numbers that you can read without having to bend forward. Unfortunately, you cannot measure your heart rate with the machine. If you'd like a heart rate monitor then I can recommend the Polar H10. Some people may also have a problem reading the screen due to the low contrast.
Build Quality & Features
I find the use of aluminum a nice departure from the popular steel models. Aluminum is considerable lighter and looks better than steel, even without lots of painting.
This means that you can move the rower with ease from one point to another, especially if you work out at a different location from your storage area. However, the aluminum rail is weaker than its steel counterpart. Apart from that, the rower has a solid build and should serve you for a long period.
The rower has a stable base, thanks to the wide stands. They are rubberized at the bottom. Therefore, they are safe for use on any type of floor, including wood and stone. However, for extra precaution, consider placing a mat on the floor. It has PVC footplates that are held in position by a bracket, making them unlikely to get damaged.
If you store the rower in a different location, you can fold it after a workout so that you transport it with ease. It also takes less space when folded.
Comfort
The manufacturer incorporates ergonomics in the design of the machine It has oversized footplates that come with adjustable Velcro straps that enhance the comfort of the roller while ensuring you do not slip away.
The handle is also ergonomically designed for maximum comfort when rowing for long periods.
The V-Fit Tornado has a contoured seat that comes with foam padding for comfort when rowing for long periods. The monitor is centrally placed so that it faces the rower for ease of reading various metrics on display.
Storage
If you have limited space at home or office, pick a compact rowing machine. The V-Fit Tornado is quite compact and can be folded to fit small closets. Once you fold it, you can roll it across the room with the wheel located on the front.
It is light and can be lifted with ease if you are storing it far from your workout location.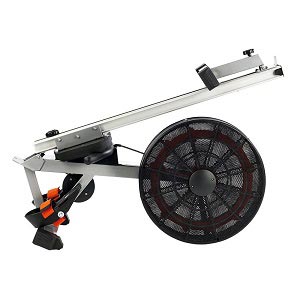 Warranty
The V-Fit Tornado Air Rowing Machine comes with a 12-month warranty. Unfortunately, I find the warranty too short for a rower of this price and quality.
When you make a purchase, be sure to register the product so that you activate the warranty.
Alternatives to the V-Fit Tornado Air
DuraB is a magnetic rowing machine that comes with eight adjustable fitness levels. It is a robust rowing machine that has low noise and precise calibrations.
Users enjoy a smooth operation thanks to the high-quality flywheel enclosed at the front. In addition, it features an LCD that comes with a tablet pocket. Therefore, you can get entertained or follow rowing lessons from your tablet as you row.
It also has an LED display that allows you to track different metrics without moving from your seat. It is very compact at a width of only 51 cm and can be folded for storage.
Maxxus AirRow rowing machine is an air rower just like the V-Fit Tornado. However, it has additional features such as a 9-level air resistance system that stimulates air resistance, just like water does to the boats. It also has a quieter and smoother operation than the V-Fit.
The display is backlit and has such metrics as heart rate, calories burned, paddle width, and the number of watts generated. The V-Fit lacks some of the metrics. 
The MAXXUS AirRow also gives a slightly longer warranty period to the users at two years. It has a strong build and can be used by different classes of athletes, including beginners, moderate and elite.
Bluefin Fitness Blade is a high-end rowing machine that uses a magnetic resistance and braking system. It comes with eight levels of tension control and can be used at different levels of fitness.
The rower comes with a large LCD that shows all the basic workout metrics. In addition, it comes with an integrated smartphone Kinomap app that features thousands of training videos, classes, and inspirational content. You also get to interact with a wider rowing community.
The machine uses high-end finishing on the rail, handle, and flywheel. The seat has thick cushioning for enhanced comfort while the foot pedals are made from anti-slip high-quality materials. 
You can fold the rower for storage after use with three simple steps.
Final Thoughts on the V-Fit Tornado Air Rowing Machine
The V-Fit Tornado Air Rowing Machine is a compact rower for use at home. It is an affordable option for anyone who is looking for a rowing machine for regular exercise, whether at home or the office. 
The air resistance mechanism allows it to offer variable resistance to users at different fitness levels. Unfortunately, it is not entirely quiet during operation and may disturb other occupants. It also does not come with heart rate metrics.
Overall, the rowing machine is durable and combines all the basic features that you would need to get a great full-body workout. It is also light thanks to the aluminum railing. You can also fold it up for storage which is handy.
If you are looking for a beginner rowing machine for your workouts, the V-Fit Tornado Air is a solid choice.
V-Fit Tornado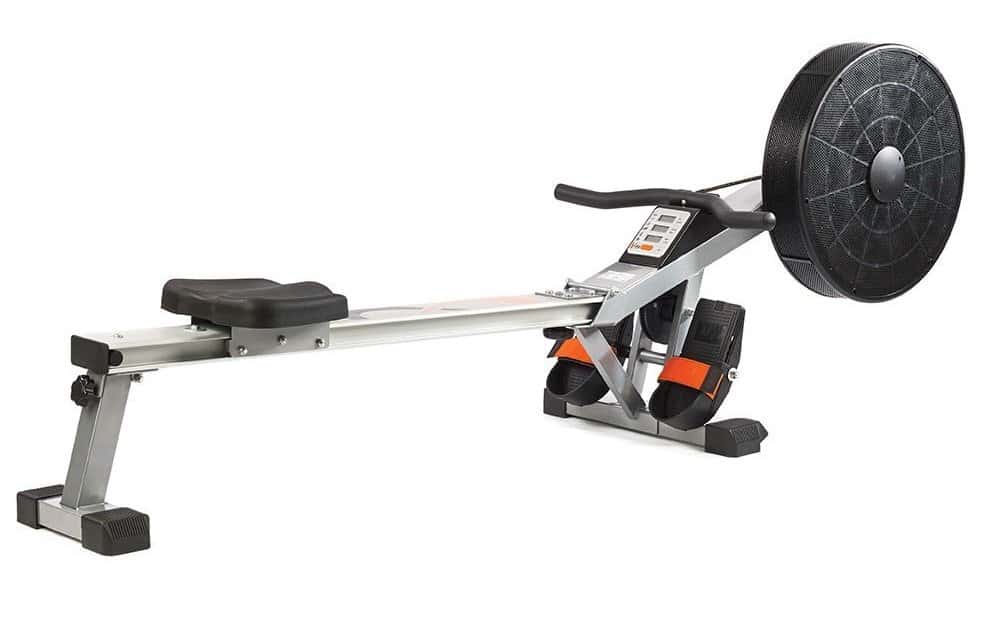 The V-Fit Tornado is a solid piece of fitness equipment that offers a low to medium impact cardio solution. It is made with a home fitness persona in mind by offering convenience, a compact design, and basic features that one would require when exercising at home. For this reason, the V-Fit Tornado has become a popular home rowing machine in the UK.
Product Brand: V-Fit
Product Currency: GBP
Product Price: 299.99
Product In-Stock: InStock