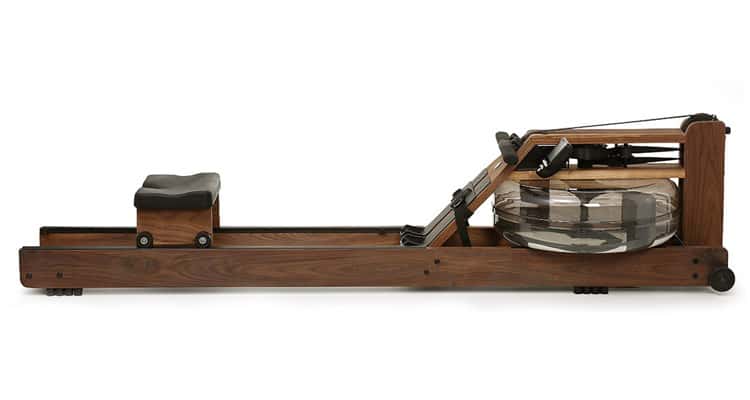 WaterRower is amongst the top rowing machine manufacturers in the world today. Their unique rowing machines can be found in commercial gyms as well as homes. Using a WaterRower is something of a unique experience because they use a patented resistance system that involves pulling a paddle through water which feels just like rowing a real boat. WaterRower currently makes ten different rowing machines that all use the same technology and offer the same functions. The main difference between models is the material used for construction and the commercial versions use different wood and have more layers of gloss for durability in a club.
Type and Model
The WaterRower Classic is a commercial-quality rowing machine designed for heavy gym use but that doesn't mean it wouldn't work equally well in a home gym. Solid, and quiet in use, WaterRowers are known not only for looking good but for delivering a top-quality workout too.
Like all WaterRowers, the Classic uses the water flywheel system for resistance. This is essentially a paddled flywheel inside a sealed drum of water. When you pull on the rowing handle, the strap to which it is attached turns the flywheel housed within the drum which creates resistance. The harder you pull, the more resistance there will be which means that there is no need to change any settings mid-workout to vary your exercise intensity.
The Classic is a little on the large side though. It measures 82.25" long, 22.25" wide, and 20" and weighs 66.5 lbs. But when the water tank is full, that weight increases to a hefty 103.5 lbs.
Features and Functions
The WaterRower Classic is made from solid American black walnut. Like all woods, black walnut may vary in color from a rich brown to purple-black. Each machine is handcrafted and also hand-finished with three coats of Danish Oil which protects the wood while giving it a deep luster and warmth.
It's not all about looks though – the Classic is also a very high-tech rowing machine and the S4 performance monitor is almost as good as having a rowing coach next to you while you work out.
The S4 Monitor displays workout intensity in meters per second, mile per hour, time per 500 meters, time per 2 kilometers, watts, and calories per hour. It also displays stroke rate, heart rate, distance in units of meters, kilometers, miles, total strokes, and duration. It can be programmed with user-made workouts and also has several workouts built-in.
WaterRowers come with a 3-year frame warranty and a one-year parts warranty. With registration with WaterRower, the warranty is extended to five years for the frame and three for the components.
Price and Value
WaterRowers are the most expensive rowing machines around but, being handcrafted and made out of hand-finished wood as well as equipped with arguably the best performance monitor currently on the market, it's easy to see why. The WaterRower Classic is not the most expensive WaterRower but it's only a little more than the cheapest.

The initial purchase price may be off-putting but it's worth remembering that a WaterRower will last many years and will function faultlessly for all that time. There is very little to break on a WaterRower and, if you divide that price by the number of years a WaterRower will last, it arguably represents good value for money.
Final Thoughts on the WaterRower Classic
Nice to look at, great to use, and made by hand, there is a lot to love about the WaterRower Classic rowing machine. They are expensive but they are also very long-lasting. While you could buy a cheaper rower, you'd probably have to replace it long before a WaterRower even showed any signs of use or age.
[rank_math_rich_snippet]