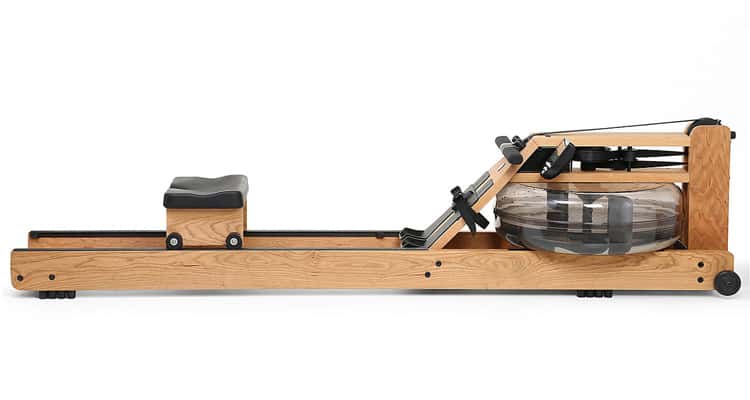 WaterRower has been making their unique rowing machines since 1988 and produces some of the best-looking rowing machines to ever have graced a gym – home or commercial. While they have never quite reached the same broad acceptance as Concept 2, there is no denying that WaterRowers are something special. However, their hefty price tag means you need may need to think hard before purchasing one.
Type and Model
The WaterRower Oxbridge gets its name from the famous British university annual boat race between Oxford and Cambridge. Made predominately from varnished cherry wood, each Oxbridge rower looks slightly different as the color is dictated by the color of the original tree varying from red-brown to deep red.
Being made of wood, there is one word you can use to describe the WaterRower Oxbridge – solid. These machines are built to last. They're big too; the Oxbridge measures 82.25" long, 22.25" wide, and 20". The wooden frame reportedly absorbs vibrations which makes the Oxbridge very quiet to use.
It's not all about the wood though; the Oxbridge rower uses WaterRowers' unique water flywheel for resistance. Where other companies use fans or hydraulics, with a WaterRower rowing machine, you actually pull a bladed fan through the water. This provides a unique soundtrack to your workout and also provides a smooth and even pull. The harder you pull, the more resistance you encounter and the more demanding your workout will become – just like rowing on real water.
The rower itself only weighs in at 66.5 lbs. but when the water tank is full, that weight increases to a hefty 103.5 lbs. This rower is not lightweight.
Features and Functions
The WaterRower Oxbridge is a top-of-the-range rowing machine loaded with features and functions. As well as being made predominately of wood and equipped with the self-regulating water flywheel resistance system, the Oxbridge rower:
Is eco-friendly and made from sustainable cherry wood
Is long-lasting – the hardwood frame and the other components are very hard-wearing
Is easy to store – despite having a large footprint, the Oxbridge can be stood upright when not in use
Has a smooth-running, padded seat mounted on four wheels
Is fitted with flexible footplates and straps
Gets better looking with age – the color of the wood changes and matures each passing year
Is quiet in use and provides a smooth, realistic rowing workout
Has a 3-year frame warranty and a one-year parts warranty. With registration, the warranty is extended to five years for the frame and three for the components
Is fitted with WaterRowers' S4 performance monitor
The S4 performance monitor is a state-of-the-art device that will track every aspect of your workout including speed, distance, time, stroke rate, heart rate (it's HR monitor compatible), and time in and out of HR zone, and can also be programmed with interval workouts. It's no exaggeration to say that the S4 performance monitor is like having your own rowing coach.
Price and Value
WaterRowers are not cheap, but for the price you are getting a top-of-the-range rower that is not only packed with features and functions, it also looks amazing – like a fully functioning piece of art. There are similarly functional rowers available that cost considerably less but these alternatives definitely lack the aesthetic appeal of a water rower. There is no question, however, that you are paying a premium for those stunning good looks. But, if you don't want to buy your rower outright, WaterRower also offers a rental program.
Final Thoughts on the WaterRower Oxbridge
If you want a truly unique-looking rowing machine and don't mind spending a sizeable chunk of change on your purchase, the WaterRower Oxbridge could be just what you are looking for. It's not all good looks though – this is a serious rowing machine designed to deliver a great workout. Make sure you have enough space though; the Oxbridge cannot be described as compact.
[rank_math_rich_snippet]