Pros
Smooth resistance
Long rail to suit people up to 6'4"
Sturdy frame
Contoured seat
Folds for storage
Transportation wheels
Angled rail for a smoother return
Cons
Simple monitor
No tablet holder
Not designed for intense workouts
Unimpressive warranty
This is our review of the Xterra ERG200 Rowing Machine.
It's a popular budget rower that has a lot going for it. Having been in the fitness industry for 30 years, I've trained on all types of rowers across all price points, so I know what to expect from a budget (i.e. under $500) rower. I've pored over the ERG200 from every angle and done extensive online research to present you with an honest, unbiased appraisal of this rowing machine.
I found the Xterra ERG200 to be an impressive budget rowing machine. It provides you with a smooth rowing experience, thanks largely to the 9 lb flywheel. The long angled rail allows for a smooth return and accommodates taller users, which is not what you find with most budget rowers. While not overly durable, this rower does provide the performance and stability you'd expect from a rower under $500. 
In the paragraphs to follow, I will provide you with a complete breakdown of the positives and negatives of the Xterra ERG200. I'll also compare the ERG200 with three competitors that sit within its price range. At the end of this review, you'll have all the info you need to make an informed buying decision.
Keep reading to get the full story on the Xterra ERG200.
Xterra ERG200 Rowing Machine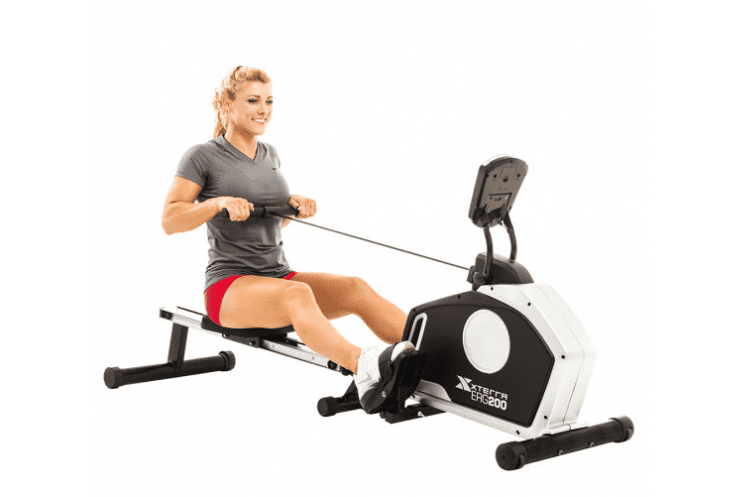 The Xterra ERG200 is a magnetic resistance rowing machine. That means that the mechanism of movement is powered by a flywheel and magnet system. When you adjust the resistance dial, the magnets on either side of the flywheel move either closer or more distant from the flywheel, increasing or decreasing the resistance level. 
The rower features a dual aluminum track rail system that can be angled to help achieve better rowing movement. It provides you with 8 levels of adjustable dial resistance. The highest level will provide you with a medium level of resistance but does not compare to when you're going all out on a water or air rower. 
There are no built-in programs on the console, which is simple but functional. Neither is there a pulse monitor on this machine.
The ERG200 folds up for easy storage and comes with transportation wheels.
The Xterra ERG200 is one of the best low-priced magnetic rower machines that I have come across. Commonly, you will find that the rowing action is compromised, usually as a result of jerkiness in the pull and a stuttered return. That is not the case here. You get a fluid movement with an angled rail to enhance your return smoothness.
The max user weight on the ERG200 is 250 pounds, which is what you'd expect for a budget magnetic rower. The frame is solid enough for a medium-intensity workout several times per week but isn't suited for HIIT or other intense training. So, provided that your expectations are in line with the capabilities of a machine within the budget price range, this rower will not disappoint.
Functionality And Design
The frame of the Xterra ERG200 is constructed from steel and aluminum. The front of the frame and the stabilizers on the base are made from steel, with an aluminum slide rail. The drive cover, pedals, and seat are constructed from ABS plastic. The total weight of the machine is 55 lbs and it has a max user weight of 250 lbs.
In terms of durability, you pretty much get what you would expect from a quality budget rower here. You'll be able to perform beginner workouts with ease several times a week. However, this is not the machine for people who are already at a high level of fitness wanting to really challenge themselves.
The rail on this rower allows for elevation, which helps with your recovery action. It also gives you a slightly more intense leg workout than you'd get with a completely horizontal rail.
The 9lb flywheel on this rower, while not overly heavy, does a good job of delivering a consistent amount of momentum to simulate real rowing. It is also worth noting that the flywheel is perimeter weighted. That means that the majority of the weight is loaded on the outside of the flywheel disc. This is a way to simulate a heavier flywheel and create more inertia to deliver a greater level of momentum and a smoother row. 
Features and Benefits
Now let's delve into the features of the ERG200.
Resistance Levels
The magnetic resistance on the ERG200W is controlled by an 8-level dial resistance. This produces a constant resistance, in contrast to the variable resistance you get with an air or water rower. That means that the remittance level you select stays the same regardless of how fast or slow you are rowing. 
The difference between the resistance levels is not very great, with the top level being only about 60 percent of what you'd be able to generate on a quality air rower. That will allow you to get a decent medium-intensity workout in but won't meet the needs of a high-level rower. 
V-Belt Transmission
Rather than the chain drive you get on more expensive machines, the ERG200W provides you with a poly v-belt. The belt provides the smoothness and durability you need while also eliminating the need for lubrication or dealing with hassles with the chain links getting caught up in your sleeves. The v-belt drive is also considerably quieter than a chain drive.
Ergometer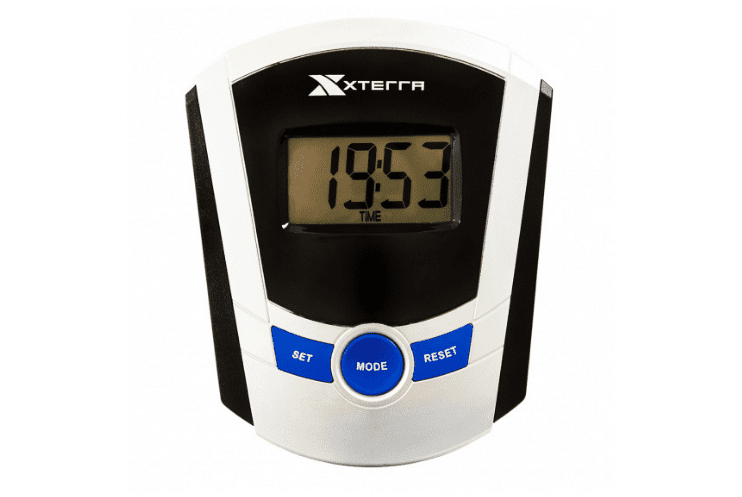 The monitor on the ERG200W is a pretty pared-down version of what you'd expect on higher-priced rowers. Yet, it still provides you with the fundamentals, by way of countdown timers of your:
The countdown feature allows you to work toward a specific training goal. For example, you can set a goal to burn a set number of calories, with the display counting down from your target to zero. The count goal measures every complete pull on the handle as a single count, so you can also set a countdown goal to add variety to your workout. 
This rower cannot track your heart rate. The monitor measures 3.7 inches diagonally. That's pretty small. In addition, this unit is not backlit, so that it can be quite hard to see when you are going all out during a training session. A positive aspect is that the monitor angle can be adjusted.
The monitor has simple functionality with just 3 buttons; mode, set, and reset.
Contoured Seat
The ERG200W is fitted with a large, contoured seat that has been ergonomically molded to fit your butt muscles. The ABS plastic seat is 14 inches wide and slip-resistant. Industrial ball bearings ensure that the seat runs smoothly on the dual aluminum rails.
Large Foot Pedals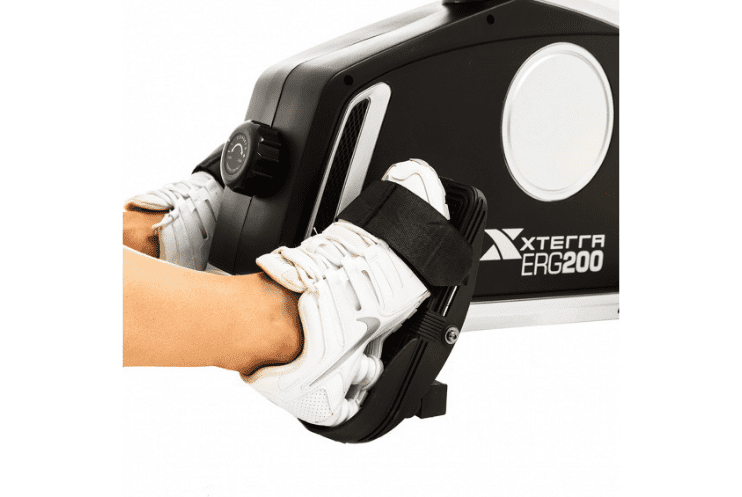 The large anti-slip ABS plastic pedals on this rower are fitted with velcro straps to allow you to securely strap your feet in place. The pivoting design of the foot pedals allows you to adjust for ideal foot positioning.
The single bar row handle is also padded with a slip and sweat-resistant material to keep your hands callus-free and secure.
Foldable Design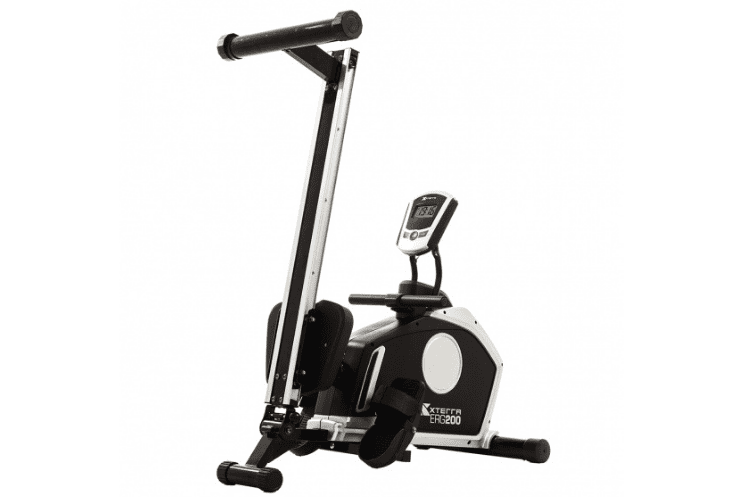 The ERG200W is quite a large rowing machine, with a length of 72 inches to accommodate for longer than standard dual aluminum rails. However, this is a foldable rower, allowing you to bring the rail up to a vertical position when not in use. That reduces the length of the machine by half for storage. The unit is also fitted with transportation wheels to make it easy to wheel around.
Long Rail
The dual aluminum rails on the ERG200 are longer than you'd usually find on a budget magnetic rower. That means that taller people will be able to use this rowing machine without impeding their full range of motion. According to the official website, people up to 6'4" can get a natural row without any compromise on their movement range. That was attested to by several verified user reviews that I came across.
Stability
One of the biggest issues with budget rowing machines is that the lack of durability causes the base to jump around when you start rowing with any intensity. That is not a problem with the ERG200W. Even though the machine is quite light, the extra-long rail and clever weighting of this machine keep it stable throughout your whole workout.
Technical Specifications
| | |
| --- | --- |
| Xterra ERG200 Rowing Machine | Specs |
| Assembled dimensions | 72L x 20.7W x 31.5H inches (183L x 52.5W x 80H cm) |
| Flywheel weight | 9 lbs (4 kg) |
| Assembled weight | 55.1 lbs (25 kg) |
| Weight capacity | 250 lbs (113.3 kg) |
| Frame | Steel & aluminum |
| Footrests | Pivoting, with straps |
| Resistance type | Magnetic, 8 levels |
| Ergometer | Time, count, total count, calories, SCAN |
| Warranty | Frame 1 year / Parts 1 year |
Setup Process
The Xterra ERG200W arrives in semi-assembled condition. You will have to attach the front base tube to the front unit that contains the flywheel, magnetic resistance system, v-belt, and pulling handle, along with the seat, pedals, and rear base stabilizer. This shouldn't take much more than about half an hour. All the tools you need to complete the job are provided. 
Price and Value
You can purchase the Xterra ERG200W for around $300 on Amazon. This is $139 less than the listed price on the official Xterra website. That puts this rower soundly within the lower end of the budget category.
That's the place you'd expect to find poor-quality machines that lack stability and deliver a stuttery rowing action. You don't get those issues with the ERG200W. In fact, this rower provides you with the same consistent rowing experience you get with higher-priced magnetic rowers, just with a reduced resistance capability.
That represents real value for money and makes the Xterra ERG200W stand out among a crop of very ordinary competitors.
Warranty
Xterra offers a pretty unimpressive warranty, with just 12 months on the frame and similar coverage on the parts. That's pretty standard for a low-ended rower but it would have been nice to see Xterra stand behind the build quality with at least a 2-year frame warranty. 
Alternatives
GoPlus Magnetic Rower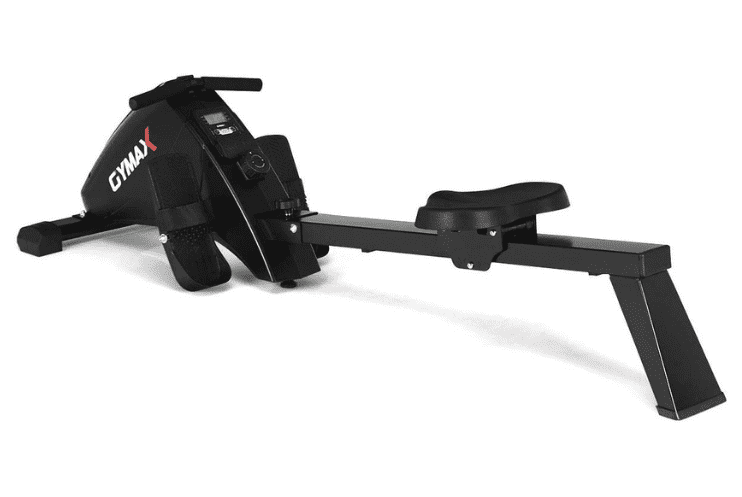 The GoPlus magnetic rower provides 8 variable shock resistance levels, a solid frame, and a relatively smooth rowing performance. The ABS monitor is basic but functional. The scan function will scroll through all of your data as you train. NBR handle grips and generous seat padding provide a comfortable rowing experience.
The GoPlus features a very compact design that makes this a great choice if you're limited on space. It is suitable for people of all body frames and heights, having a maximum user weight of 250 pounds. The GoPlus Magnetic rower weighs in at just 57.2 pounds. It's not as stable as the Xterra ERG200W and may begin to wobble when you push it at higher resistance levels. 
Pros:
8 variable shock resistance levels
Solid frame
Compact design
Cons:
Wobbles slightly when going fast
Check the best price on the GoPlus Magnetic Rower.
Titan Fitness Magnetic Rower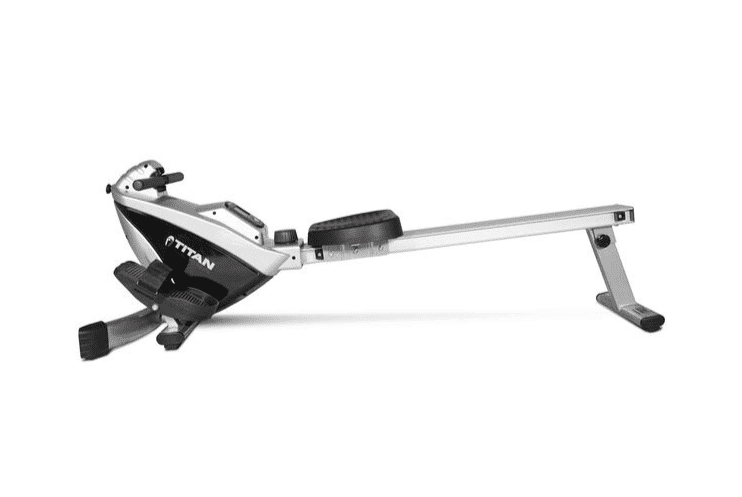 The Titan Fitness Magnetic rower is another quality magnetic rower that comes in under the $300 mark. It provides a smooth pulling action for a machine at this price point.
This unit is adaptable enough to be used by people of all heights and body frames. A large LCD screen gives you a very clear readout of all your training data, including calories and total row count.
With 8 levels of adjustable magnetic resistance, you'll constantly be challenged when using this rower. It features large, slip-resistant pedals, a comfortable padded seat, and foam grip handles that are slip and sweat-resistant. The unit is compact and can be quickly folded and stood on end when not in use.
Pros:
Very smooth pulling action
8 levels of adjustable resistance
Large, slip-resistant pedals
Cons:
Assembly is a little tricky
Check the best price on the Titan Fitness magnetic Rower.
Velocity Fitness Magnetic Rower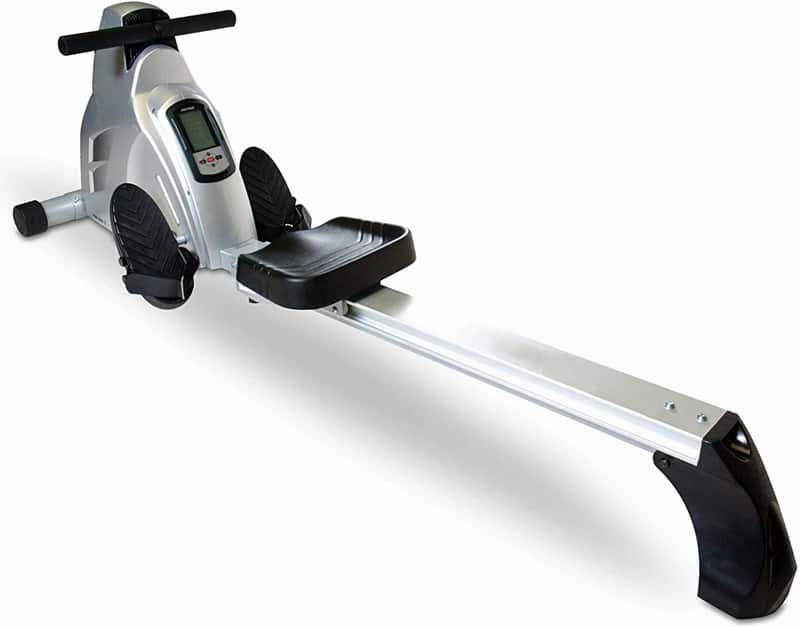 The Velocity Fitness Magnetic Rower provides a drum magnetic control resistance to give you a smoother, more natural rowing experience. It also features electronic tension to maintain the ideal strap tension at all times.
A great feature of this machine is that it comes complete with a chest strap heart rate monitor to allow for the most accurate pulse monitoring. You get 12 exercise programs on this machine, with 6 of them customizable.
The monitor on the Velocity Fitness Magnetic Rower features a large LCD screen. It provides a rolling readout of time, count, stroke/minutes, distance, calories, watts, and pulse. The saddle is made from molded polyurethane to give an ergonomic feel that is also comfortable. It also has a space-saving, foldable design.
This is an impressive magnetic rower but it will cost you a few hundred more dollars than the Xterra ERG200. If you're an experienced rower who feels that the ERG200W won't provide the oomph you need, this one is well worth checking out.
Pros:
Drum magnetic roll resistance
Electronic tension
Comes with a chest strap heart rate monitor
Cons:
The frame may start to wear after several months
Check the best price on the Velocity Fitness Magnetic Rower. 
Should you Buy The Xterra ERG200 Rowing Machine?
The Xterra ERG200 Rowing Machine is for you if:
You want a low/medium intensity workout a few times per week.
You are looking for a quality magnetic rowing machine at a budget price.
You want a rowing machine that will accommodate taller users.
The Xterra ERG200 Rowing Machine is not for you if:
You are an experienced rower who wants a near-water rowing experience.
You want a variable resistance workout where your speed determines the intensity level.
You want to do high-intensity interval training.
Final Thoughts
The Xterra ERG200 is a budget magnetic rower that you can pick up for around $300. It provides you with a smooth, even, jerk-free rowing experience.
The 8 resistance levels provide you with a medium level of intensity that will meet the needs of casual rowers but will leave experienced rowers wanting more. It provides you with a basic but simple interface, a large comfortable contoured seat, and a secure foothold.
The only real negatives with the rower are the limitations of the monitor, lack of programs, and limited resistance. The warranty is also pretty mediocre.
For those in the market for a budget magnetic rower that will provide a reliable medium-intensity workout, the Xterra ERG200 will do the business without much compromise.
[rank_math_rich_snippet]