Hydrow (True Rowing, Inc. Hydrow, Inc.) is a technology company based in Cambridge, Massachusetts that specializes in the design and manufacture of interactive rowing machines for home use. The company was founded in 2016 by Bruce Smith, who has a background in technology and a passion for fitness and rowing.
The idea behind Hydrow was to create a rowing machine that combined the benefits of outdoor rowing with the convenience and control of indoor rowing. The Hydrow rowing machine was designed to provide users with an immersive and interactive rowing experience, featuring live and on-demand classes, scenic virtual tours, and personalized metrics and performance tracking.
Since its launch, Hydrow has received significant investment and recognition for its innovative technology and approach to fitness. The company has grown quickly and now has a dedicated team of engineers, designers, and fitness experts who are committed to improving the Hydrow rowing machine and the rowing experience for its users.
Today, Hydrow is considered one of the leading providers of interactive rowing machines and is widely recognized for its innovative technology, immersive experience, and commitment to improving health and wellness.
Breakdown of Hydrow information you can find on this page:
Hydrow Key Stats & Figures
Hydrow was founded in 2017.
Hydrow is currently a Private Company.
Hydrow has 216 employees
Hydrow has gone through 6 rounds of funding.
$32.4 million was raised in their latest deal
Hydrow has 24 investors.
They are pioneers of the Digital Health industry
Hydrow HQ is located in Boston, MA
Hydrow Company Background
Bruce Smith is the founder of Hydrow. Bruce founded Hydrow in 2016 with the aim of providing a new and innovative way for people to stay active and healthy, with the convenience and flexibility of working out at home.
He envisioned a product that leveraged technology to create an engaging, personalized, and immersive experience that motivates users to exercise and achieve their health and wellness goals.
Bruce Smith has a background in technology and entrepreneurship. Before founding Hydrow, he worked as a software engineer and held leadership positions in a number of startups, where he gained experience in building and scaling technology-based products and companies.
He leveraged this experience to co-found Hydrow and develop a cutting-edge fitness platform that combines the latest technology with expert instruction to deliver an immersive and effective workout experience to users.
Bruce is also a former national rowing coach, having coached the US Lightweight Eight to a bronze medal at the 2015 World Rowing Champs.
With $200 million in its most recent round of funding, Emmy-nominated producer and actor Kevin Hart serves as Hydrow's creative director, and members of the US national rowing team are among its elite instructors.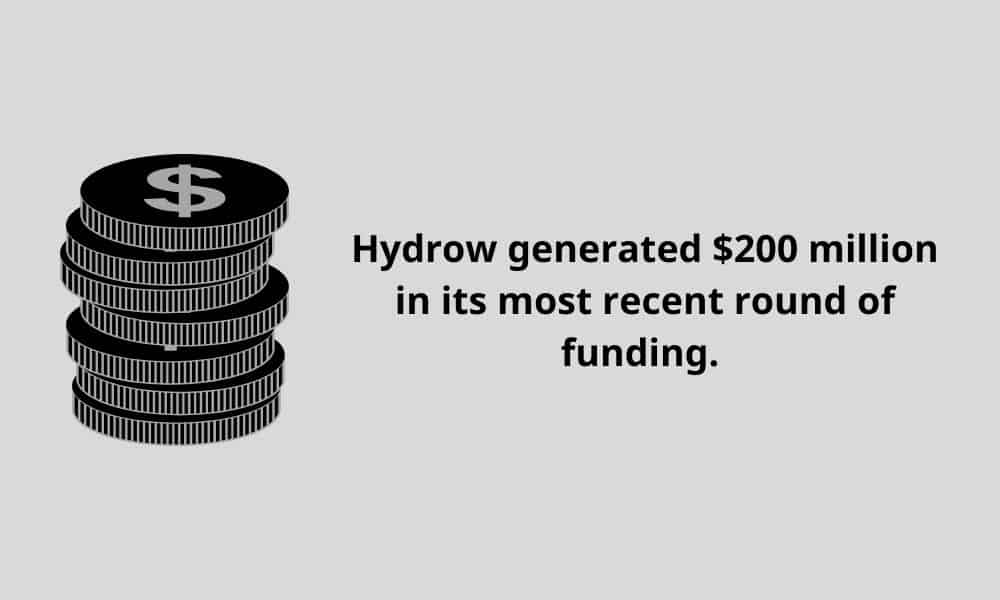 Hydrow first debuted in the US in 2017 and made waves in the UK in 2021. 
Ellie Goulding and her husband Caspar Jopling, a Harvard-educated rower, are among those who have so far joined Hydrow's cross-pond UK crew. Justin Timberlake and Lizzo have also recently signed on as investors.
Hydrow Famous Investors
Kevin Hart
Ellie Goulding
Caspar Jopling
Justin Timberlake
Lizzo
Sources: Hydrow, Evening Standard
Hydrow Revenue
Hydrow is a "Venture Capital-Backed" company, meaning that it has received investment from venture capital firms. Venture capital firms are investment firms that specialize in funding and supporting early-stage, high-growth companies with the potential for significant returns on investment.
Total Funding: S110.8 million
Last funding round: Hydrow closed its last funding round on Aug 29, 2022 from a Venture – Series Unknown round.
Revenue: $32.5 million per annum (est)
Revenue per employee: $155,500 (est)
Valuation: $1 billion
Employee Growth: 33%
Sources: PitchBook, Crunchbase
Hydrow Products
Hydrow currently has 3 products available to its customers (not including accessories).
Hydrow
The company's main product is the Hydrow rowing machine, which is a high-quality, ergonomic, and efficient rowing machine designed to deliver an immersive and effective rowing workout experience. 
The Hydrow rowing machine features a 22-inch high-definition touchscreen that streams live and on-demand rowing classes directly to the machine, allowing users to experience a variety of rowing workouts in the comfort of their own homes.
Hydrow App
In addition to the rowing machine, Hydrow also sells an accompanying app, which provides users with access to live and on-demand rowing workouts, as well as off-the-rower strength and conditioning exercises.
The app is designed to be flexible and customizable, and it allows users to track their progress and set new goals, so they can continue to challenge themselves and make progress over time.
Hydrow Wave
In July 2022, Hydrow released the Hydrow Wave. This rower is 30% smaller and about a thousand dollars cheaper than the original Hydrow. The monitor is 16 inches compared with the 22-inch monitor of the original Hydrow. The Hydrow Wave is also a foldable machine.
Source: Hydrow
Hydrow Coaches And Instructors
Hydrow uses certified and experienced rowing coaches and instructors to lead its live and on-demand rowing classes. These coaches and instructors bring a wealth of experience and knowledge to the platform, and they are selected for their ability to motivate and inspire users while providing safe and effective workouts.
The coaches and instructors at Hydrow are trained to use the Hydrow rowing machine and to create engaging and challenging workouts that are designed to help users achieve their fitness goals.
They lead live and on-demand classes that are streamed directly to users' homes, and they provide guidance and encouragement to help users get the most out of their workout experience.
Among the coaching team are a number of elite rowers and fitness personalities. Aquil Abdullah, the first African-American man to win a national rowing championship and a two-time Irish Olympian in the bobsleigh, as well as Sera Moon Busse, a top-ranked woman in the sport of rock climbing, are among the trainers at the organization.
Hydrow currently has 14 instructors (as of February 2023).
Sources: Hydrow, Evening Standard
Hydrow Athletes: Instagram Follower Count
Hydrow does not have a lot of instructors on its platform at the moment compared to Peloton. But the ones it does have are all athletes and top class coaches. Currently the Hydrow team has a combined follower count of 86,209 thousand across 12 accounts.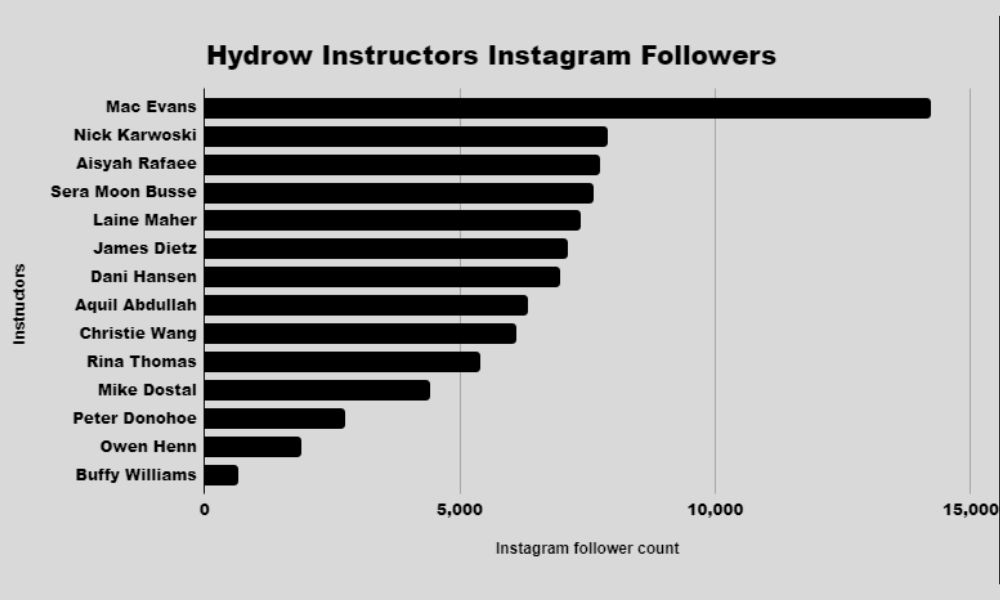 Here is a table of all the Hydrow athletes and instructors ranked by Indtagram follower count:
| | |
| --- | --- |
| Hydrow Athlete | Instagram Followers |
| Mac Evans | 14,200 |
| Nick Karwoski | 7,881 |
| Aisyah Rafaee | 7,718 |
| Sera Moon Busse | 7,606 |
| Laine Maher | 7,333 |
| James Dietz | 7,098 |
| Dani Hansen | 6,932 |
| Aquil Abdullah | 6,315 |
| Christie Wang | 6,093 |
| Rina Thomas | 5,386 |
| Mike Dostal | 4,405 |
| Peter Donohoe | 2,739 |
| Owen Henn | 1,872 |
| Buffy Williams | 631 |
Hydrow Workout Types
Hydrow's key point of difference is that, rather than in the studio, rowing workouts take place on the water.
Breathe, Sweat, and Drive are the three major types of rowing workouts offered by Hydrow. You can find workouts in these categories that last anywhere from 10 to 45 minutes.
Each of the three categories has a set of requirements for various fitness and training types, and each workout at Hydrow is developed with a specific objective in mind. Above all else, though, they're all going to give you a very excellent workout.
Breathe Workouts: The cornerstone cardio exercises for Hydrow are Breathe workouts. The majority of the beats range from 20 to 24 strokes per minute, and the exercises are designed to be similar to a cardio session where you maintain your intensity without stopping.
Sweat Workouts: These workouts are made to be done at a run and sprint pace, at a moderate to high intensity, or just below your anaerobic threshold (based on your 5-minute assessment pacing). The workouts are designed so that the "on" intervals span from 2 to 7 minutes in length, with brief rests in between. The majority of the rhythms for the higher intervals are between 24 and 28 strokes per minute. These exercises focus on the mid-to high-range heart rate range, where your heart rate will fluctuate from 85 to 95% of your maximum heart rate.
Drive Workouts: Drive workouts are similar to High-Intensity Interval Training (HIIT). Drive exercises should have a work-to-rest ratio that is closer to equal than Sweat workouts, which have a higher work-to-rest ratio.
The intervals are therefore shorter and spaced out with recovery periods of reduced intensity even though the majority of the rhythms for the intervals in these workouts are the highest of the three categories—between 26 and 32 strokes per minute. Based on your pace throughout the 5-minute assessment, you'll target the sprint and max paces during these exercises.
Off-the-Rower Workouts
The Hydrow app provides off-the-rower workouts in addition to its rowing workouts. The app offers a variety of strength and conditioning exercises that can be performed using body weight or minimal equipment, so users can continue to stay active and challenge their bodies even when they are not rowing.
The off-the-rower workouts complement the rowing workouts, providing a complete and well-rounded fitness experience to users.
The off-the-rower workouts on the Hydrow app are designed to be safe, effective, and challenging, and they are led by certified and experienced fitness instructors.
These workouts include exercises like bodyweight squats, lunges, push-ups, and more, and they are designed to target different muscle groups and improve overall fitness.
The off-the-rower workouts are a great way for users to stay active and engaged even when they are not rowing, and they provide a convenient and effective way to complement their rowing workouts and achieve their fitness goals.
Conclusion
That's it for our overview of the company behind the game-changing Hydrow-connected rowing machine.
Bruce Smith and his team have done an amazing job in a few short years to take their company from zero to one of the key players in the connected rower market. The release of the Hydrow Wave in 2022 opened up its product range to a new, more cost-sensitive market, and has proven to be a huge success already.
The future looks extremely bright for Hydrow, and I, for one, cannot wait to see what they roll out next.
What do you think of Hydrow and its potential to make it to the top of the connected rower market? Or do you think it's already there? I'd love to read your comments.