I tested 3 products and found the Concept2 Rowerg to be the best rowing machine for CrossFit.
I've been performing CrossFit workouts for more than 10 years, having had experience with more than a dozen rowing machine brands. I've brought that decade's worth of experience along with my fitness training experience and specific testing of the top three rowing machines to provide you with the most informed review possible.
CrossFit and rowing machines have been a natural fit since the first WOD was performed a couple of decades ago. Rowing is an intense full-body exercise that gets the heart pumping and the muscles working. It provides the ideal complement to Olympic barbell power moves and calisthenics to deliver a challenging workout of the day.
However, your CrossFit workout is only going to be as good as the equipment you perform it on. That's why you need to know which is the best rowing machine to put in your CrossFit gym.
Read on to get the facts you need to know.
Concept2 Rowerg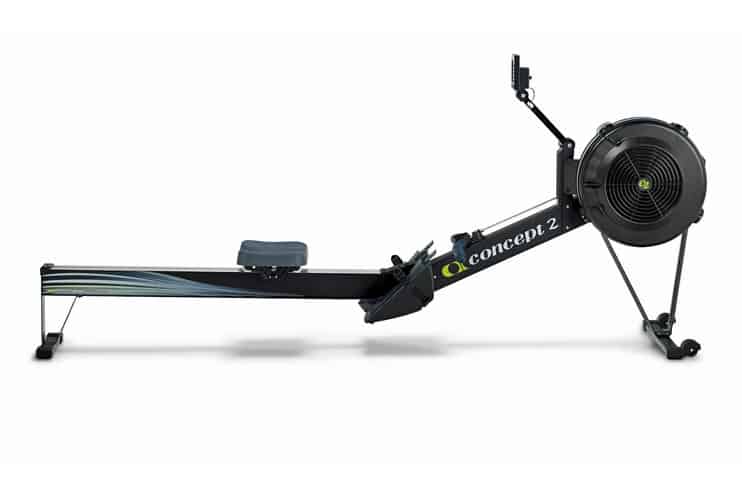 Pros:
Very sturdy frame
5 inbuilt programs
10 damper levels
Suits all heights and sizes
Advanced PM5 monitor
Cons:
The Concept 2 Rowerg has been the most popular rower in the CrossFit community for over a decade. This air rower features the PM5 performance monitor to provide you with detailed workout analytics. This is a robust machine that can handle the heavy-duty workout that is commonplace with every CrossFit WOD.
There are 5 inbuilt workout programs on this rower, enabling you to jump directly into the exercise with no drop-off in intensity. That's huge when you're doing a timed workout. The resistance gradient on the Concept2 is as good or better than you will find anywhere else. You also get 10 levels of damper setting.
With a track length of 54 inches and a max user weight of 500 pounds, this machine suits people of all heights and sizes. The Concept 2 Rowerg also folds for ease of storage and can be stored in an upright position.
Xebex Rower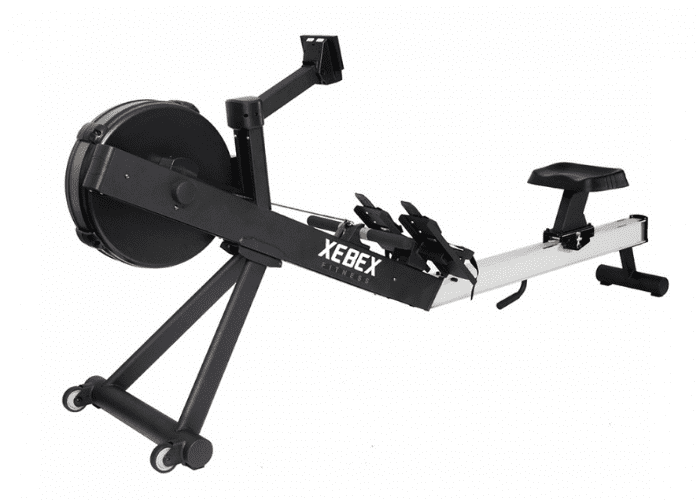 Pros:
Smooth rowing action
High seat for easy access
Long monorail
Well padded
Free extras
Cons:
Heavy frame
Monitor tricky to program
The Xebex Rower is a relatively new player in the CrossFit rower market. It is manufactured by a company called GetRX'D who has been producing gym equipment since 1985. There are two models on the market; the Xebex 2.0 and the recently released Xebex 3.0. The model I tested was the newer Xebex 3.0. The features of the two models are very similar. The differences are that the 3.0 has a lower monorail, has a blue backlit monitor, and a bamboo handle.
The Xebex rowing machine looks and performs much like the Concept2. The rowing action is just as smooth as the Concept 2 and has a similar monorail length. The seat height of the Xebex is 20 inches, being significantly higher than the Concept 2 Rowerg, at 14 inches. This adjusts the ergonomics and angle of pull of the rowing action. The higher seat also makes it easier for people with compromised mobility to get on and off the machine.
The monitor on the Xebex is not as user-friendly as in the Concept 2. I had to spend more time than I wanted to get functional with it. This type of pause in the midst of a timed WOD could be quite frustrating.
The Xebex 3.0 is significantly heavier than the Concept2 Rowerg. In fact, at 95 lbs it is close to double the weight. That could be a factor if you are storing the machine away and bringing it out for your workouts.
As far as user comfort goes, the Xebex has a little more padding on the seat and in the handlebars than the Concept2.
When it comes to the cost, Xebex and the Concept 2 are on par with each other. However, Xebex frequently offers sales, with savings of a couple of hundred dollars. They also include several freebies that you don't get with the Concept2. These include a back pad, speed jump rope, a 15 lb slam ball, and a 20 lb wall ball.
Murtisol Air Rower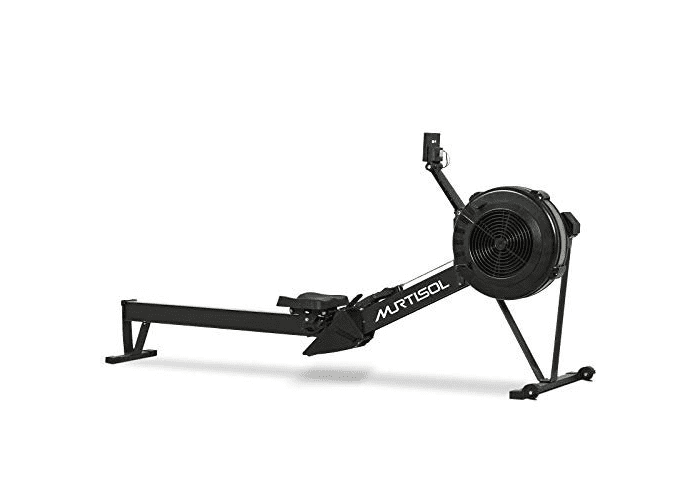 Pros:
Well priced
Smooth resistance
Adjustable footrests
Ergonomic handle
Cons:
Monitor not overly accurate
Not as durable as Concept2
The Murtisol Air Rower is another machine that looks much like the Concept2 Rowerg. It's not as durable but rows very smoothly and costs considerably less. If you're going to be using the machine in your home gym a few times each week, durability will not be a problem for you.
The Murtisol is considerably less noisy than either the Xebex or the Concept2. However, the monitor that comes with this machine is not as good as on the other two rowers I checked out. As a result, the calorie count that it records from your workout may not be very accurate. In addition, the monitor is not backlit.
This rower provides you with adjustable footrests and an ergonomic handle for greater user comfort. It has the same 10 damper settings as the other two machines.
Which Is Best?
Of the three popular air rowing machines that I tested, the best overall machine for CrossFit is the Concept2 Rowerg. While a lot of people will continue with the Concept2 as a matter of brand recognition, it still wins out in terms of performance, having a higher-performing monitor while being lighter and more durable than the other two.
However, if you aren't wedded to the Concept2 brand, aren't too concerned about monitor specs, and want the best price, then the Xebex and Murtisol rowers are good options.
What You Need to Know About CrossFit Rowing Machines
The rowing machine is a fantastic exercise to include in a CrossFit workout as it provides a compact cardio move to integrate with power and explosiveness exercises such as power cleans and snatches. The rowing machine's monitor also makes it ideal for specific CrossFit Challenges, such as rowing 3000 meters. You can get into and out of a rower very quickly so as not to interrupt the flow of a timed CrossFit workout.
Adding a rowing component to your CrossFit workout provides you with a very low-impact cardiovascular workout. It is very easy on your ankles, knees, and hips, which is pretty rare for an exercise that is primarily cardiovascular. That makes it ideal for all people, but especially those with inherent joint problems, including the elderly.
Another reason that rowing is a popular CrossFit exercise is that it burns a lot of calories. If you were to sustain a moderate to high-intensity cadence for an hour, you could burn around a thousand calories. For an exercise that you do while sitting down, that's pretty much unbeatable.
Rowing is also unique as a cardio exercise in that it actively engages the upper body as much, if not more, than the lower body. It is the most complete full-body muscle-activating form of cardio that you can do. As such it improves not only your cardio endurance but also your muscular strength and endurance.
What to Look For in A CrossFit Rowing Machine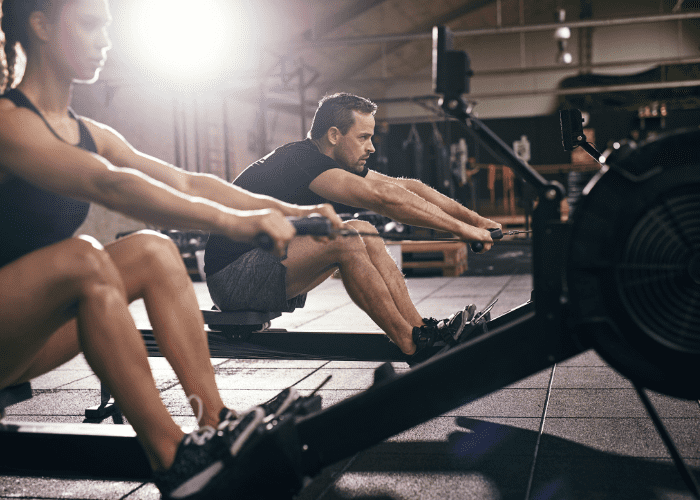 Durability
CrossFit workouts are intense. You're moving quickly from one exercise to the next and going full bore on every exercise. That's why you need a rowing machine that can take some hard knocks. It should have a durable frame and come with a solid warranty. To gauge the frame integrity, check the max user weight, looking for around the 500 lb mark.
Monorail Length
If the monorail is too short, you won't be able to get a full extension of your row, which will hamper your workout. A length of around 55 inches will allow for people of all heights to exercise without any impediment.
Built-in Programs
A rower that has built-in workouts will allow you to jump right in without having to pause to plug-in data. That will allow you to seamlessly go from the previous exercise directly into the rowing portion of your workout.
Monitor
Look for a monitor that will provide reliable readouts on such things as calorie burn while also being easy to use. Again, you don't want downtime when you transition to the rower, so the simpler the monitor while capturing all your vital stats, the better.
Conclusion
A quality rowing machine will allow you to add a low-impact, high-intensity component to your CrossFit workouts that you cannot get any other way. The best overall CrossFit rowing machine on the market remains the Concept2 Rowerg, thanks to its smooth, reliable performance rugged frame and high spec PM5 monitor.
However, if you're not too concerned about data accuracy, the Xebex and Murtisol rowers both offer comparable performance at a cheaper price.
Check out the latest prices on the Concept2 Rowerg, the Xebex, and the Murtisol rowing machines.
FAQ
What rowing machine is used in Crossfit?
The official rowing machine of the CrossFit Games is the Concept 2 Rowerg.
Does Rogue make a rower?
No, Rogue does not manufacture a rowing machine. However, they do sell the Concept2 rower.
How can I improve my rowing time in CrossFit?
Improving your rowing time in CrossFit is all about technique. That starts with the right posture. Maintain a neutral back, keep your shoulders back and look straight ahead. Use your legs rather than your arms to row. Push away from the rower with your legs then, when they are straight, pull the handle into your sternum.