Our experts compared the best recumbent bike rowers on the market. Keep reading to see which one is right for you.
---
What Is A Recumbent Bike/Rower?
A recumbent bike rower offers a 2-in-1 product. By providing a machine that incorporates two disciplines you can add versatility to your home workouts.
You can benefit from the full-body workout of the rower while adding extra cardio and leg strengthening work on the recumbent exercise bike element. If like me space is of the essence at home, having one machine instead of two could be a good space-saving option.
Let's look at some of the best recumbent bike/rower combo machines available on the market.
---
Stamina Conversion II Recumbent Bike/Rower
Top Pick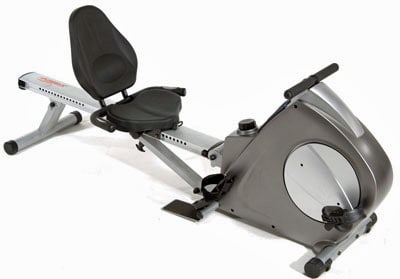 Multi-functional home gym option
The Stamina Conversion II Recumbent Bike/Rower acts as a multi-functional machine, allowing for exercises such as bicep curls and leg press as well as rowing and cycling. It has 8 levels of magnetic resistance and has a basic monitor display.
The Stamina Conversion II may be a good machine for anyone looking for a multi-functional home gym option. The aluminum rowing beam provides a smooth, quiet row while the padded seat can be simply locked in place when you want to switch to cycling mode.
The Stamina recumbent bike design elements also let you use the rower to perform a range of resistance exercises including bicep curls and leg presses for an all-around fitness workout.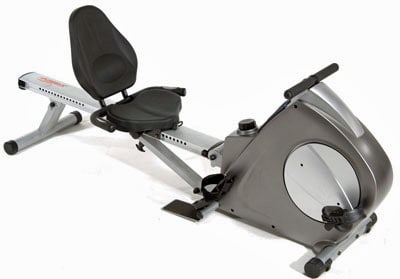 Pros
Quick to switch between bike and rower
Quiet
Pivoting foot pedals
Seat backrest
Folds for storage
Stable frame
Large monitor display
8 magnetic resistance levels
Pulse sensors by seat for use when cycling
Can be used for many different exercises
Cons
Seat uncomfortable for some users
Heavy, weighing around 100lbs
Short warranty periods of three years on frame and just 90 days on parts
No pre-set programs
There are eight magnetic resistance settings to test yourself on, while a large multifunctional LCD allows you to monitor your progress, providing such stats as calories burned, speed, distance covered, pulse, and strokes per minute.
The padded seat comes with a backrest to provide additional lumbar support. The handles are foam padded and the pedals are designed to pivot, helping provide a more natural feel to the row.
Avari Conversion II Rower/Recumbent Bike
Best Budget Option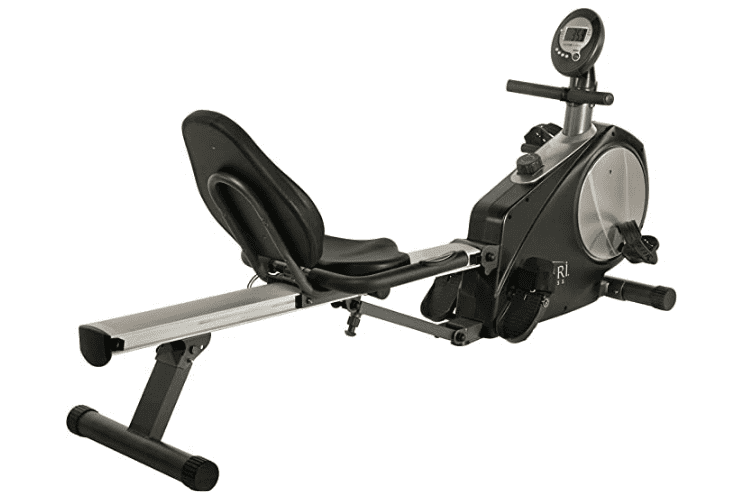 Low-budget hybrid machine
The Avari Conversion II Rower/Recumbent Bike acts as a good low-budget option. It is well built and offers 8 levels of magnetic resistance. The machine is comfortable in use and easily stored.
If budget is a primary consideration the affordable hybrid Avari Conversion II could be right for you. Sturdily built it has eight magnetic resistance options to select from and runs quietly whether you are rowing or cycling.
Switching between the two fitness types is straightforward enough, requiring you to simply pull out the pin beneath the seat before adjusting it to your preferred position. This allows for different leg lengths.
The padded seat has a backrest for extra support and runs smoothly along a ball-bearing roller system.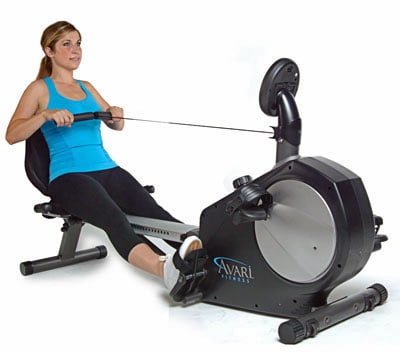 Pros
Strong steel frame and aluminum beam
8 magnetic resistance levels
Quiet
Affordable price range
Adjustable padded seat with backrest
Odometer
Clear assembly instructions
Space-saving when folded
Cons
No preset workout programs
Pulse rate can be inaccurate
Limited warranty of 3 years for the frame and 90 days for the parts
The monitor displays all the important stats such as time, calories burned, speed and pulse. It also contains an odometer that allows you to track the distance you have managed to complete over the lifetime of the machine.
Oversized foot pedals and adjustable straps help you feel more secure and that your feet are not going to slip out at any given time. This 2-in-1 rower/recumbent bike may also be a good solution for those where space is a concern. As well as having only one machine for two fitness disciplines, the bike/rower measures in at just 2ft x 3ft when folded and stored.
ProForm Dual Trainer Bike/Rower
Best Features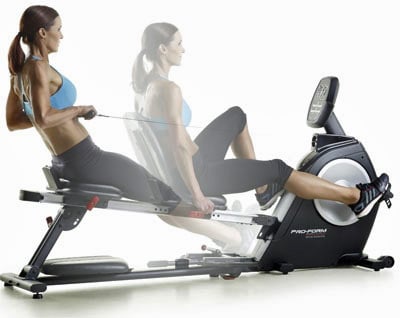 24 preset workout routines
Although considered a budget option, the ProForm Dual Trainer Bike/Rower comes with 24 preset workout routines for you to choose from between both rowing and cycling. It also has 20 different resistance levels.
The ProForm Dual Trainer may be another good option for the budget-conscious as it is classed as an affordable machine. Yet this does not mean it skimps on features and includes 24 preset workout routines, 12 for rowing, and 12 for cycling.
There are 20 resistance levels on this machine too, employing silent magnetic resistance so you can exercise quietly in either rowing or cycling mode without disturbing the rest of the household. The frame is robust and has a weight capacity of 350lbs, although the seat rail can seem high compared to standard rowers.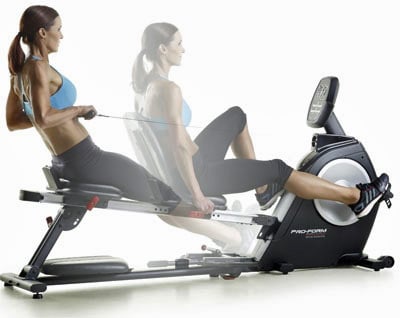 Pros
24 preset work-out routines
20 magnetic resistance levels
Affordable option
Adjustable padded seat with backrest
Quiet
Suitable for a range of adult sizes
350lb weight capacity
Foldable frame
Lifetime frame warranty
Cons
1-year parts warranty
Can feel a little unstable when working out at a hard pace.
The LCD monitor is large, allowing you to keep tabs on all the regular stats such as distance, speed, pulse, and calories burned. It also includes a light indicator system that acts as a target pacer.
The monitor is battery operated so at least you do not have to worry about locating power sockets before exercising.
The Dual Trainer can accommodate people up to 6 ft 6" in height, yet its foldable frame still makes it a space saver for storage after use.
---
Why You Should Trust Us
For this best recumbent bike rower article, I've brought all of my experience in the fitness industry to bear as I've given the most popular 2-in-1 exercise machines a complete analysis.
I've spent time checking, studying, and using the machines. I've also made notes based on the many verified user reviews online to find out what people like and don't like about each of the featured rowing machines.
In addition to this, our testing panel team has also shared their expertise and experience with various machines to help me create the most comprehensive best recumbent/bike machine review you'll find online. We even carried out our own user research, gaining direct feedback from verified buyers.
---
Who Should Get a Recumbent Bike Rower
There are a few great reasons why someone may consider purchasing a recumbent bike rower.
Firstly, those with limited or impaired mobility may opt for this kind of machine. It provides a great way for you to exercise without putting extra stress on your joints. For this reason, it is a great choice for the elderly.
It can also be a great option for those who don't have much space at home for big pieces of equipment. Recumbent rowers are very compact and won't take up much space compared to other cardio machines. They are also relatively cheap when compared to other cardio machines.
As of yet, these machines don't come with many features and are not even comparable to the best rowing machines or best bike machines on the market. So if you are keen on tracking your data and performance and looking to get a really hard workout in you'd be better off getting a rowing machine. I say rowing machine over a cycle machine because overall rowers are just better. You can read our rowing machine vs. bike article to see all the reasons for this.
However, if you are just looking for a way to perform some exercise at home or a secondary training type then one of these machines may be a great addition to your workout program.
---
How We Picked
This was actually one of the more easier "best of " reviews I've written as there were not actually that many machines in this category that were actually worth reviewing. Make of that what you will.
But as always we had the same basic criteria that we always set when conducting reviews.
Company
Look and design
Functionality and features
How does the machine perform
User reviews
---
Final Thoughts
As a 2-in-1 fitness machine, a recumbent bike rower combo offers space-saving solutions for those with limited room. You do not have to choose between one machine or the other, instead, you can enjoy the benefits of both fitness disciplines from the comfort of your home.
The magnetic resistance mechanisms provide quiet machines and their foldable designs mean you can conveniently store them away when you have finished your workout.
Of the three machines we have looked at here, the ProForm Dual Trainer would be a good choice if the value is a principal consideration. While affordably priced this machine still offers:
24 preset workout routines
Increased magnetic resistance settings
Larger weight capacity
We will all have varying priorities when looking for a recumbent bike rower for the home. Regardless of which machine you ultimately opt for you will be enjoying the dual fitness benefits of rowing and cycling.
Improving our fitness is one of those things we have a habit of putting off for one more day. With a recumbent bike rower, you can work out from the comfort of your home at any time without worrying about any onlookers.
---
FAQs
What is the best recumbent bike rower
The Stamina Conversion II is the best conversion bike rower.
Which is better for a senior recumbent bike or a rowing machine
It depends. A rowing machine is best for seniors if they have a good level of mobility. If not, then a recumbent bike may be better as it will not require as much mobility to carry out the exercise.