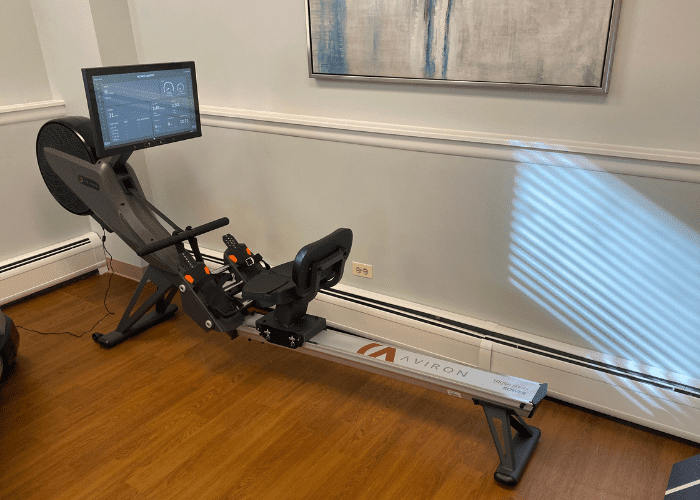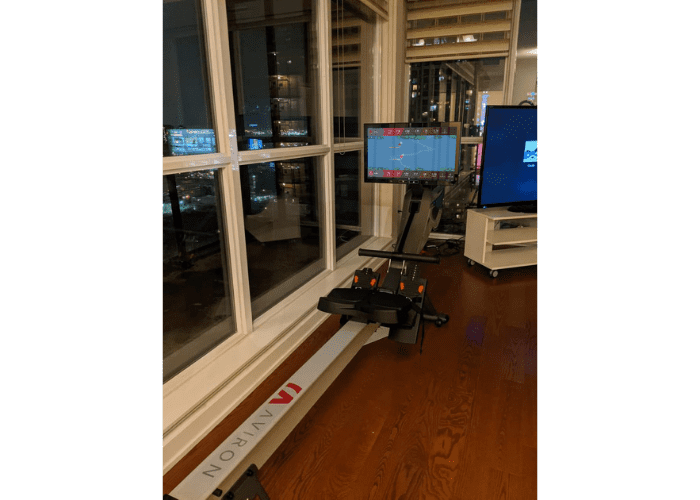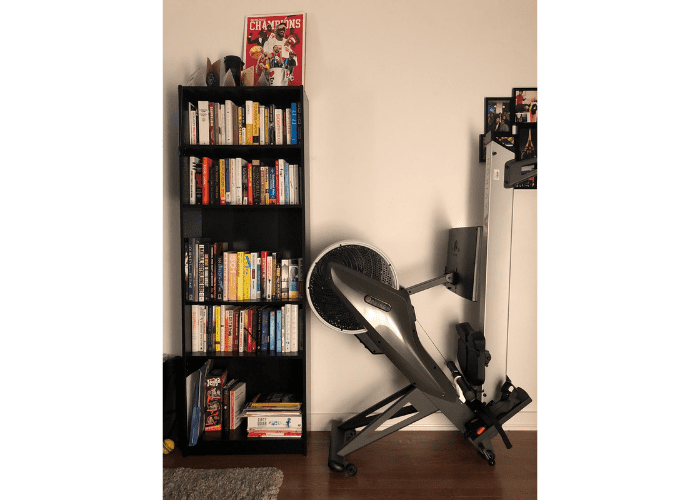 Start Rowing Score
The Aviron Rowing machine is a heavy-duty machine that is built for heavy-duty workouts. It's custom-built for high-intensity interval training, with a rowing resistance max of 100 pounds. It also provides a dual resistance system that allows you to change between air and magnetic at will.
Pros
Fantastic games, competitions, and scenic workouts
Air + Magnetic resistance
Foldable (Impact series)
Smooth rowing action
22 inch HD Screen
Cons
No instructor-led classes
Monthly subscription for full access
This is our Aviron rower review.
We'll provide you with an unbiased analysis based on our personal experience with the Aviron rower and our years of fitness industry experience. At the end of this article, you'll have the complete low down on both the IMPACT series and TOUGH series rower that Aviron produces.
Layered on top of the impressive hardware specs of the Aviron is an interactive smorgasbord of features to banish boredom from your cardio sessions. The range of games, challenges, competitions, and guided programs is second to none. You'll have to pay $29 per month to access these features, but if you're into gaming, you'll do so gladly.
Preview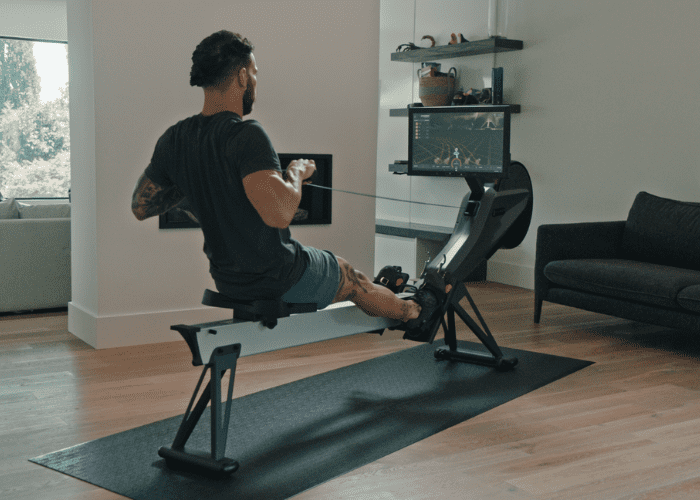 In the paragraphs to follow, you'll learn what the difference is between the two Aviron rowers, the IMPACT Series Rower and the TOUGH Series Rower. We'll then delve into the functionality, design, features, and benefits of the Aviron Rower as well as check out the Aviron experience, including membership options and workout capabilities.
We'll also check out the Aviron competition for you, suggesting which may be the best machine for a specific rowing goal. Then we'll bring it all together with a breakdown of why and why not to purchase the Aviron rower.
Our goal is for this article to be the only Aviron review you'll ever need to make an informed buying decision.
Keep reading to discover if this is the rower for you.
The Aviron Rowing Machine
Aviron currently offers two versions of their rowing machine.
IMPACT Series Rower vs. TOUGH Series Rower
| | |
| --- | --- |
| Impact Series Rower | Tough Series Rower |
| Lightweight frame | Robust frame |
| Foot Pad Adjustment | Foot, Hip, and Leg Adjustment |
| Non-commercial seat bearings | Commercial seat bearings |
| Single-width seat rollers | Double-width seat rollers |
| 98 lbs | 125 lbs |
| Max user weight 397 lbs | Max user weight 507 lbs |
| Foldable | Non-foldable |
| Not compatible with lumbar support kit | Compatible with lumbar support kit |
| 20-inch frame height | 10-inch frame height |
| $2199 | $2499 |
Aviron produces two rowers, the Impact series and the Tough series. The main point of difference between them is that the Impact is a lightweight rower designed for home use whereas the Tough has a sturdier frame intended for commercial use. Both machines are made from high-strength steel but the Impact is lighter and foldable. It also features four wheels for ease of transport.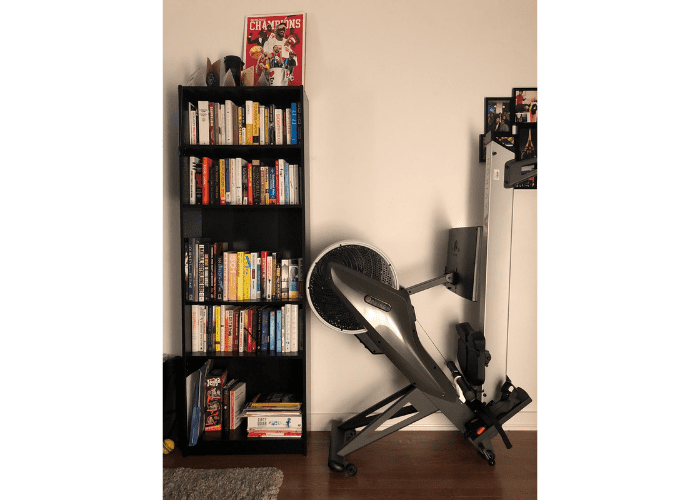 A key difference between the two models is that the Tough rower allows you to adjust the width between your feet, hip, and legs based on your height and body type. This feature allows you to customize the rower to allow for the optimum rowing range of motion. You do not get this functionality on the Impact rower, though it does allow you to adjust the footpad length.
The seats on both models sit 20 inches from the ground and are of the same design. However, the Tough series rower seat uses commercial-grade bearings and double-width rollers to boost its ruggedness in a commercial setting.
At a weight of 125 lbs, the Tough series rower is 27 pounds heavier than the Impact. There's also a significant weight limit difference between the two models, with the Impact maxing out at 397 lbs, compared to 595 lbs for the Tough.
Of the two models, only the Tough is compatible with the lumbar support kit that Aviron sells to help people with lower back problems. The lumbar support kit is available from the Aviron website for $249.
The final difference between the two models is the frame height. The Tough rower puts you much lower to the ground at a height of 10 inches. This is half the frame height of the Impact rower. The higher frame height on the Impact makes it easier for people with compromised mobility to get on and off the machine.
The Aviron Impact Series rower retails on the official website for $2199.
The Aviron Tough Series rower retails on the official website for $2499.
For the remainder of this review, we will focus on the Aviron Tough Series rower. That's because this model includes all the features of the Impact rower, apart from its foldability.
Functionality And Design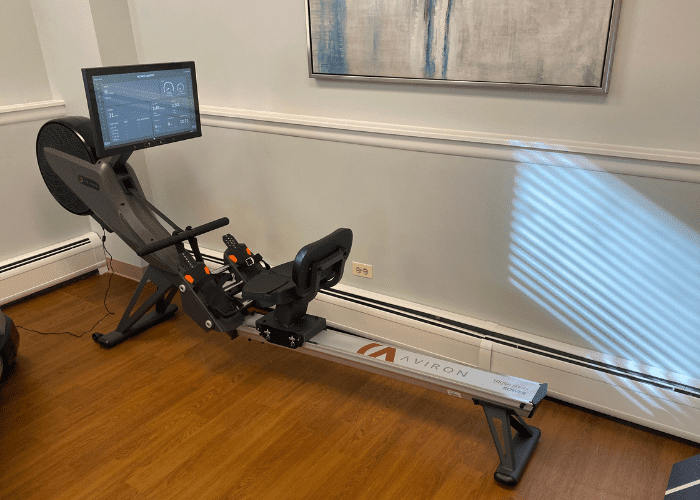 The Aviron rower has been specifically designed for high-intensity interval training (HIIT). The guys at Aviron are diehard HIIT devotees who began in search of a cardio machine that would best fit the HIIT model. They decided on building a rowing machine because rowing activates 85% of the muscles in the body and is low impact. 
HIIT workouts are hard, intense, and short. That requires a rower that is sturdy, and robust. The Aviron Tough series rower fits that bill. It's got a high tensile aluminum frame that is solid enough to handle a max user weight of 507 pounds. What's more, the Aviron frame has undergone more than one million testing cycles to ensure that it's going to last for years, whether it's put in a commercial or home setting.
A pretty unique feature of the Aviron rower is that it provides dual resistance options, with both air and magnetic. Use the air resistance system to deliver a smooth, on-the-water rowing experience with a variable resistance that is generated by the speed of your row. For more consistent resistance that isn't affected by your speed of pull, switch to the magnetic function.
When it comes to HIIT workouts, air resistance is the better option. That's because you can instantly transition from fast to slow without making any console adjustments. That makes the Aviron a good option for HIIT while also providing the means for a slower, longer, more consistent steady-state cardio workout.
Getting the right balance between frame and seat height for performance and accessibility is a challenge for all rower manufacturers. Aviron has met that challenge by matching a low 10-inch frame height with an elevated seat height to make it easy to step over the frame when you need to and to get into position on the seat without crouching or rounding your back. The Aviron Tough is also compatible with the company's lumbar support kit to add the kind of support that you'll find on a recumbent exercise bike or rower. 
Aviron backs up its website claims about frame durability with a 10-year frame warranty.
Features and Benefits
Here's what the Aviron rowing machine has to offer.
Dual Air and Magnetic Resistance System
The dual resistance system means that the Aviron is both an air and magnetic rowing machine. It also allows you to get the type of heavy resistance that you need when you're doing HIIT training. The 16 resistance settings top out at 100 pounds, which is about 3 times more than most rowers allow. 
Transitioning between the two systems is seamless by way of touch control.
Patented resistance technology has been built into the games and programs on this rower so that it automatically adjusts the resistance according to the demands of the workout you're following. That means that you don't have to pause your training session to make a manual adjustment.
Commercial Grade Whisper Nylon Belt.
One of the biggest bugbears with an air rower is that it's noisy. While it's impossible to eliminate all noise produced by the rush of air through the flywheel of the rower, Aviron has done a good job as any manufacturer I've come across at reducing it. That's thanks to the whisper-quiet nylon belt that reduces the noise level; to just 60 decibels; that's about speaking volume.
Multi Positioning Adjustment
The setup when you first get on a rower will largely determine the biomechanical efficiency of your workout. Most rowers are one size fits all. Unfortunately, human bodies don't come in one size or shape. The Aviron allows you more adjustability than you find in most competitors. 
The Aviron Tough rower allows for hip, width, leg, and foot adjustment. That means that the same machine is just as functional for a person who's five-foot-one as someone who's six-foot-two. You can also adjust the footplates to accommodate different foot heights. The result is that the machine will better work with your body and will provide a more comfortable rowing experience. 
Industrial Poly V-Belt
Whether you're going full tilt during a HIIT workout or pacing yourself with a steady-state cardio session, you need a sturdy, reliable running belt to keep everything smooth and constant. That's just what you get with the Aviron poly v-belt. Its industrial strength is much more robust than you'll find on most rowers, so you won't have to worry about replacing it for years.
22-inch HD Screen
Aviron has kicked boring to the curb with the addition of a full-color 22-inch high-definition touch screen. This is an Android-powered screen complete with Bluetooth and Wifi connectivity. It's also fitted with an MP camera, dual 2-watt speakers, and 4GB of memory.
You can adjust the screen up and down. However, you can't tilt it from side to side, like you can on such competing models as the CityRow Go Max and the Hydrow. This is a bit of a hassle if you are trying to follow along with off-the-rower exercises while streaming YouTube or a workout app.
While we're talking about streaming content, you won't have any of those annoying buffering problems that are common with some competitors (think the aforementioned CityRow and Hydrow). That is because, rather than streaming the content, it gets downloaded to the Aviron hard drive.
That means that you don't have to have a super-fast internet connection to prevent buffering problems. That's a big deal – it could save you a lot of frustration in terms of forced pausing of your workout!
Technical Specifications
| | |
| --- | --- |
| Aviron Rowing Machine | Specs |
| Dimension | 97 X 22 X 43 Inches |
| Folded Dimension | 54 X 22 X 62 Inches |
| Machine Weight | 93 Lbs. |
| Maximum User Weight | 397 Lbs. |
| Resistance | 16-Level Dual Air & Magnetic System  |
| Screen Size | 22 Inches |
| Height/Inseam | 38 Inches |
| Warranty | 2-Year Parts/10-Year Frame |
Setup Process
Here is an overview of what you can expect from the point of purchase to getting started on your first workout.
Your order will be shipped within 5 days of your purchase. Set up is relatively easy, requiring less than 60 minutes to put together. All you need to do is attach the screen and rail.
To access the interactive workouts on the Aviron, you'll need internet access. However, you don't need an especially fast connection because the Aviron downloads the content onto the hard drive.
To get operational, you will have to plug your rower into a standard power outlet (12v DC 5 Amps).
When you are all set up and ready for your first workout, sit on the machine and adjust for your height. The Aviron allows you to customize your positioning by setting the distance between your hips, legs, and feet. You can also adjust the footplates for your shoe size.
Once you've customized your Aviron rower settings, turn it on, choose the resistance type (air or magnetic), plug in your personal profile settings and you're ready to row.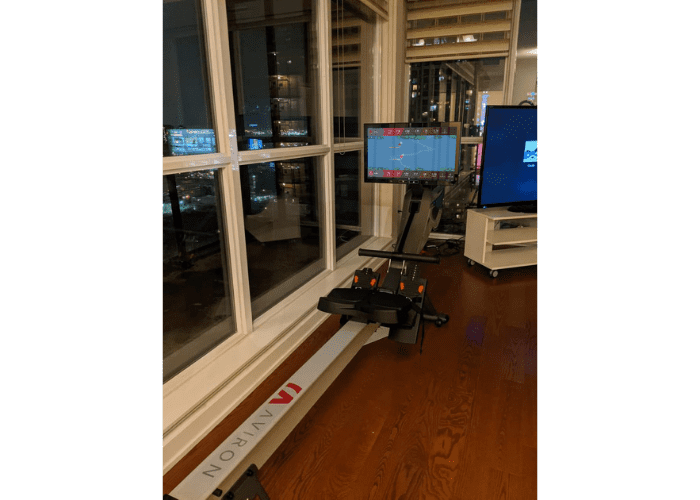 Aviron Experience
So far, we've established that the Aviron rower is an impressive piece of hardware. But that's just the beginning of the Aviron experience. These guys excel when it comes to delivering an immersive experience that you can quickly get lost in.
Aviron's games, competitions, and social interaction feature effectively banish boredom from your workouts. As a result, you'll be so engaged that you'll forget that you're exercising. 
Membership
The immersive Aviron experience requires a membership fee. The subscription cost is $29.99 per month or $299 for a year. If you are putting your Aviron Tough Series rower in a commercial setting, however, the price is $499 per annum, with no monthly payment option.
As well as providing full access to games, competitions, and social interactivity, your subscription includes regular updates of games and workouts and tracking of the progress of your workout performance.
Workouts
With the Aviron subscription, you get eight categories of workouts:
Virtual workouts that allow you to row through the world's most scenic on-the-water environments.
Performance workouts that are data-driven to achieve the goals of fat loss, strength muscle development.
Games to keep you engaged while you sweat.
Pros vs Joes where you can compete against pro athletes and Olympians. 
Guided Programs that are created by fitness professionals and include full-body workouts both on and off the machine.
Competition challenges where you compete with others in your community or around the world.
Power Play that combines the visual excitement of games with guided programs.
Arcade games are a throwback to those classic arcade games of the 80s and 90s with a modern tech slant to keep you engaged and progressing toward your goals.
Let's drill down on a few of these features …
Performance
The Performance section provides you with two rowing tutorials along with some features to improve your training performance. In Target Practice mode you can set a distance, time, and output benchmark and then measure the accuracy of your performance.
Setting My Routine mode allows you to row a certain distance at a set pace while an onscreen pace boat gives you a constant visual to measure your progress.
The Performance section also gives you access to YouTube.
Games
The Games section currently provides you with the following dozen games:
Explorer
Bug Blaster
Blaster Brigade
Row Breaker
Balls of Fury
Balls of Madness
Last Hope
Distress Down Under
The Haunted
Shark Bait
Zombie Apocalypse
Unleash the Kraken
Pros vs. Joes
You'll have to bring your A-game when you click into the Pros vs Joes section. Here you'll be able to go one-on-one with such world-class athletes as Olympic rower Ming-Hui Wang, NCAA Rowing Championship medalist Brianne Bartolini, Royal Canadian Henley Regatta gold medalist Alex Meiklejohn, and National Rowing Championships gold medalist Bo-Jheng Chen.
You can also compete with such non-rowing pro athletes as basketball players, boxers, MMA fighters, and sprinters.
Guided Programs
The Guided Programs section is filled with dozens of programs that take you through intensity gradations to keep you challenged and keep the gains coming. A number of these are built around the HIIT Tabata training protocol for maximized calorie burn.
The Guided Programs section includes several strength training programs that include bodyweight exercises, which are demonstrated on the screen with animated graphics.
Competition
Competition mode allows you to compete against yourself with other Aviron members from all over the world and Artificial Intelligence. This technology customizes the challenge based on your previous performances. Even while you are performing the challenge it will adjust to your performance and reset the goal about 5% beyond your speed. That keeps you constantly progressing toward new PRs.
There are several competition types including:
Lightning Lap
Lightning Lap Knockout
Head to Head
Grand Prix
Power Play
The Power Play section provides you with goals that are geared toward specific fitness goals. They are based on maintaining set split times and stroke rates. Right now, Aviron has a library of ten games in the Power Play section. 
Price and Value
The Aviron Tough Series rower currently retails for $2499. The Impact Series will currently cost you $2199. The Tough Series is a bit more expensive than most competitors which sit around the $2200 mark. Check out the alternative section below to decide for yourself whether that extra expense is warranted.
Warranty
Aviron stands behind their rower with a 10-year frame and 2-year parts warranty. A 10-year frame warranty compares well with the competition, being double what is offered by the likes of Hydrow, Ergatta, and CityRow Go.
Alternatives
There are several direct competitors to the Aviron. The one that looks most like it is the Hydrow. The Aviron, though, is a more rugged commercial machine, with a max user weight that is 150 pounds heavier and a frame warranty that is 5 years longer.
The Hydrow is a magnetic resistance rower without the air resistance option. Monthly membership to the Hydrow experience will cost you $38 per month, which is considerably more than what Aviron charges.
Both machines are premium-class rowers, but each targets a different market segment. If you're a person who loves the Peleton-style instructor-led training style, you're going to prefer the Hydrow. But if your preference is to train solo and immerse yourself in gamification, the Aviron is the machine for you. If you're wanting to seriously improve your strength while rowing, you are also going to be better off with the Aviron.
The Ergatta is another machine that matches up creditably against the Aviron. It's the closest competitor when it comes to rowing machine gamification. However, Aviron offers more in this department, with better graphics, greater gaming choice, and a super-challenging Pros vs Joes section that can soon become addictive. 
So, how does the Aviron compare to the Concept2 RowERG? Well, if you're after a classic rowing workout that sidesteps advanced interactive features then the Concept2 is the rower for you. However, if you are wanting to get the best in rowing interactivity, challenge yourself against the best in the world and get a great high-intensity interval training workout, then it's worth paying the extra grand for the Aviron. 
The CityRow Go is another top-level rower that provides a subscription-based interactive experience. This water rower doesn't feature games, however, which puts it behind the Aviron in my opinion. The monthly subscription, though, is $10 less, so if gaming isn't your thing and you prefer the feel of a water rower then you may prefer to invest in the CityRow Go over the Aviron. 
Should You Buy The Aviron Rowing Machine?
The Aviron rower is for you if:
You thrive on individual challenges and goal setting
You're after a strength training component to your rowing workouts
You're wanting the best rowing gamification experience available anywhere
You're going to be doing HIIT workouts
The Aviron rower is not for you if:
You prefer a no-bells-and-whistles classic rowing workout 
You are more comfortable with fitness class-style workouts
You do not want to pay a monthly subscription
Final Thoughts
I've been pretty impressed with the Aviron rowing machine. Before I even got to the interactive features, I was sold on the dual resistance system, the adjustability features that allow for customization, the max user weight of over 500 pounds, and the 100-pound rowing capacity to turn a traditional cardio exercise into a strength and HIIT training powerhouse.
The Aviron experience that is opened with your monthly subscription adds a whole new level to the Aviron story. Their huge range of games and hundreds of training options are, on aggregate, better than anything else that I've come across, whether on a rowing machine or any other piece of fitness equipment.
The bottom line is that if immersive rowing on a powerful, full-body trainer is what you're after you need to seriously consider the Aviron rowing machine. But don't just take my word for it. Go and check out the customer reviews on the Aviron official website and see for yourself.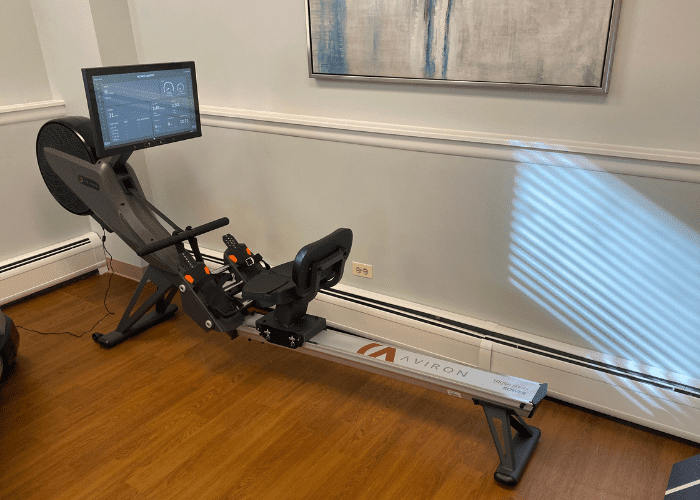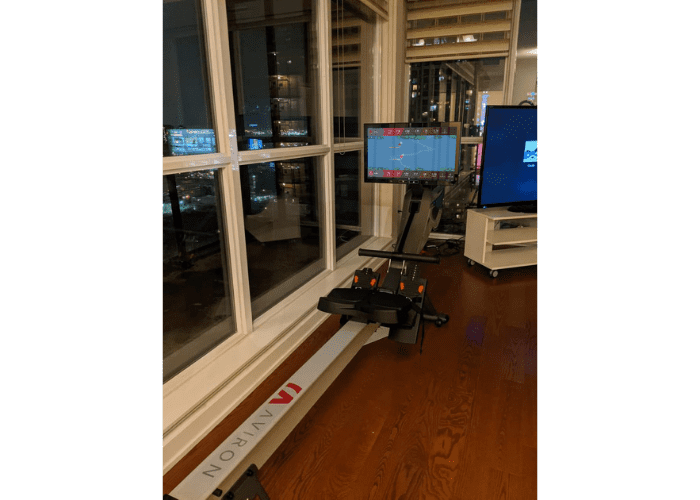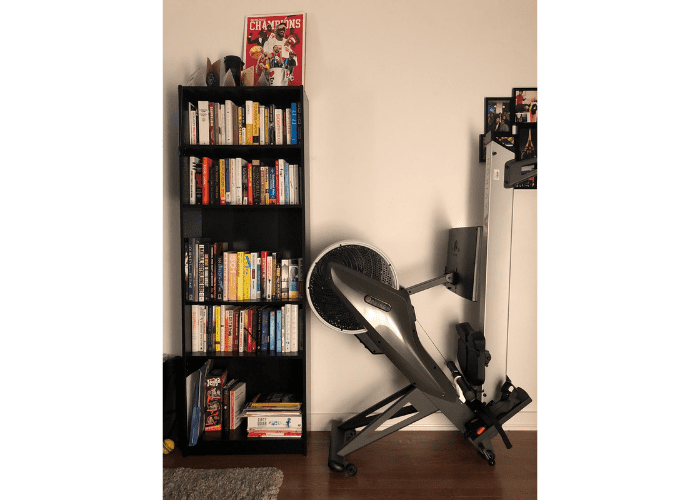 Start Rowing Score
Sign up and save $300 on your Aviron rower!
Impact Series Rower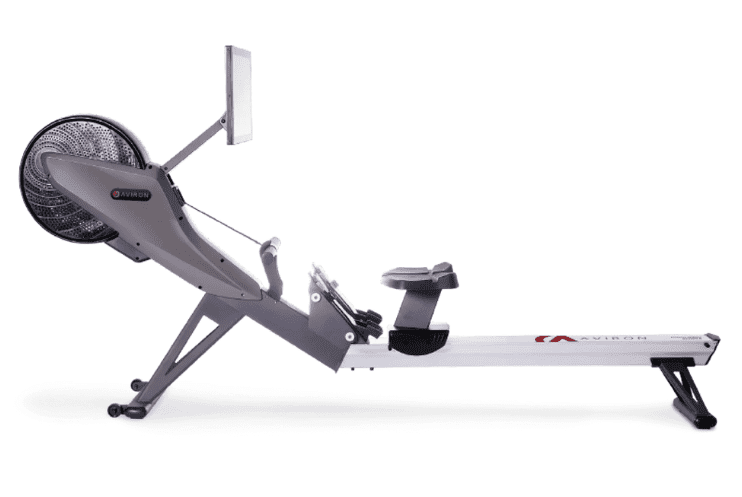 The Aviron Rowing machine is a heavy-duty machine that is built for heavy-duty workouts. It's custom-built for high-intensity interval training, with a rowing resistance max of 100 pounds. It also provides a dual resistance system that allows you to change between air and magnetic at will. 
Product Brand: Aviron
Product Currency: USD
Product Price: 1999
Product In-Stock: InStock