Start Rowing Score
The LifeCore R100 Rowing Machine is a well-designed, well-built rower developed by Lifecore Fitness. Built to challenge the offerings from Concept2, the R100 packs a punch, with 16 levels of resistance but does come with a big price tag.
Here at Start Rowing we include products we think are useful for our readers. If you buy through links on this page, we may earn a small commission.
Pros
Choice of resistance types
High-quality design and materials
Easily folded away for storage
Interactive monitor that provides valuable information for multiple users
Great warranty and guarantees
Cons
Expensive
No interactive connections to the internet or other devices
Model discontinued by manufacturer, so getting parts may become an issue in the future
This is our review of the LifeCore R100 Rowing Machine.
Note that Lifecore Fitness has now discontinued this rower. If there are no more in stock then please check our article for the best rowing machines.
Resistance Type
The LifeCore R100 utilizes a combination of traditional air resistance and new-age magnetic resistance, to provide you with a balanced and effective workout.
Air resistance rowers operate when air is pulled into the flywheel to create drag that you must work against. The more air present inside the flywheel the greater the resistance and vice versa.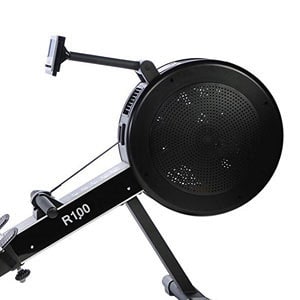 This allows the user to adjust the resistance on the fly, excuse the pun, by simply altering the speed at which they are rowing. For further adjustment, the damper on the side of the flywheel casing also lets you set how much air is allowed in, to begin with.
However, the addition of magnetic resistance on top gives the user the ability to choose one of the predetermined settings, for a more specific and measurable workout, as magnetic rowers don't rely on the quantity of air available to generate their resistance.
You can learn more about the different resistance types here. 
Technical Specifications
Weight – 96 Pounds
Length – 92 Inches
Width – 19 Inches
Height – 36 Inches
Material – Aluminium frame with steel support
Folded Length – 52 Inches
Folded height – 67 Inches
16 levels of magnetic resistance
15 pre-set programs
Display/Monitor
Fitted with a large, backlit, two-color LCD screen, the LifeCore R100 is perfectly equipped to keep you constantly updated on your performance throughout your workout, tracking important statistics such as calories burned, time rowed, distance covered, and many more.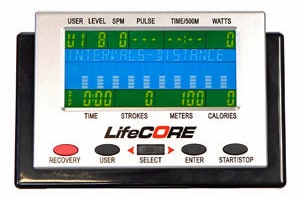 There is also a chest strap that is provided with the product, which allows the machine to monitor your heart rate as you train. Not only does this allow you to gauge exactly how hard you are pushing your body but there are also settings to allow the machine to adjust itself if you are working too hard or too little, so it forces you to work at exactly the right pace. It's a nice add-on, but I prefer to use my Suunto 9 to monitor heart rate.
Finally, it contains 15 pre-set programs, the controls for the magnetic resistance, and the ability to store the workout data for up to four different users. This is perfect for giving you complete control over your workouts and allowing you to compare yourself against your own performance in previous sessions.
Build Quality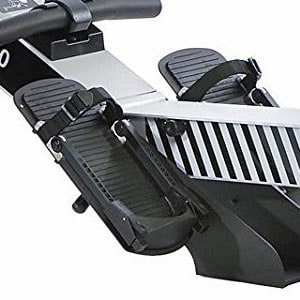 Built from high-quality materials, with a reinforced steel frame and secure connections, the LifeCore R100 is a machine that is made to stand the test of time.
While some of the parts, such as the foot straps and monitor, may suffer from wear and tear over the years, they will still have a long life if correctly used for their purpose.
Then you have the frame itself, which should theoretically last a lifetime when made from high-grade aluminum and solid steel.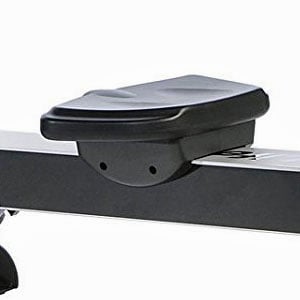 You put all of this together and what you get is a well-designed and constructed piece of fitness equipment, that meets the standard for the top-quality rowers on the market and should give you years of satisfying workouts.
Comfort And Capacity
Featuring a large, ergonomically designed, padded seat, a smooth rowing action, and a slightly cambered rubber handle, the LifeCore R100 is a machine designed to provide you with a comfortable rowing experience, no matter your size, age, or how long you plan to row for.
It also has a weight capacity of 600lbs, meaning the vast majority of users will be able to purchase this product with full confidence that it will be able to support their weight.
Assembly
Assembly is incredibly straightforward on the LifeCore R100. Featuring a quick-release mechanism to connect the two main parts and only a few screws to attach the other supports, you will be able to use your product mere minutes after taking it out of the box, without the need for specialist tools or know-how.
Storage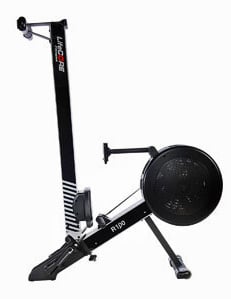 The aforementioned quick-release mechanism also makes the LifeCore R100 convenient for storage, as you can simply and easily separate it into two smaller sections, making it much easier to store away.
It also comes equipped with wheels, so even if you wanted to store it fully assembled, it is incredibly light and easy to move to exactly where you want it.
Warranty
The LifeCore R100 comes with a number of warranties and guarantees, to ensure you are fully comfortable with making your purchase in a risk-free environment.
First off, the warranty comes in three parts. While the frame is guaranteed for the life of the product, all parts also have a warranty of 5 years, meaning if anything goes wrong in the foreseeable future, you will be covered.
There is even a one-year warranty on labor, so if anything goes wrong during the initial period after purchase, they won't just replace the parts but will even send someone out to fix the machine for you.
Finally, there is a 30-day money-back guarantee. This means that you are allowed to return it for a full refund within the first month of receiving your product, even if it is purely a case of you just not liking it.
If you are planning on using it in a commercial setting, the protections are very similar. The only difference is that the parts warranty is 2 years instead of 5 and the labor warranty runs for 90 days instead of a full year.
With safeguards like this in place, you really shouldn't be concerned about taking a chance on this particular rower.
Price And Value
The LifeCoreR100 is by no means a cheap piece of kit, so if it is a budget option you are after, then you will probably need to look elsewhere.
However, with an important purchase like this, determining value doesn't necessarily rely on it having a low price tag.
If you take your rowing seriously and need a smooth, realistic action, you will need to look at more expertly crafted options such as this.
The combination of air and magnetic resistance also gives your purchase versatility, so you can change things up constantly to keep your training fresh and allow you to follow very specific programs.
The silence that comes with a magnetic rower is also something many will value greatly, especially for home use, as it allows you to use the rower at any time, including early mornings, without disturbing everyone else in your household.
Finally, there are the warranties and guarantees it comes with. These provide you with peace of mind that your purchase will go the distance and you won't be having to replace it or shelling out for new parts as you may well do with cheaper alternatives.
So, while it is an expensive rower, with all of that taken into consideration and comparing it to other rowers of a similar spec, you will still find it to be a good value for the caliber of product you are receiving.
Alternatives
If you're looking for a cheaper alternative than the R100 then you may want to consider looking at the Concept2 Model D. It's widely viewed as the best rower on the market and you can read our review to see why. If you have the time and patience you may be able to bag yourself a great bargain and pick up a used Concept2 rower. 
If you were still hoping for something a bit more reasonably priced, you should check out the Circuit Fitness Deluxe Foldable Magnetic Rowing Machine. It comes with 8 resistance settings. With this rower you will get similar features to the R100 but for less than half the price. 
Final Thoughts
So, given everything we have uncovered about the LifeCore R100 Rowing Machine, I think it is fair to say that you are looking at a high-quality product.
With its ergonomic design, high-quality materials, and the ability to be easily stored, as well as the numerous warranties and guarantees it comes with, this is a purchase that will leave you feeling just as comfortable mentally as it does physically.
Yes, it may be quite expensive, but all the comparative rowers of this spec are, so if you are on a budget you simply won't find an option that does everything that this machine offers.
At the end of the day, if you are looking for a quality rowing machine for either your home or a commercial setting, then the LifeCore R100 will provide everything you need.
In fact, considering it comes with a no-question 30-day money-back guarantee, you don't even have to take my word for it, so there is literally nothing stopping you from ordering one right now so you can decide for yourself, completely risk-free.
Start Rowing Score
The LifeCore R100 Rowing Machine is a well-designed, well-built rower developed by Lifecore Fitness. Built to challenge the offerings from Concept2, the R100 packs a punch, with 16 levels of resistance but does come with a big price tag.
Here at Start Rowing we include products we think are useful for our readers. If you buy through links on this page, we may earn a small commission.
[rank_math_rich_snippet]