With 35 years in the trenches as a gym owner and personal trainer, I know that rowing is, without a doubt, the best cardio exercise you can do to burn calories while working nearly every muscle in your body. So, I've been especially excited to see the development of streaming technology in the home rowing space.
I have a lot of clients who rely on me for guidance on buying home gym gear.
In this article, we put the two leading streaming rowing machines – the Nordictrack RW900 and the Hydrow – head to head in a battle for supremacy.
NordicTrack and Hydrow have emerged as two of the dominant players when it comes to tech-advanced rowing machines. So, we've spent many hours going over these two machines to provide them – and you – with the definitive answer regarding which one is better.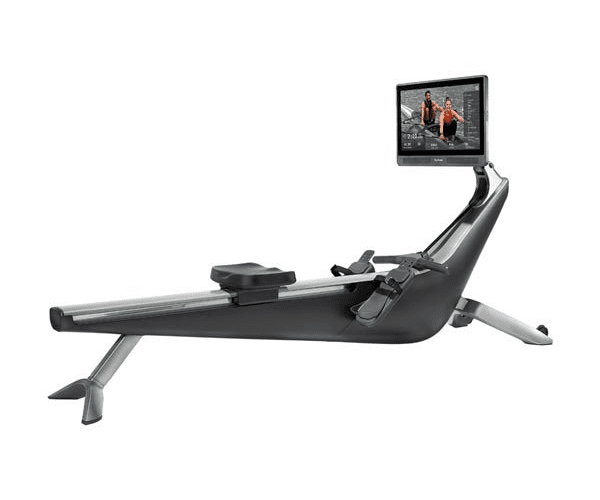 Immersive fitness experience
3,000+ workouts
World-class instructors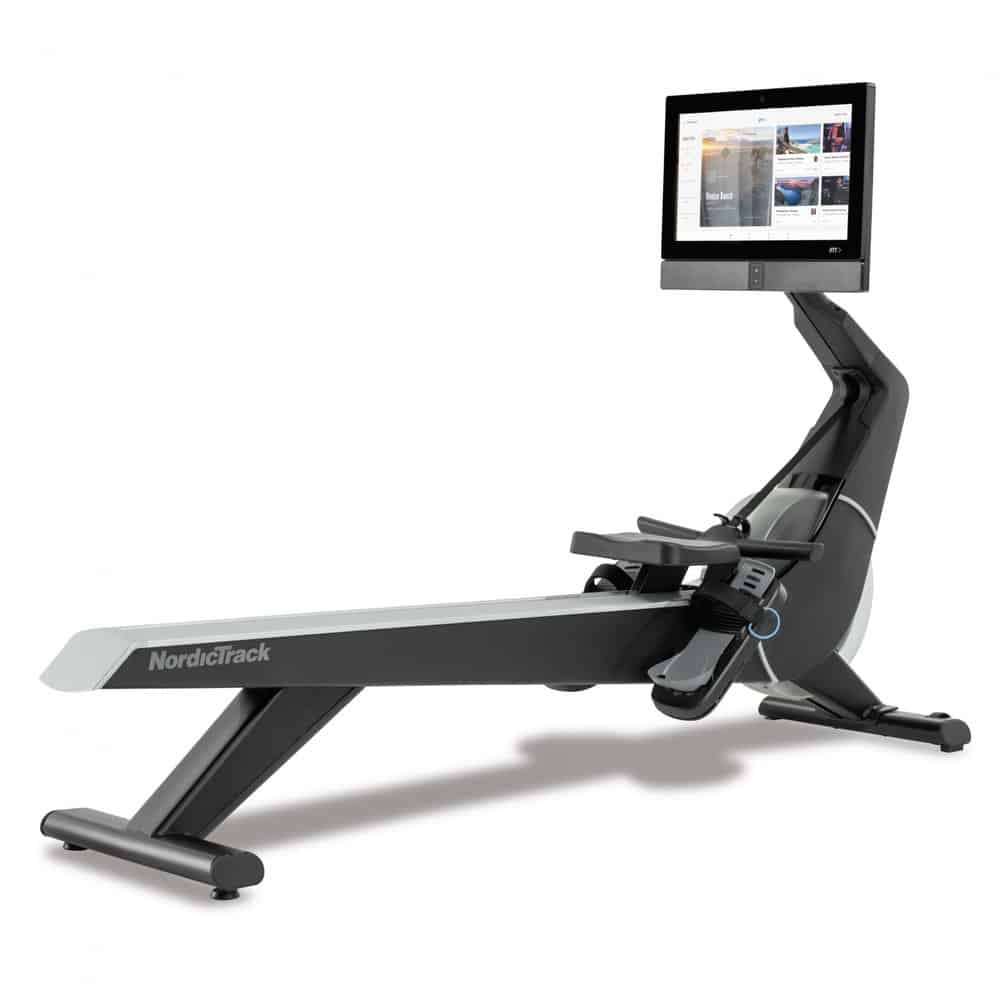 iFIT streaming service
Updated design from previous model
22-inch swivel touchscreen with front-facing speakers
NordicTrack RW900 Vs Hydrow: Quick Overview
The NordicTrack RW900 was released in 2021 but was given a complete revamp with the new RW900 model released in 2022.
At first glance, the new NordicTrack RW900 2022 model and the Hydrow seem quite similar. I think this was purposeful from NordicTrack.
The 2021 model was their premium rower offering. And although it came with a screen and a subscription to iFIT, the rower itself still feels a bit mechanical compared to the other premium rowers on the market.
It's now got a sleeker design and is less of an eyesore when standing next to the Hydrow. However, there are still many differences between these machines which I'll cover.
Here are some key points to consider:
The Hydrow has a higher weight capacity.
Hydrow streamed rowing workouts are on the water, while NordicTrack's are in the studio as well as the water.
Resistance on the RW900 doesn't hold nearly as well as on the Hydrow. So maybe too weak for more experienced or stronger users.
Hydrow offers live sessions, NordicTrack does not.
RW900 offers a better user experience without the paid membership.
NordicTrack has a better warranty
We prefer the NordicTrack RW900 2001 model over the new RW900 2002 model.
The winner, when all the pros and cons are weighed, is the Hydrow. And to be honest it's not even close.
The Hydrow is a few hundred dollars more expensive than the NordicTrack RW900 but offers greater performance and functional features. Plus, Hydrow also sells the Hydrow Wave, with most of the same features, and is only slightly more expensive than the NordicTrack RW900.
Key Takeaways
Hydrow Rower: Still the leading rower on the market with futuristic design and quality rowing experience
The Hydrow has an impressive rowing motion with ultra-smooth strokes. Best I've seen on a magnetic rower.
On-the-water workouts are led by legit athlete instructors and come with high-quality production. Ideal for beginners who want guidance and motivation.
Love the aesthetics of this machine. Sleek modern design that will look great in your home gym or your living room.
NordicTrack RW900: Approve the updated new look, but unfortunately falls short of its competitors
If you really want a premium rowing machine but are still looking to save money then the RW900 could be a good option.
Users who are big fans of iFIT will enjoy the workout classes. But we suggest opting for the older 2021 model as the actual rowing capabilities are better on that machine.
The design and build of this machine are pretty good. Just a shame that it looks better than it actually is.
Hydrow Wave: A cheaper alternative to the Hydrow that offers a lot of the same benefits
If you want the features of the Hydrow experience but the original rower is priced too high then the Wave is the perfect alternative.
Check out our full Hydrow Wave review or see how it differs from its predecessor in our Hydrow vs Hydrow Wave review.
Keep reading for the definitive NordicTrack RW900 vs Hydrow review comparison.
In the remainder of this article, we'll detail the features, specs, and performance of these two premium rowing machines. That way you can decide, once and for all, which one deserves to take pride of place in your home gym.
Hydrow Rower
Hydrow Rower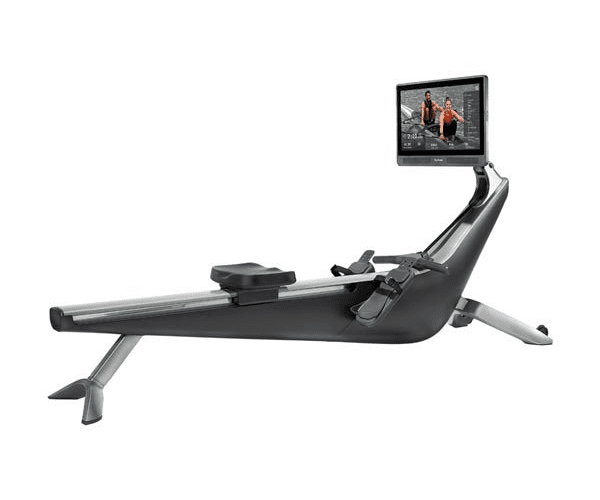 The Hydrow rowing machine aims to provide the 'feel of the river' whilst working out from the comfort of your home. The state-of-the-art rower offers a truly immersive rowing experience.
The Hydrow rowing machine was the innovator in the streaming rowing space. Taking its lead from the Peloton bike, the Hydrow company introduced its streaming rower in 2017.
The Hydrow rower sells for $2495. However, in 2022 a pared-back version, the Hydrow Wave, was also released, selling for $1695.
Hydrow Highlights:
Quality build and rowing experience
One of the smoothest strokes on a rowing machine
Hundreds of high-quality workouts
Hydrow Disappointments:
Not worth using without the membership
Can't program your own workouts like on a Concept2
One of the most expensive rowers on the market
Check out our full Hydrow review for an even more in-depth look.
Nordictrack RW900
NordicTrack RW900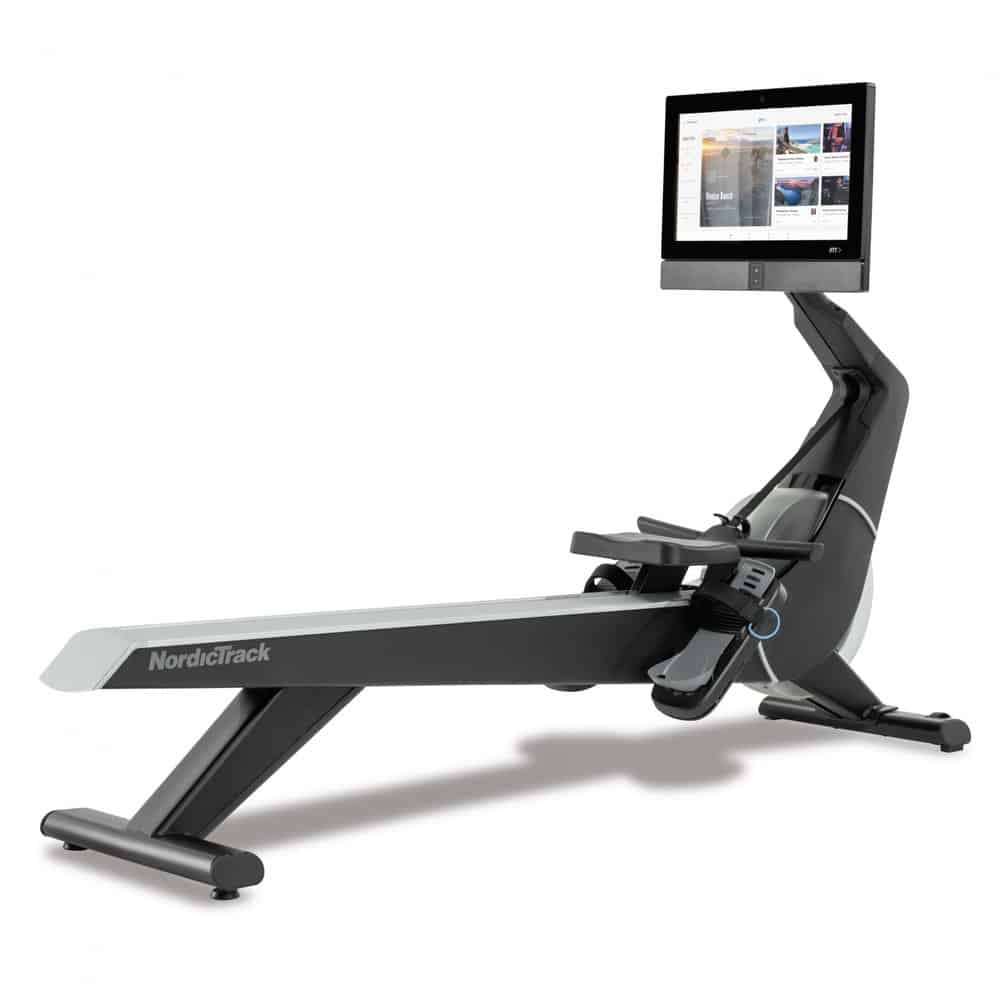 The NordicTrack Rw900 was given a complete remodel in 2022. While we love the new and improved sleek design, the rower itself is not quite on par with its competitors in terms of its rowing capabilities. However, it does beat its competitors on price and comes with iFITT membership.
The redesigned NordicTrack RW900 was released in 2022. It remains NordicTrack's leading next-generation machine. While the original version of the RW900 had a folding frame, the latest version does not fold.
At $1499, the NordicTrack RW900 is the most affordable large-screen (22-inch) streaming rower on the market.
Nordictrack RW900 Highlights:
22-inch swivel touchscreen with front-facing speakers.
Velcro footstraps best I've seen on a rowing machine.
Upgraded look to the previous model, much improved with a more sleek design.
Nordictrack RW900 Disappointments:
Weak resistance – was better on the previous model.
Doesn't feel sturdy/safe when stood vertically for storage.
Footplate ankle hinge not flexible enough.
In-Depth Comparison: Nordictrack RW900 vs Hydrow
Let's now take a look at how these rowers compare in a straight head-to-head in all departments.
Nordictrack RW900 vs Hydrow: Appearance, Construction, And Design
While both of these rowing machines can be stored upright when you're not working out, the reality is that most people keep their rowers on permanent display. That's why the aesthetic appeal of the machine is a big deal.
For me, the Hydrow is without a doubt the best-looking of the two machines. It features sleek curved lines and a metallic silver finish that looks decidedly space-age. This is the type of exercise machine you would have expected to have seen on the Jetsons in the early 60s.
The NordicTrack RW900 has straighter lines and square edges so that it looks more sophisticated than the previous model but still not miles away from the more traditional rower you'd see in a commercial gym. While it would be unfair to call it ugly, it just doesn't have the modern furniture look of the Hydrow (in my humble opinion).
The NordicTrack RW900 takes up a slightly smaller footprint than the Hydrow.
NordicTrack: 82" long x 22" wide x 54" high (to top of screen).
Hydrow: 86" long x 25" wide x 47" high (to top of screen)
The Hydrow is a lighter rowing machine. It has a total weight of 145 pounds, 18 pounds less than the NordicTrack.
But they are both heavy machines, neither is easy to move around. If you have enough space to not need to store them away then I'd recommend leaving them where they are as moving them is some effort.
Both machines can be stored upright but I don't like either in this position. The screens fold down but don't come with any other kind of protection so they feel a bit exposed. Depending on your home environment or where you store your rower it could be quite vulnerable to an accident or damage.
Hydrow does sell an upright storage kit that allows you to store the rower more safely but at an additional cost. The RW900 does not and, to be honest, doesn't seem particularly stable. I wouldn't feel confident leaving it in this position.
The previous RW900 model did fold in half for easy storage – but the 2022 model has a heavier frame, as is the way with most other high-end rowers.
While both rowers feature 22-inch touchscreens, the RW900 scores higher on this aspect of design.
That's because the screen can completely swivel with its innovative 360-degree tilt and pivot feature. That makes following along to off-the-machine workouts when you're not rowing a piece of cake. I feel like this feature is so simple, yet other rowers are yet to incorporate it!
The Hydrow does swivel for off-the-rower exercises but only to a 90-degree maximum. It works, but it does annoy me that the rotation is limited. If off-the-rower workouts are to be a staple of the Hydrow experience then they should make viewing them as easy as possible, just saying.
A big difference between the two machines is the maximum user weight. While the RW900 taps out at a modest 250 lbs, the Hydrow can handle body weights up to 375 lbs. That is a huge difference.
Even if you are nowhere near 375 lbs, the capability to handle that weight tells you a lot about the superior frame strength of the Hydrow over the NordicTrack RW900.
The Hydrow is made from a combination of steel and aluminum and provides a very solid, secure base to work from. I feel much more secure on the Hydrow than on the NordicTrack RW900.
Nordictrack RW900 vs Hydrow: Comfort And Feel
Comfort and feel are the result of a combination of different features. Let's break them down.
Seat
The Hydrow seat sits higher than you usually find on a rower. At 16.5 inches from the floor, it makes it more user-friendly than standard for people with limited mobility.
The ergonomic design of the seat makes for a comfortable experience with its scooped-out rear to accommodate the tailbone. There is a decent amount of cushioning on this seat. Nothing wow but it is comfortable.
I was able to row for 30 minutes+ with no rear discomfort, unlike when using the popular Concept2 ROWERG.
The seat slide system comprises a 2-roller and 2-slider system which allows for a smooth glide up and down the rail.
The RW900 sits at 15 inches so not too far off, also making it a more mobile-friendly option. It also features an ergonomic molded seat.
The rail on this machine is slightly declined toward the flywheel. This makes for a better ergonomic hip ride when you are in the recovery phase of the rowing stroke.
Footplates
The footplates on the RW900 are larger than standard at 13 inches long. Rather than clips, your feet are secured by velcro straps. They provide a secure hold and I have to admit they're the most secure strap I´ve felt on a rowing machine. And velcro is just simpler and less fiddly than clips.
My only concern is that velcro is prone to wear over time so it may not have the durability of a traditional clip strap. But only time will tell.
The foot cradles provide you with six adjustment positions. They also pivot, which may not be to everyone's liking, especially if you are used to the fixed cradles of the Concept2 RowErg.
I personally like the idea of a pivot as it can help those that need extra mobility. However, I found that the foot cradles did not pivot enough for me. So when I rowed hard my sock would slip out of my shoes slightly.
The Hydrow foot plates are similar in size to the RW900. They are pretty standard but I would like them to be a little bit wider to accommodate my big feet. They also provide a slight tilting action to allow for gentle ankle motion to accommodate full knee flexion.
Handle
The Hydrow handle delivers an ergonomic low-stress grip. It's well-cushioned, sweat-free, and wide enough to allow for a variety of hand positions. I'm a big fan of long handles. They allow comfort for all users. Users with broad shoulders will feel more awkward rowing on a machine with short handles.
The handle of the RW900 is ergonomic and well-cushioned. The handle is straighter than that of the Hydrow but not as long. If I'm being picky it could be a bit longer but it's not bad. The handle itself looks nice but unfortunately feels a bit cheap compared to the Hydrow.
Rail
The overused steel rail on the RW900 is angled slightly downward. This makes for a more ideal biomechanical movement pattern as you are recovering from the row. The seat moves fluidly up and down the rail. However, it's let down by the resistance. But more on that next.
The Hydrow rail is made of steel. The 10-roller system that moves the seat up and down ensures a very smooth rowing experience. The rail is well aligned with the pedals to allow for a very natural ergonomic action.
Between the two, the Hydrow gives you a better rowing experience as the strokes feel more fluid and natural.
This brings us to the resistance of the machines.
Nordictrack RW900 vs Hydrow: Resistance And Rowing Performance
The Hydrow uses an electromagnetic resistance system. And to be honest, it's by far the best magnetic rowing machine I've used. It produces a smooth and consistent rowing stroke, and dare I say it, even better than the Concept2.
Its combination of standard magnetic resistance and computer adjustment means the resistance adjusts as you row harder.
Similar to how air rowing machines work and how all rowing machines should work. This better simulates a real on-the-water rowing experience than competing magnetic rowers. Most magnetic rowing machines fail at this leaving the rowing stroke too weak and jerky.
The Hydrow also delivers an extremely quiet workout, especially when compared with an air or water rower. Some of the team did report that they found it a bit whiny. Funnily enough, the machine gets quieter the harder you row – one incentive to push harder during your workouts I guess.
You can adjust the resistance by changing the drag factor on the monitor. Drag is a measure of the level of resistance you would feel on the water. The default setting is 104 but you can adjust it up or down (from 0 to 300).
However, as I mentioned before, Hydrow does a really good job of responding to your effort. The harder you pull, the greater the resistance. So there's not much need to play around with the drag factor.
But if you do want to test it out and go hell for leather, Hydrow has the ability to create very high stroke rates.
The RW900 uses a combination of air and magnetic resistance. There are 26 magnetic resistance levels. Ten damper settings add a level of air resistance. This gives you an extra level of resistance as you increase your rowing intensity.
Unfortunately, this is where the RW900 2022 model really lets itself down. The resistance just feels very weak, even at the highest level. More experienced or stronger users would struggle to get a great workout with this machine.
I just spoke about how a resistance system on a rower should work, but pulling harder on the RW900 2022 doesn't seem to increase the resistance at all past the level you've selected. Which kind of defeats the purpose.
The funny thing is, with all the updates they gave the remodel, the previous 2021 model actually offers a better rowing experience as the resistance is more reactive to your effort. It also has the same iFIT capabilities (tho the monitor is not as impressive).
This alone makes it difficult to recommend the newer model. But hey, at least it's whisper quiet. The only noise you'll hear is the slight whirring of the flywheel as it spins inside the machine.
Nordictrack RW900 vs Hydrow: Touchscreen Interface, Membership, And Workout Content
The Hydrow screen is well-positioned for ease of viewing without straining your neck. Despite its size, the touchscreen is slim and lightweight. The visuals are clear and easy to see from any angle.
The touchscreen controls run along the bottom of the screen. There is also a leaderboard that appears on the right side of the screen if that motivates you. I liked trying to beat the scores of other users and challenge myself.
You aren't able to access any apps outside the Hydrow world though such as Netflix like you can on the Aviron Impact and Aviron Strong rowers.
The RW900 monitor has new front-facing speakers with good sound quality. It also has an on-and-off switch so you don't need to turn it off at the plug after every workout.
I found the screen to sit a little too far forward. You can adjust the tilt of the screen up or down but it wasn't easy to do so. It was quite tight and not easy to adjust.
Both the NordicTrack RW900 and the Hydrow offer subscription-based streaming services. That means that you have to pay every month to access the thousands of streaming workout videos in their libraries.
NordicTrack makes use of the iFIT subscription service, which costs $39 per month. This compares to $38 per month for the Hydrow subscription.
Both streaming services provide you with a lot of workouts. There are more than a thousand iFIT rowing workouts, while Hydrow has around 500 of them at the moment. Both are adding more content all the time.
The iFIT instructors are personable, and professional, and all expert rowers. They take you on rowing experiences that feature awesome landscapes and natural sights, such as elephants and giraffes wandering by.
You can search through their huge workout library using filters such as "in studio", "outside", and even by series, such as "rowing series".
The on-the-water rowing workouts are similar to Hydrow but they lack the same production value.
Although the one-take filming method used by iFIT means that the videos are a little less professional than Hydrow, some of the team felt they are also more spontaneous and, therefore, interesting. I felt less engaged with these workouts than with the ones in the studio.
iFIT also provides you with a range of challenges and multi-day progressives workouts. They of course have off-the-rower workouts too such as yoga and pilates.
Hydrow's trainers are all qualified coaches and athletes. They even have Olympians taking you through some of the workouts so you can trust the coaches are skilled and professional.
All the workouts are performed on the water and you really feel like you are being poached through the workout. They offer selected workouts and also hold live workouts you can join. This didn't interest me personally but the option is there if that's your bag.
They don't offer any in-studio style workouts though so be aware of this if you prefer this kind of workout setting.
The Hydrow experience is very user-friendly and caters to beginners, intermediates, and advanced rowers. They also have how-to instructional videos so you can nail the rowing technique.
They also offer off-the-rower workouts such as yoga, strength training, pilates, and mobility.
One gripe I had with the Hydrow experience was that they only offered workouts and not programs. They have remedied this (sort of) by adding more structured programs that you can follow over a few days and weeks.
However, there are currently not many and they don't run for very long. So I'd like to see more workout programs on the membership. I think new users especially will benefit from having a program they can follow for a few weeks without having to worry about searching for a new workout each time.
This brings me to my second gripe. You can still not program your own training! Why is this still not a thing Hydrow? Granted they have added a thing called "distance row" where you can set the distance you want to row for. But there are no options for setting intervals or creating workouts like you can on the Concept2 PM5 monitor.
I'm sure for many this is not even an issue (especially beginners) just good to know.
It's worth pointing out that there are 30 programs built into the RW900 monitor. That gives you plenty of training options if you choose not to subscribe to iFIT.
Hydrow however does not offer any inbuilt workouts. Essentially making it pointless having the rower with no membership as their just row mode is extremely basic. If you are not a subscriber, you can't even monitor your training data, which is disappointing.
I've said it before, but I really think it would be worth Hydrow creating a rower with a monitor more typical to the Conecpt2 PM5 at a more affordable price for users who don't want the membership. The rower itself is so good that I still think it would sell well without the screen and membership.
Nordictrack RW900 vs Hydrow: Price And Warranty
The Hydrow retails for $2495.
The NordicTrack RW900 can be purchased from the NordicTrack website for $1499.
Hydrow streaming subscription service costs $38 per month.
The ongoing cost of iFIT is $39 per month. Your purchase includes free standard delivery and a 30-Day iFIT trial.
The RW900 comes with a 10-year frame warranty, along with 2-year coverage on the parts. This is double the coverage that Hydrow offers; 5 years on the frame and one year on parts and electronics.
Nordictrack RW900 vs Hydrow: User Reviews
Myself and the team have our own opinions on these rowers, and I think this review is pretty solid (if I do say so myself). However, I always like to get a check-in with other users who may have had more rowing time on a machine or different experiences.
I searched around and found a number of threads on Reddit with rowers debating these machines. It's clear from other users' experience that the Hydrow comes out on top.
One user said of the Hydrow:
We've been using the Hydrow and it's a great product and service for those new to rowing.
Another user had pretty scathing comments about NordicTrack in general:
NordicTrack has had bearing problems since day one. The customer service is terrible. The outdoor rows have poor production values, and half the time you can't hear what they're saying.
Other users suggested that those who want a cheaper alternative to the Hydrow are better off just buying a Concept2 and streaming workouts on a tablet or television, rather than purchasing the RW900. And I would have to agree with this.
With all these memberships you can always subscribe to the workouts without purchasing the machine itself.
Comparison Table
| | | |
| --- | --- | --- |
| | NordicTrack RW900 (2022 Model) | Hydrow |
| Screen Size | 22 inches | 22 inches |
| Screen Tilt | 360 degrees | 90 degrees |
| Max User Weight | 375 lbs | 250 lbs |
| Product Weight | 163 lbs | 145 lbs |
| Resistance Type | Electromagnetic | Magnetic |
| Folding | No | No |
| Built-in Programs | 30 | 0 |
| Warranty | 10 years | 5 years |
| Monthly subscription | $39 | $38 |
| Price | $1499 | $2495 |
Hydrow vs NordicTrack RW900: The Winner
If you've made it this far then there's no surprise that I'm crowning the Hydrow the winner of this duel. It's just an all-around excellent rowing machine.
The NordicTrack RW900 represents good value for money considering its price when compared to competitors.
I'm a big fan of the 360-degree swivel ability of the screen, especially when you combine it with the range of cross-training workouts you can do off the rower. iFIT also has a huge range of legit workouts.
But if you're looking to save money or are even just a big fan of iFIT then you should consider looking at the previous year's RW900 model.
The Hydrow looks a lot more impressive than the RW900, is sturdier, provides a more natural rowing stroke, and ultimately, a more enjoyable rowing experience.
Related Articles
If you're still undecided or want to check out some other rowers, I recommend checking out the following articles:
---