When it comes to rowing, there are two brand names that have become synonymous with these cardio machines, Concept2 and WaterRower.
Two of the standard-bearers in the industry, they've provided top-quality rowers to all manner of clients for decades.
However, while they may be in a class of their own, do we really know which one is the head of the class? Well, that's what we aim to find out today, it's water vs. air rowing machine as we put the WaterRower vs Concept2 in this head-to-head to determine who is the true king of the rowers.
Reliable workout data
Industry gold standard
Many training options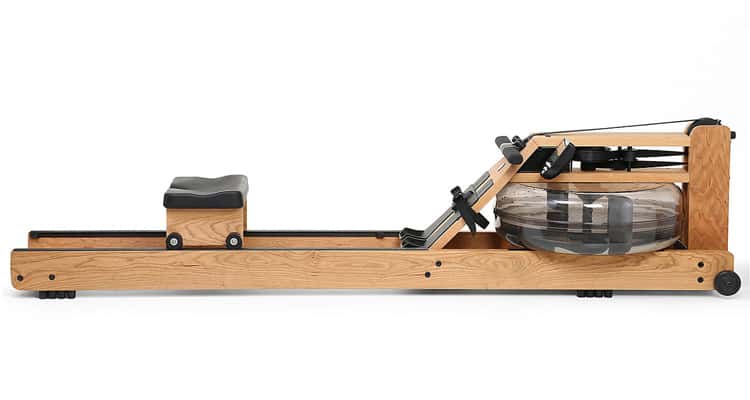 Smooth water resistance
Beautiful design
Great performance monitor
Concept2 Overview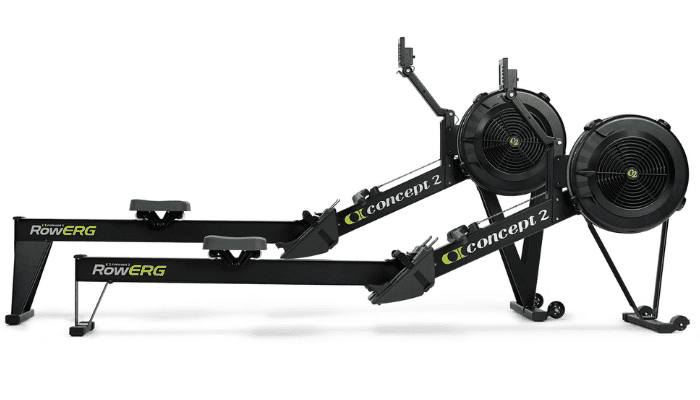 Concept2 has long been producing high-quality rowing products, for use both indoors and outside.
First opening in 1976 as a traditional rowing supplies brand, they made a name for themselves due to how well their products perform. This is a reputation they still hold today, as over 75% of medallists in rowing events at the last Olympics used their products.
Releasing their first indoor rower, the imaginatively named Model A, in 1981, may seem primitive by today's standards but was a revelation at the time.
They made gradual improvements moving forward until the release of their Model C in 1993, which would take the rowing industry by storm, becoming one of the best-selling pieces of fitness equipment ever. The latest model is the RowERG and is the most popular rowing machine in the world.
Across subsequent models, they have continued to tweak and perfect their designs, including the addition of moving foot stretchers on their most recent model, the Dynamic Rower, to simulate the feeling of real-life rowing.
While their rowers don't come cheap, which could certainly be off-putting to some, the confidence in being assured of a quality product is the reason they still sell so well. It's also the reason why if you've ever used a rower in a gym, chances are you've already been on a Concept2, as their products are just as popular with personal trainers.
Read our full Concept2 RowErg review.
WaterRower Overview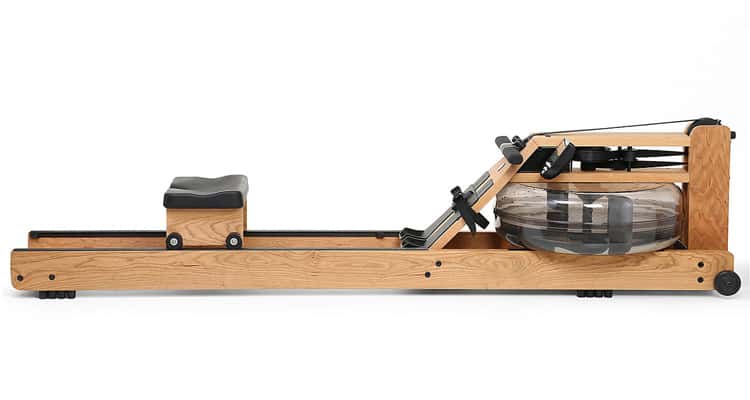 WaterRower hasn't been around quite as long as Concept2 but has still been making rowers for over 30 years, starting business in 1988. With the indoor rower industry already starting to build competition by that time, they needed to find their own niche in the market.
They successfully managed that in multiple ways.
First was their decision to use water to provide resistance instead of air. This gave their rowers a natural feel, more comparable to real-life rowing, that drew the attention of people involved in the sport.
Then was their decision to manufacture their frames from sustainably sourced wood, as opposed to the plastic and metal that most were made from. This provided a draw for the environmentalists out there, allowing them to train with products as natural and environmentally friendly as possible.
Both of these decisions were wildly successful and have stood the test of time. While some of their newer rowers in the S1 and M1 lines do now feature more traditional metal frames, the bulk is still made from wood and all of their machines still utilize water to power your workouts.
Similar to Concept2, these are certainly expensive machines that could put people off, as may the wooden frame which in some people's minds can make it look somewhat old-fashioned.
That said, as far as water-powered rowers go, this is still the benchmark other brands look up to and the success in their sales numbers only further cements that.
Read our full WaterRower review.
WaterRower Models:
Manufactured by WaterRower:
WaterRower vs Concept2: Resistance Types
Now we'll compare the water resistance and air resistance of these machines.
Concept2
Concept2 uses a traditional air resistance system. It utilizes a flywheel, which sucks air into the housing in which it is encased to work against. They have a damper on the side of the casing which allows you to adjust the air coming in. The more air you have, the more difficult it becomes.
This also allows the resistance to fluctuate during a workout, as the harder you row, the more air is sucked in and the harder it gets.
WaterRower
Instead of air, the WaterRower uses water to provide its resistance, as the name suggests. This allows for a much more realistic feel to the rowing.
When it comes to adjusting the difficulty, like how a traditional rower's resistance is determined by the quantity of air inside, you can change the amount of water in a water rower to do achieve the same result.
Additionally, changing your depth of stroke will also alter the difficulty, just like it would during real-life rowing.
Verdict
This round just goes to the WaterRower. While the challenge available from both machines is comparable, the more realistic feel it provides just gives it the edge.
Concept2 0 – WaterRower 1
WaterRower vs Concept2: Model Sizes, Weight, Dimension, And Capacity
The amount and type of space you have may be a determining factor as to which rower is best for you. Here we'll look at the size, weight, dimensions, and capacity of both machines.
Concept2
Concept2 currently has 2 models in production, the RowErg and the Dynamic RowErg.
The Dynamic is 76 inches in length, 24.3 inches in width, has a seat height of 21.5 inches, and weighs 92 lbs.
The RowErg is 96 inches in length and 24 inches wide. There are two different height options (formerly the Model D and Model E). The shorter has a seat height of 14 inches and weighs 57 lbs, compared to the taller model which has a seat height of 20 inches and weighs 65 lbs.
All three machines have a weight capacity of 500lbs.
WaterRower
While WaterRower currently has 13 models in production, all 9 of their classic wooden frames feature virtually the same measurements. They are 85 inches in length, 22 ¼ inches wide, and 20 inches high while weighing 66.5 lbs.
The metal versions are all 3 inches long and can be up to 8 inches higher and up to double the weight.
The weight capacity of all of their rowers is 1000 lbs.
Verdict
This is quite a tough one as although there is some variation between the models, it is overall quite small.
I was tempted to give it to WaterRower for its substantially greater weight capacity, however, the 500 lb capacity of all Concept2s should really be enough.
That's why I'm just about going with the Concept2 on this one, as the much shorter length of the Dynamic rower gives people who are struggling with space an option.
Concept2 1 – WaterRower 1
WaterRower vs Concept2: Performance Monitors And Training Options
Now let's compare the performance monitors of both machines.
Concept2
Concept2 has always been famed for its performance monitors and the current PM5 is no different.
It provides predetermined workouts, a memory for previous sessions, games, and connectivity to link wirelessly to other devices such as heart rate monitors, among other things.
It's also incredibly simple to use and can be picked up in no time, even if you've never used it before.
WaterRower
The current performance monitor on WaterRowers is the S4.
It contains preloaded workouts and the ability to store your own workouts, as well as providing vital performance information.
Again, it is very simple and straightforward to use.
Verdict
Probably the easiest victory so far, this one goes to the Concept2. It's not that the WaterRowers S4 is a bad device, it's just that the PM5 is fantastic. Even the older Concept2 models had devices that would stand up well against the S4 so this category is in no doubt whatsoever.
Concept2 2 – WaterRower 1
WaterRower vs Concept2: Rowers Performance, Comfort, And Noise Levels
The most important factor regarding a rowing machine is how it actually performs and holds up during use. Luckily both of these machines are a joy to exercise on.
Concept2
As I stated in the opening, this is an incredibly high-performance machine. Their expertise in rowing lends itself well to the indoor variety.
That's further amplified by the level of comfort provided by certain aspects, such as the ergonomically designed and cushioned seat, comfortable handle, and adjustable footplates. The natural movement on the dynamic variety further enhances this.
When it comes to noise, all air-powered rowers are quite loud by nature but this does a reasonably good job of keeping it to the bare minimum.
WaterRower
Again, we know this is a high-performance rower, otherwise, it wouldn't even be in the discussion.
Its cushioned seat and handle are designed to maximize comfort but it's the rollers underneath the seat that make all the difference. They provide a smooth, gliding quality to your movement, making it much easier on your back.
As for sound, while not as quiet as a magnetic rower may be, the water power allows it to create minimal noise, even when rowing flat out.
Verdict
The Concept2 just had its biggest victory so far and now the WaterRower gets its own.
While the performance is inseparable between the two, the gliding motion makes the WaterRower slightly more comfortable.
The big difference arises when we look at the noise factor as it's night and day. The water resistance eliminates that constant boom you get with any air-powered rower and comfortably hands the WaterRower the victory.
Concept2 2 – WaterRower 2
WaterRower vs Concept2: Storing And Mobility
Having a rowing machine that is compact and easily storable can be very important depending on the amount of space you have or where you want to store your rower. So let's see what your options are with Concept2 and Water Rower.
Concept2
A lot of this will come down to the dimensions we looked at earlier. There are one or two nice features beyond that however those are nice bonuses in this department.
Firstly, it has wheels on the front. This makes it very simple to quickly move around wherever you have it. If you want to transport it further or store it though, it's the second feature that will be of the most importance.
The Concept2 comes apart easily, by simply opening the locking mechanism on its underside. This makes it much simpler to pack away to store or pop in a car to take with you.
WaterRower
The WaterRower has wheels on the front to help you move it for storage, however, they are quite small. It can also be quite heavy and cumbersome when filled with water.
While it definitely can be moved and stored, this is a piece of equipment that is better designed for setting up where you plan to use it and keeping it there.
Verdict
Another quite definitive victory for Concept2. It comes apart, has better wheels, is smaller overall, and is just generally better designed for storing and mobility than the WaterRower.
Concept2 3-WaterRower 2
WaterRower vs Concept2: Style And Design
This may not be as important a factor as performance but let's be honest, having a machine that looks nice and is designed well is never a bad thing and can be a seal breaker for some.
Concept2
When it comes to the style of Concept2, it's simply timeless. It's sleek and elegant and although it has gone through changes over the years, they still remain close to the original blueprint from Model 1.
They say if it ain't broke don't fix it and Concept2 clearly agrees. Considering it set the standard that most other rowers have tried to emulate over the years, why would they even think about changing?
WaterRower
13 different models and 13 different styles, WaterRower like to keep things fresh with their rowers.
You have a choice of metal or a number of different types of wood, each with its own colors and finishes.
Then there's the clear water compartment, giving you that close to the water feel, that further helps you imagine rowing for real.
While the overall design remains the same throughout their catalog, there are certainly plenty of variations on it to make as many people happy as possible.
Verdict
While it's hard to side against the machine that set the standard, the WaterRower is just more style-oriented than the Concept2.
While its unique style won't please everyone, there are enough options available to cover most people and they are all beautifully executed.
Concept2 3 – WaterRower 3
WaterRower vs Concept2: Price/Quality Ratio
The question we all want to know. How much does it cost?
Concept2
When you're buying a high-spec machine such as this, from a world-renowned manufacturer, it's never going to be cheap.
You need to be prepared to part with a great deal of money to purchase any of the three current models they produce. That being said, it doesn't necessarily make it bad value as you are getting a quality product.
WaterRower
Another case of you get what you pay for, WaterRowers don't come cheap either. While their cheapest model comes in slightly lower than the cheapest Concept2, they average out to almost the same price as one another.
Again, the quality is there to justify the price tag and by this point probably won't come as a shock to people.
Verdict
This one is too close to call. I'm tempted to give it to the WaterRower, due to it having the cheapest option of the two, but in the end, the difference was so marginal I didn't feel it was enough to give it the win.
It may seem a bit of a cop-out but I'm leaving this one as a tie.
Concept2 4 – WaterRower 4
WaterRower vs Concept2: Final Verdict
So here we are. We set out to determine which was the better rower out of Concept 2 and the WaterRower and after breaking them both down and analyzing them we have concluded that…..they're both equally good.
While this may seem unhelpful if you're trying to decide which to buy, that isn't the case. We may not have determined which is the best overall rowing machine but that doesn't mean we haven't shown which is best for your own personal needs.
The Concept2 is the better option if you need a rower that:
Is easier to store and transport
Takes up less space while in use
Has a more advanced performance monitor
On the other hand, the WaterRower would be the preferred option if you:
Prioritize style
Prefer a more realistic feel to your rowing
Like to row in peace
Now, hopefully, that should make things a little clearer on which one you want to buy.
At present, there are waiting lists for a lot of the models from both companies due to their quality, as well as the increased demand for home fitness equipment caused by the current pandemic.
So if you don't want to be stuck at home without any way to get your rowing fix, I'd highly recommend getting into gear and getting your machine of choice ordered today.
Reliable workout data
Industry gold standard
Many training options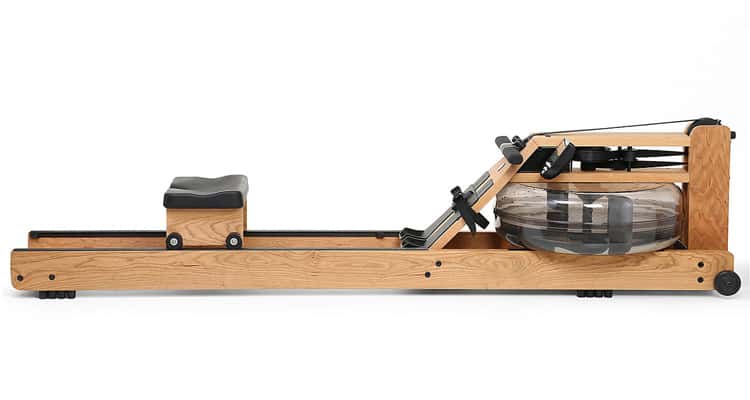 Smooth water resistance
Beautiful design
Great performance monitor
FAQs
Is WaterRower harder than Concept2?
The WaterRower is not harder to use than the Concept2 in general. Both machines perform well when in use. However, some users may find it harder to use WaterRower rowing machine because the footplates are closer together. This may make it more difficult the execute proper rowing mechanics during each stroke.
Which is better WaterRower or Concept2?
Overall the Concept2 is a better rowing machine than the WaterRower. If you have no preference in resistance type then currently we would always suggest getting a Concept2 over a WaterRower.
Is a WaterRower better than an air rower?
A water rower is not better than an air rower. Both resistance types are very good. It depends on the type and brand of rowing machine you are looking at. In general, air rowers are better than water rowers but the higher-end water rowers are very good. Both the Concept2 and WaterRower rowing machines are good options and if you have a preference over one resistance type then you will most likely be happier if you choose the machine that matches this.