Discover the best compact rowing machines for small spaces with our expert guide. Find the perfect machine to get a full-body, low-impact workout in the comfort of your own home.
If you're wondering which compact rowing machine to invest in for your home gym, you've come to the right place. I have been busy testing and reviewing numerous machines to bring you the ultimate guide to the best compact rowing machines on the market.
In this article, I'll be sharing my expert insights on the top compact rowers and what you should consider before making a purchase.
For those who just want the best of the best, I´ll tell you now, the Hydrow Wave has taken the top spot as the best overall compact rower. The lasted model from the Hydrow company is just too good to overlook. Being 30% smaller and lighter than the original Hydrow it's perfect for smaller spaces. Not to mention it's $600 cheaper with the same Hydrow experience.
But don't be too quick to dismiss the other rowers on this list – they each have unique features and benefits that may better suit your needs.
Let's dive in!
6 Best Compact Rowing Machines In 2023
Best Compact Rowing Machine Overall: Hydrow Wave
Best Overall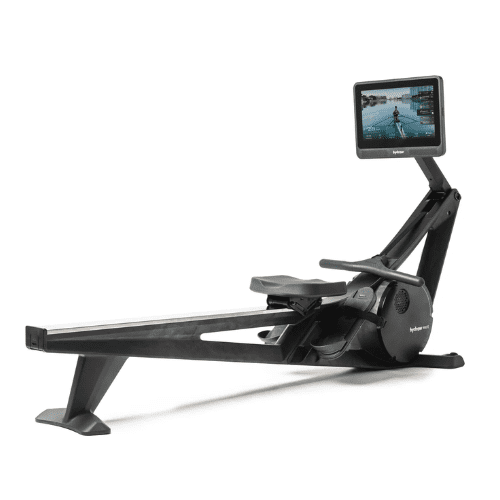 The Hydrow Wave is a compact and innovative magnetic rowing machine that offers an immersive workout experience with interactive classes and online workouts.
First up I'll give you the lowdown and share my thoughts on the Hydrow Wave, which has earned the title of the "Best Compact Rower Overall" in our article.
Key Features and Specifications
The Hydrow Wave boasts a range of impressive features:
Size and Weight: The Hydrow Wave is 30% smaller and lighter than the original Hydrow machine, weighing only 102 pounds.
Rail Length: Despite its compact size, the Hydrow Wave maintains the same rail length as the original machine, accommodating users with up to a 36-inch inseam.
Weight Capacity: The Wave supports users weighing up to 375 pounds.
Display: The Hydrow Wave features a 16-inch screen, which is smaller than the original's 22-inch screen, but still offers the same content and great visuals.
Magnetic Resistance System: The machine provides a wide range of resistance settings, with a drag factor ranging from 50 to 300.
Pros:
Compact and lightweight design makes it suitable for small spaces.
Accommodates a wide range of user heights and weights.
Quieter and more pleasant sound compared to the original Hydrow machine.
Wide handle with a comfortable grip ensures a smooth rowing experience.
Wide range of resistance settings caters to users of all fitness levels.
Unique swirled metal finish gives the machine an attractive appearance. Also sold in new jazzy colors!
Cons:
Upright storage leans slightly outwards, taking up more space than if it were completely vertical.
Monitor adjustment requires removing and reinserting a screw, which can be tricky.
Smaller screen size may not be ideal for some users.
The Hydrow Wave offers a fantastic rowing experience that rivals the original Hydrow and even the popular Concept2 rower. I love that Hydrow has created a rower with a more compact design, making it more suitable for those with less space. The Hydrow is a fantastic rower, but it is quite bulky.
With the Wave, you still get the same wide range of resistance settings with a drag factor ranging from 50 to 300. It's quite impressive how they've managed to incorporate the same system into a smaller machine without any real drop in rowing quality.
I found the machine comfortable to use – the handlebars in particular felt really good and the machine is virtually silent when in use.
User reviews have also been generally positive. Many users appreciate that Hydrow has created a machine that caters to a different buyer profile. And many have praised the machine's compact design and overall performance. Some have mentioned the smaller screen size as a downside.
The smaller screen size didn't bother me personally, as the content and user interface remains the same. However, I did find the monitor adjustment process a bit cumbersome. But this is really a minor drawback, to be honest.
The Hydrow Wave is currently priced at $1,895 ($600 less than the original) making it much more affordable. You will still need to purchase a monthly membership at $44 to make the most of the machine though.
It's one of the pricer rowers on our list, but if you can afford it, it's an excellent choice for those who don't want to compromise on quality.
Read our full Hydrow Wave Review.
Best Interactive Compact Rowing Machine: Aviron Strong Series
Best Interactive Compact Rowing Machine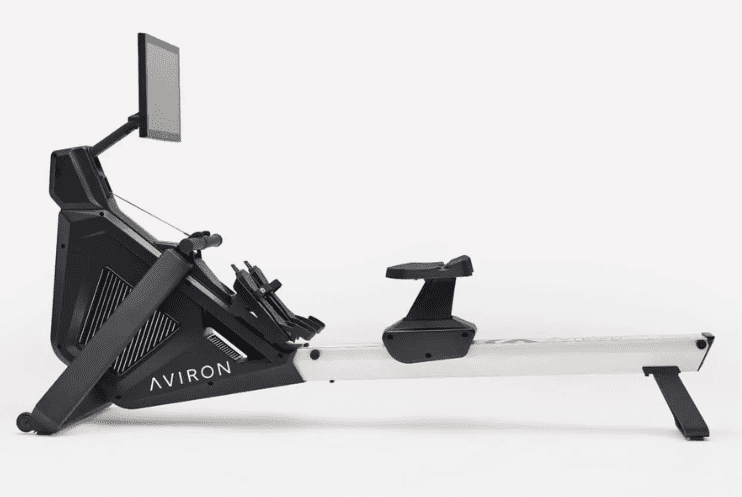 The Aviron Strong Series Rower is a premium-level rowing machine with magnetic and air resistance that features interactive workouts and a comfortable, accessible design.
The Aviron Strong Series Rower has really stood out to me as one of the best rowers on the market. Combining compact design, interactive features, and a high-quality build, the Aviron Strong offers a truly unique and engaging workout experience.
Key Features and Specifications
The Aviron Strong Series Rower comes with an impressive list of features:
Dual Air and Magnetic Resistance System: This rower provides a seamless and natural rowing feel with its combination of air and magnetic resistance, offering up to 100 pounds of resistance for a challenging full-body workout.
Adjustable Handle, Foot, and Hip Width: Customizable components allow users of various sizes and shapes to find their most comfortable and efficient rowing position.
22-inch HD Touchscreen: The high-definition touchscreen offers an immersive experience with access to streaming services, games, and workout programs.
Regular Software Updates: Aviron ensures that their software is always up-to-date, rolling out at least two major updates every quarter to keep workouts fresh and engaging.
Pros
Compact and lightweight design
Dual air and magnetic resistance system for versatile workouts
Engaging and diverse software experience
Adjustable handle, foot, and hip width for maximum comfort
Regular software updates to keep the user experience fresh
Cons
Price may be higher compared to other compact rowing machines
Requires Wi-Fi connection for full functionality
I can confidently say that the Aviron Strong is one of the most enjoyable and engaging rowing machines I have ever used.
The dual air and magnetic resistance system is really unique. It provides up to 100 pounds of resistance, allowing for really intense workouts.
The resistance feels smooth and natural and I was able to workout comfortably for long periods of time, making use of the adjustable handle, foot, and hip width, along with the ergonomic seat. This also allowed me to maintain proper form while rowing.
The compact and lightweight design, along with the ability to fold and stand vertically, makes this rower an excellent choice for those with limited space.
The 22-inch HD touchscreen monitor offers an immersive and interactive experience, making workouts more enjoyable and engaging. The diverse software includes streaming services like Netflix, games, and various workout programs, ensuring users never get bored.
I particularly enjoyed the interactive games and made good use of the streaming service connectivity. This is something I've been crying out for on other machines as it really makes the workout fly by when catching up on your favorite show.
Other Aviron users have also praised the Strong Series Rower for its innovative features and engaging workout experience. Many have noted the ease of use and customization options, as well as the high-quality build and materials.
Other Aviron users have praised the Strong Series Rower for its sturdy build, comfortable adjustments, and engaging software experience. Some users have however mentioned that the footplate design is a potential issue for those with larger feet, but overall, the reviews have been overwhelmingly positive.
The Strong Series Rower is currently priced at $2,199. You will also need to purchase a membership to make full use of all the features. The membership currently costs $25 a month.
It's worth mentioning that even without the subscription, you can still use the Strong rower for basic workouts, but the subscription truly unlocks the full potential of the machine.
Read our full Aviron Strong Series Rower review.
Best Budget Compact Rowing Machine: Sunny Health and Fitness Magnetic Rowing Machine
Best Budget Compact Rowing Machine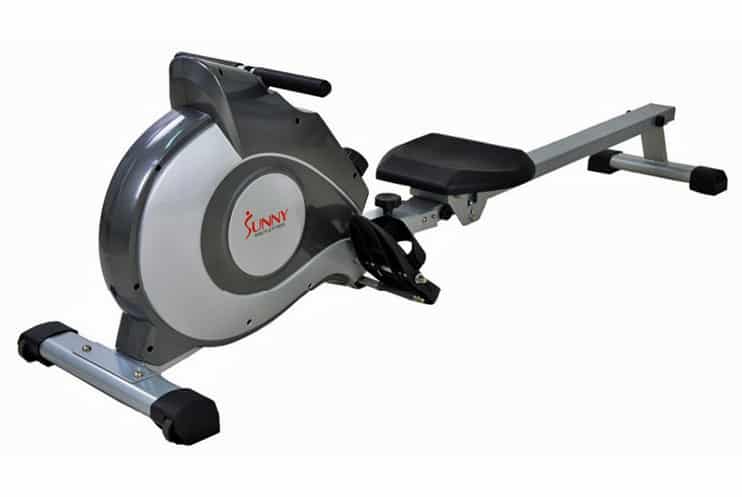 The Sunny Health & Fitness SF-RW5515 is a quiet, affordable magnetic rowing machine with 8 resistance levels and a comfortable design.
The Sunny Health & Fitness SF-RW5 Magnetic Rowing Machine is a budget-friendly option that provides a decent rowing experience for beginners or those that are using rowing as supplementary training.
Key Features and Specifications
Easy assembly and well-packaged components: The machine is straightforward to put together, allowing you to start rowing quickly.
High-quality, comfortable seat: The seat is well-padded, ensuring a comfortable rowing experience.
Suitable for taller users: Tall users (6″+) can use the machine without any issues.
Adjustable back legs: You can level the rower on uneven surfaces, ensuring a stable workout.
Simple foot pedals: The non-adjustable pedals with a single velcro strap are adequate for most users.
Easy-to-use control module: The module offers multiple workout modes, adjustable resistance levels (1-8), and comes with supplied batteries.
Comfortable and sturdy handle: The handle features a belt drive system, providing a good rowing experience.
250-pound weight capacity: This rower supports a wide range of users.
Easy transportation and storage: Rollers on the front make it easy to move, and the rower folds up for convenient storage.
Pros:
Affordable price
Easy assembly
Suitable for taller users
Quiet operation
Folds up for storage
Cons:
Limited stroke range (three-quarters compression)
Flimsy plastic footplates
Simple monitor lacking essential performance metrics
Non-adjustable foot pedals
Less smooth return motion
Okay, let's just say it. This Sunny Health & Fitness rower doesn't come anywhere close to the two rowers listed previously. But this list aims to cater for all buyer types and for those on a tight budget (or those who know their main training focus won't be rowing) it is a viable option.
I've used the SF-RW5 on several occasions and you will get a decent workout from it, especially if you are new to rowing.
However, there are some drawbacks. The rower limits users to a three-quarters compression stroke. This means that it will not allow you to complete a full range of motion, which could be a deal-breaker for some.
The plastic footplates do feel somewhat flimsy, and the monitor lacks essential performance metrics. Its the most basic of basics.
Other users have shared similar experiences, praising the Sunny Health rower for its affordability, compact design, and suitability for small spaces. But also criticised it for the less smooth return motion during the rowing stroke, lack of features, and poor foot pedals.
But the rower is a popular choice among budget-conscious home gym enthusiasts. It's always a best seller on Amazon and has thousands of positive reviews. So it must be doing something right.
Priced at around $200-250 its definitely an attractive option for those looking to add a rowing machine to their home gym without breaking the bank.
Just know – if rowing is a main part of your fitness routine (or you'd like it to be), it really would be worth saving up for a higher-end machine.
Read our full Sunny Health & Fitness SF-RW5 review.
Best Portable Compact Rowing Machine: Horizon Oxford 3
Best Portable Compact Rowing Machine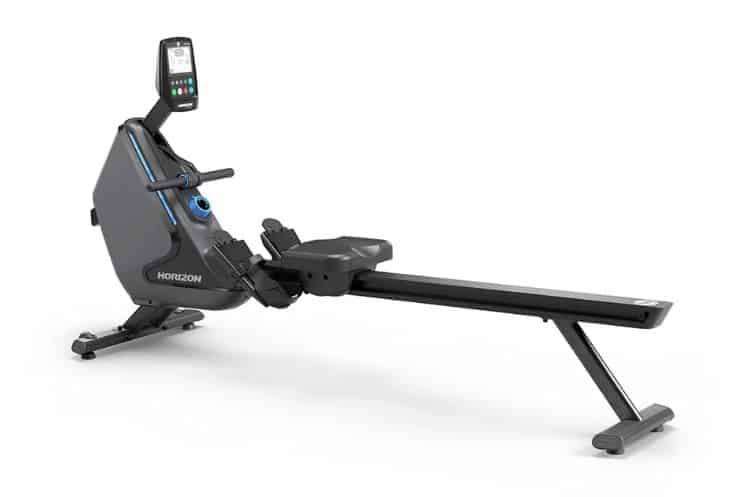 The Horizon Oxford 3 is an affordable, portable folding rowing machine with a sturdy build and comfort-focused features. Though it has limited programming options, its quiet operation and easy storage make it a great choice for budget-conscious users.
The Horizon Oxford 3 rower offers impressive improvements over its predecessors and is another attractive option for those on a budget.
Key Features and Specifications
Silent Magnetic Resistance: The silent magnetic resistance allows for a smooth and quiet workout, making it an ideal option for shared living spaces.
Sturdy Construction: The rower features a premium aluminum rail, high-strength belt, and cushioned footrests, which offer users a durable and comfortable workout experience.
10 Resistance Levels: With 10 magnetic resistance levels, the Oxford 3 Rower accommodates a wide range of fitness levels, making it a versatile option for users of different abilities.
5.4″ Adjustable LCD Screen: The battery-operated console has an adjustable angle and height, making it easy to see and access workout data.
Max User Weight Capacity: The Oxford 3 Rower can accommodate up to 350 lbs, making it suitable for a wide range of users.
Pros:
More reasonably priced for most consumers.
Sturdy construction
Quiet magnetic resistance
Adjustable LCD screen
Max user weight capacity
Cons:
Limited programming
Basic console
Non-folding design
Limited availability:
Short Warranty
Overall, I found the Horizon Oxford 3 Rower to be a solid and reliable machine, offering good value for the price.
The machine's magnetic resistance is very quiet making it ideal for use in shared living spaces, and the sturdy construction impressed me a lot actually. Working out on this machine was also comfortable.
The Oxford 3 can accommodate users up to 350 lbs, making it suitable for a wide range of users.
The 5.4″ LCD screen is adjustable in angle and height, making it easy to see and access workout data.
The actual console itself though is lacking somewhat and was a disappointment. It´s very basic and has limited programming. The console offers only five onboard workouts. I would have liked to have seen some better functions.
However, the machine is very easy to move so great if you need a machine that's portable.
According to other users, many have expressed being able to get in "a solid workout" on the Horizon Oxford 3 Rower and stated that it's a "durable and reliable machine".
Many agree with me that the limited programming is a disappointment, while others mentioned that it would have been nice if they incorporated a folding design making it easier to store away. It is possible to stand the machine upright though so for me this isn't a huge problem.
The Horizon Oxford 3 Rower is priced at $899 placing it in the mid-range price category. Currently, the Horizon Oxford 3 Rower is available exclusively at select retailers, making it difficult to find in some areas.
The warranty covers the frame for a lifetime, electronics for 2 years, parts for 1 year, and labor for 1 year.
Best Water Compact Rowing Machine: Ergatta
Best Water Compact Rowing Machine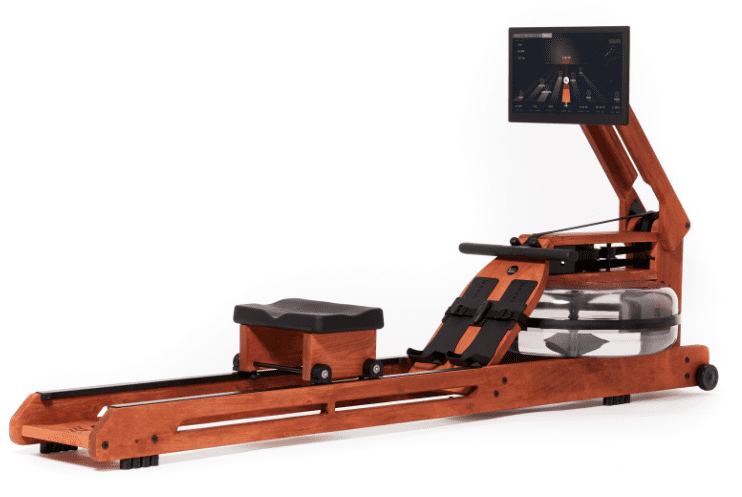 The Ergatta Rower reignites your competitive spirit with engaging gaming content, sleek design, and personalized workouts for an exciting rowing experience.
The Ergatta rower has managed to stand out in a crowded rowing machine space with its focus on competitive rowing and racing. This machine is perfect for those looking to rekindle their competitive spirit and transform their rowing workouts into an exciting experience.
Key Features and Specifications
Competitive and Racing Focus: Offers a variety of race options, categories, and even live races every month.
Beginner-Friendly Features: The "Get Started" five-part series provides a solid foundation for newcomers.
Workout Organization: "Your Library" feature allows for better organization of workouts.
Gamification and Training Programs: Focuses on engaging games and training programs instead of instructor-led classes.
Sleek Wooden Frame: Elegant design with a dual rail system and adjustable footboards.
Pros:
Engaging gaming content on a 17-inch touchscreen.
Soothing sound of the water resistance system.
Smooth rowing action and relatively quiet operation.
Supports up to 500 pounds and accommodates users with good mobility.
Ergonomic handle for comfortable use.
Cons:
Small, reflective tablet with a poor sound system.
Lacks adjustable resistance levels in the water tank.
Requires good mobility due to its low-to-the-ground design.
There's a lot to love about Ergatta rower. Its aesthetic design, its efficiency, and the calming sound of the water swooshing with each stroke.
But after testing it out for a few months my favorite things have to be the personalized workouts and variety of games.
Instead of instructor-led classes, Ergatta focuses on gamification and training programs. These workout features are designed around solid training principles and really make it stand out among its competitors.
The Ergatta has undergone some significant updates since its original release and has now shifted its focus toward racing and competitive rowing. It now offers a variety of race options and categories, including live races held every month.
For beginners, Ergatta has introduced a "Get Started" five-part series, and the new "Your Library" feature allows better organization of workouts.
The improved features for beginners are great but also the competitive aspect makes it an excellent choice for ex-competitive high school or collegiate athletes looking to reignite their passion for the sport.
In action, the Ergatta has a good rowing motion but admittedly is not as smooth as the strokes on the Hydrow or Aviron. Design-wise, the Ergatta stands out with its sleek wooden frame and elegant design.
The gaming content is displayed on a 17-inch touchscreen tablet. The tablet has drawn some criticism for being too small. I don't mind the size but it does have a reflective surface and the sound system is poor compared to the ones on other high-end rowers.
It supports up to 500 pounds and features an ergonomic handle, dual rail system, and adjustable footboards. The water tank creates a soothing sound whilst rowing but lacks adjustable resistance levels. You'll have to adjust the water levels if you want to change the resistance.
The Ergatta is priced at $2,499, with an ongoing subscription cost of $29 per month for access to the app content. While the price may seem steep, the membership costs are quite favorable when compared to competitors.
Personally, I think the overall build quality, engaging content, and performance make it a worthwhile investment for those who value competition in their rowing workouts. It's also my favorite water rower on the market.
Read our full Ergatta review.
Best Folding Compact Rowing Machine – Echelon Row-s Connected Rowing Machine
Best Folding Compact Rowing Machine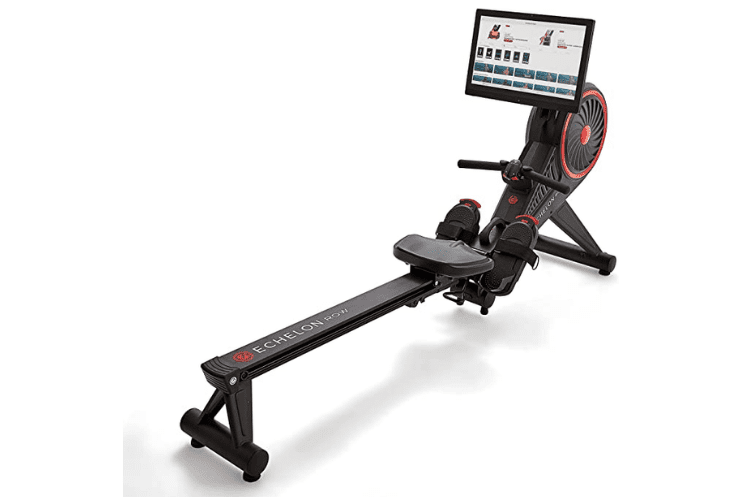 The Echelon Row-s Connected Rower is a budget-friendly option with interactive features, offering 32 resistance levels and compatibility with the Echelon Fit app. It's foldable design and engaging workouts make it a top choice for an enhanced exercise experience.
I was excited to test out the Echelon Row-s. It's a smart rower but a more affordable option to the likes of Hydrow, Avrion, and Peloton.
Key Features and Specifications
Magnetic resistance with 32 levels: The Echelon Smart Rowing Machine offers a wide range of resistance levels to accommodate different fitness levels and workout intensities. The magnetic resistance provides a smooth and silent rowing experience.

Bluetooth compatibility: The rower can be connected to the Echelon Fit app via Bluetooth to access a library of live and on-demand workouts, track progress, and compete with friends.

Foldable design: The rower can be easily folded and stored when not in use, making it a great option for those with limited space.

Adjustable foot support: The rower features adjustable footrests that can accommodate different foot sizes and provide a secure grip during rowing sessions.

Competition handlebars: The rower's handlebars are designed for a comfortable and secure grip, with a sleek and ergonomic design that allows for easy and natural arm movement during rowing.
Echelon Premier: Access to over 3,000 live and on-demand fitness classes with a free 90-day trial

Pros:
More affordable price for a smart rower
Space-saving foldable design
Immersive 22″ HD touchscreen display
Patent-pending Bluetooth resistance controller
Easy-to-use controls
Interactive workouts with access to thousands of classes
Cons:
Lack of preset workouts
No heart rate monitor
Limited warranty without purchasing an extended plan
May not be suitable for very tall users due to its compact design
Echelon Membership required for access to content
The Echelon Row-s has a large immersive 22″ HD touchscreen display that makes working out on this machine more enjoyable. It provides real-time stats and access to live and on-demand classes. The screen also flips 180° for off-equipment cross-training, adding even more versatility to my workout routine.
The Echelon membership delivers a wide variety of workouts with live and on-demand classes available 24/7, scenic waterway workouts filmed around the world, and motivating instructors. It doesn't have the production quality of the Hydrow but I never got bored with my workouts.
The Echelon community also adds a layer of support and inspiration as we climb the leaderboard together.
The machine itself is nice to use. The ergonomic design helps promote proper hip and spine alignment while rowing, which can help prevent injuries and makes the workouts more comfortable.
When switching up the resistance, Ecehlon has a Bluetooth resistance controller. This patent-pending feature allows me to easily adjust resistance levels during my workout, ensuring that I am constantly challenged and engaged with minimum distraction.
The foldable design makes the Echelon Row-s incredibly easy to fold and store, making it perfect for small apartments or home gyms with limited space. This is a unique feature for a smart rower and I can't think of any other that allows you to do this so well. I love how quickly I can transition from using it to storing it away.
The Echelon Row-s is usually priced at $1,599.99 and includes a free 90-day trial of Echelon Premier.
Best Compact Rowing Machine For Small Spaces: Lanos Hydraulic
Best Compact Rowing Machine For Small Spaces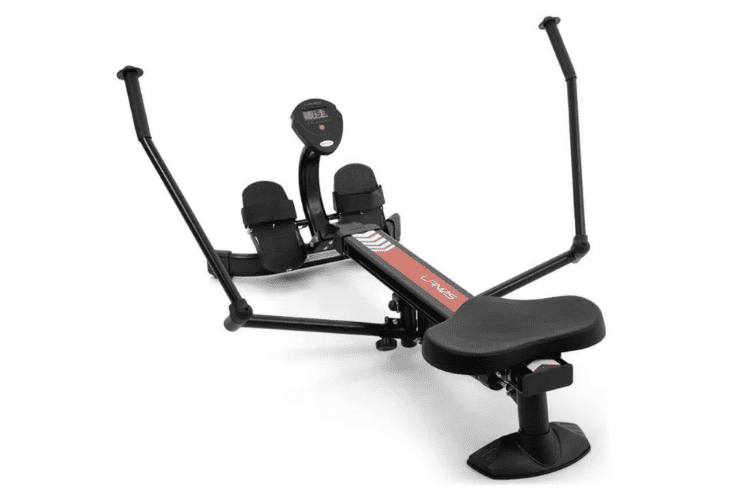 Compact and budget-friendly, perfect for small spaces and users seeking adjustable hydraulic resistance in a simple, easy-to-store design.
If you're looking for a compact and budget-friendly rowing machine for small spaces, the Lanos Hydraulic Rowing Machine may be a great option to consider.
Key Features and Specifications
Adjustable Hydraulic Resistance: This machine has an adjustable hydraulic resistance with a manual control knob, allowing you to adjust the intensity of your workout as needed.
LCD Monitor: The LCD monitor tracks important workout metrics, such as time, row count, and calories burned.
Ergonomic Design: The Lanos rowing machine has an ergonomic design that includes a molded seat and pivoting footplates with safety straps
Durable Construction: The machine is constructed with a durable steel frame that can withstand a maximum user weight of 250 pounds.
Compact Size: With assembled dimensions of 50 L x 36.22 W x 20 H inches and weighing only 34 pounds, this rowing machine is compact and easy to store in small spaces.
Pros:
Affordable price point makes it accessible for those on a budget
Adjustable hydraulic resistance
Ergonomic design provides a comfortable workout experience
Compact size makes it easy to store in small spaces
Cons:
Mixed reviews on the quality and comfort of the machine
Some users reported issues with the pedals and seat rollers
Maximum user weight of 250 pounds may not be suitable for heavier individuals
Some users reported issues with noise during operation
Not suitable for tall or short individuals according to some reviews
Okay, there are definitely mixed reviews about this machine. It's never going to be able to perform like a Concept2. And hydraulic is my least favorite form of resistance in a rowing machine.
It does not have all the bells and whistles of more expensive machines, but to be honest, the Lanos does what you'd expect it to do. And it's included in our list as it serves a purpose.
It's a budget rower that is extremely compact. I mean you can literally slide this thing in and out from under your bed if wanted to. So if you're on a tight budget and don't have much space for the other rowers listed above, the Lanos could be a good fit.
I also think it's a good machine for elderly people or those going through rehabilitation.
The Lanos comes with adjustable hydraulic resistance and an LCD monitor which tracks basic metrics while rowing. In use it is okay. Nothing to sing about and nothing I can really complain about with all things considered. I suppose the footrests could be more comfortable.
I will say though that the machine is most likely not suitable for all body types. And I don´t mean weight (even though the max weight is only 250 pounds). Both taller and shorter users may struggle to use this machine comfortably.
Overall, this is a machine that I would only consider as a last resort. But hey, it's nice to have options.
Other Compact Rowing Machines Researched
In researching the best compact rowing machines, several other machines were considered that did not make the list. While these machines did not make the final cut, they may still be worth considering depending on your specific needs and preferences. Here are some of the other compact rowing machines that were researched.
Stamina Body Trac Glider 1050 Rowing Machine
Sunny Health & Fitness SF-RW5639 Full Motion Rowing Machine
Merax Water Rowing Machine
ProGear 750 Rower
How We Picked The Best Compact Rowing Machines
We used a rigorous process to select the best compact rowing machines for this roundup. We started by researching and analyzing dozens of rowing machines from various manufacturers and models. We considered factors such as price, durability, ease of use, resistance levels, programming options, customer reviews, and of course…size.
After narrowing down the list, we then personally tested each machine to ensure that it met our criteria and provided a good workout experience. We evaluated the rowing machines based on their overall quality, performance, and user-friendliness.
We also took into account feedback from other users, including their experiences with the machines, their likes and dislikes, and any issues they encountered. We read reviews on various websites, watched videos, and consulted with other trainers.
From there, we compiled a list of the top compact rowing machines that we felt provided the best value, performance, and overall experience. We included machines from a range of price points and with a variety of features so that there would be an option for every user.
Our goal was to provide an unbiased and thorough review of each machine so that users could make an informed decision when purchasing a compact rowing machine for their home gym.
Compact Rowing Machine Buying Guide
When buying a compact rowing machine, there are several factors to consider.
Space: The first factor you've obviously already considered, or else you wouldn't be here – the space you have available for your rowing machine. If you have a very small apartment or very limited space, you may want to consider a foldable machine or a hydraulic rower.
Resistance: Resistance determines how difficult it is to pull the handle and can dictate how intense your workout can be. A good resistance mechanism will increase the resistance the harder and more forceful you pull. Air resistance machines provide a realistic rowing experience, but they can be noisy. The top magnetic resistance machines are now on par with the best air rowers but are very pricey. They are also quieter and often offer more resistance levels. But the cheaper options are unlikely to provide a realistic rowing experience. You can read about the different resistances in our types of rowing machines article.
Price: Compact rowing machines come in different price ranges, and you should consider your budget before making a purchase. Budget-friendly options, such as hydraulic rowers, can be found for under $200, while magnetic and air resistance machines can cost up to $1,500+.
Durability: You want a machine that will last for years, and the materials used to construct the machine can influence its durability. Machines with steel frames and high-quality components tend to be more durable.
Weight capacity: The weight capacity of the machine determines who can use it safely. If you are taller or heavier, you may want to choose a machine with a higher weight capacity. Higher weight capacity is also often a good indicator of build quality and durability.
Comfort: A comfortable machine can make all the difference. It'll make your workout more enjoyable and stop you from feeling sore after use. Look for machines with well-padded seats, adjustable footrests, and comfortable grips.
Features: How useful the features of a machine will vary from person to person. It really depends on your needs and what you´re looking to get out of your rower and workouts. Some have built-in monitors, pre-programmed workouts, and Bluetooth connectivity. Consider which features are important to you.
Brand and warranty: Consider the reputation of the brand and the warranty offered. A good warranty can protect your investment and give you peace of mind. Brands with a good reputation often excels in customer support.
The best rowing machine for you will ultimately depend on your individual needs and preferences. So consider the factors above and it'll make the decision process a lot easier.
Before You Go…
Whether you're looking for a budget-friendly option or a high-end machine with advanced features, our roundup has something for everyone. I encourage you to go through the buying guide again and then choose a rower that meets your requirements and fits within your budget.
If you're interested in learning more about any individual rower then you should check out our reviews or see the best rowing machines currently on the market.
Already know which rowing machine you´re going to buy? Great! You're now ready to prepare for your first workout. Read our guide on How To Use A Rowing Machine.
We also welcome your thoughts and experiences in the comments section below. Let us know which compact rowing machine you'd choose and why.
FAQ
How much space do I need for a compact rowing machine? 
Compact rowing machines vary in size, but most can fit in a small apartment or home gym. Be sure to check the dimensions of the rowing machine and measure your available space before purchasing.
What is the weight limit for compact rowing machines?
The weight limit for compact rowing machines varies by model, but most can accommodate users up to 250-350 pounds. Be sure to check the specifications of the rowing machine you are interested in to confirm its weight limit.
Are compact rowing machines good for weight loss?
Yes, rowing machines provide a great full-body workout that can help with weight loss when combined with a healthy diet and regular exercise routine. Rowing burns a lot of calories and can also help build muscle.
Can I use a compact rowing machine if I have back or joint problems? 
It depends. Rowing is a low-impact form of exercise that puts minimal stress on the joints, making it a good option for those with joint problems. However, if you have back problems, it's important to use proper form and technique to avoid exacerbating your condition. Always consult with a healthcare professional before starting a new exercise routine.