As a personal trainer, I'm often asked my opinion on the best in-home rowing machine. As a result, I make it my job to keep up to date with the latest rowing machine releases. Rowing is by far my preferred form of cardio, so I've been delighted to see recent advances in streaming rowing technology.
In this article, I'll be comparing two of the most popular subscription-streaming touchscreen rowers; the Aviron and the Hydrow.
When it comes to preparing for reviews like this one, I spend hours researching each brand. I also personally put each model through its paces to get a real hands-on experience with it. As a result, you can be sure that you are reading a thorough and complete review.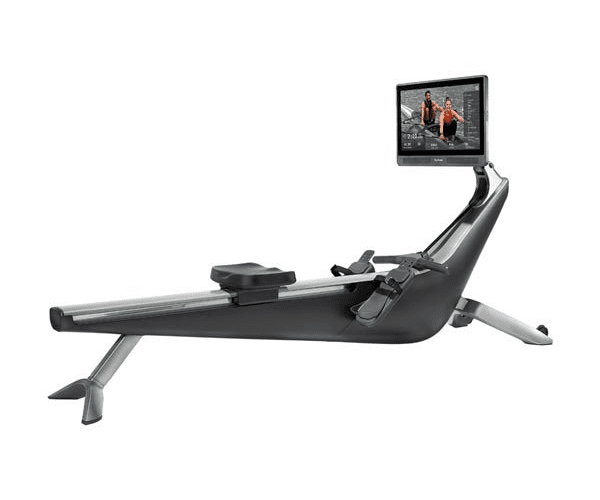 Immersive fitness experience
3,000+ workouts
World-class instructors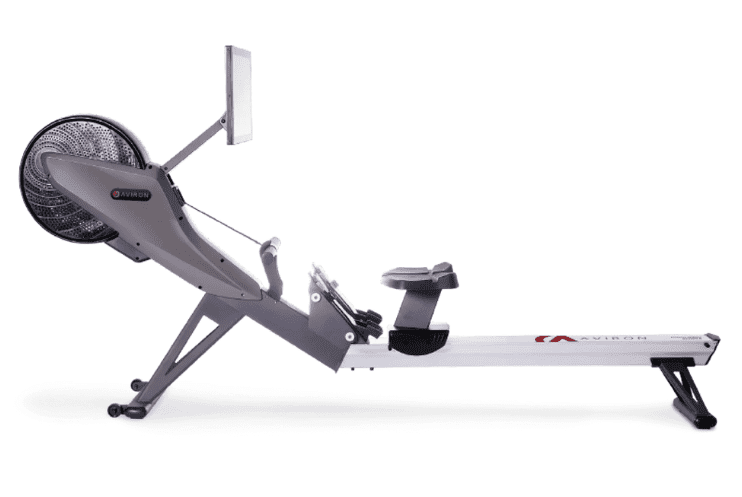 Huge selection of workouts and interactive games
Great rowing performance
Access your favorite streaming platforms
Aviron vs Hydrow: Quick Overview
Both the Aviron and the Hydrow are excellent rowing machines and are featured in our best rowing machines list. They both excel in their streaming content, but for different reasons, which makes stating which one is the best a challenge.
If you are after immersive, trainer-led rowing workouts on the water, then the Hydrow is the machine for you. The Hydrow is also the best option for off-the-rower workouts.
However, if your preference is for gamified content that will keep you engaged, challenged, and enthused, the Aviron is the better option. You can also stream content from subscription services like Netflix and Hulu on the Aviron rower.
Taking everything into account, I rate the Aviron as a better option for the average user. Its hardware is comparable, yet the streaming service is cheaper and the cost of the rower is a few hundred dollars less.
But if I'm being honest it really will come down to preference. You can't go wrong with either machine.
Here's what you should consider:
How do you like to workout – The Hydrow offers great on-the-water trainer-led workouts but Aviron offers a more all-around approach. With trainer-led workouts, games, and options to view your favorite streaming services.
Aviron is 11 inches longer than the Hydrow but it does fold in half. The Hydrow does not. Could make a difference depending on the space you have available.
Do aesthetics matter to you? Hydrow looks stylish and sleek and may suit better if stored within the house. Aviron is slightly more jarring to the eye in my opinion.
Hydrow is a computerized electromagnetic resistance whereas the Aviron is a hybrid of traditional magnetic with air resistance. Importantly they both offer a great rowing experience.
Aviron has a 20-inch high seat. Makes it very easy to get on and off, especially for those who may have mobility issues.
The Hydrow's speakers are more effective, being forward rather than backward-facing
Key Takeaways
Hydrow Rower: Great range of water-based instructional training, with live workouts and quality production
Amazing streaming video production and better on-the-water instructor-led workouts.
Professional trainers and Olympians lead the workouts. Very good instructions which are helpful for beginners.
Great machine for taller users. Long enough rail to get the full range of movement during your rowing stroke and long handlebars for those with broad shoulders to get a wide enough and comfortable grip.
Aviron: Jack of all trades with no real drop-off. Offers a bit of something for everyone
The Aviron is a few hundred dollars cheaper and its streaming service will cost you $9 less each month than the Hydrow membership.
Comes with a great variety of workout content and types, including games, challenges, compete against the pros and show streaming services.
If you want a rower that will immerse you in video gaming to prevent training boredom and increase your engagement and want the best value, go for the Aviron Impact rower.
Keep reading to get an in-depth breakdown of the similarities and differences between the Aviron and Hydrow so you can make an informed buying decision.
[Update] Aviron Strong Series And Hydrow Wave
Since the writing of this article, both Aviron and Hydrow have brought out new rowing machines. The Aviron Strong Series and the Hydrow Wave respectively. We have full reviews on both machines that you can check out below.
Funnily enough, the Aviron Strong Series rower is a more expensive model than the Impact Series rower and the Hydrow Wave is a more affordable model than the original Hydrow.
The Aviron Strong Series Rower is a more heavy-duty model than the Impact and will cost you $2199. Aviron is calling it the most accessible rower in the world.
The Hydrow Wave is a lighter, more compact version of the Hydrow and costs $1,895. It's a great alternative if you want the full Hydrow experience without the higher cost.
You can see our Hydrow vs Hydrow Wave review to see how the two rowers differ.
Hydrow Rower
Hydrow Rower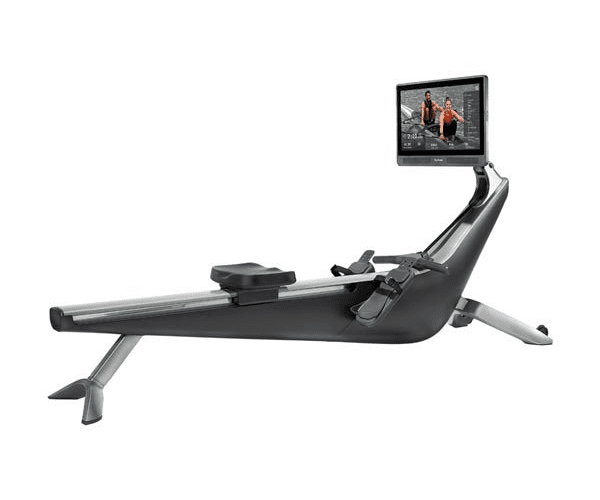 The Hydrow rowing machine aims to provide the 'feel of the river' whilst working out from the comfort of your home. The state-of-the-art rower offers a truly immersive rowing experience.
The Hydrow was the first rowing machine to provide live streaming. It was known as the Peloton of rowing machines until Peloton actually brought out their own streaming rower.
While its on-demand classes and 22-inch touchscreen are a focal point, Hydrow hasn't skimped when it comes to hardware. This rower features an advanced computer-controlled magnetic resistance system and smooth glide rail for a very smooth row, a heavy-duty single-piece frame, and easy-adjust foot pedals.
Hydrow Highlights:
Quality build and rowing experience
One of the smoothest strokes on a rowing machine
Hundreds of high-quality workouts
Hydrow Disappointments:
Not worth using without the membership
Can't program your own workouts like on a Concept2
One of the most expensive rowers on the market
Check out our full review on the Hydrow and Hydrow Wave rowing machines.
Aviron Rower
Aviron Impact Series Rower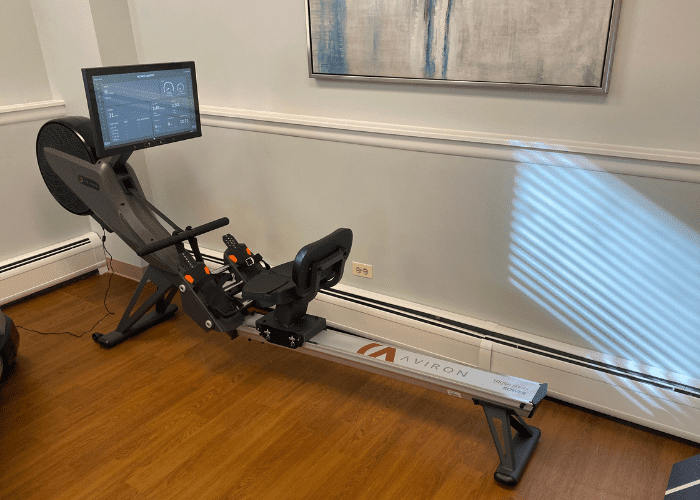 Avirons best-selling rower, the Impact Series offers a motivating game-led approach to rowing, along with comfort and continuous innovation.
There are now two versions of the Aviron rower: The Impact Series and the Strong Series rower. The difference between them comes down to the fact that the Strong rower is built to be more robust, having a double reinforced rail and industrial-grade seat wheel bearings. It has a higher weight limit but, unlike the Impact Series rower, does not fold for storage.
In this review article, we are focusing on the Impact Series rower.
You can read more about the Strong Series in our Aviron Strong Series Rower Review
The Aviron rower is a solid machine with a max user weight of 397 lbs. It's a little longer than the Hydrow, being suitable for users as tall as 6'5". Still, this machine is just two-thirds the weight of the Hydrow. It's also foldable, so can be stored at half its usable length.
The Aviron rower excels in terms of streaming content variety. It's got a huge selection of video games that will get you so immersed that you'll forget that you're working out. I know I did. Many of these games allow you to compete against friends or strangers from around the globe.
There's another mode called Pros vs Joes where we average joes can race against the professionals. I really enjoyed this option and was keen to see how I faired against the professionals.
Aviron Highlights:
Huge variety of streaming classes with an awesome selection of interactive video games
Can be folded and stored away. Most interactive rowers cant do this.
You can use the monitor without the membership so you can still access YouTube, Netflix, etc.
Seat is molded to help promote proper rowing mechanics.
Aviron Disappointments:
Handles could be a bit longer. This would make it more comfortable for users with broad shoulders.
Longer than it needs to be. May be more suitable for a home gym than in actual living spaces.
Check out our full review of the Aviron Impact Series rower and Aviron Strong Series Rower.
In-Depth Comparison: Aviron vs Hydrow
Let's now take a look at how these rowers compare in a straight head-to-head in all departments.
Aviron vs Hydrow: Appearance, Construction, And Design
The Hydrow and the Aviron rower appear pretty different. The Hydrow is all about smooth lines, sleek curves, and a polished stainless steel finish to produce a space-age look. The Aviron is more conventional looking with straighter lines, square edges, and a larger overall profile.
Even though the Aviron rower can be folded away when not in use, my experience is that the majority of people keep their rower on display 24/7. Often the machine ends up sitting in the living area rather than in a separate gym space.
With that in mind, the Hydrow is more pleasing to the eye. It looks less like your typical piece of exercise equipment and more like a stylish piece of furniture.
This obviously comes down to personal preference. Personally, I love the look of the Hydrow. I don't think the Aviron looks bad. But it does look more like a piece of exercise equipment and I'd rather have it set up in a home gym than in my living room if aesthetics was all I cared about. In reality, though I wouldn't mind folding it up and storing it in the corner.
The Hydrow is considerably more compact than the Aviron rower, being about a foot shorter.
Hydrow: 86″ L x 25″ W x 47″ H
Aviron: 97" x 21" W 43" H
The Aviron is a foldable machine, while the Hydrow is not. The Aviron's folded dimensions are:
So although the Aviron is longer, it can also be folded in half and stored vertically. The Hydrow does not fold but can be stored vertically. You can also purchase a separate upright storage kit from Hydrow to make it more secure. So definitely something to consider if space is a concern.
The Hydrow is considerably heavier than the Aviron, weighing 147 pounds. This compares to 97 pounds for the Aviron. Still, the Aviron has a higher max user weight of 397 lbs, compared with 375 lbs for the Hydrow.
The heavier weight doesn't appear to have any influence on the performance of the two rowers. They both feel very secure and solid. The difference becomes apparent, though, when you are trying to move the rowers.
There are two roller wheels on the Hydrow and you have to tilt the rower up to move it. That could be a challenge for some people. In contrast, the Aviron has four wheels and can be folded before moving it. All you then have to do is roll it to its new position.
Both the Hydrow and the Aviron are monorail rowers. They both provide a smooth rail glide system to allow for a natural row.
When it comes to getting on and off the machine, the Aviron sits 20 inches off the floor compared to the Hydrows 16. This makes the Aviron easier to get on and off for people who may be mobility challenged to use it.
The screens on both rowers feature 22-inch touchscreens. Both of them can be tilted to allow you to view the screen from different angles, including when you are following along with off-the-rower workouts.
Navigating your way around the Aviron rower is all done on the screen. Buttons run along the top, bottom, and side and there is a search engine so you can find the game or workout of your choice.
The speakers on the Aviron monitor are back mounted, so the noise is projecting away from you. This is a bit of a negative, as it's not the easiest to hear when you are rowing at max speed.
The Hydrow screen has more angle adjustment ability, being able to be tilted to 25 degrees on either side. For me, the screens should have greater swivel capabilities so that it's super easy to view the screen when performing off-the-rower workouts.
For example, the NordicTrack RW900 screen can completely swivel 360 degrees. Would be nice if Hydrow and Aviron incorporated this feature.
Navigating your way around the controls on the Hydrow is just as easy as on the Aviron. Unlike the Aviron, the Hydrow has front-facing speakers, so you don't need to turn the volume up so loud to enjoy your favorite workout tunes.
Aviron vs Hydrow: Comfort And Feel
The comfort and feel of a rowing machine is a combination of several features. Let's address each one individually.
Seat
The seat design on the Aviron rower is pretty unique; at least it's something that I haven't seen on a rower before. It features four cut-out sections to provide extra padding to various areas of your butt. It also has a cut-out section to accommodate your tailbone.
The back of the seat is also raised slightly so that you sit in a more forward-angled position. This is supposed to help promote proper rowing mechanics and protect your lower back.
The Hydrow is more conventional-looking. However, it is contoured for comfort.
Both seats provide a good level of padding and are wide enough for larger people to get enough support.
Footplates
While some rowers have the footplates too close together (talking about you WaterRower) both Hydrow and Aviron's footplates are spaced at just the right distance. As a result, you don't feel constricted on either machine.
Both footplates can be easily adjusted to accommodate your foot size. The fastening system on both rowers uses a strap system rather than velcro.
Handle
The handles on both machines are long and round. The Hydrow has the longer of the two handles so those with broader shoulders may find using the Hydrow a bit more comfortable as you can get a nice wide grip.
The Aviron handle is straight while the Hydrow handle is ergonomically contoured for a more natural grip. However, you can rotate the Aviron's handles for better wrist support and promote proper positioning. This is the first time I've seen something like this on a rower so is pretty unique and works quite well.
Rail
Both rowers have a solid monorail that provides a full range of movement. The Aviron monorail is constructed from premium-grade steel that has been through more than a million testing cycles.
The Hydrow monorail is also made of steel. As with the Aviron, it's nicely aligned with the footplates to allow for a natural action.
What I like about the Hydrow is that the return of the rowing stroke is super smooth. You feel as if the machine is pulling you back to the start position which makes each stroke feel really good.
The Aviron doesn't have the same pulling effect but the rail is positioned at a slight incline. This allows you to glide along the rail during the second phase of the stroke, essentially creating the same effect as the Hydrow.
Aviron vs Hydrow: Resistance And Rowing Performance
The Hydrow technicians have developed a unique resistance system, that they call a computer-controlled electromagnetic system.
It uses a magnetic resistance but, unlike traditional magnetic rowers, you can control the intensity of the row depending on how hard you row. That gives it the performance of an air rower without the noise factor!
The noise that is generated by a rowing machine comes mainly from the flywheel. Both the Aviron and Hydrow flywheels do emit some noise but are much quieter than your traditional air rower.
The Hydrow flywheel produces a slight whir while the Aviron's flywheel is more fan-like. Neither is much of a problem. But, of the two, the Hydrow is slightly less noisy.
Whereas a traditional magnetic rower gives you a range of tension levels, the Hydrow has a drag resistance adjuster. You can adjust the setting between zero and 300, with 104 being the default setting.
The default setting is perfectly fine. You won't have to change it since the machine produces its resistance level based on how hard you are rowing. However, if you really want to see how hard you can row, the highest level generates an insane amount of resistance. Not particularly useful for training day to day but give it a go if you're curious.
The Aviron is a hybrid magnetic and air resistance machine. So, in effect, you are getting a similar level of performance on both machines. The magnetic resistance has 16 tension levels.
Both of these rowing machines provide very good rowing performance independent of their streaming capability. In this aspect, I actually couldn't pick a winner. They both feel great to row on.
While your main reason for buying one of these machines will probably be to use the streaming service, they both have limited functionality for those who choose not to subscribe.
Of the two machines, the Aviron offers more off-subscription capability but I'd advise against getting one of these rowers if you don't want the subscription.
Look at the Concept2 ROWERG instead.
Aviron vs Hydrow: Touchscreen Interface, Membership, And Workout Content
The Aviron subscription is $29 per month. That will give you unlimited access to one of the most extensive workout libraries you will find on any home workout machine.
Aviron excels when it comes to gaming content. There are eight workout categories to select from as follows:
Virtual workouts that allow you to row through the world's most scenic on-the-water environments.
Performance workouts that are data-driven to achieve the goals of fat loss, strength muscle development.
Games to keep you engaged while you sweat.
Pros vs Joes where you can compete against pro athletes and Olympians.
Guided Programs that are created by fitness professionals and include full-body workouts both on and off the machine.
Competition challenges where you compete with others in your community or around the world.
Power Play that combines the visual excitement of games with guided programs.
Arcade games are a throwback to those classic arcade games of the 80s and 90s with a modern tech slant to keep you engaged and progressing toward your goals.
Aviron also provides on-demand workouts that can be done with or without an instructor. The Aviron instructor is personable and knowledgeable so you will get a good level of guidance. However, the production quality is not as high as you'll find on the Hydrow app.
The Hydrow's gaming content does not compare to Aviron. They just don't offer anything similar at the moment.
However, you still get plenty of workout options. There are more than 3000 to choose from, with new ones being added every week. Most of the workouts are filmed on the water in locations all over the world. They also have quite an extensive library of off-the-rower workouts to choose from.
Hydrow also offers weekly live classes, something you do not get on the Aviron app. Personally I wasn't interested in the live classes but they may be fun for some people who want that community feel or to be held accountable.
The filming production quality is noticeably higher with Hydrow. They use multiple angles so you get to see more of the scenery that you are virtually rowing through.
The instructors are also very good rowers. Coaches and Olympians will guide you through your workouts and give you instructions to help with your form and keep you motivated.
A Hydrow subscription will cost you $38 per month.
The experience on both these machines is great. Which is better for you will come down to how you prefer to workout. If you're unsure then I'd say go with Aviron as the subscription offers more variety so you have the option to switch things up or test different ways of working out.
Without a subscription, the Hydrow will only operate in Just Row mode. This provides very limited functionality. You will have access to a very limited number of Hydrow 101 videos and some introductory material.
You will also be able to see basic on-screen metrics during your workouts and be able to adjust the drag setting for your workouts.
The Aviron rower allows more functionality without a subscription. You can access a suite of features including a range of workouts. You can also create profiles, earn achievements, track your progress, and stream your favorite shows.
I don't recommend either without the subscription but Aviron is the clear winner here if you're looking to buy just the machine. And who knows, both companies could always add more or improve this in the future.
Aviron vs Hydrow: Price And Warranty
Aviron sell two versions of its rower: the Impact Series and the Strong Series.
The Aviron Strong Series rower currently retails for $2199. The Impact Series will currently cost you $1899.
The Hydrow Rower retails for $2495. Whereas you can get the Hydrow Wave for $1895.
The Aviron rower comes with a 10-year frame warranty, and one year on parts.
Hydrow offers a 5-year frame and a one-year parts and labor warranty.
Hydrow vs Aviron: User Reviews
At Start Rowing we have given both of these machines our stamp of approval. We've reviewed each machine individually and compared them.
Although very different in many ways, both offer a great rowing experience and will keep you engaged and enjoying your workouts for a long time. Which is the real goal.
However, I've asked owners of each machine to chip in with some of their own experiences and opinions to give you perspectives from other buyers.
I asked CJ what he thinks of his Hydrow:
The rower is well-built. Also has a very large screen. Most importantly it has great workouts with great visuals. Instructors are actually on the water. It still has all the metrics like other rowers but keeps you visually entertained while you put in the work.
I enjoy the HIIT workouts. Love to get my heart rate up high.
Of the Aviron, one user said:
Overall I love it! I tested it in a gym before I bought one but it didn't take long. It has a different feel to the C2. I think the resistance is stronger at the beginning of the stroke because of the magnetic system. The screen and content were very cool and it is certainly quieter than the C2.
Across the board, the reviews for both machines were very high. Including praise for things such as delivery and customer service.
Comparison Table
| | | |
| --- | --- | --- |
| | Aviron | Hydrow |
| Screen Size | 22 inches | 22 inches |
| Screen Angle Adjustable | Yes | Yes |
| Max User Weight | 375 lbs | 396 lbs |
| Product Weight | 97 lbs | 145 lbs |
| Resistance Type | Magnetic/ Air | ElectroMagnetic |
| Folding | Yes | No |
| Dimensions | 97" x 21" W 43" H | 86″ L x 25″ W x 47″ H |
| Warranty | 10 years | 5 years |
| Monthly subscription | $29 | $38 |
| Price | $1899 | $2495 |
Aviron vs Hydrow: The Winner
Having analyzed and trained on both machines, I have concluded the overall best rowing machine, when all factors are considered, is the Aviron Impact Series Rower.
Even though its streaming service production quality is not as high and you don't get as much instructional and on-the-water content, you do get a very sturdy, functional machine that provides you with a very smooth, natural rowing action.
Throw in the unbeatable gaming content available through a subscription that is 9 dollars cheaper each month and an overall cost that is six hundred dollars less than the Hydrow and I believe that this is the better option for the average user.
If you are less interested in video gaming content and more in premium quality instruction-led content that is filmed on some of the world's most intriguing waterways, along with a wide range of off-the-rower workouts, then the Hydrow is the better option for you.
FAQs
Which is better Hydrow or Aviron?
Both the Aviron and the Hydrow are excellent rowing machines. You can't go wrong with either. However, if you are after immersive, trainer-led rowing workouts on the water, then the Hydrow is the machine for you. If you prefer more variety in your workout experience, with gamified workouts and being able to stream content from subscriptions such as Netflix and Hulu, then go for the Aviron.
Is the Aviron rower worth it?
Yes, the Aviron rower is totally worth it. It's currently one of, if not the best rowing machine currently on the market. The rowing performance is outstanding and the Aviron company is constantly adding new features to improve based on user feedback.
Can you use Aviron without membership?
Yes, you can use Aviron without the membership although what you can do will be limited. You will have access to a suite of features that include a range of workouts. You can create profiles, earn achievements and also use Youtube or streaming services like Netflix.
Related Articles
If you're still undecided or want to check out some other rowers, I recommend checking out the following articles:
---